Sony Ericsson XPERIA X8 � A new experience? Not quite! detailed review
We've been awaiting the XPERIA X8 for some time now. Ever since Sony Ericsson announced it in a press event open to select technology media to be precise. Our brief hands on at the event, wasn't enough to derive any valuable information other than the obvious – the X8 was intended as a lower part than the X10 series, and all things considered, functioned as one.
Sony Ericsson claimed they would make the phone funkier by including different coloured back panels, and, true to their word the piece we received has four, not counting the white one already on the phone. You get some nice two-tone colours, ranging from a hot pink/white for chicks, to a more suave light black/white. The X8 looks like a smaller version of the X10, although with a 3-inch display, it's larger than the X10 Mini or the X10 Mini Pro. The latter we tested recently, and warrants special mention, as it's the only member of the X10/X8 series that features a hardware QWERTY. Read our detailed review of the X10 Mini Pro here.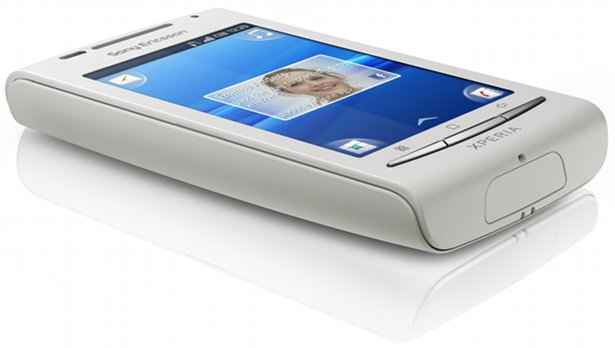 Look and feel
Opening the rather compact box you're greeted by a minimalistic, but adequately packaged handset. The X8 is comfortable when palmed, and occupies ones palm with sufficient substance to be termed reassuring. It's about perfect for medium-sized hands and the exterior, while plastic, is solid enough to elicit no creaks. The battery curves around the sides of the phone and while thick, it also requires a fair bit of force to remove, and that's after you figure out the rather cryptic removal mechanism. It fits back securely though – no creaks. The memory slot is a bit away from the battery, and hence boasts of being hot swappable.
[RELATED_ARTICLE]The rear and sides are curvy. The curvature on the rear makes the loudspeaker audible even when the phone is placed on a table – neat plus for those who listen to music on loudspeaker with their phones kept on a table. The front of the phone is simple, yet attractive. A slimmer bezel would be more appealing, and prevents the display from being an attention hog. The ambient light sensor and status activity sensor flank the earpiece. The rather oblong, cut out in the facia also houses a neatly integrated battery indicator. We love the look of the three, curved, co-joined chrome buttons below the display, but it must be said – these buttons are hard and being thin, are uncomfortable to your finger pads.
The rear of the phone houses a small, 3.15-mepagixel-camera and the bold Sony Ericsson moniker. The left side is totally devoid of functionality-enhancing keys. The right side has a neat-looking, compact volume rocker that, despite its small size, is highly usable on account of intuitive feedback. The tiny camera button below this is not as usable – poor feedback being the culprit. The power/standby key, 3.5mm audio port and micro USB port are all located on the top and quite usable.
Click next to read on about the usability
Usability
One of the major gripes with the X8 is evident when you switch it on. The display is, in a word, subpar. First of all, thanks to Android 1.6's 65,000-colour limitation, there is visible banding, even in main menu. Secondly, thanks to the lower resolution of 320x480 pixels, the interface including text and images isn't as crisp as we'd like. Just place an HTC Desire, (for our detailed HTC Desire review, click here), next to this, and the difference is metaphorically akin to night and day. While we agree that you pay more for the Desire, once you've seen what a crisp, high colour display does for your eyes and senses in general, there's no going back, and while logic screams this is inevitable given the price difference, our eyes water, all the while sneering rubbish.
There is lag, noticeable at times, in the interface, when switching between panes, when swiping through tiles in the main menu and even when resetting a track or skipping to the next one. However, we should mention this lag is sporadic, meaning it's frequent, not continuous. With a 600 MHz processor, we feel Android 1.6 might be the culprit, but the jury's out till Sony Ericsson releases Froyo (Android 2.2) for this phone. Remember, it's not as easy as for other vendors who just include the new binaries in a patch, since SE has reworked the interface and not just added a visual-enhancement (skin).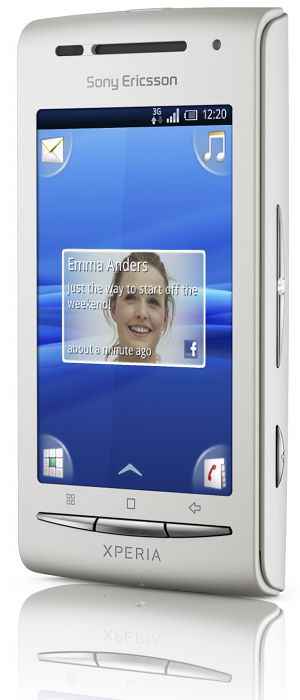 [RELATED_ARTICLE]The on-screen keypad is a QWERTY type and quite honestly, it's quite decent for a phone with this screen size. That's not a conclusion however, so read on, for the trick with touch-screen phones is to get the screen size right – sensitivity and accuracy isn't everything. And SE has missed a trick here. The display is small enough to cramp the full keypad in portrait mode. The accompanying hardware (i.e. capacitive technology) is reasonably sensitive and accurate, but there isn't enough surface area for operating them to be intuitive. The keys are cramped enough to foil even normal-sized thumb pads. And that's 85 per cent of the populace who would consider buying this phone. In terms of accuracy and sensitivity, the HTC Desire's keypad was a whole lot better than the X8, heck! - It's even better than the keypad on the XPERIA X10!
The menus are rather simply laid out, and obviously, a lot less intimidating in terms of complicatedness compared to the de facto Android interface. We feel this grid view of icons makes migrating to Android much easier. HTCs Sense is more gimmicky, but not necessarily a lot more usable. The music player has a decent interface with large on-screen functions. Instead of individual camera settings, there are four presets – auto, beach/snow, twilight and sports. The lack of autofocus and a flash seems a bit tardy for a clicker, but more on this in the performance section.
Click next to read about how it performed
Performance
As we've touched on earlier, while the phone isn't sluggish by any stretch, it has bouts of instantaneous unresponsiveness. We transferred a couple of music files to test audio performance and registered a transfer rate of 239 kilobytes per second, which is pretty fast. Audio quality on the loudspeaker is decent with slightly over emphasised highs and low bass. Using headphones, the lack of bass in pronounced and the treble, while not disturbing, is a bit more forward than some might like. Passages with higher frequency notes tend to sound brittle. The vocal texture is fine, although there seems to be a slight veil over the finer textures, and, as a result, vocals sound slightly less emotive. Cymbals are sibilant, but not crisp.
The touch interface is good, but not excellent, like the HTC Desire, that has become our benchmark for non-Apple-based phones. The camera, while devoid of a flash and autofocus unit, does produce decent images with good exposure in daylight. There is decent detail, good (fairly neutral) colour and decent contrast. Indoors, quality takes the proverbial nosedive, pretty much in line for cellphone clicker and here is where the redeeming flash is sorely missed.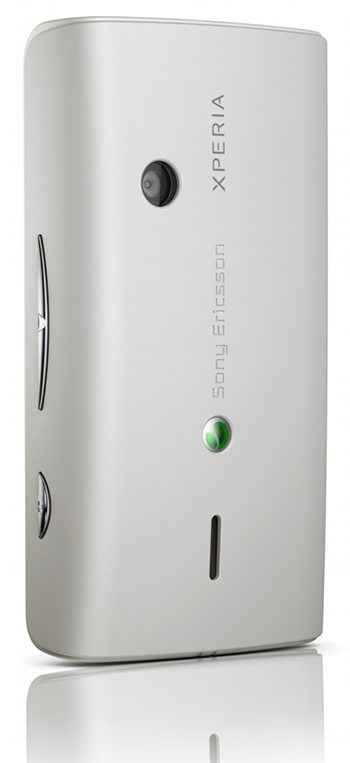 [RELATED_ARTICLE]Call clarity is good in zone one we noticed nothing out of the ordinary. In zone two, the X8 dips to the point where some noise is noticeable at irregular intervals, but vocal clarity remains largely uncompromised. In zone three, we had one disconnected call, but otherwise other than a few instances of voice breaking of, performance was the same as zone two. This doesn't indicate great performance, just that the X8 is on par with the bulk of the phones available today. The earpiece is pretty loud, as is the loudspeaker. The headset is louder still but will not isolate external noise. With moderate background noise in the picture, we found it possible to hear the other person speak on the line – the earpiece is louder than Nokia's E72, but not as good as Nokia's excellent N95 8 GB.
Battery life is decent, but not excellent. It's a cut behind the excellent Nokia E72 in this regard, but it's also a good bit ahead of the HTC Desire, whose larger display and faster innards are more of a power drain.
Conclusion
So the X8 didn't exactly bomb badly in our tests, but it wasn't exactly a super hit either. Mediocrity is fast becoming a disease amongst gadgets, or is the perception of it, becoming a disease amongst reviewers? As more and more options are available and more and more manufacturers try to out spec the other, there's less that makes us go "oh! Wow". However, the X8 is fairly mediocre at most things, decent at a couple while goofing on a couple. The mean point becomes mediocrity.
The price of Rs. 15,990 puts it in a highly competitive price bracket. You can buy a much better phone for the price. The SE XPERIA X10 Mini Pro with it's great hardware QWERTY is a better alternative, as is the Nokia E72, if you aren't looking for a touch-screen. HTCs HD Mini also competes favourably, but we're talking about three good phones here, and being worse than them doesn't amount to being bad. Android 2.2 might make the X8 better, but it won't transform it into a more desirable creature. Though none of the mentioned phones give you extra rear covers, there are many who will overlook this as unneeded bling. It's a good phone, with good cellular and music performance and a good touch interface. But there are better phones around that make a stronger case for your cash.
Specifications: OS: Android 1.6; Networks: GSM/HSDPA; CPU: 600 MHz; display: capacitive-touch, 3-inch, 320x480 pixel, 16M colours; Storage internal: 128 MB; microSD expandable; camera: 3.15-megapixel; weight: 104 grams
Rating:
Features: 6.5
Performance: 6.5
Build: 7
Value: 6
Overall: 6.5
| | |
| --- | --- |
| Brand | Sony Ericsson |
| Model | X8 |
| Features | |
| Physical Specs | |
| Form Factor | Bar |
| 2G Network Bands | GSM 850 / 900 / 1800 / 1900 |
| 3G Network Bands | HSDPA 900 / 2100 |
| Screen Resolution | 320 x 480 pixels |
| Screen Size | 3.0 inches |
| Maximum Screen colours | 16M colours |
| Touchscreen / Dual Screen (Y/N) | touchscreen |
| Battery Rating | 1200 mAh |
| Dimensions (L x W x H) | 99 x 54 x 15 mm |
| Weight | 104 grams |
| Expandable Memory Type | microSD |
| Hot Swappable | Y |
| Available Colours | White, Dark Blue/White,Aqua Blue/White, Pink/White, Silver/White |
| Other Features | |
| Operating System | Android 1.6 |
| Charging via USB (Y/N) | Y |
| Hardware Keypad (Regular/QWERTY) | - |
| Accelerometer (For auto rotate) | Y |
| Address Book Capacity | Practically unlimited |
| No of calls in register | Practically unlimited |
| Talk Time / Standby Time * | |
| No of Profiles # / Customisable | 4 / Y |
| Offline Opearability (Y/N) | Y |
| Inbuilt GPS / A-GPS support (Y / N) | Y / Y |
| Connectivity | |
| Browsing (GPRS/EDGE/3G) | Y / Y / Y |
| EDGE max speed | 236.6 kbps |
| 3G max speed | HSDPA |
| Connectivity (WiFi/Bluetooth/IR/USB) | Y / Y / N / Y |
| Bluetooth Version/A2DP support | 2.1 / Y |
| Accessories | |
| Bundled Accessories | Charger, handsfree, data cable |
| Size of memory card provided | 2 GB |
| Overall Build Quality (So 10) | 7.5 |
| Overall Ergonomics (So 10) | 7.25 |
| Keypad Design (So 10) | 6.5 |
| Camera Specs | |
| Camera Resolution (Mega Pixels) | 3.15 |
| Video Capture Resolution | 640 x 480 (VGA) |
| Dual Cameras / Auto Focus / Flash (Y/N) | N / N / N |
| Mirror for self portrait (Y / N) | N |
| Camera Settings (So 10) | 3.5 |
| Zoom (Optical/Digital) | Digital |
| Multimedia | |
| Music Formats supported | MP3, eAAC , WMA, WAV |
| Video formats supported | MP4, H.263, H.264, WMV |
| FM Radio (Y/N) | Y |
| Performance | |
| Signal Reception and Voice Clarity (So 10) | |
| Zone 1 | 7.25 |
| Zone 2 | 6.25 |
| Zone 3 | 5 |
| Device Earpiece Volume | 6.5 |
| Device Loudspeaker clarity (on call) | 7 |
| Handsfree Clarity (on call) | 7 |
| Loudspeaker Volume (on call) | 7.25 |
| Bluetooth Transfer Speed | 239 KBps |
| WiFi signal strength (Zone 2) (%) | 33 per cent |
| Captured Photo Quality (So 10) | |
| Captured Photo Colour | 6.5 |
| Captured Photo Crispness | 5.5 |
| Captured Video Quality | 5 |
| Effectiveness of integrated flash | - |
| Loudspeaker Audio Quality | 6.75 |
| Bundled Earphones Quality | 5.5 |
| Display | |
| Quality of display | 6.5 |
| Viewing angle of display | 4.5 |
| Legibility in bright sunlight | 4.5 |
| Video Playback Quality (So 10) | 6.5 |
| Price (MRP, Rs) | 15990 |
| | |
| * Manufacturer Rated | |
Contact: Sony Ericsson
Phone no: 1800111800
E-mail: -
Website: www.sonyericsson.com
Price: Rs. 15,990