Smartron t.phone detailed review
When we attended the Smartron t.phone's launch, my colleague Prasid spoke about how the device defies all stereotypes held in our minds about a smartphone made by an Indian startup. You can't really blame us for the apprehension - a sizeable chunk of smartphone innovators based out of India mostly focus on the value proposition, attempting to provide crucial aspects of performance by fitting a tried-and-tested processor inside. This, though, often leads to gaping holes in the overall construct of a smartphone - you either end up with a device that looks really good but fails to deliver (like the Micromax Canvas Sliver 5), or one that performs fairly well, but misses out on the finesse (for instance, the YU Yutopia).
With the Smartron t.phone, what you have here is a device that at first glance makes you want to know more about it. Smartron has launched a hybrid tablet before this, called the t.book, which we praised for taking on the likes of Apple iPad Pro and Microsoft Surface Pro 4. Similarly, with the t.phone, it feels like you have a device that should be up to the task. The question is, does it live up to the expectations?
Build and Design
Safe to say, the t.phone gets off to a good start. The curt, angular design works in creating decent first impressions, making you feel that the company has put in a lot of thought behind this one device. The t.book we had reviewed had a dual-tone colour language of ash and orange, and the t.phone has exactly the same colour combination. This automatically sets up the notion of a device ecosystem similar to what Apple has with its iPhones, iPads and Macs - all devices of the company look like they belong to one family, and this actually builds confidence in the buyer.
​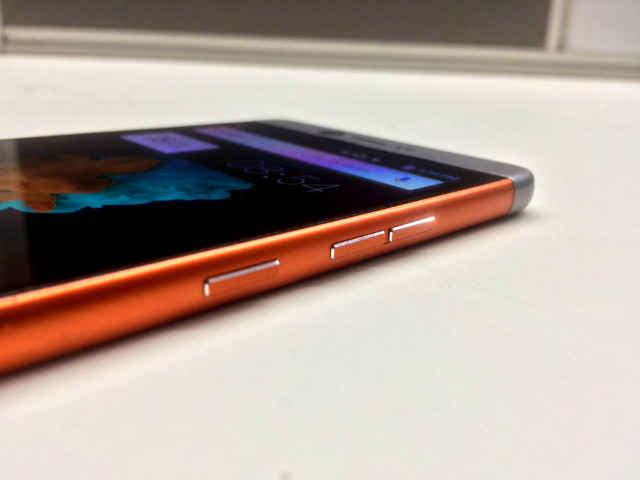 The Smartron t.phone feels nothing like a first attempt at building a gadget by a startup. It looks, feels and weighs like a well-thought device. It is a 5.5-inch display that weighs only 148 grams, and Smartron claims that this is the lightest 5.5-inch device in the market. We cannot immediately confirm for sure (there are way too many smartphones in today's market, you see), but the t.phone does feel incredibly light and easy to hold and carry around.
The layout has a touch of minimalistic design to it. The volume buttons are placed a bit too high up the right edge, so users with smaller palms will find it more difficult to use with one hand. The t.phone is not unwieldy per se, but it is not the most ergonomic, either. The metal build offers little grip, and the grade of metal used in the build is also not the very best in class. The phone fell on a slightly jagged muddy surface and picked up a very noticeable scratch. It also feels a bit too broad, which goes against it in terms of ergonomics.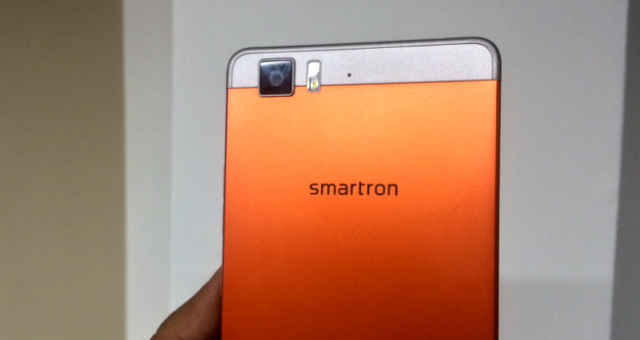 The buttons are built well and offer slightly rigid yet tactile feedback. There is no fingerprint sensor here, or any form of biometric security standards. This is somewhat disappointing as devices priced at about a third of the t.phone offer fingerprint-enabled security standards.
Display and UI
The 5.5-inch display on the Smartron t.phone uses an AMOLED panel with Apical's Assertive Display technology to deliver a total of 1080x1920 pixels to the screen. The Apical Assertive technology is basically used to provide better legibility under direct, harsh sunlight. The t.phone's display is a mixed bag - it is vibrant, sharp and great to browse and read on. In terms of viewing movies or playing games, however, the oversaturation may often contribute to making it a bit too sharp for the eyes. It is bright, but the distinct oversaturation coupled with the overall brightness and contrast may become somewhat jarring at times.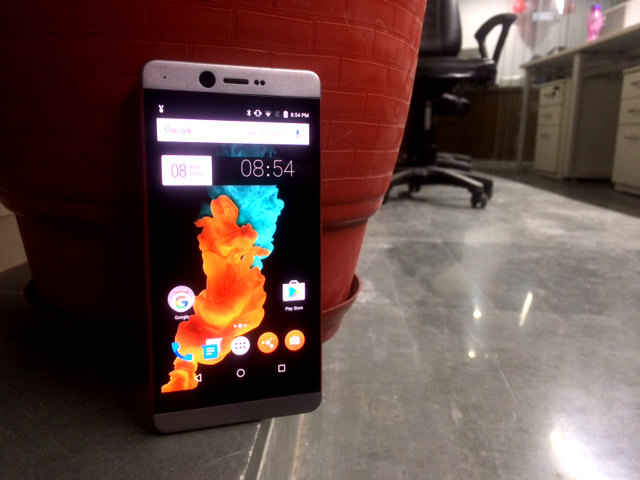 The backlight control tries to balance the display to the most legible point, no matter what environment you are in, and it is this that makes viewing under direct sunlight quite decent. Viewing angles are comparatively better than what you would usually see from an AMOLED panel. For practical purposes, an AMOLED display consumes less power and is reasonably vibrant to make content consumption engaging. The blacks are deeper and whites are clearer than what most LCD panels produce, making the display rich in colours. The t.phone's display is a tad on the cooler side, and there are no toggles to adjust colour balance of the display.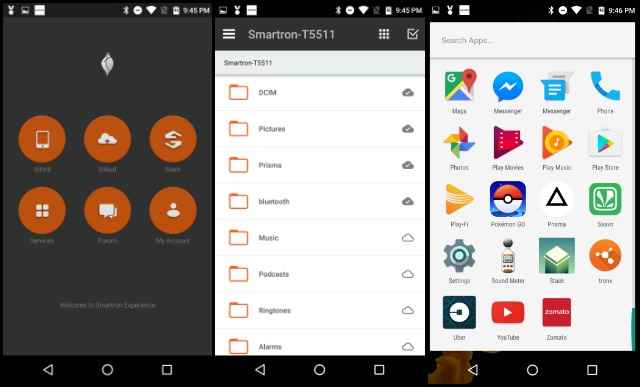 Smartron has decided to keep the UI as close to stock Android Marshmallow as possible, which is great. The t.phone retains the likes of Now on Tap, Doze, news feed and combines all of this with a few custom icons. For instance, in your Home screen, you get the tronx hub for all Smartron services and a custom camera app. These are minimal customisations, beyond which the phone retains Android in all its glory. The tronx hub by Smartron contains links to t.cloud, t.care, t.store and your account, which is about all the personalised services that you get. t.cloud gives you unlimited online storage, and you can choose to unstantly upload media files, sync only on WiFi, delete and optimise storage based on your needs. It is a neat move by Smartron, seeing that storage is a significant issue nowadays. The t.phone offers 64GB of internal storage, which should suffice most users anyway, but in case you do run out of native storage, the t.cloud is there to help you out.
Performance
It is here that the t.phone really shows its age. Qualcomm's Snapdragon 810 v2.1 SoC is powerful, but it has not really been optimised very well. As a result, there are noticeable lags even in daily operations. For instance, the t.phone shows a hint of stutter every time you switch between regular apps like Facebook and Gmail, and there is an overall sluggish pace to its performance.
The t.phone handles video playback and streaming with ease, and there are no sudden discrepancies while playing video. I played a Full HD video file of Interstellar on the t.phone, which did take a while to load, but playback and seeking were smooth. With six tabs open on Chrome browser, along with Facebook, Messenger, Prisma and Google Maps, I could see the phone struggling to keep up pace, something that smartphones with present generation processors like Snapdragon 650 and 652 never show. It may be a case of the software not being well optimised with the hardware on board, and for the end-user, this is not the smoothest performing smartphone in the market today. Even the HTC One X9, with a MediaTek Helio X10 SoC, performs much smoother than the Smartron t.phone.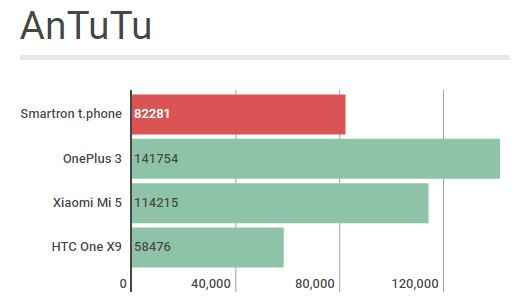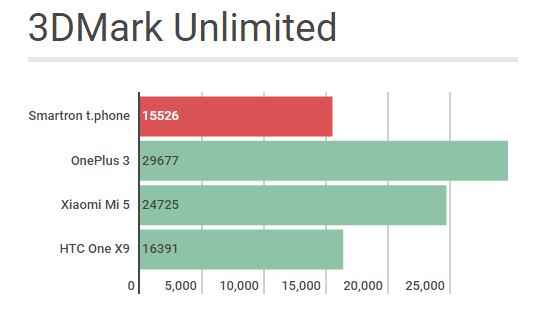 Gaming on the t.phone exceeds the expectations that regular usage sets. Games like Asphalt 8 take a considerable amount of time to load, and in-game shifting of menus show a considerable amount of stutter, but the games themselves run fairly decently. There are hints of frame drops which make the t.phone an inferior performer in front of present generation smartphones like the Xiaomi Mi 5, OnePlus 3 and the much lower-priced LeEco Le 2, but for any average user, the game remains playable. The Adreno 510 GPU, coupled with 4GB of LPDDR4 RAM, manages to keep the phone's gaming performance reasonably smooth.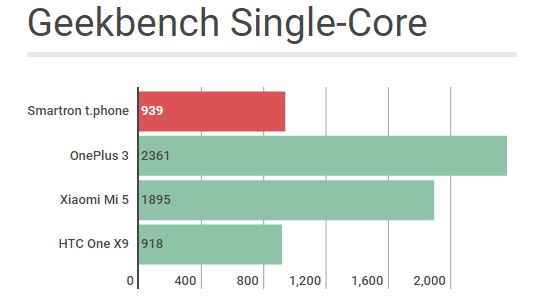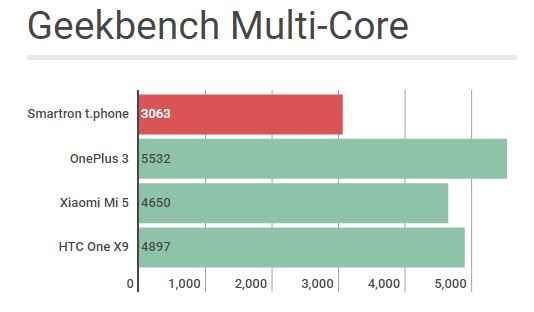 Network reception and call performance remains smooth and functional. There were no unexpected call drops, and network reception in congested areas also remained solid. The quality of audio through the earpiece is loud, and the noise-cancellation mic placed at the back does its bit in keeping ambient noise at bay. Overall, while the Smartron t.phone does function reasonably well, and is particularly commendable seeing that it is the first attempt by the company, but in terms of overall value and smoothness of usage, it is not a world beater.
Camera
This is the most disappointing aspect of the Smartron t.phone. The 13-megapixel rear camera with dual-LED flash and a 6-element lens may sound like a fairly decent package on paper, but in real life implementation, there is a distinct lack of details. Photographs shot are grainy in general, and the t.phone strives hard to optimise the amount of light and white balance in photos, even in broad daylight. The t.phone does best when you are outdoor at night in brightly lit areas, but apart from that, there is really nothing much to boast of.
View post on imgur.com
Images appear pixelated, and unless you really have to, this is one camera that is not worth looking at. Focussing takes a considerable amount of time, and so does saving an image. Check out the image samples below for more details:
Battery Life
With a regular dosage of 30 emails, about 30 minutes of voice calls on 3G network, one hour of music streaming, frequent IMs, Facebook and Internet browsing, and about 15 minutes of gaming, all the while connected to WiFi, the Smartron t.phone can last for about 11 hours at best. I had to charge my phone urgently as the standard work day of 10am to 9pm came to an end, and even preferred charging it for 20 minutes while in office, if I had to use GPS navigation.
The t.phone charges fast, reaching from 0 to 100% in 48 minutes. In our battery test, the Smartron t.phone lasts for 6 hours, 8 minutes and 20 seconds, scoring 3683 on Geekbench, which is a tad on the lower side. Yet again, the t.phone may suffice the average user, but there is nothing to really exemplify its capabilities.
Bottomline
For what its worth, the Smartron t.phone is a valiant first attempt at making the most popular gadget of our generation by an Indian startup. It is even impressive, but vehement patriotism aside, it is hard to really recommend the t.phone to a prospective buyer. At similar pricing, you have the Xiaomi Mi 5, or even the HTC One X9.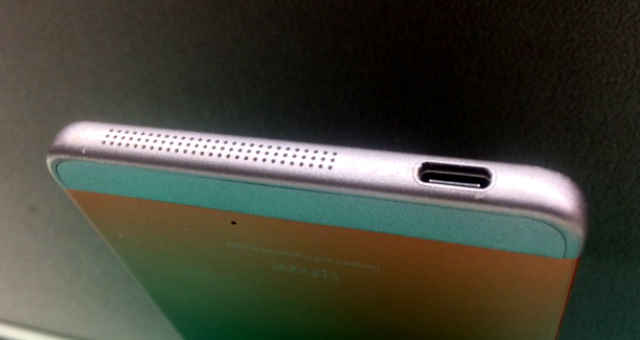 However, the t.phone is a sign of greater things that Smartron may have in store for us. If this is a first attempt, we can certainly expect the company to bring more compelling devices in future, some that will hopefully challenge established companies like OnePlus and Lenovo. The company is aiming for all the right checkboxes (powerful hardware, integrated online care and storage services, stock Android) and there are plenty of promising signs, and we hope it keeps up the intent.