VERDICT:
If you have the budget, the Samsung Galaxy S7 Edge is the best that Android can offer at the moment. However, there's still room for improvement and Samsung needs to get more apps for its Edge displays as soon as possible.
What's really worth noting here is that Samsung is trying to make its Galaxy S7 Edge the front runner in its portfolio, leaving the Galaxy S7 for leverage. Samsung's launch event, both in Barcelona and India, had posters showing Galaxy S7 Edge/S7, instead of the other way around. It's just a small indicator, but it makes sense. The Edge screen could potentially answer questions about why you should spend over 50k on a Samsung phone. It adds that one aspect to Samsung's flagship that no one else has.
That said, I could also argue that no phone is worth 50k, but that would be an effort in futility. There's a lot to like about the Samsung Galaxy S7 Edge, and some niggles that I had.
Build and Design: Samsung's best work till date…
While you could argue over whether the Edge display adds any functionality, there's no denying that it makes the Galaxy S7 Edge look good. It's stylish and it looks different from any other smartphone in the market. That alone gives the device a huge edge (pun intended).
If you want a phone that looks good, feels premium and can stand out in the sea of smartphones out there, the Samsung Galaxy S7 Edge is the one
But that's something Samsung had already achieved last year. The refinement brought this year includes a 5.5 inch display, but a phone that's just barely bigger than the Galaxy A5. Combined with the Xiaomi Mi Note Pro-like curves on the back, the S7 Edge makes for a very ergonomic device, that's easy to carry around. It's also sufficiently light (157 grams), so that it doesn't feel like a load when it's in your pocket.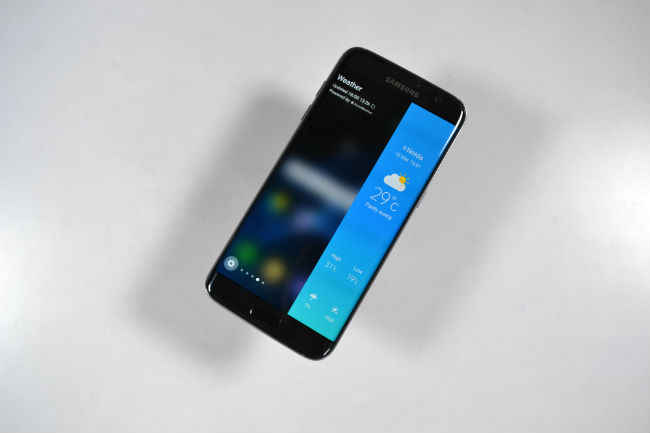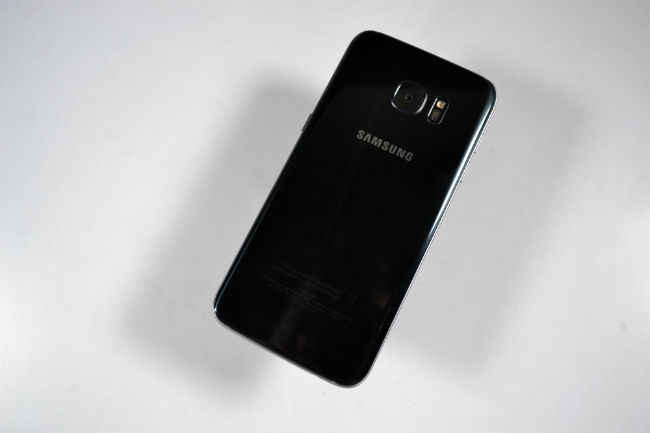 I still have two issues with the design though, both of which are concerned with the glass back. It looks premium, just like Sony phones do, but it's too fingerprint intensive. In addition, it often feels slippery, and the last thing I'd want to do is to drop a phone with an Edge display.
Nevertheless, if you want a phone that looks good, feels premium and can stand out in the sea of smartphones out there, the Samsung Galaxy S7 Edge is the one. It's not a big departure from last year's flagship, but improves on that design, making it more ergonomic than both the smaller S6 Edge and S6 Edge Plus. Also, for those who care, the camera hump on the back has been reduced substantially.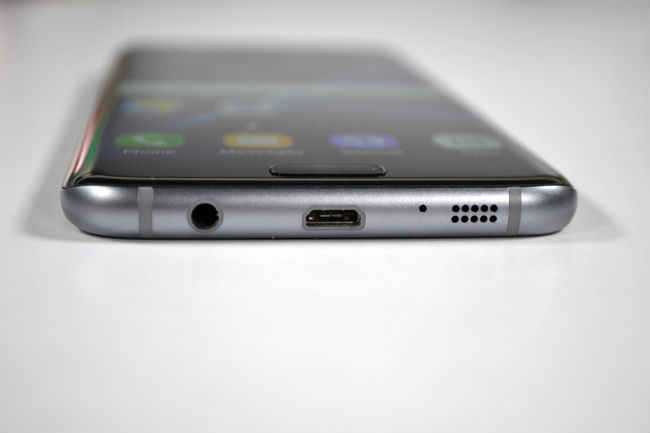 Waterproofing: IP68 and more…
Yes, the Galaxy S7 Edge is IP68 certified, and it just so happened that I got drenched in the rain while I was in the process of reviewing this phone. Of course, the IP68 rating ensures that water can not damage the phone, but what's heartening is that the Galaxy S7 Edge's display still responds to touch when it's wet. The fingerprint sensor stops responding until you wipe the water off though.
Display: Just as good…
A 5.5 inch diagonal size, combined with the QHD resolution, makes for a display that gives you 534 ppi pixel density. Again, like last year's devices, the Galaxy S7 Edge has a crisp display, which delivers smooth colours and the trademark AMOLED warmth. There's not much I can add about the display that hasn't been said about Samsung's last year's flagships already. Just like last year, I like this display more than I did the iPhone 6S Plus'.
Edge Display and UI: A ways to go…
It's disappointing that after one year, Samsung has still not been able to get developers excited about the Edge screen. There's a serious lack of apps still and everything that I thought I'd want to try out, asked for at least Rs. 100. Samsung has added real estate to the Edge this time, allowing for more content to be pushed onto it, but there's just not enough to view. The Yahoo News app comes installed by default, but that's about it. Mostly, I only used the Edge screen to make calls to some frequently called contacts.
The Edge display may look really good, but it also comes with somewhat of a learning curve. For example, apps like Facebook aren't designed for such a display. So, the More Options button on the top right corner of posts on your News Feed, fall on the Edge. When you pick up the phone for the first time, you may find these buttons non responsive. It's not a bug of any sort, just that you're not used to the Edge and are touching the wrong area on the screen.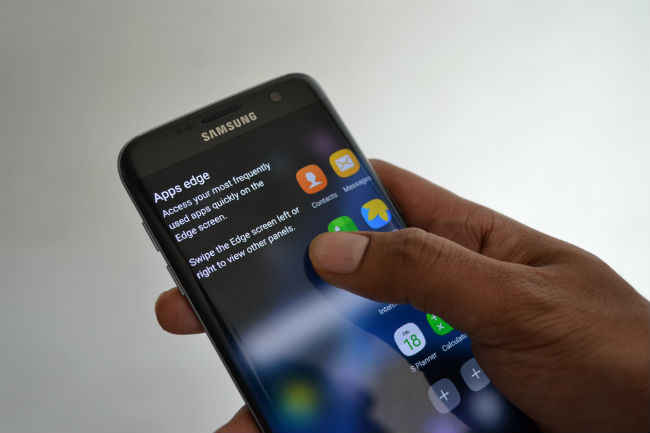 Another issue I had with the Edge display was when holding the phone in my left hand and trying to swipe the Edge contacts out. My palm kept touching the left Edge, because of which, the phone wouldn't respond to the other touch. The Galaxy S7 Edge is built so well, that despite the 5.5 inch screen size, your thumb easily reaches across the screen, but it doesn't always work. It happens sometimes when swiping the screen to unlock the phone with one hand as well.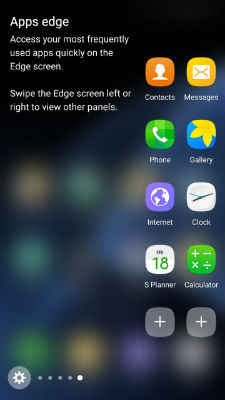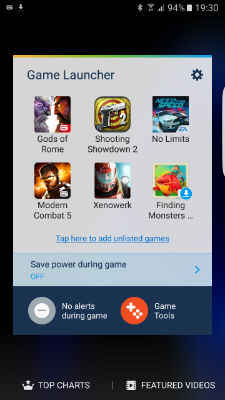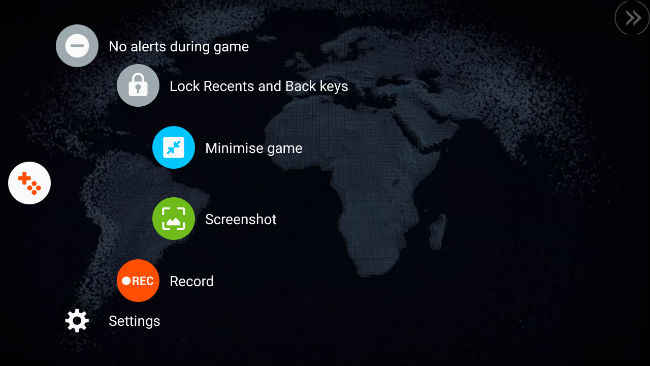 But while apps falling on the curve may come with a learning curve, they simply look good. When you swipe across screens on the app drawer, your apps seem to be flowing in and out of the Edge. The same effect is present whenever you're swiping across anything, and it just adds that aura of stylishness to the Galaxy S7 Edge. From an aesthetics point of view, the Edge just keeps adding to the device.
Always On display is a good feature, but it needs work. While you can have the Clock or Calendar on the display when it's turned off, the notifications work only with some apps. So, third party apps, like WhatsApp don't show up on the Always On display right now. In addition, you can't actually interact with these notifications, like you can on Motorola devices. The good part though is that the Samsung Theme Store has some extra themes, just for the Always On mode.
From an aesthetics point of view, the Edge just keeps adding to the device, but there's just not enough functionality.
Lastly, Samsung has disabled Marshmallow's Adoptable Storage feature on this phone. It's a bummer, but could be a decision taken to aid smoother performance. Using your SD card as part of the Internal Storage could cause issues if you end up taking the SD card out without taking proper measures, or if the card itself malfunctions. That said, I'm through with about 16GB of the 26GB free space in a week, which is cause for concern.
Performance: Exynos takes center stage…
Like Galaxy S branded phones earlier, Samsung is again starting in India with the Exynos variant of its flagship device. Past phones, like the Galaxy S5 and others that had both Exynos and Snapdragon variants, have been launched the same way. While there's no word from Samsung right now on when the Snapdragon variant will be launched in India, the Exynos 8890 is quite an able processor.
Note: We have sent queries to Samsung about the availability of the Snapdragon 820 version of this device. We'll update this review when we get word from them.
The difference in performance between this phone and last gen flagships is apparent in simple tasks, like switching between apps, or how smoothly and fast Facebook's Instant Articles open. But then, it was just as fast last year, meaning it wouldn't seem like a ground breaking improvement. However, the Galaxy S7 Edge is actually quite faster, thanks to a faster processor and Android Marshmallow's performance enhancements.
If you're a gamer, this phone is a treat to use.
If you're a gamer, this phone is a treat to use. Samsung's Game Launcher kicks in the first time you download a game onto the device. It gives you the ability to record games, take screenshots while within a game and pause notifications. It's a gimmick, but one that a smartphone gamer would really appreciate. In tests, we found that the Galaxy S7 Edge can do about 35% more frames than the Galaxy S6 Edge could, on games using OpenGl 3.0. It can also go as high as 15 fps on OpenGL 3.1-based benchmarks and it starts showing frame drops with Android Extension Pack benchmarks, but it's performance is still about 30% better than the best phone in our tests till now. This is still surprising though, considering that Samsung heavily marketed the fact that this phone supports the newest Vulkan APIs, while Android Extension Pack marks an older generation. Of course, benchmarks are designed to test a phone to the limit, so real world performance differs.
Sadly, while Samsung says the phone supports Vulkan APIs, there are no games to test them at the moment. In fact, Kishonti Ltd, the developers of GFXBench, recently unveiled its GFXBench 5 benchmark at the Game Developers' Conference, and it won't be available for testing anytime soon. While the Mali T880 MP12 GPU on this phone, supports Vulkan APIs on paper, we have asked Samsung for clarification on what it expects out of this version as well.
Android Marshmallow also brings a very definite improvement that Samsung phones have needed for a while now. The fingerprint sensor now is faster, simply because it's integrated into the OS itself and Samsung doesn't have to build by itself.
Lastly, in regular tasks, like social networking, texting etc. the Galaxy S7 Edge has nearly no follies. In fact, any follies that you do see, can be attributed to Touchwiz and Android, rather than the processor and GPU. There are also no heating issues on the Galaxy S7 Edge. The temperate is controlled pretty well, and even after 15 minutes of UHD video recording, the phone didn't heat up beyond what was any way expected.
Note: The lack of heating should be because of liquid cooling on the Galaxy S7 Edge, but we're waiting for Samsung to confirm that it has been used on the Exynos variant.
Battery: Incrementally better…
The Galaxy S6 Edge had a 2600 mAh battery, while the S7 Edge has a 3600 mAh unit. One must praise Samsung for being able to keep the dimensions of the phone in check, while increasing the battery capacity so much. When I reviewed the Galaxy S6 Edge last year, the phone wasn't able to last a full day on heavy usage. This year's Galaxy S7 Edge couldn't do so either, but the battery life seems to have gone up proportionally with its capacity.
The Galaxy S7 Edge lasts about 16.5 hours, with 6 phone calls, 30 minutes of gaming, over 20 emails, lots of IMs, three messages on Hangouts and the screen turned to full brightness (but in auto mode) along with Always On Display. This should easily translate to a full day's battery life for lighter users.
The battery life seems to have gone up proportionally with its capacity
Samsung has claimed that Always On display uses only about 1% of the battery, and having finished my tests, its claim seems to be right. The Galaxy S7 Edge lasted me for about the same time with Always On display turned off.
Note: The battery is another area where we're awaiting some clarifications from Samsung. Look out for an update.
Camera: Megapixels don't make the camera…
Samsung compromised on the number of megapixels this time, bringing it down from 16 to 12MP. This doesn't affect the quality of its camera though. You may have heard about the dual-pixel technology used in this camera. The difference between this and regular Phase Detection Auto Focus (PDAF) is in the fact that it uses more pixels on the sensor, to improve focusing speeds. Dual-pixels should ideally improve low light photography, by increasing focusing speeds.
While the image quality is just as good as it was last year, the Galaxy S7 Edge focuses much faster under low light now
On the Galaxy S7 Edge, this difference is very apparent. While the image quality is just as good as it was last year, the Galaxy S7 Edge focuses much faster under low light now. If Samsung can somehow solve the split second processing lag after the shot is taken, it'll probably have the best smartphone camera in the market today.
Bottomline: It's the best in the market…
There's no surprise that the Samsung Galaxy S7 Edge is the best smartphone in the market right now. If you're looking for a flagship smartphone to buy, the Galaxy S7 Edge is definitely worth considering. Having said that, Samsung should still improve its Edge features and look to get rid of the fingerprint intensive glass on the back. The company has in fact been able to avoid fingerprints in the Galaxy A5, so it shouldn't be impossible to do so here.