Oppo R7 Plus detailed review
I have never been a fan of big screen phones, although my viewpoint has somewhat altered over time, most recently due to the Samsung Galaxy Note 5. There is no denying that big phones, which fall into the phablet category, are better for viewing high resolution content rather than ergonomics, and the odds of them fitting in your pocket are not too high. Nevertheless, the "phablet", in itself, is a thriving category, thanks to innovation led by Samsung, and the fanboys who swear by large screens. Hence, Google's second shot at phablets with the large-screen Nexus 6P isn't a real surprise to me, even though the Nexus 6 was not well-received. Regardless, while Samsung's Note series has a stylus to rationalise its large screen and offer productivity, the rest of the (big) phones in the category rely mostly on a consumer's desire to buy a large screen phone.
The Oppo R7 Plus is a new phone, which falls in the same phablet category. It comes with a premium metal unibody build, a large battery, and a good display. But, is it enough to justify its high price tag? Well, I put the phone – I mean phablet, through its paces, to find out.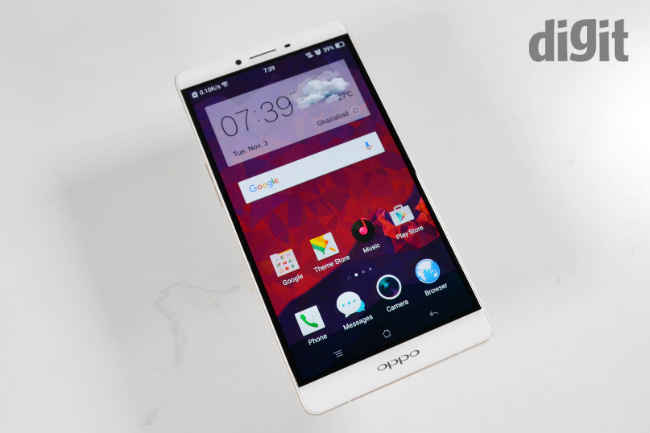 Build and Design
From the first glance to the moment I held the Oppo R7 Plus in my hand, it felt quite premium. Oppo says that they have used aircraft-grade magnesium aluminium alloy, which has gone through 48 polishing processes. While I can't really check over their claims, I do agree that the metal build of this phone does look and feel premium, in comparison to other phones in this category, for example, the Samsung Galaxy A8.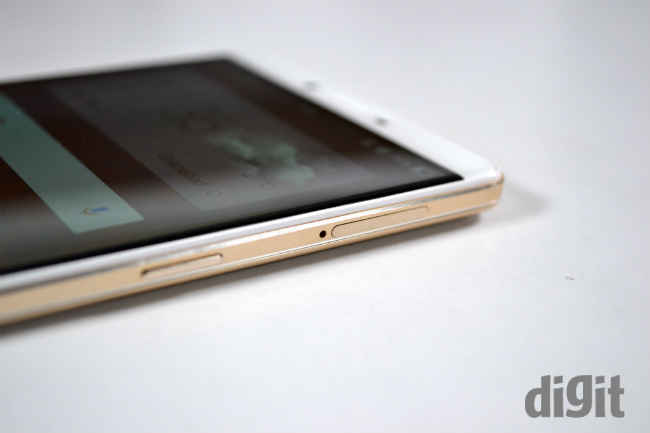 Like I've said earlier, phones with big displays are not very ergonomic, and this isn't an exception. That said, bezels at all sides of the display are quite minimal, and the ever-so-slightly curved edges do make for comfortable grip. Moreover, all the three buttons – power, volume up and down – are easy to reach with one hand, no matter how you hold the phone with.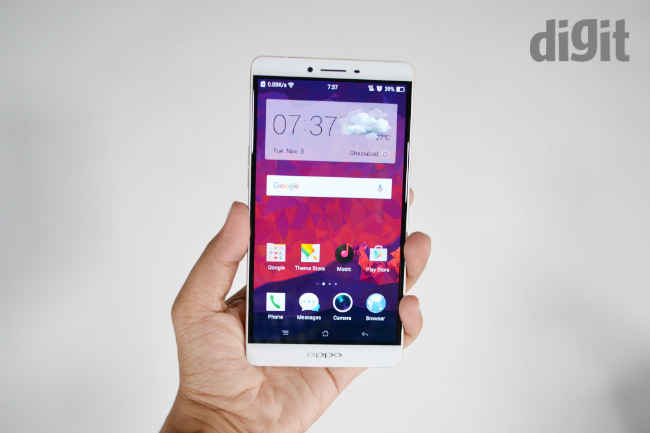 Display and UI
A large, 6-inch 1080p AMOLED panel adorns the phone. It is covered by a 2.5D glass coating, just like the Apple iPhone 6. The touch response of the display is very good, and there is minimal colour shift on the display. And, while the colour saturation is well adjusted, the display does have a bluish hue to it, as we have come to see in other AMOLED panels. Watching a movie, or playing a game, is always a good experience on a large screen, and that experience is further enhanced with the well-calibrated display. Since the device has an AMOLED panel, battery life gets enhanced fairly (more on that later).
A phone's UI is the point where stock Android lovers like me end up being dissatisfied, but the new version of Oppo's Colour OS has given me less reasons to complain, since the last time. Navigation felt smoother, menus are well sorted, and the built-in Theme Manager is a delight to use. There are plenty of gesture-based tricks, and swiping upward from the bottom left or right will enable one-handed mode. While my complains with inconsistent animation across the UI remains unresolved (which I have previously mentioned during my Oppo Mirror 5 review), I'll add a couple of more things to the list. Firstly, the app-switching key should work with a single tap, and not long press. Secondly, instead of throwing every possible toggle in the drop-down notifications bar, there should be an option to customise them, and map custom app shortcuts too.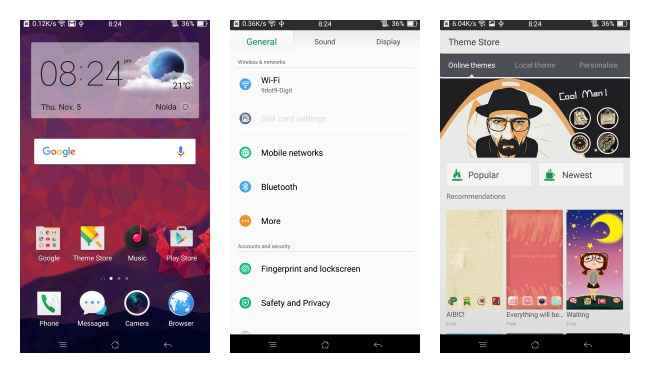 Performance
After using the Oppo R7 Plus for over a week now, I am convinced that performance in numbers, and performance in real life, are two different parameters. The phone might have a mid-range Qualcomm Snapdragon 615, but combined with 3GB of RAM and good optimisation work done by Oppo, the R7 Plus performed fluidly, throughout my usage. I had to clear my open apps lesser than expected, and the Oppo R7 Plus stuttered only once, during my daily usage. Gaming on a large display is also a pleasant experience, and with the metal build of this phone, heat emissions are dealt with very well. I played games like Star Force and Need for Speed, all of which worked fine, with only a few occasional stutters. However, I do feel that, at this price, Oppo should have given the R7 Plus a more powerful SoC. Here is how the phone performs, compared to other phones in this category, according to synthetic benchmark tests.
There is a fingerprint sensor at the back, which is easy to use, and is quite accurate. Additionally, it can save up to five fingerprints. The single rear speaker is good, and is adequately loud. The sound quality via headphones is also quite good.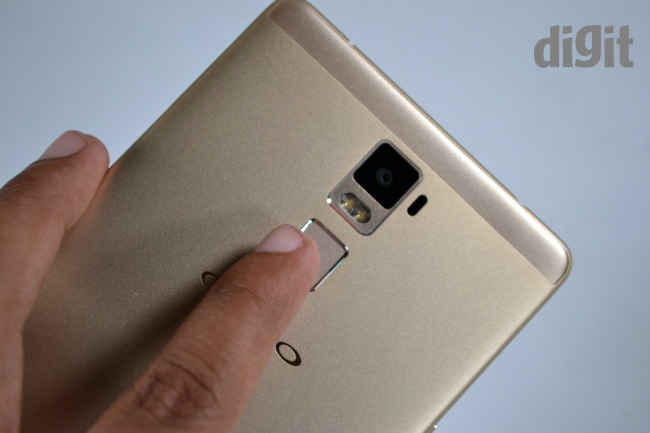 Battery
The large 4100mAh battery is more than enough for the job. On top of that, Oppo has optimised phone's battery consumption, and it reflects in real-world usage. In the normal battery test where we loop a 1080p video till the battery dies, the Oppo R7 Plus lasted for about 14 hours, which is more than enough to take the phone through the day, even with some heavy usage. Gaming does bring the battery down, but not as rapidly as I expected. In an hour of gaming, the phone lost about 15% of its charge, only. Using the phone as a daily driver, the phone lasted almost a day and a half between charges, every time. Moreover, the R7 Plus does support fast charging, and I was able to charge the large battery from zero to full in just over an hour, with a fast charger.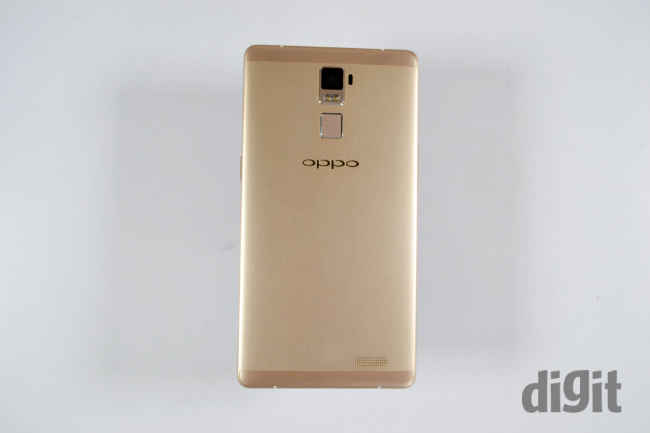 Camera
While the phone does a commendable job in sustaining its battery percentage, the camera is even better. The 13MP shooter at the back is fast and accurate in almost all lighting conditions, thanks to the laser-assisted autofocus mechanism. This is owing to the Sony IMX278 image sensor, which uses RGBW pixel array instead of the standard RGBG array in its rendered images, along with a larger pixel size. The white pixel processes more light and colour data, in place of the green pixel in previous sensors, thereby providing better colour details and improved image fidelity, along with an more complete colour gamut. Additionally, this processes low light images better, improving largely on sensor noise based in colour processing. Images taken during daytime, or even during cloudy evenings, came out superb. Colour saturation is well-balanced, and the details that it processes is one of the best that I have seen from a 13MP camera on an Android device. In low light conditions, post-processing is kept minimal, and while there is visible image noise that slightly softens sharp edges, details are kept almost untouched. In this price range, the Oppo R7 Plus beats the Samsung Galaxy A8, in terms of overall camera quality.
Oppo R7 Plus
Additionally, the front-facing camera is also quite good, and offers plenty of details within frames.
Bottomline
The Oppo R7 Plus offers one of the best 13MP cameras available at it price. The battery life is good, and the build and design oozes quality. However, all this is negated by the price, and the performance it provides at this price. I am not saying that the performance is bad, but compared to the competition at this price, the Oppo R7 Plus is not the most powerful phablet. If this would have been at least 8k cheaper, it would have possibly been one of the best options. If you are looking for an overall-performing phablet around the 30k price range and not just focus on camera, the Samsung Galaxy A8 and the trustworthy Nexus 6 offer far better resumes to consider.