Nubia M2 Lite detailed review
Over the years, the Nubia brand has been all about impressive design language and good cameras. The Nubia Z11 Mini reviewed last year had a best in class camera till the Moto G5 Plus came along, and the Nubia Z9 Mini (review) remains amongst our favourite cameras till date. The new Nubia M2 Lite takes cues from its predecessors and hits what is perhaps the most competitive price segment in the country today. While working on this review, I found things about the Nubia M2 Lite that are quite likeable, but others that are absolute deal breakers. Here's how things fare.
Build and Design
We've always been impressed with Nubia's design philosophy. While the black and gold colour scheme can look a tad too flashy to some people, it's unique amongst a sea of similar looking smartphones. To its credit, Nubia makes the best of the candy bar design, to make a phone that's eye-catching and feels premium. Its unibody metallic design feels better and more upmarket than most phones in this range.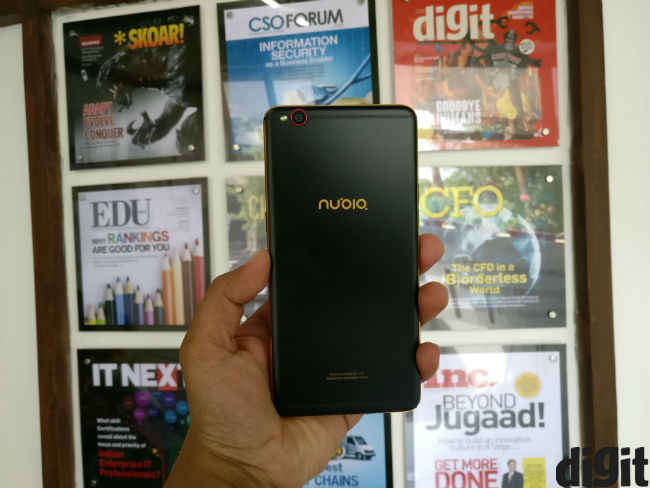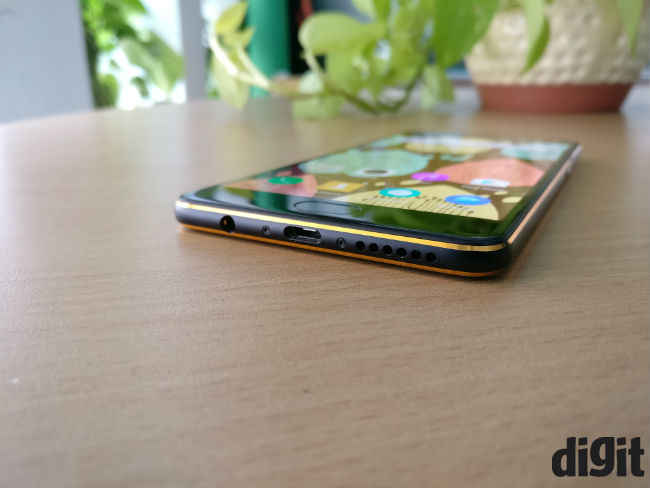 On the other hand, the smooth and polished finish is a tad too slippery. That leaves the phone prone to falling out of your hand when pulling it out of the pocket, or picking it up in a hurry. The body is slippery all around, even the sides, which makes the phone precarious in your hand. Combined with the fact that it's larger than average, ergonomics really isn't the M2 Lite's strong suit here.
You'll find the fingerprint sensor cum home button on the front, accompanied by two small red dots on either side, for back and recents functions. The camera is on the top left of the back, with a distinct red accent around it, and the flash next to it. The Nubia logo on the back is in gold, and matches the golden accents running along the edges. The power on/off button and volume rocker lie on either side, while there's a headphone jack and speaker grille neatly chiselled at the bottom.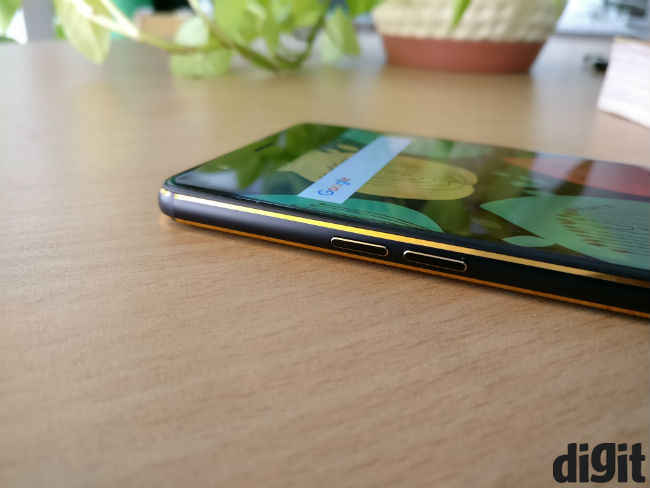 Aesthetically, this is the best you can get under 13k, but all things considered, Nubia needs to work on the ergonomics. It's a unique looking smartphone, but one that's prone to damage due to poor ergonomics.
Display
Speaking of choices, there's a confounding one when it comes to the display. The Nubia M2 Lite comes fitted with a 5.5 inch TFT HD display. The choice of panel type and resolution are both almost unheard of in this price range today. Moreover, while HD resolution can still be made to work, the noticeably poor viewing angles that TFT tech brings along is sort of a deal breaker.
On the Nubia M2 Lite, you'll notice a colour shift from minor angles, and a reddish tint appearing all over the screen. There's also brightness loss when looking from angles, which makes for a sub-par experience. For a company that has traditionally focused on experience over specifications, this is a really confounding choice.
HD resolution on a 5.5 inch panel brings pixel density down to 267 ppi, but frankly speaking, you'll be hard pressed to notice the lack of sharpness, even though the screen indeed isn't as sharp as we're used to nowadays. Colours are pleasantly warm as long as you're looking straight at the display, while black levels and contrast are well tuned too.
Essentially, the TFT panel marred what could have been a pretty great display, despite lower than ideal resolution. This, again is a case of a single choice breaking what could have been an admirable display.
UI and UX
While Nubia UI is mostly change for change's sake, there are some features that look nice. For example, the Breath Light, which is a soft glow that shows up when the phone is on charge, is something one can get used to. Icons are colourful, but also sharp and modern. The UI is just about the right fit for a smartphone of this sort.
1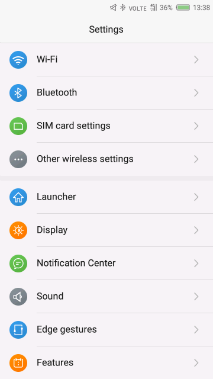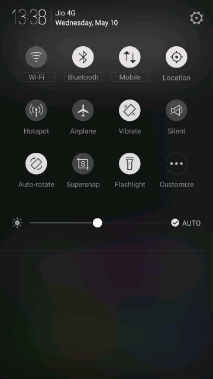 However, there's a deal breaker here in how many permissions Nubia's apps ask for. For example, the Gallery app wants access to your Contacts. Similarly, the Flashlight app wants to manage phone calls and record audio, while the Calculator wants that and access to Storage. I couldn't think of a single reason why any of these apps would need these permissions and chose not to use them, downloading alternatives like Quickpic instead. They're essential permissions too, meaning none of these apps are going to work unless you grant them access. In my book, these permissions alone are enough to not recommend this phone to anyone.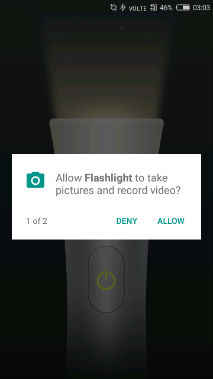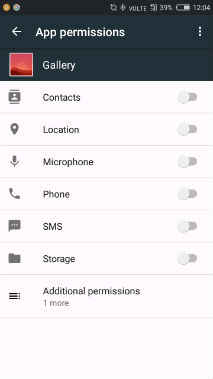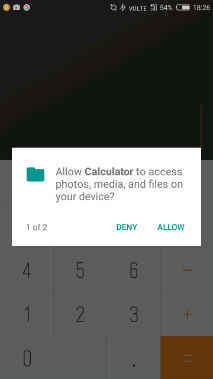 Nubia UI also has customised screenshots, allowing long snapshots, circular, rectangular and so on. In doing so, each time you press the button combination, the screen shows multiple options. At this point, you'll have to select an option. If you press back or home instead, the phone doesn't save the screenshots as default, choosing to delete them instead. It's almost as if Nubia is pushing users to use the feature, even if they don't need it.
The rest of the UI is pretty straightforward, with no app drawer, as has been the trend over the past few years. I didn't find any broken apps or pesky bugs either. But at this point, you probably notice a trend in how one choice my Nubia comes in the way of what could have been a great phone.
Performance
And perhaps none of Nubia's choices is as disappointing as the SoC here. The Nubia M2 Lite runs on the MediaTek MT6750, an octa-core SoC with two Cortex A53 clusters, clocked at 1.5GHz and 1.0GHz in a big.LITTLE formation. The MT6750 is also Cat6 capable, which gives enough data speeds for most users. However, its competitors are sporting Cat13 speeds already.
More importantly, regular performance speeds do suffer. Apps take longer than usual to load and gaming frame rates are lower. I found stutters in games like WWE Champions, while Asphalt 8 took a while to load and showed lags in menus and transitions. The same happens when transitioning across the the UI, from app to app and opening the camera. Even the Facebook app would sometimes often stutter while scrolling. Benchmark scores reinforce what I see on regular performance here.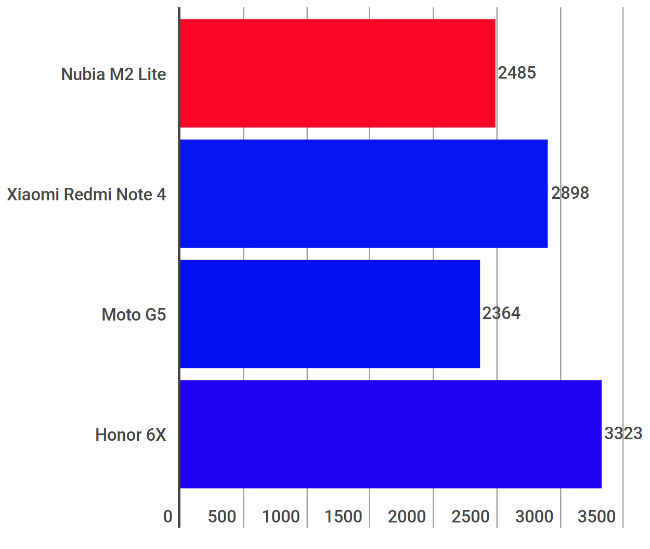 AnTuTu Benchmark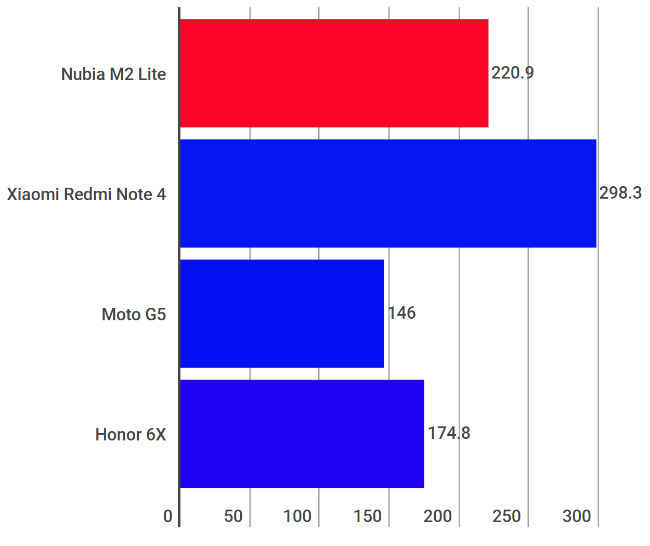 GFX Bench Car Chase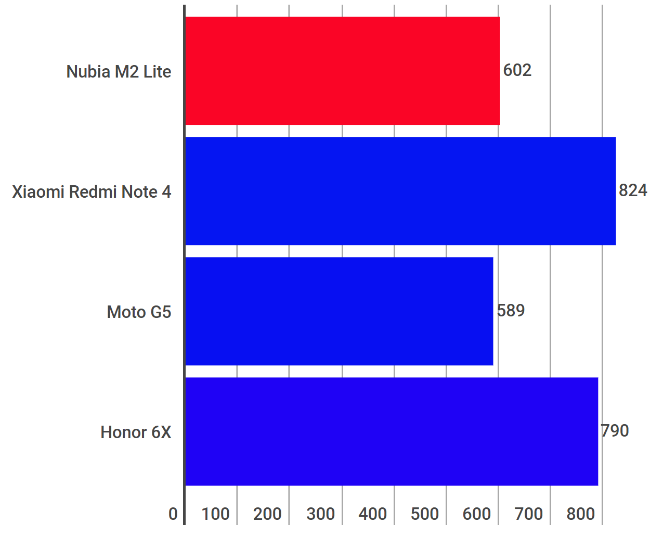 Geekbench 4 Single Core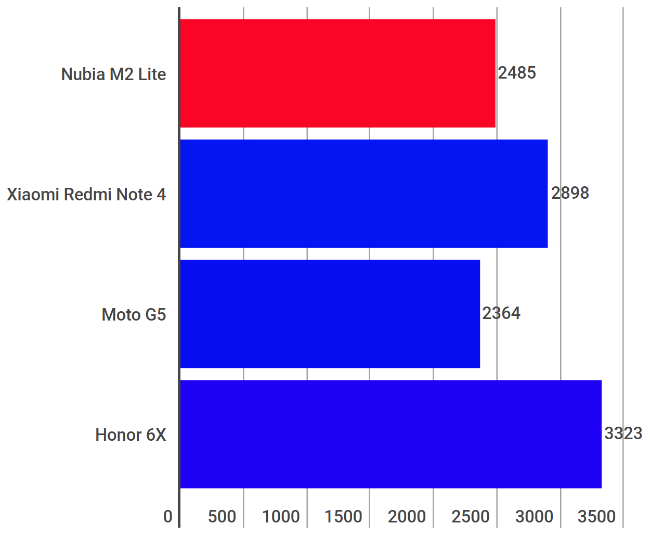 Nubia M2 Lite Geekbench 4 Multi Core
In practical terms, the phone doesn't really qualify as snappy and there's a heating issue to boot. Internal temperatures rose to over 50 degrees at times, which isn't ideal for any smartphone.
Camera
The Nubia M2 Lite's USP is its front camera, with a 16MP sensor placed above the display. It's an ISOCELL sensor, with an f/2.0 lens and front flash (Nubia calls it "soft light"). Nubia employs pixel binning technology to make photos sharper.
However, the camera itself is nothing exceptional. Skin textures appear more natural than most budget selfie cameras, although colours are still a tad bleached. Most importantly, exposure is all over the place on most selfies. This could be a result of combining two pixels into one, which is what pixel binning technology does. Nubia's algorithms need tuning if that is indeed the case.
For a budget selfie camera, this still works. It's good even, when shooting in low light, but as far as selfie cameras go, we've seen better.
On the other hand, the rear camera is sub-par at best. Noise levels are quite high, with grainy shadows when shooting outdoors, while low lights shots produces distinctly undersaturated colours. Colours are slightly undersaturated in regular conditions too, but they're distinctive when shooting in low light. Together, neither of the cameras are worth writing home about.
Battery
On a regular day's usage, the Nubia M2 Lite lasts for about a work day, hitting industry standards today. While we cannot consider this good battery life, it's what most smartphones offer. With about 45 minutes of gaming, all the rear camera shots you see in the gallery above, 10 phone calls, lots of social networking and texts, and just over an hour of video streaming, the Nubia M2 Lite lasted for about 10 hours on a single charge. The screen brightness was set to auto throughout this period.
The PC Mark battery test lasts for 8 hours and 46 minutes, which concurs with our regular usage tests as well. Battery life on the Nubia M2 Lite is decent, but not extraordinary.
Bottomline
Personally speaking, I've been a fan of Nubia's devices over the years. In my opinion, the company employs the right balance of design and specifications, leading to a device that is good as far as the overall experience is concerned. Sadly though, the Nubia M2 Lite is none of the above. It continues Nubia's rich tradition of stylish looking smartphones, but that's about all it brings to the table. There's too much compromise to recommend this, and as I said above, those apps mysteriously asking for permissions is a deal breaker anyway. The Xiaomi Redmi Note 4 (review) and Honor 6X (review) are better options.