Motorola Moto Z 64GB detailed review
The Moto Z has a certain air of swagger about itself. Right from unboxing it, to the way it looks and feels in hand, you get the sense of holding a suave piece of technology in your hand that also deems itself important. Take for instance the quality of metal and glass used in this build, the Moto branding on the camera and the overall bearings of the device, and you would know what I'm saying.
The Moto Z somewhat reminds me of the Nexus 6P of last year, and software has a big role to play in it. It feels as close to Google's now-extinct Nexus lineup as phones could possibly be, and yet retaining an air of oomph that Moto has always been revered for. Will the swagger be enough to make the Moto Z a recommendable buy? Here's everything you need to know, covered in our detailed review of the Moto Z.
Build and Design
The Moto Z, at 5.19mm, is almost outrageously slim. Without any snap-on cover, the Moto Z feels a bit unnaturally slim, and the sharp edges may cut into your palm. The camera bump is also a bit too prominent. The overall build, though, feels quite premium, justifying the Moto Z's status as a flagship smartphone.
The build quality is reassuringly sturdy, complementing the premium build. The Moto Z is well built, and the slim profile allows it to be quite ergonomic, too. One-handed typing is not entirely easy, but is still doable. However, it needs to be kept in mind that without a back cover, the Moto Z is prone to slipping from the hand, even after you get used to the uber slim build. As a result, investing in a back cover (priced onward of Rs. 800) is a necessity here. The back cover also makes up for the width of the camera bump, which is good.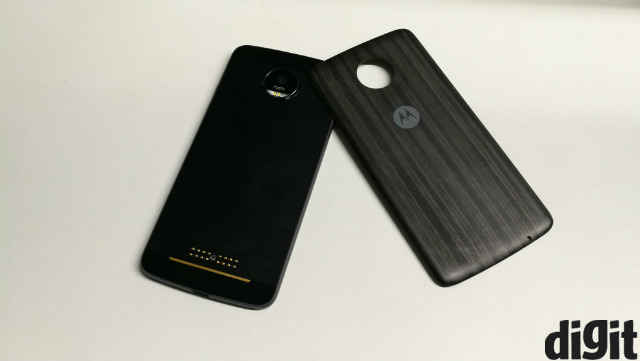 The Moto Z retains the characteristic rounded edges of Moto phones, and a square, capacitive fingerprint sensor resides on the front. When the phone is unlocked, long-pressing the Moto Z's fingerprint sensor locks the device, although it does not get more functions. There are no capacitive keys, and you rely entirely on the on-screen navigation and multifunction buttons for operations.
The glass back has a fine striated pattern and the Moto logo, although neither are etched, keeping the back quite smooth. The razor thin design reminds us of old Moto classics like the Moto Razr and Moto Slvr, which were incredibly thin for their time. The overall swagger is evident from the moment you begin using the phone, and the overall elements, including the curved glass, the razor thin and smooth, excellent button feedback and the presence of Moto Mods make it an alluring prospect to consider.
The magnetic connectors are gold plated, and are incredibly easy to operate. You do not need to perfectly align and fit mods. Instead, placing the phone roughly in line with the mods' connectors and the phone's connectors will snap it on to the back. The back covers can be a bit difficult to remove if you do not have long nails, but that was not the case with the Hasselblad True Zoom mod, which has a separate ridge to detach, and adds 145 grams of weight by itself. The phone itself weighs 136 grams, and it was crucial for the Moto Z to weigh less to ensure that it does not become too bulky with the mods.
Moto Mods
The Hasselblad True Zoom mod is the one that we extensively tested. It carries with itself the immense presence of the Hasselblad brand, which is of momentous significance to the smartphone photography industry. Previously, Nokia had partnered with legendary lens maker Zeiss for its phone cameras. Huawei has partnered with Leica in the recently-launched Huawei P9, and now, with the Hasselblad True Zoom Moto Mod, Moto has shown intent in radically improving smartphone photography.
The Hasselblad True Zoom is indeed a proof of concept. Despite noticeable advancements, smartphone cameras seem to have hit a ceiling when you consider innovation. Smartphone camera sensors have remained at the same size, while increasing the number of pixels, the size of the pixels, modes of focusing, and so on. Enter, the Hasselblad True Zoom, powered by the modular connectors of the Moto Z lineup.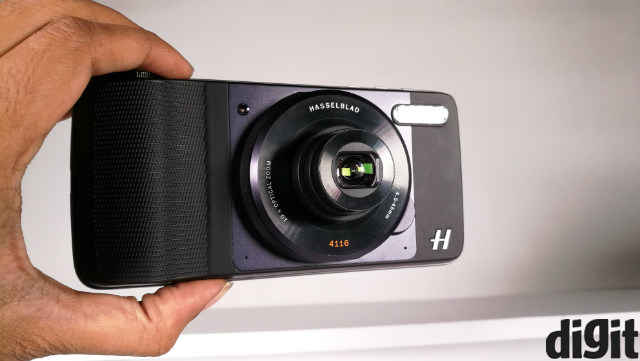 The Hasselblad True Zoom uses a 1/2.3-inch type CMOS BSI sensor, which is the same type of sensor that resides in smartphones. It uses 1.55um pixels to aid low light, which can be slightly compromised by the rather small max aperture size. Offering 35mm-equivalent focal length of 25-250mm, and maximum apertures of f/3.5 and f/6.5 respectively, Hasselblad has tried to make up in terms of low light photography with the larger pixels. The star of this show, however, is the 10x optical zoom on offer.
It is safe to say that this is the purest form of optical zoom that can be obtained on any smartphone till date. The default image quality, though, remains a matter of question. At the default, wide angle focal length, the Moto Z's own camera shoots practically the same quality of photograph, or sometimes even better, than Hasselblad's own. It is in optical zoom that the True Zoom really shows its strength over smartphone cameras, hence being proof of Moto's concept with modular phones.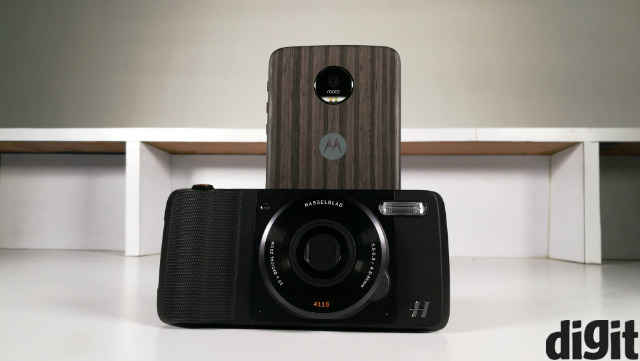 The Hasselblad True Zoom is a first attempt to up the game in smartphone photography, and more will (hopefully) follow. While Hasselblad does nail the optical zoom aspect, the True Zoom struggles to focus properly, and although it has Optical Image Stabilisation (OIS), the stabilisation mechanism does not work very well, and you will need very steady hands if you are shooting upward of 3x zoom. All of this leaves room for a larger image sensor to be incorporated into smartphones, as the Hasselblad True Zoom entirely overrides the phone's image sensor and uses its own.
For a detailed comparison of how it fares in comparison with Moto Z's own camera, click here. The True Zoom is a big reason to believe that Moto's implementation of modules in phones is a step in the right direction, and future editions of camera mods will hopefully take smartphone photography much further.
Display
The 5.5-inch, AMOLED display presents screen resolution of 1440x2560 pixels. It is a very typical AMOLED displays, with distinct shifts in hue from angles beyond 60 degrees. It is also amply bright, delivering brightness reading of 655 lux. The display offers sharp contrast and vivid colours, although they do not look very oversaturated.
The display is also amply warm, which most will enjoy. The vibrant colours are good to look at, but at peak brightness, the Moto Z's display may seem a bit too sharp. It does not offer as pleasant a colour balance as LCD displays, but most will like the sharp, high contrast display, which does contribute to the overall movie-watching experience here.
The touch response is precise and fluid, offering good accuracy of swipes, taps and flicks. This is particularly useful for mobile gamers, where inputs are required to be fast and precise. Comparatively, the OnePlus 3 has a more balanced Optic AMOLED display that is also more neutral towards colours, but the Moto Z will please anyone who loves sharp, vibrant displays with deep blacks and slightly oversaturated colours, which make objects on the screen pop out.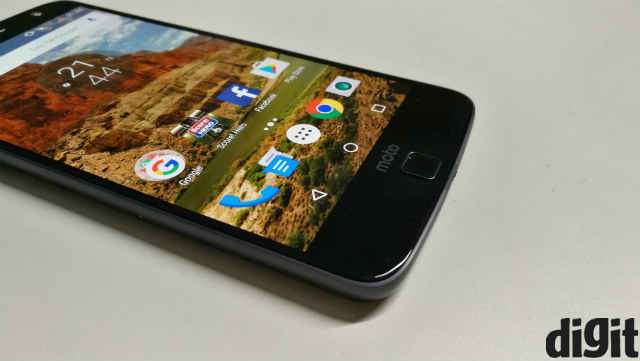 Moto has also stuck to the stock Android UI, which is why I stated that this feels more like a Nexus smartphone upon initial inspections. The interface is neat and simple, with Device Help, Moto Mods and Moto being the only three added apps. The Moto Mods app ensures that all firmware for mods remain up-to-date by pushing OTA updates. The Moto app is a gateway into quick gestures, voice control and feedback, and display content settings.
If there ever was a UI (after Google's own phones) that remains light and yet offers neat, simple and organised Android experience, it is this. In the present crop of flagship Android devices, the Moto Z has the cleanest interface of the lot, although the arrival of Google's Pixel phones will change this.
Performance
Powered by the Qualcomm Snapdragon 820 SoC and 4GB RAM, the Moto Z offers easy, seamless usage, which is what you would expect from a phone of this stature. There is nothing stark or exceptional here, apart from naturally fluid performance characteristic of the Snapdragon 820 chipset.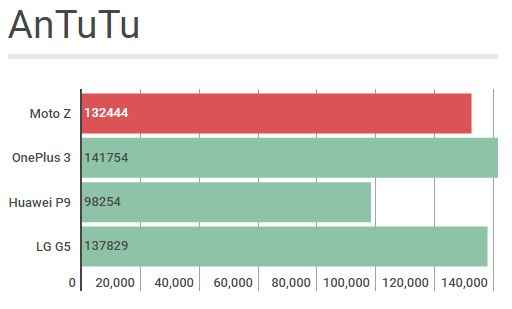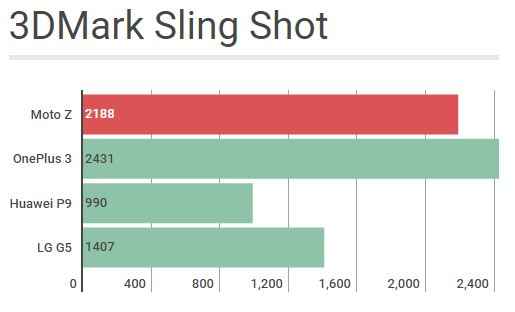 Multitasking is smooth, and multiple apps open and close fluently. With eight tabs open on Google Chrome, two messaging apps, Facebook, Gmail, an active download on the Google Play Store, music streaming on Wynk Music and one game, switching between apps was not a major hassle. Chrome took a split second longer to open and reload the active tab, and after one second of stutter upon resuming the game, everything was back in order. The Moto Z will survive most heavy tasks you throw at it, and the smooth everyday performance is proof of it.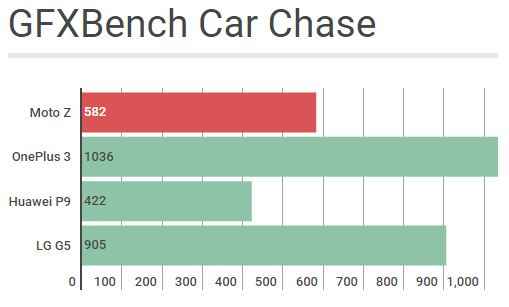 In fact, the Moto Z feels like it carries the right amount of power for a flagship smartphone. It does not overawe with 6GB of RAM, and the 4GB of memory onboard is ample to sail through regular tasks, and occasional spurts of video recording, photo editing and gaming. If you are a light user, you will love the smoothness of operation on the Moto Z. Meanwhile, if you are a gamer, the crisp display combined with accurate touch response and smoothness of performance makes it a good smartphone to own, for varying types of users.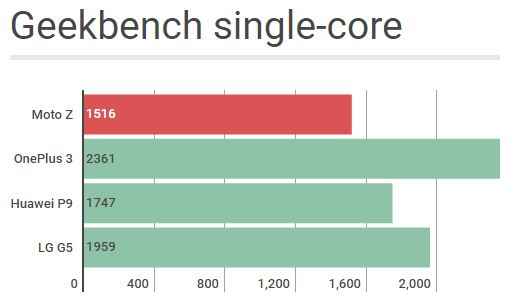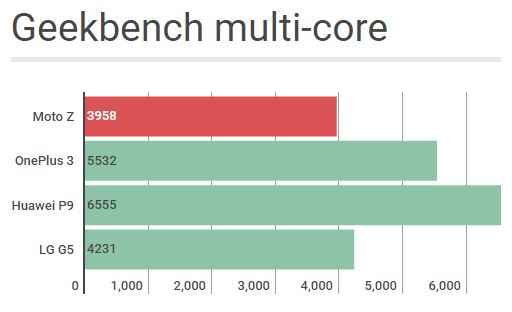 The benchmark graphs further attest to the fact that while the Moto Z is not the winner of the 'fastest phone in the world' award, it happily sits back as a stable, powerful performer.
Camera
Even without the Hasselblad True Zoom, the Moto Z packs a pretty impressive camera in itself. The 13-megapixel Sony Exmor RS sensor coupled with an f/1.8 lens delivers crisp photographs that retain details very well. Colours are well optimised, and are close to the original source. Contrast and vibrancy levels are stable, neither overpowering with high contrasts to burn the image, nor lacking in vibrancy in terms of colours.
The camera is a consistent performer. As you would expect, under broad daylight, the camera performs at its best. The dynamic range, however, seems a tad on the lower side as the colour range seems slightly restricted. Shadows are more dark and lack in detail, but for a smartphone camera, this can only be surpassed by a handful of devices out there right now.
In indoor situations, the Moto Z tackles different light situations very well, compensating for dimly lit environments, and the auto adjustment of the white balance is also very efficient. Images do well to limit the amount of noise in each frame, and this contributes to good overall results. Photographs shot exhibit true-to-source colours, good contrast and saturation levels, ample warmth, good sharpness, low noise and decent levels of detail, all of which contribute to making it one of the more decent smartphone cameras right now.
View post on imgur.com
Under low light, the Moto Z continues the good work of limiting the amount of noise rendered in photographs. It adjusts well to available light to automatically adjust the colours, and sharpness remains decent here. The camera app is also quite fast, and focusing is sharp and accurate, although it is not the fastest in its class. It is still fast enough to provide for spontaneous photography, and you will get decent shots from the Moto Z at least seven out of 10 times.
The f/1.8 lens allows reasonable ground for shallow depth of field while shooting close-up objects. There are no separate modes here, though, and if autofocus fails to choose your required point of focus, switching to manual mode will give you access to adjusting focus manually. Photos are shot at 9MP, at 16:9 aspect ratio, by default, and the camera app automatically switches on HDR mode for most photographs. The ISP optimises the photos to present a near-natural colour tone, which is good.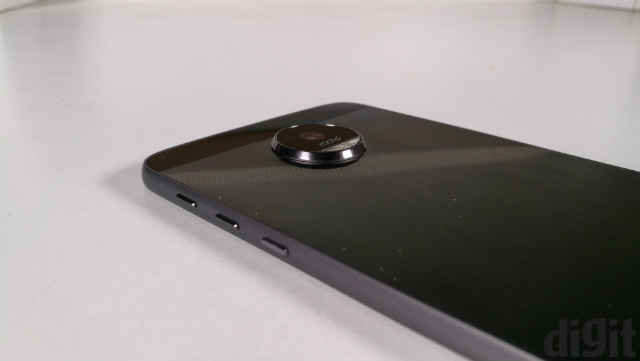 In terms of video recording, the Moto Z is fast and spontaneous, and can record stably in 4K. It also fares surprisingly well in low or unusual lighting conditions (like a room with blue neons), and makes the Moto Z a handy smartphone to keep for random video shooting through the day. As for the front camera, we are still in process of testing it, although on initial inspections, it seems to justify being in a flagship smartphone and delivering decent self photographs.
Battery Life
This is not the strongest aspect of the Moto Z, and you will last for a little more than twelve hours with the Moto Z, with your standard dosage of messaging, browsing, emails, and about 30 minutes of video streaming, music streaming and gaming each. This is not class-leading either, although it is reasonably decent, and can last for an entire day of work. In terms of benchmarks, the Moto Z lasted for 491 minutes in PCMark's work test.
Bottomline
The Moto Z is a good performer, along with presenting a reliable camera, good, premium build, an enjoyable display and even doable battery life. Adding to all this is the ecosystem of Moto Mods, a neat piece of innovation by Moto, which right now seems to be the way forward for modular smartphones. If you are investing Rs. 40,000 on a smartphone and a dual-rear camera setup is not mandatory for you, the Moto Z is a better smartphone than the Huawei P9, and is certainly a worthy investment.
Over time, we can expect the Mod ecosystem to grow further, and although the good old 3.5mm audio port is missing, you will possibly be shifting to wireless headphones soon, anyway. Moto provides a USB C-to-3.5mm adapter in the box as of now, and all of this combines to making the Moto Z a worthy, daring purchase.
The Moto Z is not just a good smartphone for today's market, but also one that can be fun to use in the near future.