Micromax Evok Power detailed review
Micromax is a well known brand when it comes to budget smartphones. The company has seen good days in the past, leading the charts in terms of sales. However, lately the phone company has been on the back foot with Chinese OEMs such as Xiaomi and Lenovo bringing the fight to the sub-10K segment. In an attempt to reclaim its position and market share, the company has launched two budget smartphones under its Evok range — Evok Power and Evok Note. The Evok Power, I think is the more important of the two, for Micromax, as at Rs. 6,999, the phone will appeal to some of its core consumer base.
Now, on paper the Micromax Evok Power does not seem like a new device, but with a fingerprint scanner and an unorthodox new design, the phone does seem intriguing. However, like everyone, I wanted to know if it can take on the segment best Xiaomi Redmi 3S. Let's find out.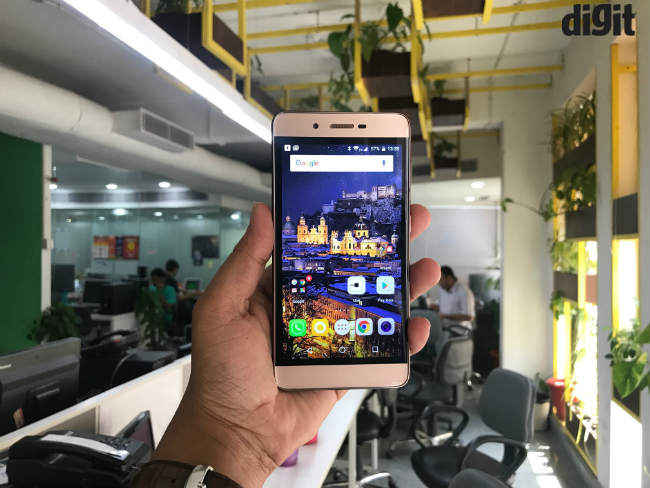 Build and Design
Right off the bat, you see the differences. The Micromax Evok Power has a removable back with metallic finish, a golden paint job and a hard plastic bumper case pre-embedded into the edges. This is something completely different from what we have seen from Micromax, or any other company in the past. Although, besides the bumper case, which looks out of place with the whole golden colour scheme, the metal build of the smartphone does feel upmarket. The quality of materials used looks and feel at par with the Redmi 3S, but it is not as ergonomic. The two physical keys offer decent feedback and ample tactility.
The addition of the bumper case does add sturdiness to the build, but it still has rough edges. I also feel that the addition of fingerprint sensors is nice, but I would have prefered a larger touch area for ease of use. Also, the fingerprint scanner is slow, but then again this is a budget offering anyway.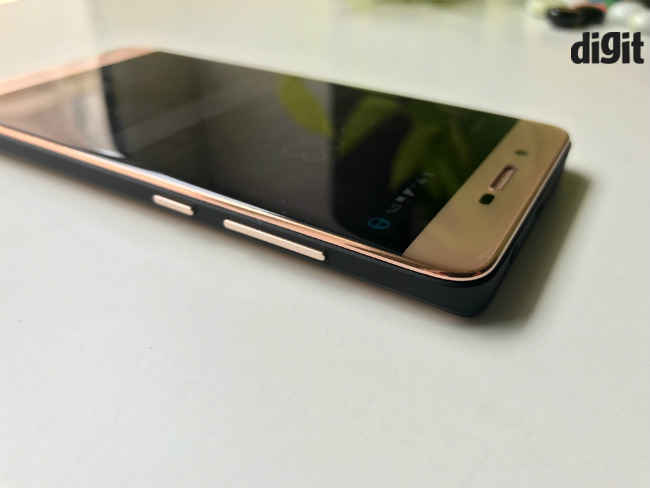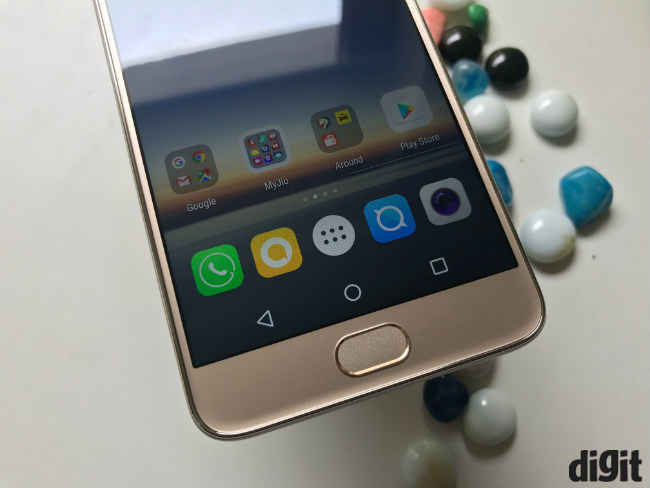 Display
The display on the other hand is more traditional. The phone uses a 720p IPS LCD panel, which looks and feels similar to what we have seen from Micromax in the past, making it inferior to the similarly specced 720p panel used on the Redmi 3S. Our tests ascertain that the colours are off but not by a large margin. Primary colours such as red and blue looking undersaturated. Touch response is fine, but I did encounter multiple ghost touches and there were times when the display felt unresponsive. Another annoying thing apart from the thick black bezels is that if you are watching videos with darker tones, like Stranger Things, the light bleeding on the display makes the experience worse.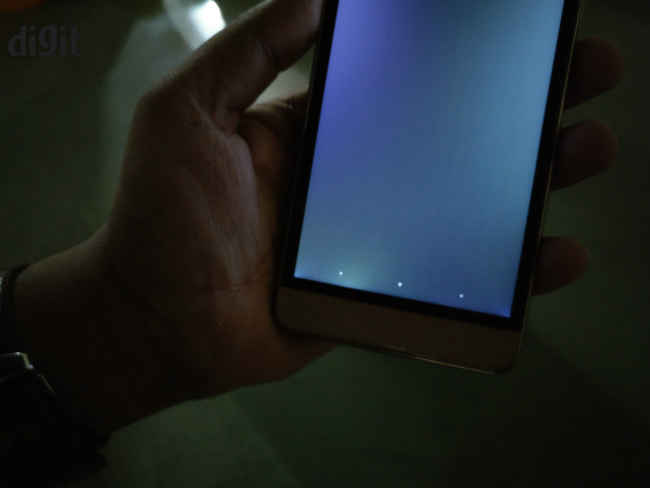 UI
Unlike HTC's Sense UI or Xiaomi's MIUI, the launcher is not integrated with the core operating system. Also, most of its core apps require essential permissions, which is annoying. Once you do provide the required permissions to the apps, you are prompted to sign up for a Micromax account. This account allows users to have 32GB of cloud storage and could be really helpful if you are shifting to a new Micromax phone after this. However, what most users won't know is that their private data (some, not all and we hope not the camera images) will be shared with Micromax and its unnamed partners. The terms and conditions also mention that in case of theft or data loss, the company won't be liable. Micromax says everyone in the industry follows this practice, but even if that is true, that doesn't make it right.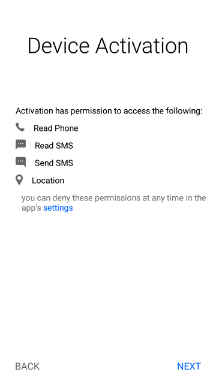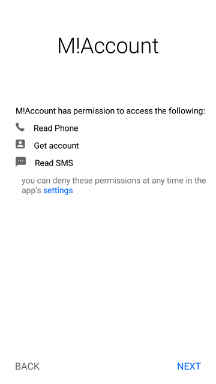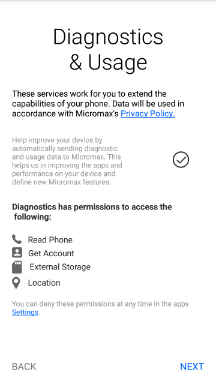 In addition to your privacy being compromised, the M! Account also signs the user up for a Udio wallet, which whether you want to use or not, now has your phone number and email id, presumably also used for marketing purposes. If that wasn't enough, Steroid launcher has a built in advertising engine, which will throw deals and apps at you at least few times a day.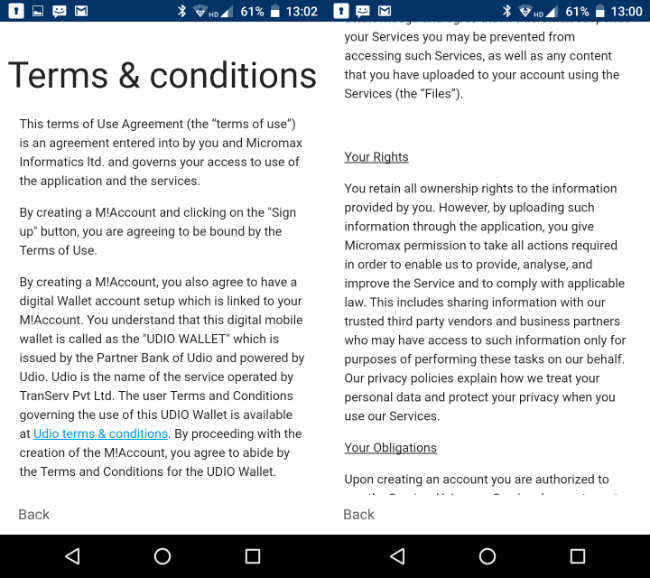 Summing up the UI experience, I have to say that Micromax seems to be using the device to cater advertisements to the mass market, presumably making up margins through the same. The pre-installed Steroid launcher seems half-baked as it has been layered on top of Android, which is a practice we haven't seen in awhile. Companies have been stitching UIs into the core system to achieve faster and better performance for a while now.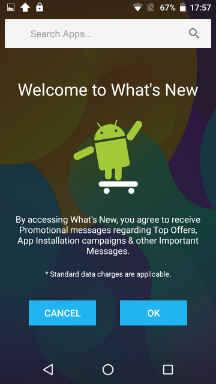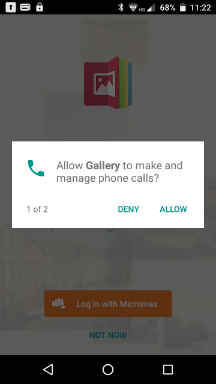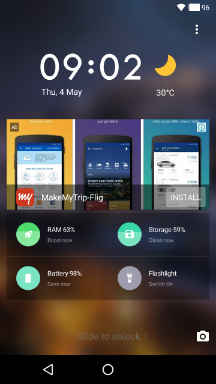 The phone asks you to sign up for all of the above mentioned services during the initial setup, which might prompt many users to actually do so. In return, you're opening your data to third parties who you may not necessarily want to be involved with.
Performance
As I mentioned earlier, the Micromax Evok Power features pretty much the same specifications as any other budget phone we have seen from the company. At its heart lies a MediaTek 6737 SoC, which is paired with 2GB of RAM. Now ideally, this is not a bad setup for a budget device, but considering the competition this isn't enough. Being a smartphone, it does offer you the access to a range of applications and most day-to-day apps, but most of these, like Gmail, dialer, SMS, Facebook, Whatsapp, work with some minor lags. Although, once I tried to push the device beyond its comfort zone, the sluggishness became more apparent. Games like Asphalt 8 ended up with regular frame drops and stutters, rendering it unplayable at times.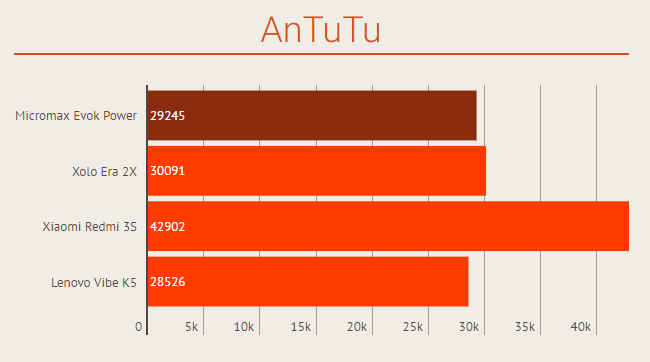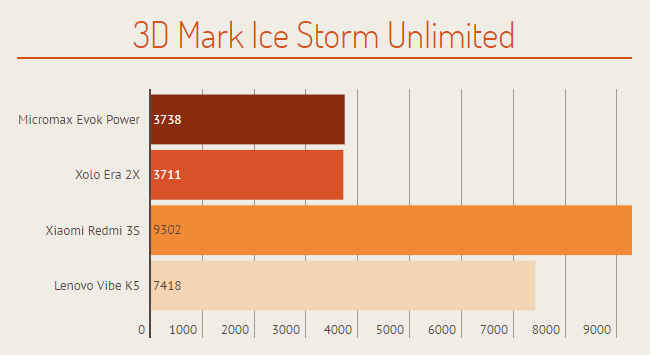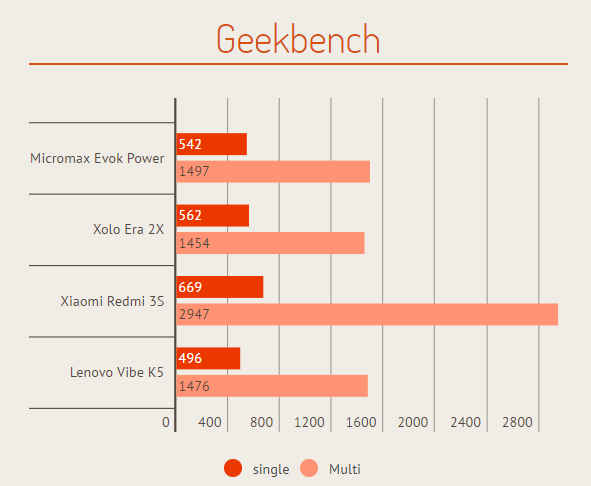 Call quality and reception on the other hand is just average and there is little to complain about, apart from the fact that the phone gets a tad warm on long calls. You do get support for 4G and Jio's VoLTE, like almost every other smartphone available today. The rear speaker is loud enough but lacks quality (of any sort), although the audio output via the 3.5mm headphone jack is not bad and is adequately loud at higher volume.
Battery
Unlike the performance, battery life on this phone is decent. For light users, the phone will last a normal work day and then some. It achieved 8 hours 29 minutes on PCMark's battery test. Moreover, the phone did last me a day (24 hours) with light usage and light gaming (subway surfer for 30 minutes). This is not bad considering there aren't many phones at this price bracket that offer large batteries.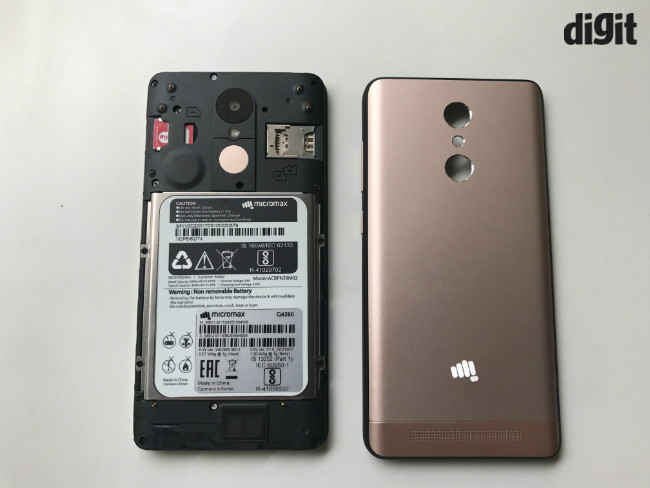 That being said, it is still somewhat short of Redmi 3S's over 2 days of battery life with similar usage. Moreover, even the less expensive Redmi 4A provides similar battery life without sacrificing much on performance.
Camera
The rear 8MP camera on this phone is actually decent (just shy of good, for the price obviously) and it's main redeeming quality. Images captured during day time in normal lighting conditions show good colour reproduction. Although, sharpness and details are low and one can also see visible noise on closer inspection. The camera tends to induce more noise in lower light situations, rendering them unusable in some cases. The front facing camera also does a decent job for the price. It's not a "pro-selfie" camera, but if an occasional video call is all that is required, it will do just fine.
Bottomline
The Micromax Evok Power looks different, and has a half-decent camera. However, there's nothing that really sets this phone apart or makes it worth buying. Being an online first device, it goes up against the Xiaomi Redmi 3S or Redmi 4A, both of which are far better performers than this phone. If you're a budget user, the Micromax Evok Power is not the phone you should be buying.