LG Optimus 3D Max detailed review
The good old smartphone has held the highest echelons among the mobile phone segment. However, now we have a new category of devices that will be the flag bearers for exclusivity – 3D phones. The first one to arrive in our test center is LG Optimus 3D, a phone that LG (smartly) launched before the HTC Evo 3D, in India. We did a detailed hands-on of the Optimus 3D the moment it arrived in our territory. And now here is the full-fledged review.
Look & Feel
Let's forget about its standout feature for a bit and besides that, it is a bit of a disappointment in the looks department – it's thick, and heavy (168 grams). There is a silver strip running down the entire length of the back panel and this adds a bit of shine to the otherwise simple look. Despite its weight, the rubberized feeling does help when you are holding the phone and typing a message with the same hand. The 'top heavy' nature of the phone can be a bit disconcerting at first, since it'll constantly attempt to tilt backwards, headfirst.
The 4-inch display has four touch-based buttons – Menu, Home, Return and Search. While these buttons are backlit, the backlight comes on only when you touch one of them. Kind of defeats the purpose of the backlight!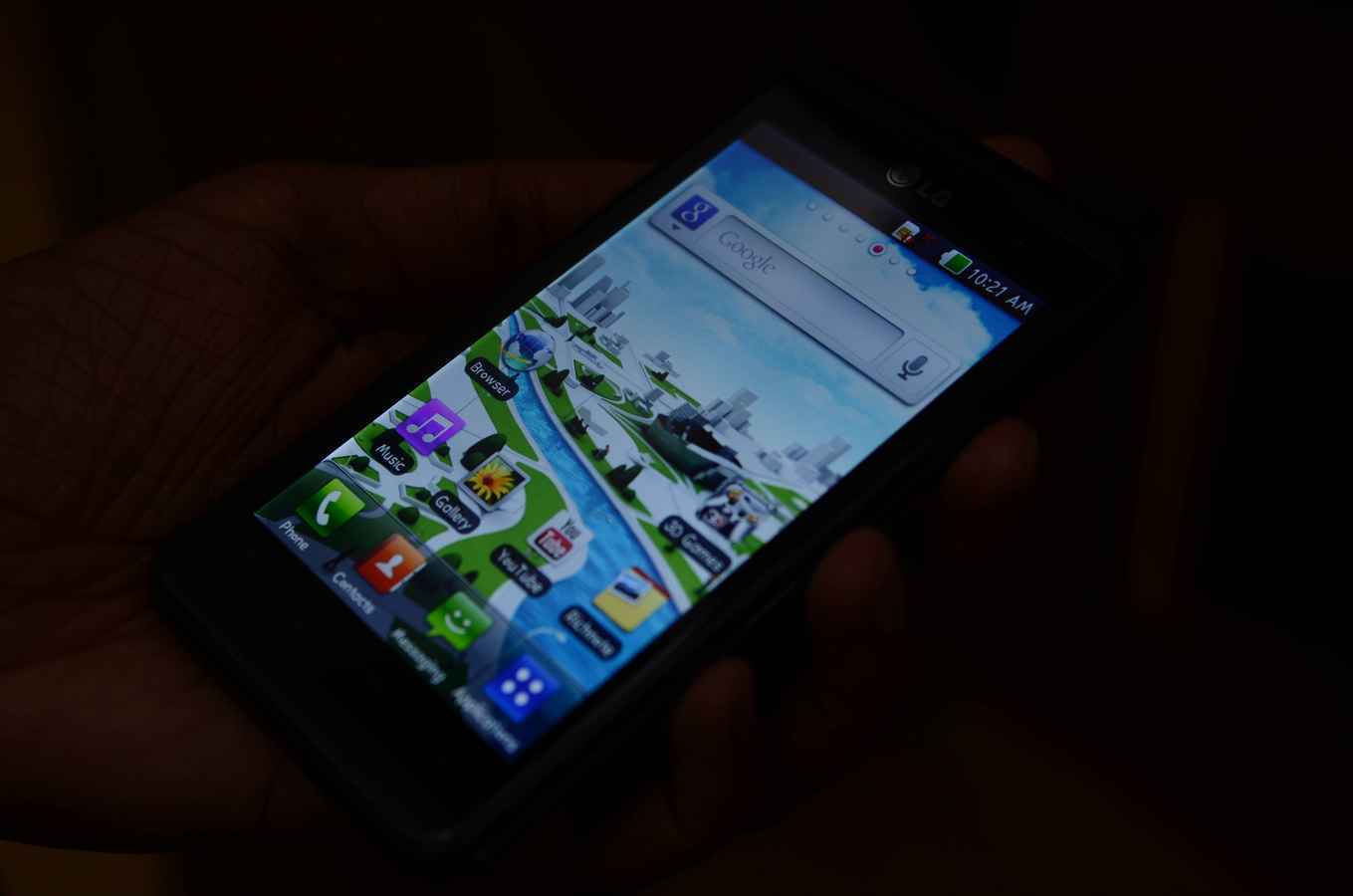 The right side panel has the 3D button (that switches the phone into 3D mode by basically opening what LG calls a "3D Zone"), and we'll forgive you for thinking it is the camera key! The HDMI port and the microUSB port are on the other side. Flip the phone over, and there are the dual cameras – for 3D pictures and videos.
Features
The Optimus 3D has a 4.3-inch 3D display (480x800 pixel resolution), and quite frankly, we absolutely loved it. Why? – excellent colour, with only very minor gradation of colours (at times), great brightness levels, fast moving scenes in videos are smoother than most other high-end smartphones (maybe because this display has a quicker refresh rate, don't really know) and the depth of the 3D content was actually surprising, in a good way. The 3D Zone mentioned earlier contains all 3D content – games, movies and access to the 3D camera.
[RELATED_ARTICLE]Before we get back to 3D and its performance, let us look at some of the other features. The ARM Cortex-A9 dual core 1GHz processor and the PowerVR SGX540 graphics power this 3D smartphone. However, we were a bit amazed (and subsequently a bit disappointed) to find that there is only 512MB of RAM to complement this processor. The 8GB of built-in storage can be added to via the microSD card route, up to 32GB. For the photography enthusiasts out there, a smartphone may not always be the best device, but the dual 5MP cameras do have some powerful capabilities – 1080p @ 30fps for 2D videos and 720p @ 30fps for 3D videos. And yes, it takes 3D pictures too! The mini HDMI out port will let you connect to any 3D television as well to enjoy 3D on a bigger display.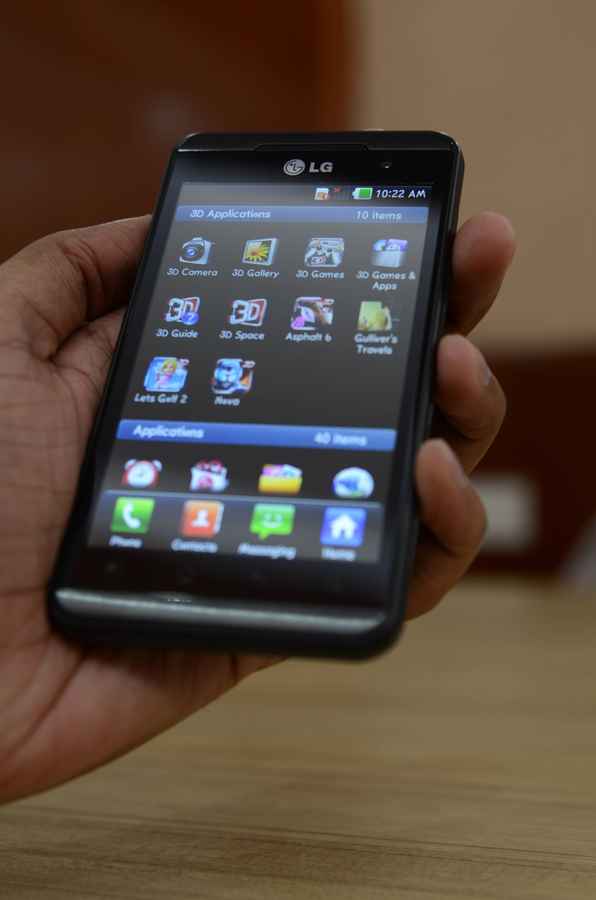 The LG 3D UI wrapped around Android is basically an updated version of the one we saw on the Optimus 2X with a slightly tweaked look. The Optimus 3D comes pre-loaded with Android 2.2, and frankly with 2.3 becoming pretty much de facto on phones, this retro step is a bit of a puzzle.
Read more about the LG Optimus 3D, its performance and our verdict, on the next page...

More on the 3D feature – LG has addressed one of the biggest complaints against the entire 3D experience - it is too complicated and uncomfortable. The Optimus 3Ds 3D display functions without glasses i.e. the display is auto-stereoscopic, and to be honest works quite well. However, as with auto-stereoscopic technology that is still in its infancy, using this display in 3D mode for long periods of time (say above 30 minutes) will cause headaches and sometimes a nauseous feeling. Incidentally, you can most formats of 3D video files on to the Optimus 3D and it will play them. We tried a 1080p MKV file and this played pretty well.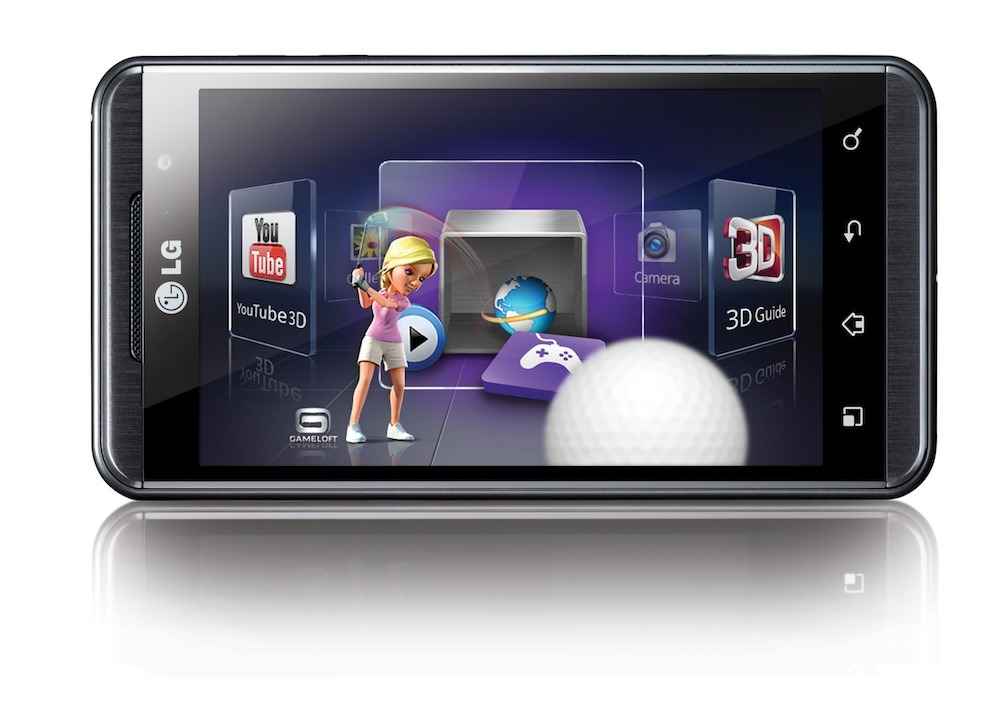 Performance
The first aspect of this phone that we were interested to test was the 3D factor. Content plays well, flawlessly, with good depth and colour, but all is not perfect. First, some 3D contents shows up with the slightly visible vertical black lines. While they don't really have an effect on the quality, their presence can be annoying. Secondly, what after the pre-loaded content? The Android market doesn't have any 3D content to speak of. You will be left with downloading 3D videos, or watching YouTube 3D. On the Optimus 3D, the 3D content works only in the landscape mode, and you need to follow the usual straight line and distance guidelines for viewing 3D content. Problems aside, 3D content generally handles well enough for us to recommend this to 3D fans.
[RELATED_ARTICLE]The dual core processor offers an experience similar to what we experienced with the LG Optimus 2X – a phone we now jokingly refer to as "the epitome of hidden powers". Under normal use, the phone doesn't feel like a dual core phone, and quite rightly too. With the correct processor scaling, Android doesn't feel sluggish and neither does battery life get sacrificed. However, the biggest bottleneck comes taking two 1GHz cores and caging them with a meager 512 MB of RAM. Even the HTC Sensation that isn't a 3D capable phone has 768 MB, not to mention the Samsung Galaxy S2 with 1GB. The HTC Evo 3D that has also been released here also has 1 GB. This especially becomes a problem when a lot of apps are open in the background. With today's smartphones it is normal for somebody to have mail clients, browser tabs, apps for Facebook and Twitter as well as location-based apps running in the background thus LG cannot say " who asked you to multitask on a mere phone" and get away. Moreover, for a phone that costs above Rs 35k, this is just not acceptable.
The dual cameras on the phone can record 3D videos and capture 3D images. The 3D image quality is quite good, but does suffer a bit in terms of depth in low light conditions. The same goes for videos too. However, if the lighting is good, the 3D images are a delight, and 3D videos are definitely worth the effort. Switching the cameras between 2D and 3D modes can be done from within the camera interface itself.
For the features, and the hardware, the Optimus 3D is let down by a mediocre battery. At least on paper, the 1500 mAh battery isn't that bad, but then again, it barely lasts a full day between charges. Do a bit more of 3D video fun, and that will reduce further.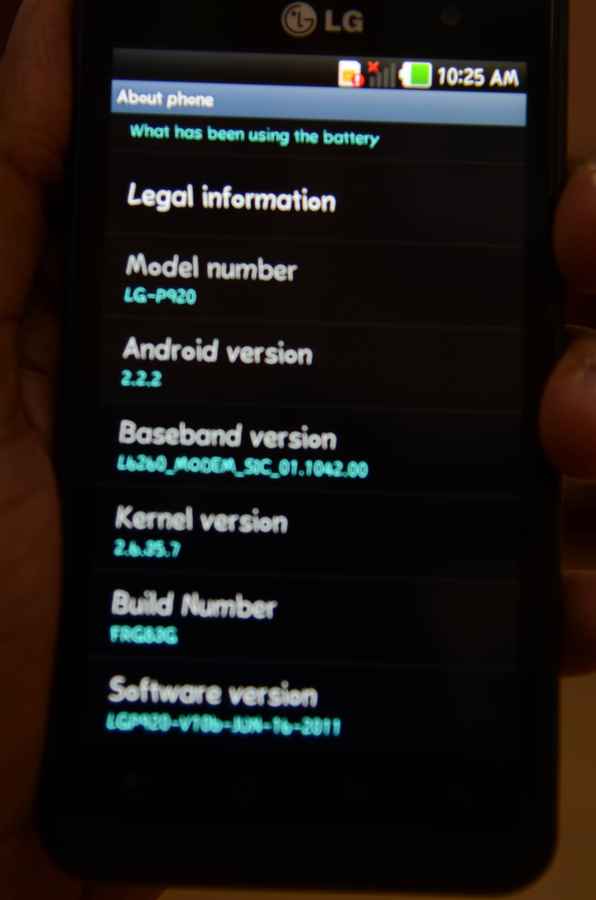 We have already spoken about the excellent display quality. The touchscreen is very responsive as well. Unlike the iffy response on the Optimus Black, this one does well in being consistent. The extra real estate space makes the on-screen keypad easier to use.
Our Take
For a price of Rs. 37,000 in the market, the LG Optimus 3D is quite frankly overpriced, and you pay pretty penny for getting a phone that is "3D ready". Despite its faults (well, we haven't seen a perfect smartphone yet anyway), the Optimus 3D does very well with the one thing it boasts about - 3D. It's safe to assume you are eyeing this phone because of that reason, and we would urge you to check it out. Remember that 3D content is also a bit hard to come by. If you don't need 3D, there are better options around that will cost less. Also if you can hold your horses, there are bound to be more 3D phones around the bend.
Price: Rs. 37,000 (MRP)
Specs:
Platform: Android 2.2 (upgradeable to 2.3); Processor: ARM Cortex-A9 Dual Core 1GHz processor, PowerVR SGX540 graphics, 512MB RAM; Display: 4.3-inch 3D LCD, 480x800 pixel resolution; Storage: 8GB built-in, microSD slot up to 32GB; Camera: Dual 5MP camera, 1080p @ 30fps for 2D videos and 720p @ 30fps for 3D videos; Battery: 1500 mAh

| | |
| --- | --- |
| Brand | LG |
| Model | Optimus 3D |
| Street Prices (Rs) | 36500 |
| Price (MRP, Rs) | 37000 |
| Features | |
| Physical Specs | |
| Form Factor | Bar |
| 2G Network Bands | GSM 850 / 900 / 1800 / 1900 |
| 3G Network Bands | HSDPA 900 / 1900 / 2100 |
| Screen Resolution | 480 x 800 pixels |
| Screen Size (inches) | 4.3 inches |
| Maximum Screen colours | 16M |
| Touchscreen / Dual Screen (Y/N) | Touchscreen |
| Battery Rating | 1500 mAh |
| Dimensions (L x W x H) | 128.8 x 68 x 11.9 mm |
| Weight | 168 grams |
| Expandable Memory Type | microSD |
| RAM (in MB) | 512 MB |
| SoC (CPU, GPU) | Dual-core 1GHz ARM Cortex-A9 proccessor, PowerVR SGX540 GPU, TI OMAP4430 chipset |
| CPU Clock speed | 1 GHz |
| No. of CPU cores | 2 |
| Hot Swappable (Y/N) | N |
| Available Colours | Black |
| Other Features | |
| Operating System (Tested with) | Android 2.2 |
| Charging via USB (Y/N) | Y |
| Hardware Keypad (Regular/QWERTY) | None |
| Accelerometer (For auto rotate) | Y |
| Address Book Capacity | Unlimited |
| No of calls in register | Unlimited |
| Talk Time / Standby Time (3G) * | 9 hrs / 450 hrs |
| No of Profiles # / Customisable | NA / Y |
| Offline Opearability (Y/N) | Y |
| Inbuilt GPS / A-GPS support (Y / N) | Y / Y |
| Connectivity | |
| Browsing (GPRS/EDGE/3G) | Y / Y / Y |
| EDGE max speed (in kbps) | 237 kbps |
| 3G max speed (in mbps) | 7.2 mbps (HSDPA) |
| Connectivity (WiFi/Bluetooth/IR/USB) | Y / Y / N / Y |
| Bluetooth Version/A2DP support | 2.1 / Y |
| Camera Specs | |
| Camera Resolution (Mega Pixels) | 5 |
| Video Capture Resolution | 1920 x 1080 and 1280 x 720 |
| Auto focus / flash | Y / Y |
| Type of flash | LED |
| Secondary camera for video chat | Y |
| Mirror for self portrait (Y / N) | N |
| Camera Settings (So 10) | 6 |
| Zoom (Optical/Digital) | digital |
| Multimedia | |
| Music Formats supported | MP3/WAV/WMA/eAAC |
| Video formats supported | MP4/DivX/XviD/H.264/H.263/WMV |
| FM Radio / RDS (Y/N) | Y / Y |
| Accessories | |
| Bundled Accessories | Charger, data cable, handsfree |
| Size of memory card provided | 8 GB |
| Build and Ergonomics (So 10) | |
| Surface materials used | 7.5 |
| Overall build and in-hand feel | 7 |
| Quality of moving parts | 7 |
| Design and ergonomics | 6.5 |
| Keypad design (on-screen or hardware) | 7 |
| Menu and interface | 7.5 |
| Settings and ease of navigating menus | 7 |
| Camera menu options | 6 |
| Performance | |
| Signal Reception and Voice Clarity (So 10) | |
| Zone 1 | 7 |
| Zone 2 | 5 |
| Zone 3 | 4 |
| Handsfree Clarity | 8 |
| Loudspeaker Clarity | 6 |
| Earpiece Clarity | 7 |
| Handsfree Volume | 8 |
| Loudspeaker Volume | 7 |
| Earpiece Volume | 7.5 |
| Bluetooth Transfer Speed (in KBps) | 180.1 |
| Imaging and multimedia tests | |
| Captured Photo Colour | 7.5 |
| Captured Photo Crispness | 7.5 |
| Captuted Photo Detail | 7 |
| Captured Video Quality | 7 |
| Effectiveness of integrated flash | 6.5 |
| Music Quality (loudspeaker) | 6.5 |
| Music Quality (handsfree) | 7 |
| Volume levels (loudspeaker) | 7 |
| Volume levels (handsfree) | 8 |
| Display (So 10) | |
| Crispness | 8 |
| Colour | 7 |
| Contrast | 7 |
| Font rendition | 7 |
| Legibility in bright sunlight | 5.5 |
| Video playback | 8 |
| | |
| * Manufacturer Rated | |
Contact: LG India
Email: N.A.
Phone: 18001809999