LeEco Le Max 2 detailed review
The market today is such that the fate of a product can change in a matter of days. The LeEco Le Max 2 was an absolute stunner of a product, poised to take the top of our top 10 lists (yes, they're based on our tests). Alas! Along came the OnePlus 3, blowing away the competition, including the Le Max 2. Does that mean the LeEco Le Max 2 is a not a good phone? Absolutely not. There's more to this phone than just the specifications, and that alone makes it worth considering. In this Leeco Le Max 2 review, we'll be taking a look at all that is good about this phone, and all that isn't.
Build and Design: Lessons learned…
LeEco's business model revolves around content delivery, which led the company to fit a 6+ inch display on the Le Max before this. As far as ergonomics are concerned, the Le Max was rather unpleasant. It was too big, heavy, and lacked any sense of ergonomics whatsoever. With the Le Max 2, this changed. The company went with a 5.7-inch display this time, which is much more ergonomic on the overall sense.

The Le Max 2 is more ergonomic than its predecessor, and very well built.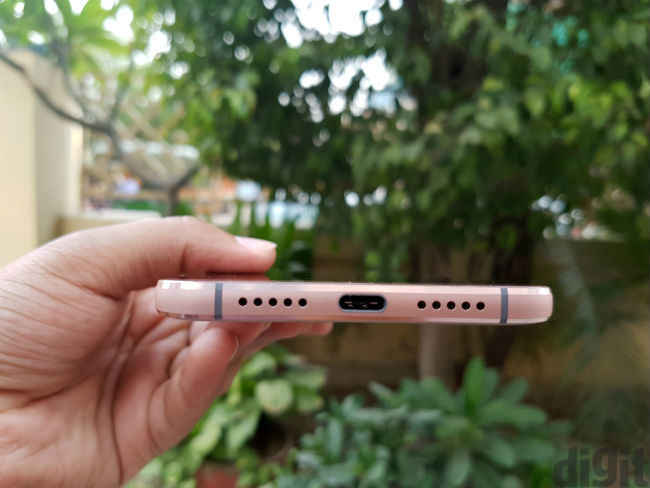 The USB Type-C port is all you get on this device. No 3.5mm jack.
The Le Max 2 feels more like a phone, and less like a tablet. The slightly chamfered edges keep the sides from digging into your hands. It's still heavy, but not as much as it used to be, and the power on/off button is placed right where your thumb would be. To be clear, this is in no way as ergonomic as a OnePlus 3, but it's usable, and more in tune with industry standards.
A major part of the real estate on the back is taken up by the 21MP camera, which protrudes outwards from the body. I find it a tad unsightly to look at, but it does give the Le Max 2 a unique look. That said, it exposes the glass over the camera lens to scratches, which are bound to happen over the long term, a problem prevalent in the OnePlus 3 as well. There are black antenna bands on the back, which look nice, and the new LeEco logo (stylised using the letters L and E) is at the bottom of the back.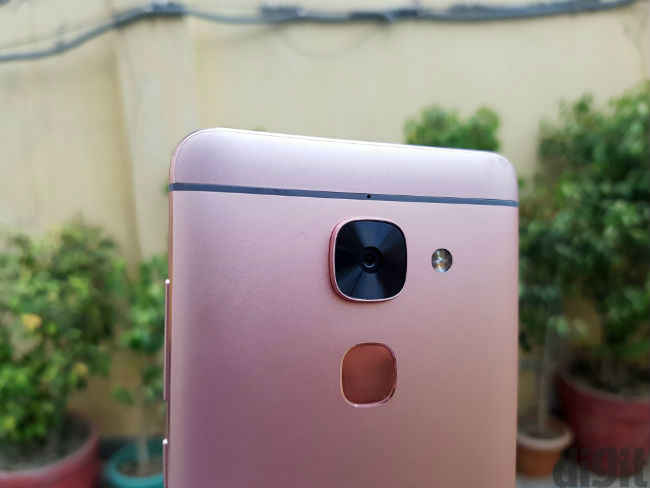 The protruding camera module on the back puts the lens glass at risk.
The Le Max 2 is one of the best built phones. The unibody aluminium feels really solid, and there's no misalignment on the speaker grilles and USB-Type-C ports.
One thing worth noting, though, is that the LeEco Le Max 2 is basically a larger version of the Le 2. It doesn't matter right now, but the company would need to differentiate the design over the long term, to avoid criticism.
Display: Good colours but not bright…
The LeEco event where this phone was launched, is the only one I've been to recently, where 2.5D curved glass hasn't been flaunted. Frankly, it is fine - 2.5D glass adds nothing by way of display quality, and doesn't always look good. What's not fine, though, is the lack of Gorilla Glass. It makes the Le Max 2's display somewhat sticky, and not very good to touch. It's also not the brightest display around, with what seems like a 400-450nit maximum brightness. This is fine indoors, but sunlight visibility isn't the best.
Where the display excels is in sharpness and colours. It has a QHD resolution, with pixel density of 515.3 ppi. The blacks are deep, and viewing angles are great. Assuming you watch most of your videos and movies indoors, LeEco has focused on the right aspects of the display. The viewing angles and colours do make up for other weaknesses of the display.
UI: Le content extraordinaire…
Okay, calling it extraordinary already may be a stretch, but eUI is basically how LeEco differentiates itself. On the face of it, it's any other UI, with changes for the sake of changing. It takes a minute to get used to, but you will most certainly get used to it. Where eUI differentiates itself is in two apps, called Le Live and Le Vidi. Through these, LeEco delivers its Supertainment package, currently constituted of live TV and movies. LeEco has promised live concerts and more this year, which will presumably be delivered through the Le Live app.
Le Live currently consists of YuppTV, which gives you access to regular TV channels on your phone. You can access video material ranging from regular news channels to regionals like Gemini TV. There's quite a bit of content here, which many may enjoy. The Le Vidi app, on the other hand, is home to Eros Now, and some other videos. This is where you can watch all the movies that LeEco delivers through its phones.
You get free access to these two apps, and any future additions, for the first five months. LeEco charges about Rs. 4,900 for a year-long membership. It is worth noting, though, that all of LeEco's content is streamed on your phone, so you will need a strong Internet connection, with enough data capacity.
Performance: Qualcomm takes center stage…
Qualcomm's Snapdragon 820 has become the poster boy for performance this year. Overseas models of the Samsung Galaxy S7 Edge have this SoC, as does the LG G5, Xiaomi Mi 5 and HTC 10 in India. Of course, the OnePlus 3 is the most recent phone that has made good use of this SoC. The Le Max 2 joins this rather elite club of smartphones.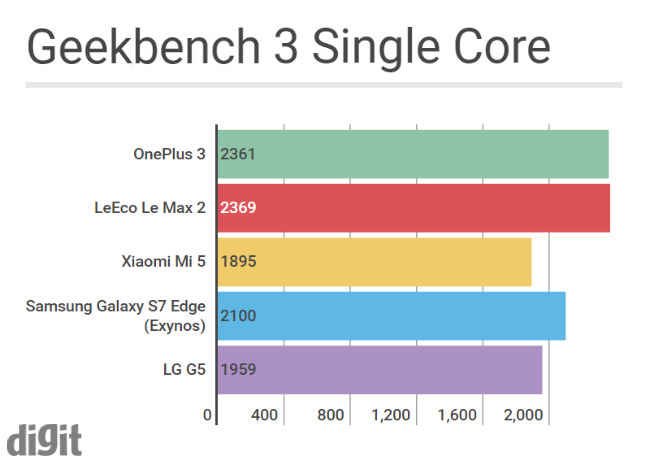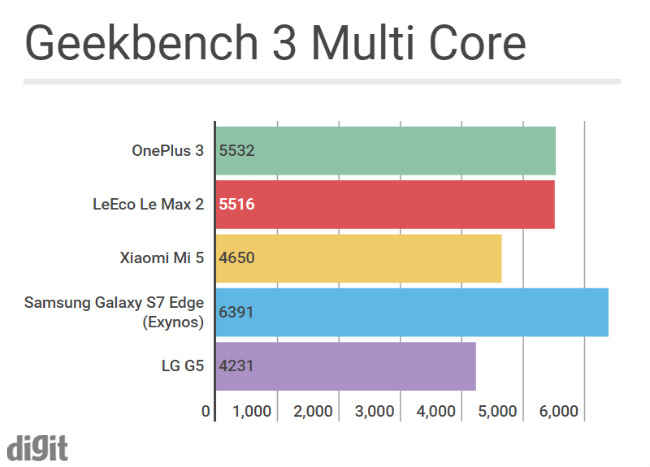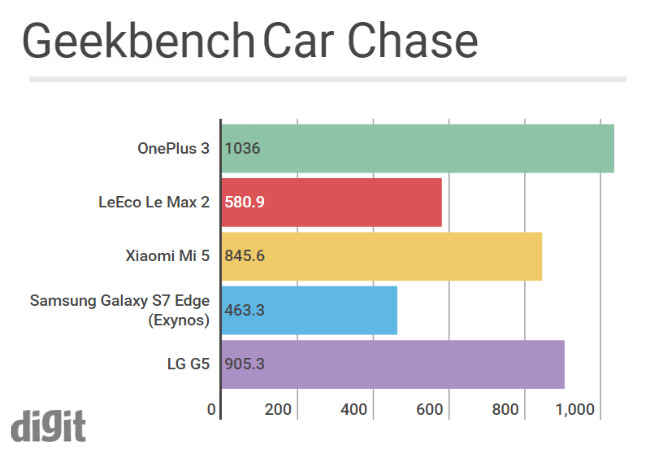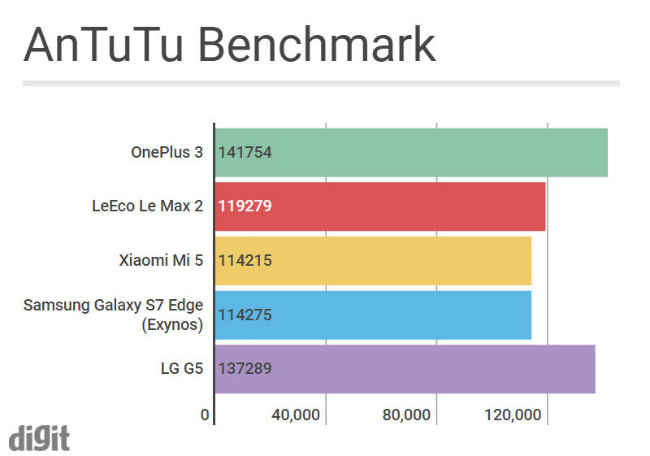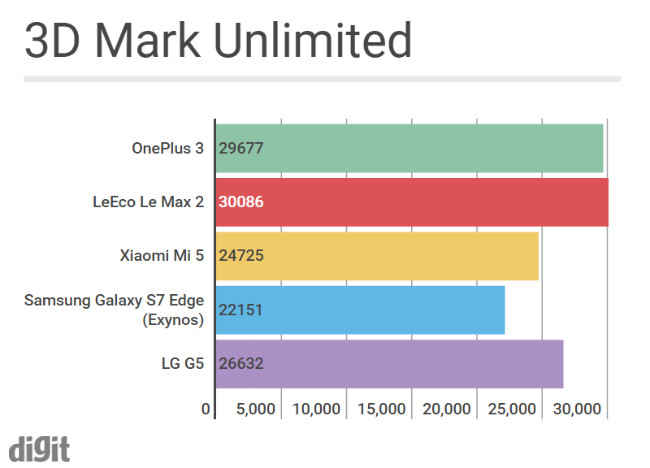 While in terms of single core and multi-core performance, the Le Max 2 is right up there, it's a tad behind in terms of heat management. In the other phones we mentioned above, we had to really struggle to heat them up considerably, but it's easier to do that in the Le Max 2. To be clear, we are not indicating heating issues here. The Le Max 2 simply reaches higher temperature than others. For example, the OnePlus 3 manages to stay below 40 degrees after about 10 minutes of 4K video shooting, while the Le Max 2 reaches over 40 degrees in the same time. Our heat test shows about 37 degrees inside an air conditioned room, after about 5 minutes of heavy gaming.

The Le Max 2 is also one of the only two phones in India to sport 6GB of LPDDR4 RAM. As we said in the OnePlus 3 review, 6GB is pretty much overkill right now. While there is a sense of satisfaction in looking at 4.75GB of free RAM on your phone, we never really needed that much. After all, how many games will you play at a time? And how heavy can video editing on phone really be, no matter the RAM, right? Very few professionals work on high fidelity audio and video directly from a smartphone (it's only the iPad that has been commendable, portable accompaniments for video and audio professionals). 6GB of RAM, in essence, is something you can boast of, but not something that you would need. Interestingly, that means that the 4GB variant of the Le Max 2, which costs a mere Rs. 22,999, gives you really great value. In fact, we have tested that device as well, and except for the amount of free RAM, everything's the same.
To sum it up, the Le Max 2 will do everything you need it to do, and have memory left for more. The higher resolution (and bigger) display does affect graphics rendering. In fact, this is the only area where you'll see any noticeable difference between the this phone and its competitors, and that too, if you really compare side by side. In strict, comparative terms, the Le Max 2 is behind the OnePlus 3, but it's hard to pinpoint that in regular usage.
Continual Digital Lossless Audio: CDLA…
A point of contention for many, with the Le Max 2, has been the lack of a headphone jack. The question is, does lossless audio matter enough for you to spend money on a separate pair of headphones? Well, for the audiophile, the answer is yes. LeEco is the first to have utilised this formula, and it seems unfair to penalise them for the same. The technology itself is definitely worth appreciating. However, it all depends on the quality of USB Type-C headphones that one can buy. While there are almost no options right now, these are surely going to increase in future.
Having said that, you will need the USB Type-C headphones from LeEco to utilise the CDLA feature. The phone does come with a converter in the box, so you can use your regular headphones as well. You will, however, not enjoy lossless audio in this case. This is because LeEco's CDLA headphones come with a built-in DAC, that deals with the digital to analog conversion.
Souvik Das, from our team, is working on a story around the difference (if any) that CDLA makes in the Le 2 and Le Max 2, so we implore you to watch this space to learn more.
Camera: Better, but not the best…
If you take a really hard look at the 20-30k price segment, you'll realise that, quite surprisingly, there are very few phones with exceptional cameras in this segment. The Le Max 2, however, rests at the upper end of this spectrum. Under daylight and even well-lit indoors, the phone can take pretty good shots, and the dynamic range is quite good. The same can be said about colours as well, and details are satisfactory, to say the least.
Under low light, the Le Max 2 takes satisfactory images, too. The noise levels increase, understandably, but the photos are still usable, and colours aren't distorted. Overall, we find the image quality to be better than the Xiaomi Mi 5, at least under indoor and lower lights, while it is the same under bright sunlight.
Le Max 2 Camera Samples
Having said that, where the Le Max 2 lags behind is in focusing speed. The phone takes a split second longer to focus than its direct competitors. This is not exactly an issue while clicking photos, but you will notice this if you're in the habit of taking candid photos, where you get little time to capture a moment. Even more so, when shooting videos, this becomes a problem. The Le Max 2 was often unable to focus when moving about, recording video. At one point, the phone simply didn't focus for a considerable period in a video.
LeEco Le Max 2 video sample. The phone often doesn't focus, while shooting.
Battery: Could be better…
There are very few phones in the market that can give you battery life worth a full day or more, and the Le Max 2 isn't one of them. The Snapdragon 820 is a powerful SoC, but all that power comes at the expense of battery life. In addition, rendering a QHD display all day takes a toll, and the Le Max 2 lasts for anywhere between 12-16 hours, depending on your usage. Our usage, got us to last with it for 12 hours, including a lot of gaming.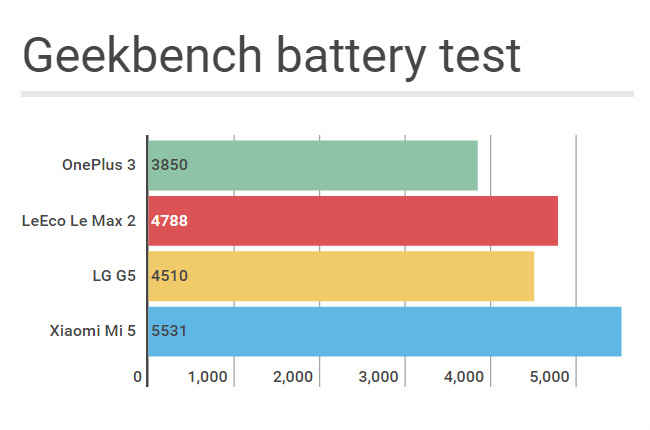 Bottomline: How to sell a smartphone…
The Le Max 2 is a powerful smartphone, and it's every bit the value-for-money device that we're used to seeing today. It goes up against the toughest competition out there, and though we can't call it the best, it's definitely worth buying. We would recommend it for the extra content offerings, which do add to the value, and make up for the extra Rs. 1,000 you pay, in comparison to a OnePlus 3.