Karbonn Fashion Eye detailed review
The Karbonn Fashion Eye is an interesting smartphone. Priced at Rs. 4,349, the Fashion Eye is meant to provide a primitive Augmented Reality experience, which is unique for its category. As you would expect, this particular category comes with a number of compromises in terms of the hardware used, but there's a lot that the Karbonn Fashion Eye tries to achieve.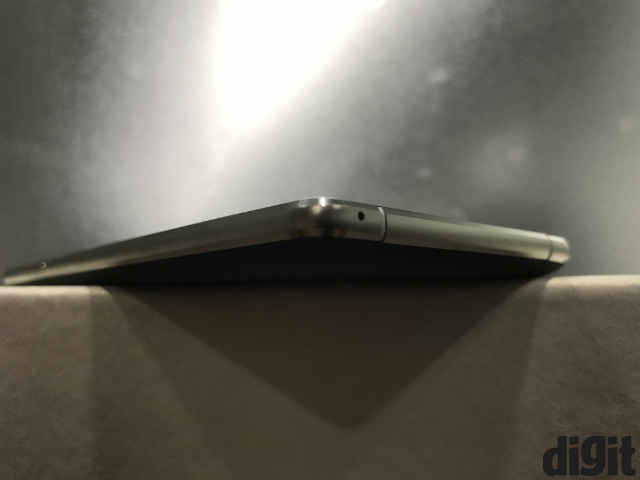 Build and Design
The Karbonn Fashion Eye is actually quite the looker, with a sandstone back panel and a metal finish rim adding definition to the taut body. The camera lens is surrounded by a metal rim, although the rather large protrusion leaves the lens prone to faults if you place it hard. The bump does make it easier to pick the phone up from a flat surface.
The inclusion of a 5-inch display makes the Karbonn Fashion Eye an ergonomic device on overall terms, and the sandstone back adds to the grip. The metal finish rim around the side adds slight bling to it, and also makes the phone look different from its peers. The overall build feels sturdy, and there's a good sense of durability that won't lead to accidental physical damage in a few drops.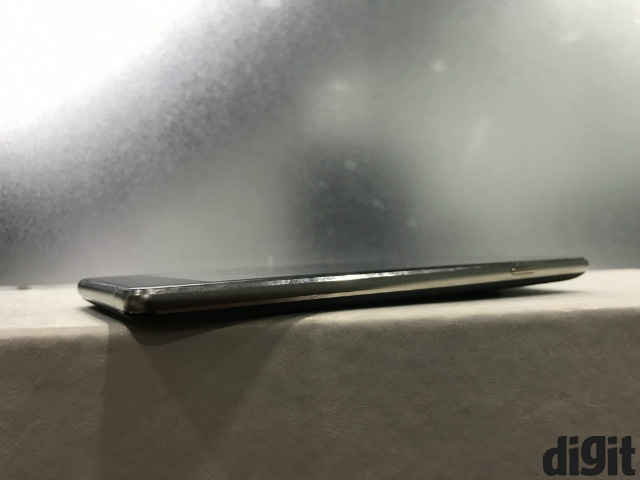 The rear houses a single LED flash and the solitary speaker, and a ridge to open the rear panel. The power button is to the right, the volume rocker is to the left, and the top houses the 3.5mm audio port and the microUSB port. The bottom panel only houses the microphone. The operation keys are capacitive, and are marked in place.
Display and UI
The 5-inch HD display is the best in terms of resolution that you get in this category. Karbonn has made cosmetic usage of the 2.5D curved glass on the display, which does not contribute to viewing in any manner. Touch response is sub-par, lacking in precision. As a result, you register multiple missed touches, swipes and flicks on the display.
While colour saturation and accuracy is not below par, the display still looks somewhat bleak and underwhelming. The colour balance makes the display look cool, because of which bold, warm colours look bleak. Viewing angles are not entirely stunning, either, and you are best left in placing the display in line with the centre of your sight of view.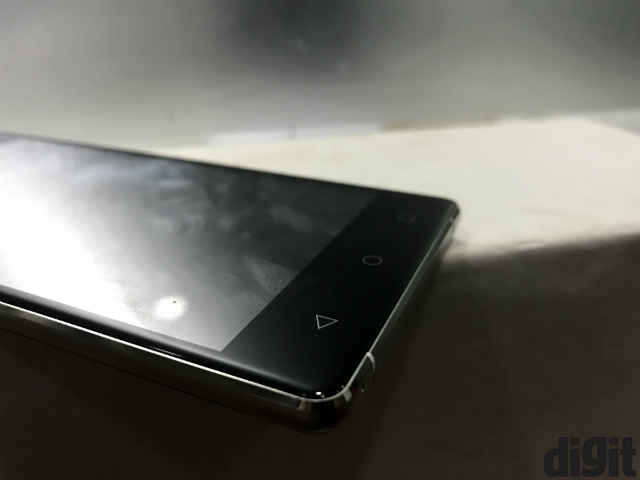 That said, the Karbonn Fashion Eye still has one of the better display panels in the sub-5k segment. Peak display luminance of 551 lux means that the panel is among the brightest in this segment, but the Fashion Eye still suffers under direct sunlight.
The next point of discussion here is the custom Kandy UI v1.0, based on Android Lollipop v5.1. A heavily customised interface with only 1GB of RAM makes the phone sluggish on overall terms, and the company also includes a host of apps that you cannot uninstall, leaving less than 5GB of usable space. The interface itself is not striking, but includes a number of features over the standard array of themes, redesigned icons, lock screen and app layout. These features include Search Apps option in the app drawer, an in-app operations menu that pops up when you flick upward on a certain app, permissions shortcut in notifications menu, and customisations in the camera app. The in-app operation menu looks exactly like Apple's 3D Touch menu when you hard press on apps, and gives you basic shortcuts to use without opening the app itself.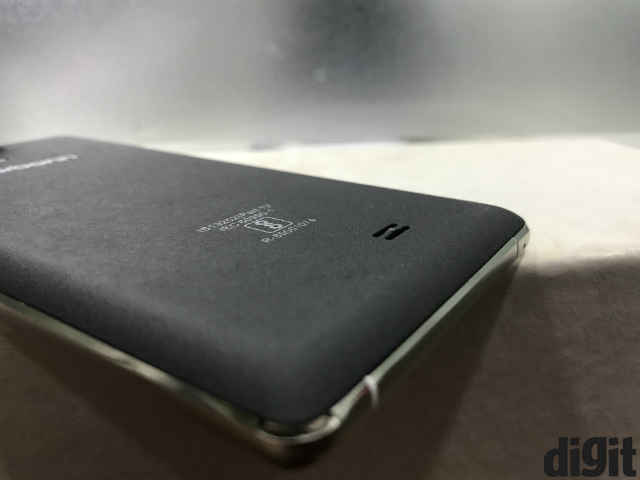 For instance, you can flick up on the messages icon and tap on 'Send Message' to directly type out a new message, and flick up on the phone icon and tap on 'New Contact' to add a person. These, though, do not really save on the amount of time and effort you put behind each operation, making this somewhat cosmetic. You can also access a Quick Settings panel, from where you get access to flashlight, calculator, alarm and sound/vibration/silent modes. You can also select up to four apps for quick access from the panel.
The custom UI looks somewhat amateur, and does not pack in a finesse the way the phone's exterior does. The amount of bloatware somewhat puts you off, and on overall terms, an underwhelming display does not make for a great experience either.
Performance
Powered by the MediaTek MT6580 quad-core SoC clocked at 1.3GHz, along with 1GB of RAM and 8GB native storage, the Karbonn Fashion Eye is a mixed bag in terms of performance. There are notable load times for all applications, and switching between two apps takes significantly noticeable times. It is also important to note that despite 8GB of native storage being the de facto standard right now in this price bracket, such storage is very limiting in the present world. As a result, you will be limited to only being able to install a handful of apps, and even delete photographs resulting in an eventual struggle with storage.
While browsing, multi-tab surfing leads to a lot of stutters. Loading images and GIFs also take considerably long, and the overall smartphone feels sluggish. However, gaming performance is significantly better than general usage. Lighter games like Subway Surfers do exhibit noticeable load times, but the gameplay itself is fairly smooth with rare, minimal stutters. Even heavier, graphically intensive games like Asphalt 8: Airborne exhibit impressive gameplay for its category, despite the high load time, significant delays within in-game menus, and intermittent frame skips and stutters.
However, there is a major flaw here. The processor heats up significantly, both during gaming and video streaming. Playing Asphalt 8: Airborne for 10 minutes shoots the peak temperature of the smartphone up to 44.5 degree Celsius, while the normal temperature at this point for smartphones is 32 degree Celsius. Streaming a Full HD video for 15 minutes show peak device temperature of 41.8 degree Celsius, which is also significantly more than the average temperature of 36 degree Celsius. This, naturally, leads to more stutters and lags in gameplay after about 10 minutes, and you are best left to sporadic mobile gaming on the Karbonn Fashion Eye, at best.
Yet another element that goes against the Karbonn Fashion Eye is the lack of 4G LTE compatibility. The dual-SIM smartphone supports 3G from SIM 1, and 2G from SIM 2 - making the Fashion Eye somewhat behind the times when manufacturers are focusing on 4G-compatible budget smartphones since the inception of Reliance Jio LTE. Call quality contains interruptions and noticeable lack in clarity in areas where the average call quality is good. It is not downright abysmal, but is not seamless, either.
Augmented Reality: The Fashion Eye app
With all of this, the main focus of this smartphone is an 'Augmented Reality' feature - Fashion Eye. The smartphone contains an app of the same name that works as an aggregator for e-commerce channels. It takes access to your camera, and from within this app, you need to take a photograph of whichever fashion accessory or garments that catches your eye.
Following this, you can crop the photograph to only include the pattern/colour with which you wish to search for, and you are then given access to a drop-down menu asking you to select which category of fashion you wish to search in. Based on your inputs, the Fashion Eye application then gives you suggestions that are supposed to be closest to your input.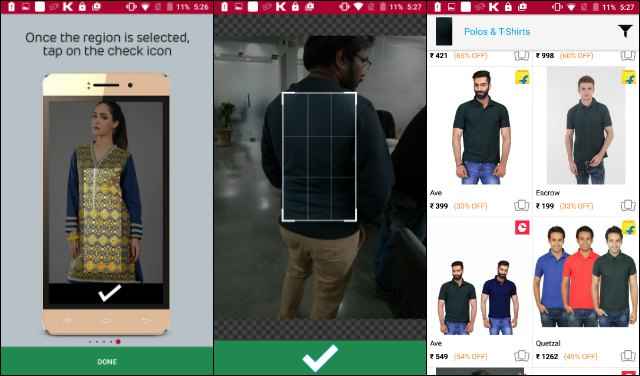 Most of the operations are done manually here, and the app does not recognise elements by itself. It does not gauge whether a particular piece of cloth would be worn by males or females, or even gauge the difference between footwear, winter wear or sleepwear. The matches are not consistent - often, Fashion Eye returns close-to-accurate results, but many times, the results are not exactly what you would have searched for.
This particular mode is a very basic implementation of AR, and may seem lucrative for fashionistas who prefer keeping an eye out for the latest fad while shopping online. For the rest, Fashion Eye is a meagre addition that would be in use for the first couple of days, and until the minimal sense of novelty wears off. Considering the price point, however, it is an interesting approach by Karbonn to differentiate its budget device from other similar products.
Camera
The 8-megapixel primary camera uses a Sony IMX219PQ sensor along with a single LED flash. While this category is not particularly famous for spiffing image clarity, the likes of Yu Yunique and Xolo Era 1X have raised expectations for budget smartphone cameras. On that note, the Karbonn Fashion Eye delivers mediocre performance, and certainly does not upset the two budget smartphones mentioned above in terms of the hierarchy.
Under brightly lit conditions, if you do manage to hold your hand steady for long enough, the Karbonn Fashion Eye manages to shoot reasonably decent photographs. There is a distinct lack of details and sharpness, but given the category, the Fashion Eye delivers acceptable details and sharpness of edges in photographs. Despite the ever-present fine noise, photographs shot look acceptable.
View post on imgur.com
The white balance algorithms here work well and adjust tones in accordance to the ambience. This is one of the better factors about the Fashion Eye's camera, which leads to reasonably acceptable colours. However, there is a hint of undersaturation in photographs shot by it, making photographs look slightly bleak. There is also a lot of noise in photographs across almost all lighting conditions, which leaves minimal room for post-processing photographs.
The worst aspect about the Karbonn Fashion Eye's camera performance, however, is the application itself. The camera takes ages to focus, and equally long to shoot a photograph and save it. Shooting in HDR mode is practically impossible, as the Karbonn Fashion Eye takes almost two full seconds between tapping on the shutter and the photograph being saved. HDR photos somehow attempt to soften the image noise, and ends up making the overall photographs softer than when you shoot in normal mode.
Battery life
The Karbonn Fashion Eye does not really excel at delivering good battery life, either. Our benchmark test for the battery returned 4 hours and 29 minutes, and in real life, the Karbonn Fashion Eye lasted me for 9 hours, at best. The 2000mAh battery is small in capacity, and as a result charges relatively fast. You get 9 hours of regular usage with about 10-12 calls, two hours' worth of messaging, sporadic browsing and navigation, and 30 minutes each of gaming and music streaming.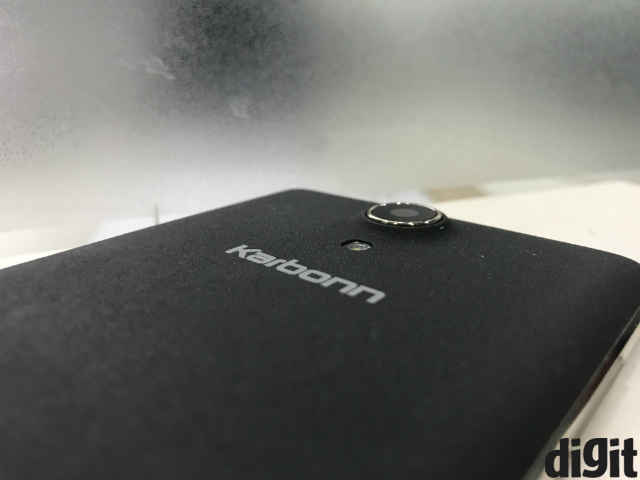 This means that even with conservative usage, you will need to charge the Karbonn Fashion Eye to full before leaving for work in the morning, and once for at least 15-20 minutes in the evening, to ensure that you do not run out of charge halfway on your way home.
Bottomline
The Karbonn Fashion Eye comes with a decent build, good ergonomics and looks. It fares acceptably in terms of performance, and the primary camera is usable. However, a lacklustre display, heating while usage, a very slow camera and low battery life makes it a mixed bag of sorts. The Fashion Eye feature is a nice addition considering the price category, but is not really an enticing one. It does not support 4G LTE either, and the likes of Xolo Era 1X make for better options than the Karbonn Fashion Eye.