Huawei Honor 7C detailed review
The Honor 7C is one of the two smartphones from Honor to feature a Qualcomm chipset instead of the usual Huawei-manufactured Kirin chipset. The other phone is the less expensive Honor 7A. With its large 18:9 screen and dual-lens camera setup, it takes on the likes of Xiaomi's Redmi Y2 and Redmi Note 5. The 3GB RAM/32GB storage version costs Rs 9,999 and the 4GB RAM/64GB storage version, Rs 11,999 on Amazon.in. The model reviewed here is the costlier one with 4GB of RAM and 64GB of internal storage.
Design
The Honor 7C sticks largely to the design vocabulary set by other Honor 7-series phones from the past and the present: it's a phone with a sharp, rectangular display that sits inside a body with curvy corners. The Honor 7C can easily be mistaken for the slightly smaller Honor 7A. So not many marks for originality then. The back of the phone is made mostly of thin metal that can prove to become slippery in the hand while lifting and holding. On the bright side, it doesn't give in easily to smudges and scratches.
The left side houses the tray for SIM cards and microSD card. The right side houses the power button and volume rocker, which I found to be placed too close to each other for comfort. With no knurling on the surface of the power button, there's a good chance you'll end up mistakenly pressing one for the other. The bottom edge contains a 3.5mm audio jack, the aging microUSB port, a microphone, and a speaker grille. The top edge is bald. With its 18:9 5.99-inch display, the Honor 7C is quite a large phone. It might feel difficult to hold if you have small hands.
Honor's EMUI 8.0 user interface is simple enough to use but comes with a fair amount of bloatware. Font size of text tends to become inconsistent in some of the screens. It has a 'Ride mode' app that enables only essential functions when the user is riding a motorcycle or scooter, something that might be handy for conscientious riders. It also has a 'Simple mode', which turns on a simplified version of the home screen with large, easy-to-read icons, a feature that can prove useful for the aged.
Display
The Honor 7C comes with a 5.99-inch 'FullView' display. The 18:9 aspect ratio makes it larger along the y-axis than the x, which is a big plus point if you're buying the phone to play a lot of videos and games. Its resolution of 720 x 1440 pixels seems sufficient on paper, but real-world usage gives you the feeling that too little butter has been applied over too much bread. Window elements, especially on apps like Chrome and Facebook, look larger than necessary. There's no option to decrease their size in Settings either. You can, however, decrease the font size.
Colours in general tend to appear on the cooler side on this device. The IPS LCD panel reproduces colours with moderate vividness. Browns and reds seem noticeably dull though. On the bright side (caution: bad pun ahead), the screen offers 457 lux of luminance, which is sufficient for daytime sunlight legibility. At about 170 degrees, the maximum horizontal viewing angle is pretty wide, while vertical viewing angle is somewhat narrow. All in all, it's a serviceable display for a phone of its price. A little more colour would've been welcome though.
Performance
Surprisingly, the Honor 7C, along with the smaller Honor 7A, is powered not by a Huawei-made Kirin chipset, but by a Qualcomm-made Snapdragon 450 chipset with an octa-core processor. The Honor 7C scored 717 on Geekbench's single-core test and 3555 on the multi-core test, which is only a little lower than what the Motorola Moto G6 had scored a couple of weeks ago: 744 on the Geekbench single-core test and 3888 on the multi-core test. The 32GB version of the Moto G6—which also sports a Qualcomm Snapdragon 450 chipset—is Rs 4,000 dearer than the 32GB version of the Honor 7C, it must be noted. The processor and memory combination is sufficient for everyday tasks like phone calls, music and video playback, and light browsing and gaming.
On Chrome, I was able to toggle between fourteen open tabs comfortably without any lag; Chrome retained all fourteen pages in memory. Understandably, as the tab count rose, it was forced to reload the older inactive pages. With thirty tabs open (and one of them playing a YouTube video), scrolling through a single page became understandably jittery, but not by much. Luckily, toggling between the tabs still remained steady and quick enough.
The phone's body warmed up to 33 degrees Celsius while gaming but never felt uncomfortably hot to hold at any point. To turn the heat up some more, I opened two more apps and minimised them as they were launching. I left a half-typed draft in Messages and a half-dialled number in Phone. I then left a game running and returned to Chrome to find the pages still fairly responsive. I thought memory was well managed until I opened the previously minimised YouTube app. Then the phone turned unresponsive to touches and button clicks for a good four minutes before recovering completely.
In summary, performance on the phone in this price range is still not bad. As long as you don't intend to multitask heavily, you should be fine. You should be able to book tickets to a movie while texting your friends to ask them which seats they want and keep an eye on the match scores and listen to your favourite pop tunes at the same time without any problems.
Camera
Glancing at the spec sheet tells us the Honor 7C has a dual-lens camera setup on the back: one 13-megapixel sensor combined with a 2-megapixel 'depth detection' sensor, and that the front shooter is an 8-megapixel sensor with an aperture of f/2.0. It has a flash not only on the back, but on the front as well, in the form of an 'intelligent adjustable selfie toning light.'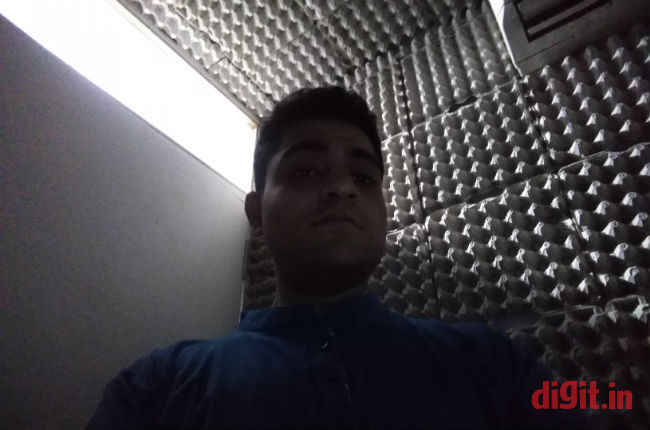 Selfie with Soft Flash turned off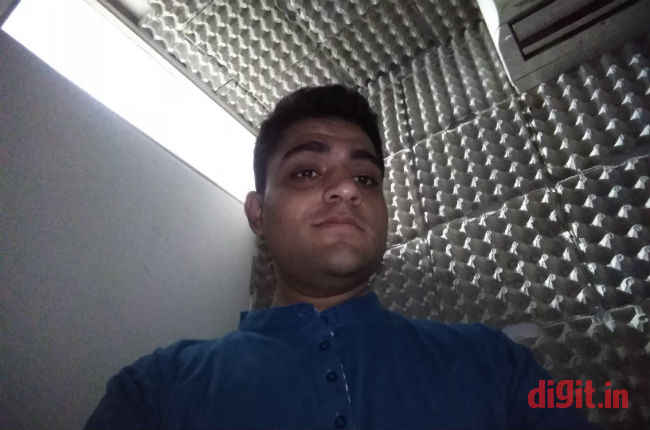 Selfie with Soft Flash turned on
In reality, the camera fares decently in most conditions. Though it supports face recognition, focussing by tapping on an object in the viewfinder screen takes long. Shutter lag isn't noticeable all the time, but I did come across moments when I was made to wait because the phone was still busy focussing. Indoor photos in a typical office with sufficient lighting are bright enough but suffer from noise. Predictably, the noise increases as the light diminishes. Browns and blues turn to blacks easily. Focussing in the dark takes much longer, and many times you end up with blurry shots even though the shutter waits for the focussing to complete.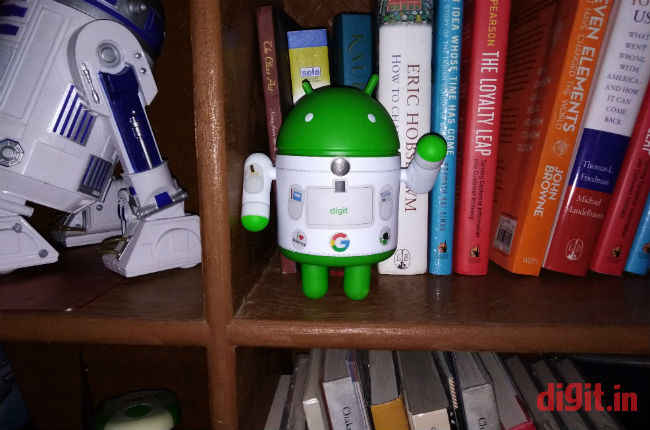 There's an option to keep flash on constantly, even while focussing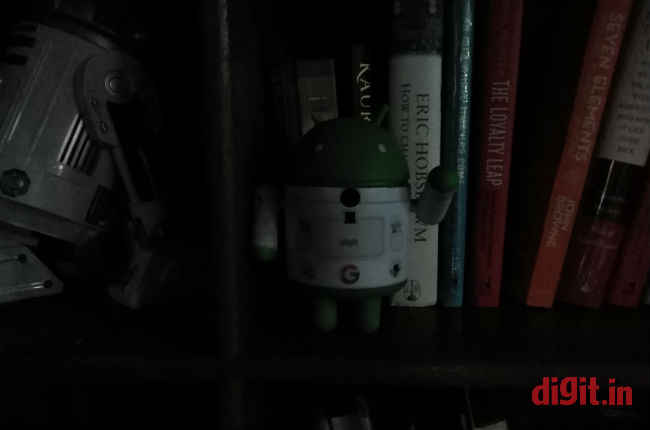 Focussing takes much longer in dark environments
Colours seem cooler than they are in reality even when viewed on a larger computer display. The 'Wide Aperture Mode' helps you keep the focus on one object and blur out the rest. It works quite well with faces and irregularly-shaped objects like coffee cups and flowers. No important features of the foreground object are cut off or blurred mistakenly.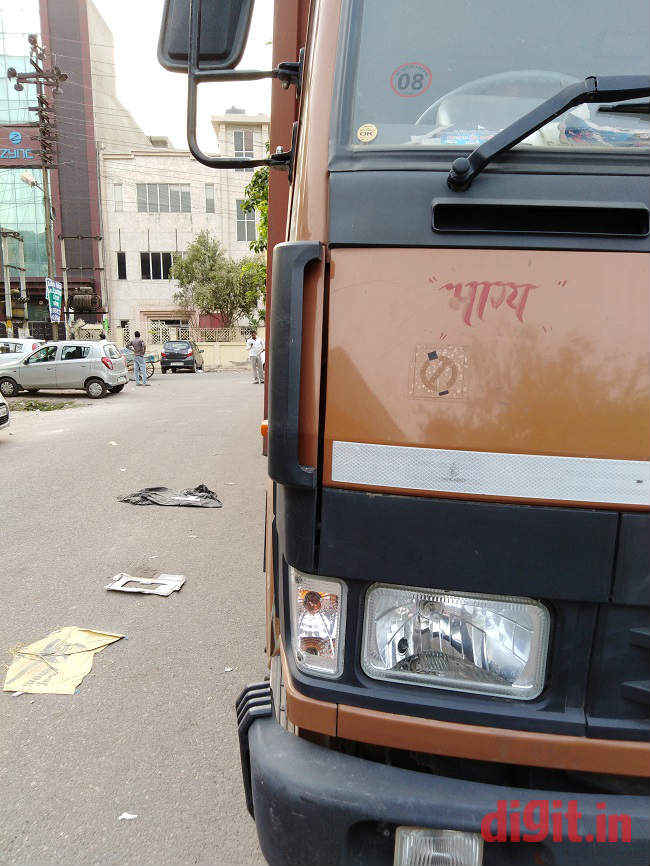 Adjustable Wide Aperture Mode turned off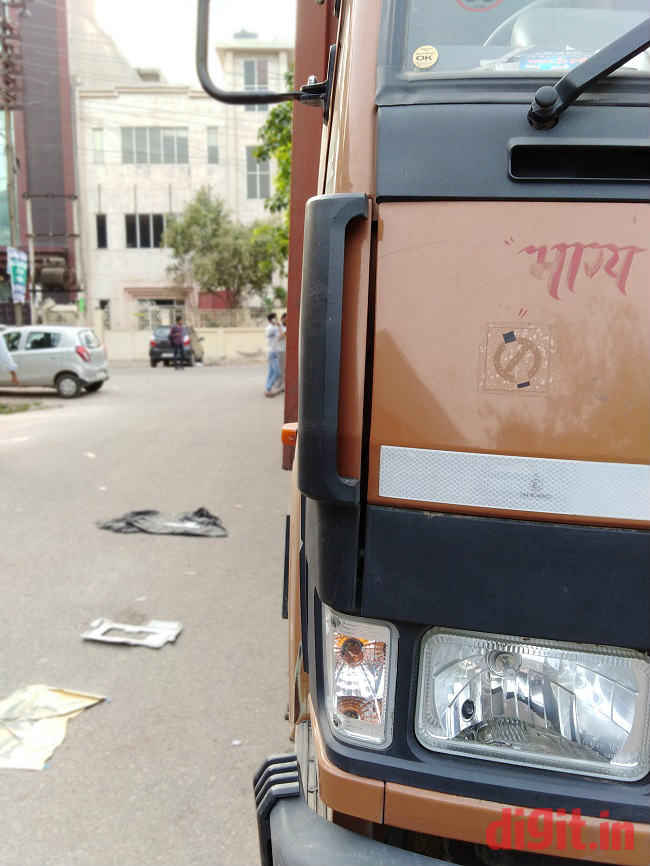 Adjustable Wide Aperture Mode turned up halfway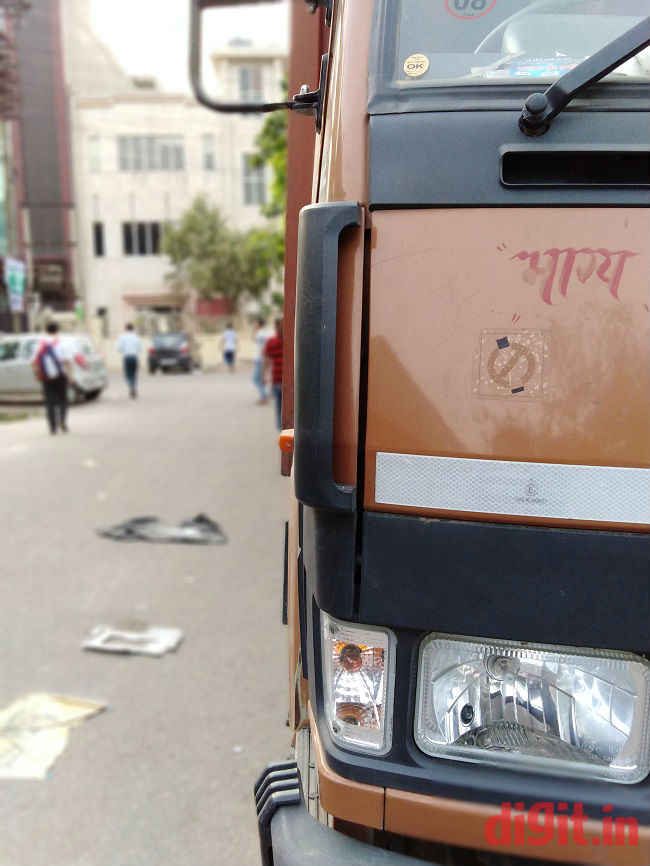 Adjustable Wide Aperture Mode turned up all the way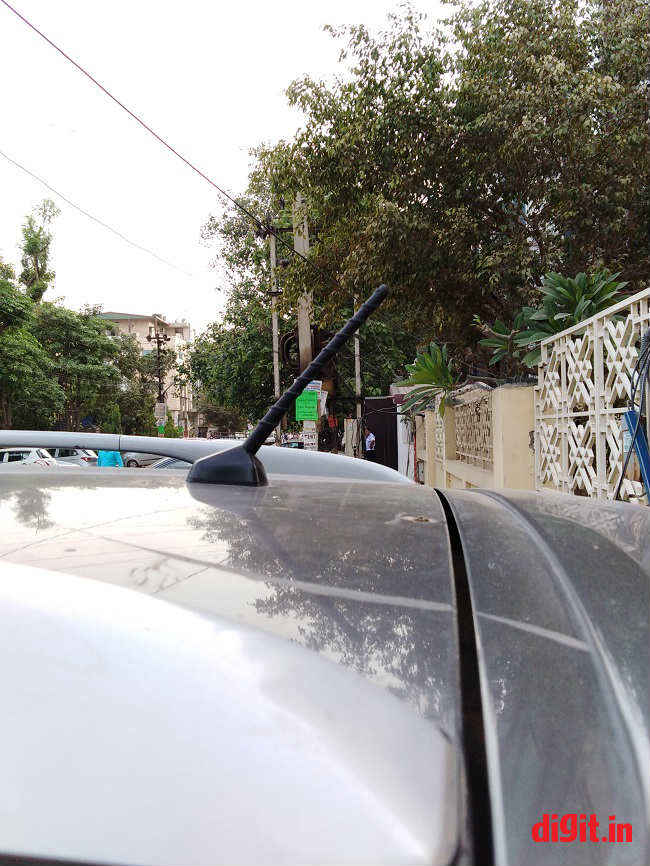 Adjustable Wide Aperture Mode set to minimum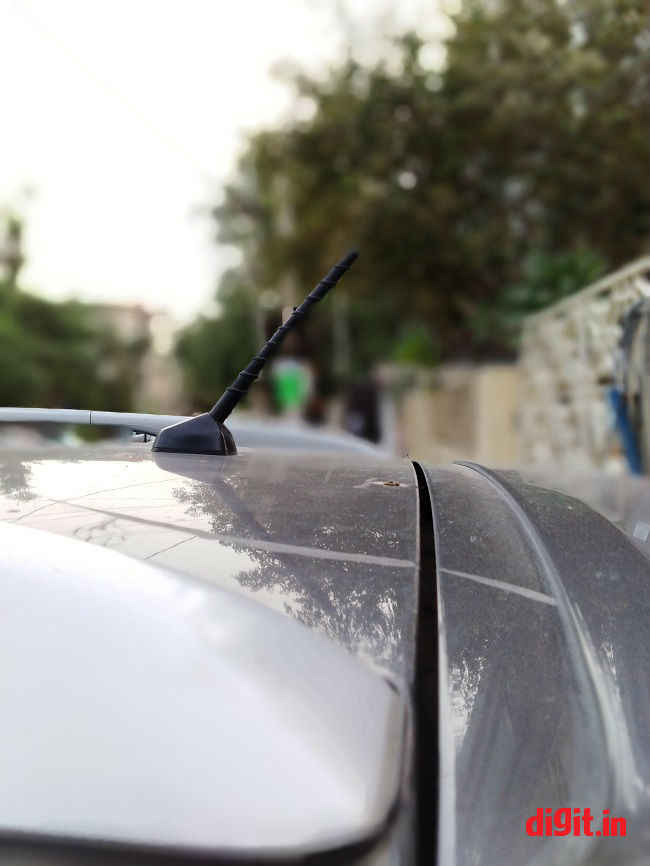 Adjustable Wide Aperture Mode set to maximum
The wide front camera, though decent in quality, makes photos look a little overexposed and grainy even when there's ample light around the subject. The soft flash in the front aids in bringing more light to the shot but does nothing to reduce noise. An adjustable 'Beauty' slider on the front and back camera wipes out facial blemishes.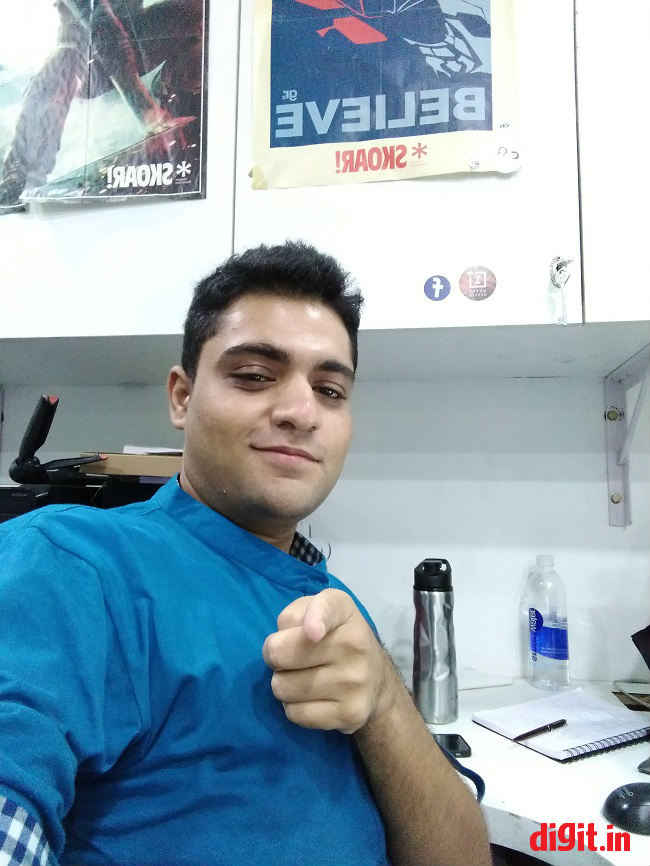 A grainy indoor selfie of yours truly
Battery
The 3,000mAh battery on the Honor 7C lasts at least a full day on a single charge while loading the phone with an ample amount of screen-on time, photo capturing, and browsing. Running navigation on Google Maps with the screen brightness turned up halfway for fifteen minutes saw a 5-percent drop in battery, which is respectable. On a recent trip, I had Google Maps' navigation running for three straight hours with the screen on at 70 percent brightness. This caused a fifty-percent drop in charge.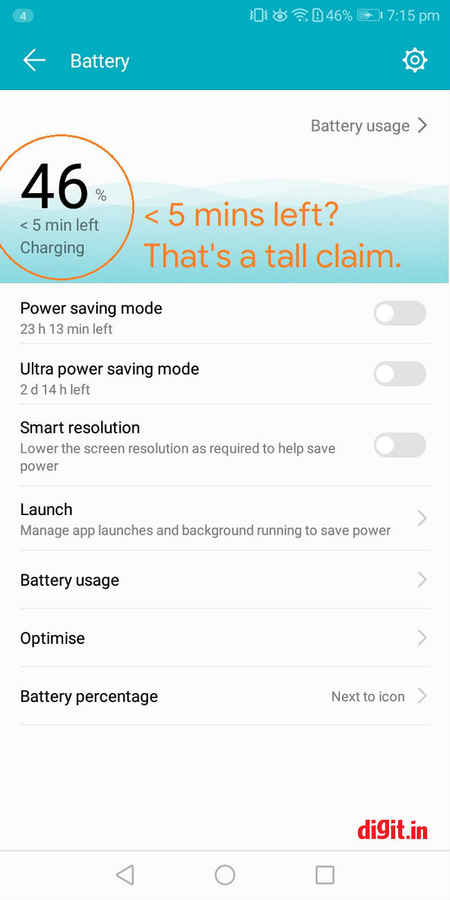 The odd UI bug here or there never hurt anybody
Charging up from 19 percent to 46 percent happened in a span of twenty minutes. A full charge happened in a couple of hours. So, as far as battery life goes, the one on the Honor 7C is definitely a dependable one, if not a remarkably long-lasting one.
Bottom line
The Honor 7C is a smartphone that offers decent value for your money if you're looking for a model with a large 18:9 display, an adequate dual-camera setup, and a good battery life. The Xiaomi Redmi Y2 and Redmi Note 5 trump the Honor 7C by featuring a superior Qualcomm chipset, but the 7C's chipset is not a bad one by any means.
Huawei Honor 7C Key Specs, Price and Launch Date
Price:
Release Date:
29 May 2018
Variant:

32GB

,

64GB

Market Status:
Launched
Key Specs
Screen Size

5.99" (720 x 1440)

Camera

13 + 2 MP | 8 MP

Memory

64 GB/4 GB

Battery

3000 mAh