HTC HD Mini - Mini Dynamo detailed review
As the name suggests, the HD Mini is the more pocketable (read compact) version of the Touch HD2, a behemoth that was all about raw processing power and a huge 4.3-inch screen. With such an ancestry, the HD Mini has pretty big boots to fill, although strictly speaking, it doesn't belong in the same category. This is a phone created by HTC to serve the mid-range budget. It's an attractive handset, based on a proven albeit ageing platform, and HTC has endowed it with a fair share of eye-candy to go with the muscle under its hood.
The look and feel
If looks were the only criteria for judging a device, HTC has a winner on their hands without us even bothering to power it on. Allow us to reiterate – the HD Mini is a beautifully crafted phone, although the large battery cover makes it unnecessarily thick. However, this also makes it more comfortable to hold for those with larger hands. Removing the battery cover isn't easy as one wonders if the four screws on the rear have anything to do with fastening it, but once the mechanism is understood, it's a snap – literally. Flipping the cover reveals yellow plastic innards – a surprising colour – but everything is built very well. Back to the sexy body – in-hand the HD Mini feels just right, and the 3.2-inch capacitive touch-screen is flanked by an ultra slim bezel on the sides that looks uber sexy. The top part of the bezel incorporates a neat looking "HTC" in silver as well as a smart looking, elongated earpiece grille.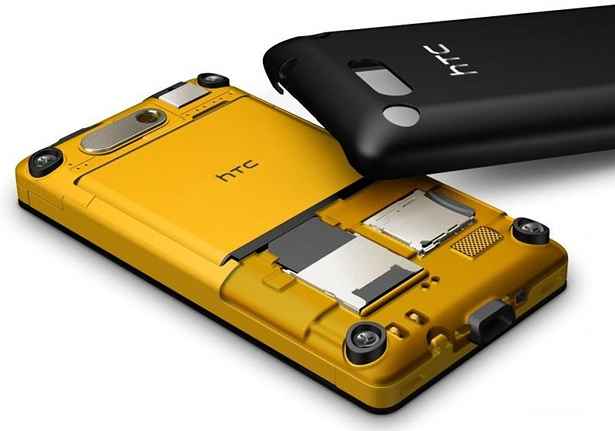 The bottom bezel is slightly wider, although not unnecessarily so, and features the call, Home, Start Menu and Back, touch-based keys. The elongated, chromed power button is positioned on the top and is pretty usable. On the left side is the volume rocker button that feels clicky but is pretty sensitive. There are only five volume level gradients for calls. Accessories exude top-notch build quality and everything in the box, including the handset and battery, imparts a very upmarket feel. Although the earphones look very basic, a clip has been provided for the handsfree unit that is very useful for securing it to ones person. The 3.5mm jack is conveniently placed on the top of the phone. Overall, the handset is pretty compact - it's certainly not as small as the XPERIA X10 Mini Pro, but it's a lot slimmer, and won't make an unseemly bulge in your pocket.
A deeper look – the interface
Power on the Mini and the brilliant white screen with HTC splashed across in light green is a good indicator of the display's quality. Although the HD Mini is much smaller than the Touch HD2, the display never feels too tiny to view or use, unless you have really large fingers. The Sense UI takes a bit of time to load, and this is noticeably slower than the Touch HD2 – understandably, since the CPU is clocked at only 600 MHz, whereas the HD2 runs a 1 GHz Snapdragon processor. HTCs Sense UI really does inject a bit of much needed life and usability into Windows Mobiles flagging ergonomic and intuitiveness quotient. Everywhere the embellishments are noticeable, the main menu is a much better organised and looks nice with tiled icons and the sub menus are really easy to work with. In fact everything seems very accessible and intuitive; the word convenience comes to mind – something that the classic Windows Mobile interface sorely lacked. Till Windows Phone 7 releases later this year, the Sense UI might just be the best thing that happened to MS' WM.
The capacitive touch-screen makes its welcome presence felt when using the phone, although there are some areas when it becomes apparent that you are using platform designed for a pressure based (resistive) touch. For example, the top menu bar has icons for Bluetooth, battery status and GSM and signal status. Typically with WM, one could select an individual icon using the stylus and get to the respective menu, but now, selecting any icon simply brings up the "Notifications" menu that displays battery status, GSM status and the Task Manager. At such times it becomes evident that the Sense UI is little more than an attractive skin, a face mask of sorts that hides an ancient, archaic, evil, that MS themselves have only recently admitted to.
On the whole, the capacitive interface is responsive, and very fluid. There are no nasty surprises to speak of and little tasks like scrolling, selecting options and moving between menus is accomplished without any incident. This is yet another feather in the cap for HTCs intuitive UI.
These glitches aside, the home screen is pretty usable and well laid out, with most of the important options available on the bottom of the display on a side scrolling list as tiles. Flick up on the home screen and there are nine configurable quick-launch widgets that can be assigned to pretty much any program, contact or bookmark. Setting up your Facebook, Twitter and even YouTube account is a snap and you are prompted to do so within the setup menu that starts automatically the first time you use the phone, although it can also be run from inside the start menu. While on the topic of social networking, lets take a quick look at the browser: Opera Mini and IE are both on board for the ride. IE is a little more of a pain than Opera Mini. Browsing is a decent experience with pinch zooming and fast scrolling supported, but whenever you have to enter any text, the ugly issue of a far-less-than-perfect keypad rears its ugly mug.
Although the screen resolution is rated at 320 x 480 pixels that is smaller than the larger displays offer, we found even fine text to be very sharp and very readable and the handset never feels crippled on this account. The only place where fonts seem to be a little blurry is the phone log, where the numbers are not as clear as the rest of the menus, for some inexplicable reason. One of the issues typically encountered when using touch-screen-only phones is entering large bodies of text. The HD Mini was always going to have an issue on account of its smaller screen. What we weren't prepared for was the slight unresponsiveness of the onscreen keypad especially when using a key from anything other than directly above it. If you are using the keypad one-handed and with your thumb, the keys that are positioned further away from your thumb will feel quite unresponsive
The on-screen keypad is also too small, and HTCs auto correction feature has an annoying habit of auto correcting a word with anything else but the desired one. Auto correction not really needed with good QWERTY keypads, and HTC has messed this part of the interface up. Also, if you have largish hands you will face a slight problem in both portrait and landscape mode. This latter part is not strictly a phone problem, since the keypad is decent in terms of sensitivity and accuracy, but key spacing becomes an issue for those with thick fingers, resulting in a lot of false presses.
Performance
The HD Mini never feels sluggish, however, in certain parts of the menu things can take an extra second – just a tad lazy. What is lazy, is the Bluetooth transfer rate of 110 KBps. The bundled earphones mightn't look special, but the sound is another story. The volume is pretty loud for music, and vocals are clear with just a slight hint of sibilance at times. Instruments sound clear and quite precise. The only thing missing is bass, which is a bit on the shy side, but for earphones this isn't a serious nit. What is annoying is, at times there is a slight jerk in the audio accompanied by a split second pause. The loudspeaker gives decent clarity on MP3 playback, but there is noticeable sibilance to some vocals and volume level is mediocre. The music player is pretty neat, with album art nicely displayed. Video playback is snappy, and the display is good enough – the 65K-colour limitation imposed by WM 6.5 is hardly noticeable. The camera captures decent photos – good detail, nice flash exposure and with relatively controlled levels of noise. Videos are noisier and not worth your time, unless shot in daylight.
Handsfree volume is pretty good, with good clarity on calls. In-call clarity of the handset is also good, with minimal distortion except for in zone three where we had one instance of distortion, but no there were no dropped calls. The earpiece isn't very loud though, and in a noisy environment, you'll miss some dialogue. Overall, we'd say performance of the devices telephony component is good, although not excellent. Loudspeaker volume in-call isn't very good, although clarity is pretty decent.
Conclusion
The HD Mini is an attractive handset that will appeal to someone looking for a touch-screen device that is cheaper than the top tier phones. However, it's not suitable for even moderate keypad use – SMS junkies look elsewhere. Its price also makes it somewhat unattractive, since it's selling point is the touch-screen, and this portion of the hardware is also our biggest gripe. The price (MOP) is Rs. 23,490, and this takes over where the dysfunctional onscreen keypad left off, making the HD Mini lose more of its charm. Definitely not a good buy at that price. If we could buy if for Rs. 17,500 or thereabouts, this would be a good deal. Try as we might we just can't stop comparing this to Sony Ericsson's XPERIA X10 Mini Pro, that we received the same day as the HD Mini. The X10 Mini Pro is a very different handset that somehow, seems to be positioned at a similar market. We reviewed that as well, and the results were pretty interesting. Check out our full review of the X10 Mini Pro here.
| | |
| --- | --- |
| Brand | HTC |
| Model | HD Mini |
| Features | |
| Physical Specs | |
| Form Factor | Candy Bar |
| 2G Network Bands | GSM 850 / 900 / 1800 / 1900 |
| 3G Network Bands | HSDPA 900 / 2100 |
| Screen Resolution | 320 x 480 pixels |
| Screen Size | 3.2-inches |
| Maximum Screen colours | 65K |
| Touchscreen / Dual Screen (Y/N) | touchscreen |
| Battery Rating | 1200 mAh |
| Dimensions (L x W x H) | 103.8 x 57.7 x 11.7 mm |
| Weight | 110 grams |
| Expandable Memory Type | microSD |
| Hot Swappable | Y |
| Available Colours | Black |
| Other Features | |
| Operating System | WM 6.5 Pro |
| Charging via USB (Y/N) | Y |
| Hardware Keypad (Regular/QWERTY) | - |
| Accelerometer (For auto rotate) | Y |
| Address Book Capacity | Unlimited |
| No of calls in register | Unlimited |
| Talk Time / Standby Time * | 7 hrs 15 min, 500 hrs |
| No of Profiles # / Customisable | - |
| Offline Opearability (Y/N) | Y |
| Inbuilt GPS / A-GPS support (Y / N) | Y |
| Connectivity | |
| Browsing (GPRS/EDGE/3G) | Y / Y / Y |
| EDGE max speed | 236.8 kbps |
| 3G max speed | 7.2 mbps (HSDPA) |
| Connectivity (WiFi/Bluetooth/IR/USB) | Y / Y / N / Y |
| Bluetooth Version/A2DP support | 2.1 / Y |
| Accessories | |
| Bundled Accessories | Charger, data cable, headset |
| Size of memory card provided | - |
| Overall Build Quality (So 10) | 7.5 |
| Overall Ergonomics (So 10) | 6.5 |
| Keypad Design (So 10) | 3.5 |
| Camera Specs | |
| Camera Resolution (Mega Pixels) | 5 |
| Video Capture Resolution | 640 x 480 |
| Dual Cameras / Auto Focus / Flash (Y/N) | Y / Y / Y |
| Mirror for self portrait (Y / N) | N |
| Camera Settings (So 10) | 7 |
| Zoom (Optical/Digital) | Digital |
| Multimedia | |
| Music Formats supported | MP3, AAC , WAV, WMA9 |
| Video formats supported | MP4, H.263, H.264 |
| FM Radio (Y/N) | Y |
| Performance | |
| Signal Reception and Voice Clarity (So 10) | |
| Zone 1 | 7.5 |
| Zone 2 | 6.75 |
| Zone 3 | 5.25 |
| Device Earpiece Volume | 5 |
| Device Loudspeaker clarity | 5.5 |
| Handsfree Clarity | 6.75 |
| Speaker Volume (on call) | 4 |
| Bluetooth Transfer Speed | 110 kbps |
| WiFi signal strength (Zone 2) | 36 |
| Captured Photo Quality (So 10) | |
| Captured Photo Colour | 6.5 |
| Captured Photo Crispness | 6.5 |
| Captured Video Quality | 5 |
| Loudspeaker Audio Quality | 5.25 |
| Bundled Earphones Quality | 6.5 |
| Video Playback Quality (So 10) | 7 |
| Price (MRP, Rs) | 23490 |
| | |
| * Manufacturer Rated | |
Specifications: OS: WM 6.5 Pro; CPU: Qualcomm MSM7227 600 MHz; RAM: 384 MB; ROM: 512 MB; battery: 1200 mAh; display: 3.2-inches (320 x 480 pixels); weight: 110 grams
Ratings:
Features: 7.5
Performance: 6.5
Build: 7.5
Value: 5
Overall: 6.5
Price: Rs. 23,490 (MOP)