HTC Desire 10 Pro detailed review
Late last year, Taiwanese smartphone maker HTC said it will not be competing against Chinese companies. Instead, the ailing veteran would compete in segments where it is already popular. That means HTC phones will now be seen in the sub-30k and above categories. This is also a stark switch from what HTC said early last year, that it would launch more affordable smartphones, but not compromise the specs. Nevertheless, the HTC Desire 10 Pro is the embodiment of the new strategy HTC is going to follow.
But while it may not take on the popular budget devices, it goes up against the likes of the Asus Zenfone 3, Moto Z Play, Nubia Z11 and the formidable OnePlus 3. It's a water and dust resistant smartphone, with unique HTC elements to it.
Build and Design
Almost anyone who's ever bought a smartphone, recognises HTC for its design prowess. The company is legendary for its design and though the Desire 10 Pro doesn't set new milestones, it continues what HTC has done all along.
It has a plastic body, with golden metal accents along the edges, and a nearly rubbery feel. Together, all of that makes for a grippy, yet premium feel, and it's unique in its own right. You may question the Desire 10 Pro for a lot of things, but looks isn't one of them.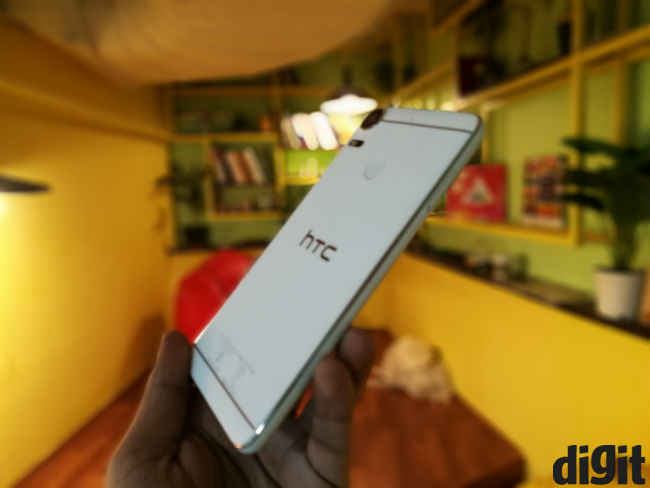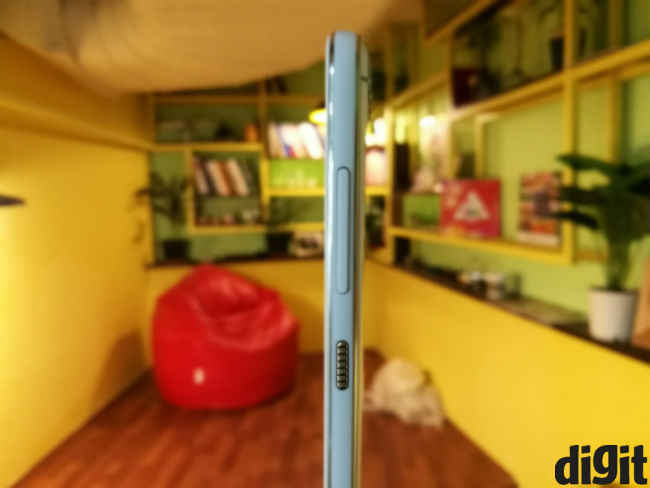 However, there are slight aberrations. For example, one wonders whether HTC could have shaved off some inches from the phone's overall dimensions. The Desire 10 Pro feels big in a world where 5.5 inch devices are routinely getting more compact. The ridged power button is an example of attention to detail, but you will have to shift your grip to reach between this and the volume rocker. Even the rear fingerprint sensor doesn't fall intuitively below your index finger, thanks to the size. That's of course relevant to those with small and medium-sized hands.
On the back, you'll find the rather large 20MP camera sensor on the top left. There is a noticeable bump too, but it all fits quite well with the design. Below the sensor are the flash and laser AF system, placed horizontally and side-by-side. Just below this, at the centre is the fingerprint sensor and a big HTC logo rests bang on the center of the back.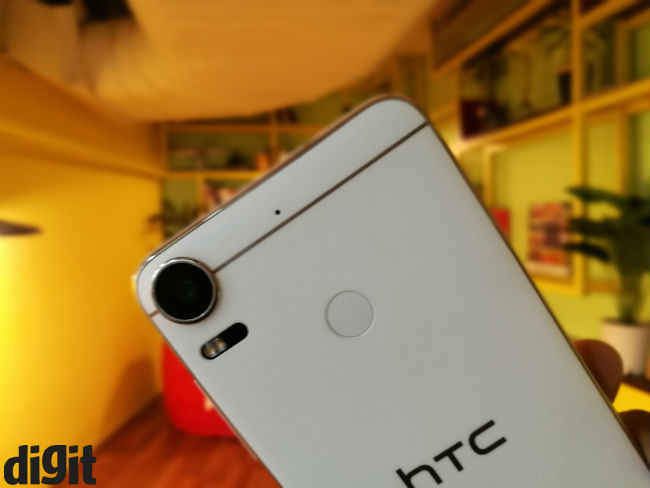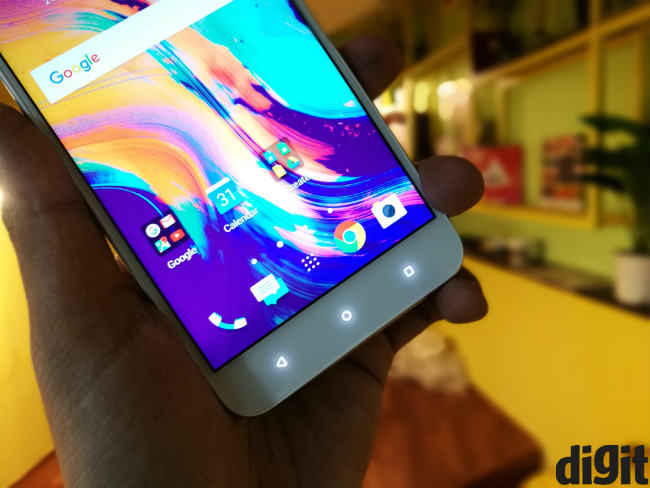 Overall, the HTC Desire 10 Pro looks distinct and unique, but it feels big and unwieldy too. As long as you're fine with that, this is one of the better and more unique looking smartphones you can buy today.
Display
1080p displays are pretty much the norm nowadays and the Desire 10 Pro is no different. The IPS LCD panel has great viewing angles, but is not glare free. Sunlight visibility is not ideal outdoors, and indoor usage is sometimes marred by glare. However, it's reasonably viewable on full brightness, both indoors and outdoors. This, though, means you'll be using more battery most of the times.
Further, colours look close to the source, with impressive gamma correction. However, brightness isn't ideal. The display is dim, with maximum luminance values of 614 Lux, and auto-brightness struggles to keep up with ambient light conditions.
Performance
Powering this smartphone is a MediaTek Helio P10 SoC and 4GB RAM. From the first time that we saw this device at launch, this has been a questionable choice for us. Further testing reveals pretty much what we have seen from other P10 powered smartphones.
If you're a gamer, you'll be disappointed. Scrolling menus on Asphalt 8 is not stutter free and there are visible lags when camera angles switch in the game. Similarly, Injustice: Gods Among Us takes a few extra seconds to load, while in-game stutters are also seen more often than we'd like. The same is showcased by benchmark tests like GFXBench and 3D Mark Unlimited.
For regular usage, the Helio P10 does the job, but only just so. For example, the Deezer app takes more time to load on the HTC Desire 10 Pro than it did on the Lenovo P2 or the Asus Zenfone 3 Ultra (running on Snapdragon 625 and 650 SoCs respectively). Similarly, apps that need location access are slower to load, while games that use data services can sometimes be sluggish.
The performance can't be categorised as poor, but it's not ideal for a phone in this price range either. After all, almost every other smartphone in and around this price can do better than the Helio P10 does on the HTC Desire 10 Pro. It's also worth noting that the Oppo F1 Plus, which runs the same SoC, was faster and snappier. This could be because the HTC Desire 10 Pro stops four of the eight cores whenever the CPU load falls below 40%.
The same is most likely an effort at improving battery life and generating less heat. On gaming tests, the Desire 10 Pro never crossed 37 degrees over 15 minutes of playing Asphalt 8. It can't shoot 4K videos.
Audio Quality
It is worth mentioning at this point that while the HTC Desire 10 Pro does have the Boomsound audio profile, it depends on a mono speaker only. There are no DACs for audio on this one. While the audio still sounds really good, some audiophile enhancements may have gone a long way towards making this phone a better value proposition.
As it stands, the HTC Desire 10 Pro is loud enough and audio is clearer than many other smartphones. It doesn't, however, create its own niche as far as audio quality is concerned.
Camera
The highlight of the Desire 10 Pro is its 20MP camera. HTC has made huge progress with camera quality since the HTC 10 and this is exhibited by the smartphone as well. However, don't go expecting a HTC 10 level camera here. The Desire 10 Pro has f/2.2 aperture and most likely uses a Toshiba sensor, instead of Sony or Omnivision. It also has Optical Image Stabilisation. The sensor quality is a major weakness for the camera here.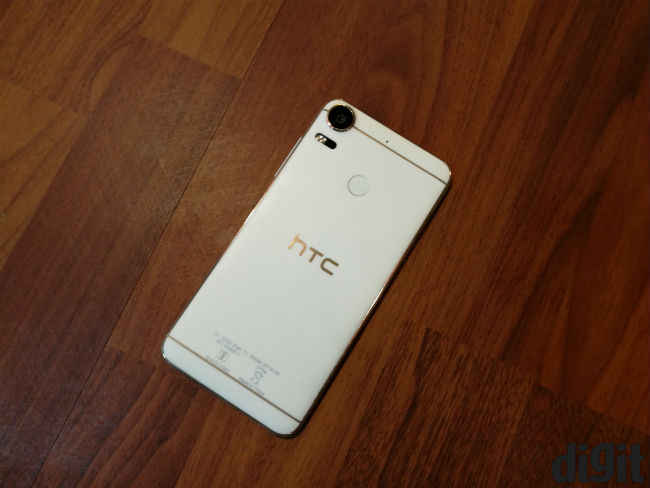 In practice, image quality is decent, but you can get better. The Desire 10 Pro produces slightly oversaturated images, with good sharpness. It generates quite a bit of noise under low light, and softens images, while also morphing colours. The white balance is often off, irrespective of light conditions. Photos look good enough for sharing on social media, and they look good on the phone's own display, but that's about the extent of it.
HTC Desire 10 Pro
The camera's biggest weakness, though is in focusing speeds and app launch times. The camera app takes a noticeable second to open, while focusing time is simply too long. This increases even more when focusing in low light, or using the Pro Mode. It's a real problem when you need to shoot precise moments, or have moving subjects. Another confounding aspect of the camera is that despite having a laser AF system, it often fails to focus when taking macro shots. The focal length seems to be a hurdle here.
Overall, the HTC Desire 10 Pro's camera can be considered decent, but with a weakness that is almost unheard of in smartphones today. The OnePlus 3, Asus Zenfone 3 and Nubia Z11 are all better than this one.
The front camera on the HTC Desire 10 Pro is a 13MP unit. It has a wide angle mode, called Selfie Panorama, which takes a fish-eye like panoramic selfie when you need it. What we like about the front camera is the fact that it keeps photos reasonably close to source, instead of softening them, as most phones do. This is a major difference between the Desire 10 Pro and the Oppo F1 Plus.
Battery
All of the above is driven by a 3000 mAh battery, which lasts just about 8 hours on regular usage. That's not ideal battery life in our books, but it's pretty much the industry average. With 5-7 phone calls, lots of IMs, some social networking and about half an hour of gaming, the Desire 10 Pro got us through a full work day. If you leave home with 100% battery life, you can even try and get to bedtime without having to charge it.
While battery life isn't really a problem with the Desire 10 Pro, charging times are. The phone takes about an hour and a half to charge from 0 to 100%, which is poor in today's market. Charging for half an hour takes it to a mere 35%, which again is nothing compared to a OnePlus 3 or Moto Z Play.
Bottomline
The HTC Desire 10 Pro is a decent smartphone. In fact, it is one of the better smartphones that HTC has produced in the recent past. However, it doesn't really keep up with the competition. It has a good camera, decent battery life and display, and really good looks, which means you can still consider it. But, buy it only if the OnePlus 3T, Moto Z Play or Asus Zenfone 3 are not within your reach or fancy.