VERDICT:
The HTC 10 is the best flagship that HTC has created in a long time. It's on par, and sometimes even better than its competitors, but that may not be enough. The battery life isn't great, and though the camera is good, it's not always dependable. It's the best phone for audiophiles, though.
The HTC 10 is a great phone, and one that is a testament to what HTC is capable of. I daresay, though, that HTC needed it to be perfect, which the HTC 10 isn't. I'll start with the best and work downwards.
Audio Quality: A phone for the audiophiles…
If you're an audiophile you most likely own a high end pair of headphones, and that means you can take full advantage of the 24 bit DAC fitted in this phone. The best part for me, though, is that you don't need to spend a fortune on your headphones for Boomsound to make it better.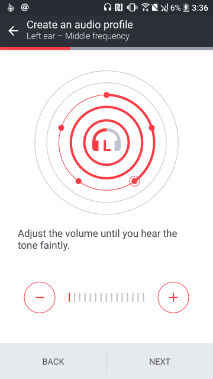 I tested the HTC 10 with a pair of Sony MDR 100ABN (worth above Rs. 20,000) and Mee Audio M6 (worth about Rs. 1500) headphones. The HTC 10 creates an audio profile, based on your hearing patterns, when you plug in headphones the first time. You can do this for other headphones too, but the option will show up only when headphones are attached.
Assuming the quality of tracks you're playing are good (192kbps and above), the HTC 10 gave me the best audio quality I've ever heard from a phone. Not only is it louder than others, but the audio is delightfully clear, with the right emphasis on each frequency. The Mee Audio M6 cost a mere Rs. 1500, which is quite affordable, and it sounds much better with the HTC 10 than an iPhone SE. The impact is smaller on a pair of Mi In-Ear Pro headphones, but audio is still much tighter on the HTC 10. While the difference between the HTC 10 and iPhone SE is harder to spot, between this and a OnePlus One, the difference is huge.
At this point, it is worth mentioning that I myself am not an audiophile, and it doesn't take an audiophile to know that the HTC 10 is better than its competitors. Other smartphoenes sound quite disappointing after the 10, even when using the same Mee Audio M6 headphones.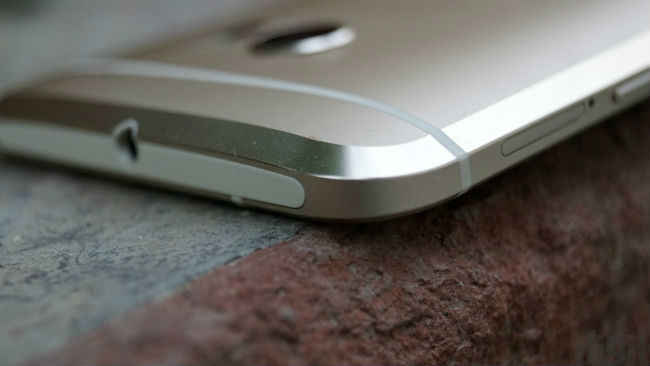 There are certain prerequisites to this, though. The first of course is a good pair of headphones, while the second is high quality audio tracks.
Also, as good as the sound quality is through headphones, the same can not be said of the phone's audio without them. HTC Boomsound also comprises of a Tweeter on the top and a woofer on the bottom. However, bereft of the headphones, the audio is loud, but pretty much bereft of low frequencies (bass).
There is another downside to all the audio enhancements. While it is easy to listen to music wearing headphones, on the HTC 10 for long hours, it takes more battery than usual. Listening to music continuously for two hours, I lost about 30% battery. I did use the phone intermittently, and there were three calls, but the battery drop seems a tad higher than others.
Call Quality
Call quality on the HTC 10 is fine and I'm only mentioning it here because there's a relation to other audio. If you get a call while listening to music via headphones, the HTC 10 struggles to switch. This means that even after removing the headphones, audio on call is slightly muffled, till you disconnect and call, or are called, again.
Storage: Back to the roots…
HTC was the first to build an Android phone and it's the first to embrace what is arguably Android M's best feature. While 32GB internal storage will work for most, Adoptable storage is what I give HTC a lot of points for.
This allows you to buy a UHS SD card and make it part of the internal storage. The HTC 10 supports SD cards up to 256GB, which means it can have the most internal storage of any flagship smartphone today!
It is worth noting that Marshmallow quite literally 'adopts' your SD card, meaning you won't be able to take the card out anymore. Once you insert the card and adopt it from Settings (it's very easy to do so), Android will rearrange your apps. Taking out the card after this will cause crashes.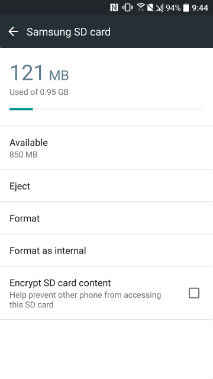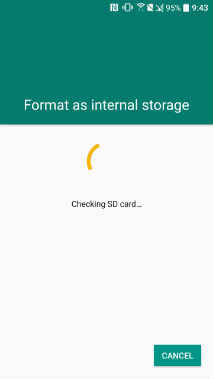 Also, you will need a Class 10 card to use Adoptable storage, and it may still slow your phone down a little bit. I'm yet to find a really good reason that defeats having so much internal storage, though.
The HTC One A9 also has the adoptable storage option, and these are the only two phones where I've seen this option so far.
The fact that the HTC 10 comes with eMMC storage instead of UFS 2.0, used in the Galaxy S7 Edge or LG G5, may have something to do with this. eMMC is slower than UFS, which may allow the internal memory to be paired with other SD cards.
That said, the difference in storage read/write speeds is hard to spot without benchmarks. HTC seems to have optimised Sense UI well enough to allow buttery smooth performance.
Camera: A HUGE improvement…
HTC has been selling the ultrapixel story for a while now, but it's never quite worked. Until now. A 12MP ultrapixel camera, coupled with laser auto-focus rests on the back of this phone, and it's HTC's best ever.
Under bright daylight, the HTC 10 is on par with any other flagship, if not better. And instead of producing vivid and oversaturated photos, it dwells closer to real colours.
But that isn't why this camera is better than other HTC has produced. Ultrapixel means larger pixels, which helps with low light shots. HTC has combined a 1.55 micrometer pixel size with a f/1.8 lens and OIS, significantly enhancing low light performance. Many would be surprised to know that this is the same configuration used for Google's Nexus 6P and 5X, minus OIS of course. The pixel size and aperture are the same.
To be clear, the HTC 10's camera is better than the Nexii, thanks to OIS and possibly a superior algorithm.
It takes in more light than most competitors, and produces pleasantly bright photos under low light. The ISO is driven up, producing some grains, but the details are still quite good. Image quality wise, it's a tough choice between this and the S7 Edge, but the latter's faster focus, especially under low light, makes it better.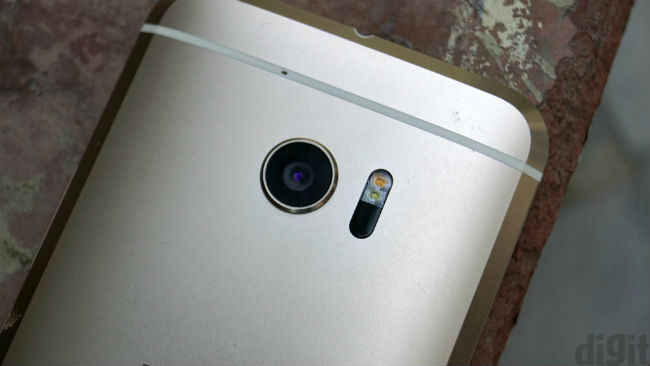 For all its goodness, though, the HTC 10's camera isn't perfect. While it is usually fast to focus, there are often times when it confoundingly refuses to focus fast. This happens not only in low light, but even under brightly lit indoors. The camera also makes images too cool at times, with a pinkish shade creeping in.
Further, the HTC 10 often complained of something covering the laser auto-focus. At times it was my hand, but often, there was absolutely nothing covering it.
Lastly, the phone often created flares out of lights. This again is unwanted, and I checked the lens for oil or dirt, but found nothing.
The focusing issue was especially redundant when shooting video, while stabilisation works fine. Interestingly, the HTC 10 is great for shooting selfie video, thanks to OIS on the front camera.
HTC 10 Video Sample
Performance: Shaking hands with Qualcomm…
There's really no questions about the Snapdragon 820's speed and performance this year. The HTC 10 in fact comes with high performance mode turned off, and yet feels snappy. You could turn it on from Developer Settings, but you may have a hard time spotting the difference.
The HTC 10's performance is similar to any other Snapdragon 820-powered smartphone out there, except, it tends to be warm most of the times. I'm not implying that it has heating issues, but even in an air conditioned room, the temperature can pass 40 degrees quite easily. It also gets warm while charging, which is a surprise considering that it supports Quick Charge 3.0. Qualcomm's newest charging technology is designed to avoid heat loss while charging.
Overall, the HTC 10 will handle anything you throw at it, and HTC has optimised Sense UI enough to ensure that performance is smooth and top notch.
Display: Pushing pixels…
With the HTC 10, the Taiwanese company has also finally got QHD displays right. HTC's tryst with QHD panels didn't work out on the M9 Plus. In fact, that display was very uncharacteristic of HTC. With the HTC 10, this changes. The Super LCD5 display has a QHD resolution this time, with 565 ppi pixel density.
The black levels are good, and the contrast ratio is also what you would expect from a flagship. However, the brightness is not best suited to bright outdoor sunlight. You may have trouble viewing this outdoor sometimes, but there are phones that do much worse.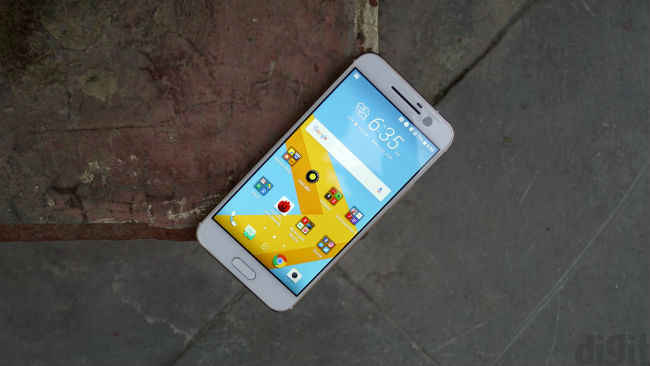 Build and Design: Not thin, not light, but good…
Personally, I'm not a big fan of the HTC 10's looks (but many like it), but there's no denying the build quality. The HTC 10 is reminiscent of past HTC phones, but the big chamfers on the back differentiate it from all others. Having said, that, the glossy plastic front breaks the smooth flowing design elements that you see on the back. The same can be said about the plastic strip on the front, which has been fitted for better antenna performance.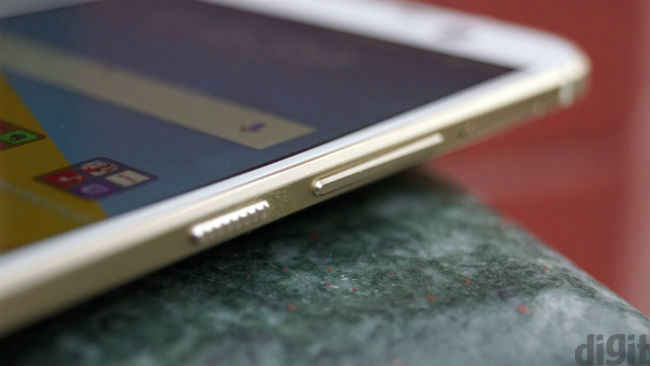 Having said that, HTC has proved that your phone doesn't need to be particularly thin and light for it to be ergonomic. The HTC 10 is narrow, and it fits in your hand easily. You won't exactly be able to type with one hand, but for most other tasks, single handed usage is easy enough. The oval button on the front serves both as a fast fingerprint reader and a capacitive home button. This is accompanied by the back and recents buttons on two sides, and while they are backlit.
There is quite a bit of bezel space below the display, perhaps to fit the woofer beneath it. As a result, the capacitive back and home buttons are harder to get used to. This is because they rest at the centre of the bezel, and the target area for pressing them is quite small, compared to the overall size of the bezel. I ended up pressing the wrong area often.
The design of the HTC 10 is the biggest sign of the company sticking to its strengths. The back is very similar to the HTC One M9, but the big chamfers make it look different. Similarly, it looks like other HTC flagships from the front as well, but the big 5MP front camera module, and the ever so slight curves on the display (near the edges) makes it distinct from its predecessors.
Battery: A letdown…
While everything else about the HTC 10 is a mix of good and bad, the battery life was rather disappointing. On regular usage, I was able to get 12 hours at most, which just doesn't work. You can read the full battery life analysis of the HTC 10 here.
Bottomline: HTC's best in years…
If you're an audiophile, then you can buy this phone with your eyes closed. The HTC 10 is the best flagship from the company in a long time, but what HTC needed was perfection, in order to make up for all the goodwill it's lost. If you've read the above, then you'd notice that for everything that is good about the phone, there's also something missing. So, while the HTC 10 is a very good smartphone to buy, it's just short of the best.