Google Pixel 2 XL detailed review
Google's quest to become a mobile hardware behemoth depends heavily on software, particularly including AI and machine learning. You could make a drinking game out of the number of times the company mentioned these technologies during its Pixel keynote this year. And that should tell you everything you need to know about the Pixel 2 XL. It's high end mobile hardware, driven by artificial intelligence and machine learning. But is the world, and especially India, ready for a device like this?
More importantly, in its quest to provide functional software solutions did Google skimp out on the hardware side of things? After all, the Pixel 2 XL, like the Pixel last year, has been plagued with issues from the get go. On paper, the Google Pixel 2 XL takes some of the best mobile hardware available today and tries to augment it with software. It aims to deliver what Google thinks is the best mobile experience you can find. And it works in a lot of ways, but if I'm being honest, the Pixel 2 XL for me has been like those TV shows my friends oversold to me before I watched them, building my expectations to perhaps unrealistic levels. I must admit that I'm somewhat disappointed with this device, and as it was last year, I'm not sold on many of Google's decisions. Let me explain how.
We begin with the noted issues
Every friend or acquaintance who wanted to buy the Pixel 2 XL has asked me about the screen burn-in issue. The review unit I have hasn't shown the problem yet, despite keeping still images on the screen for hours on end. Yet, it's an issue Google has acknowledged that will make the consumer uneasy. If the Pixel 2 XL is showing problems with burn-in or image retention already, I wouldn't blame you for not buying this phone.
For me, the larger problem is with how colours are represented on this screen. Google says it's working on a software fix for this problem, but I don't see that helping with the poor viewing angles of this phone. Flagship or not, a phone in 2017 shouldn't be showing a blue tint from off angles, especially when they're not even acute angles. That's not to suggest that every phone has good viewing angles, but you can rest assured that all other flagships do.
I found a temporary fix for this problem, with Night Light. You can turn on Night Light (which is a blue light filter on your phone) and turn its intensity to lowest. It will make the display yellowish when viewed up front, but it looks whiter from angles. That said, that's still a colour shift, so it's not a real fix by any stretch. And this is only accentuated by the undersaturated colours on the screen, another problem Google aims to solve with a software update.
The company says the Pixel 2 XL's pOLED display is tuned to a sRGB+10% gamut. That's because Android could only support sRGB till Oreo came along. But given that the Pixel 2 XL was always meant to be amongst the first phones on Oreo, that explanation doesn't seem adequate enough to me. The fact is that Samsung, Apple, Sony, Xiaomi and almost every other Android manufacturer has produced better looking displays. What's stopping Google from doing so?
Furthermore, tuning a display to sRGB in 2017 is archaic. The DCI-P3 colour gamut is not new and pretty much every high quality movie you watch today is shot in that colour space.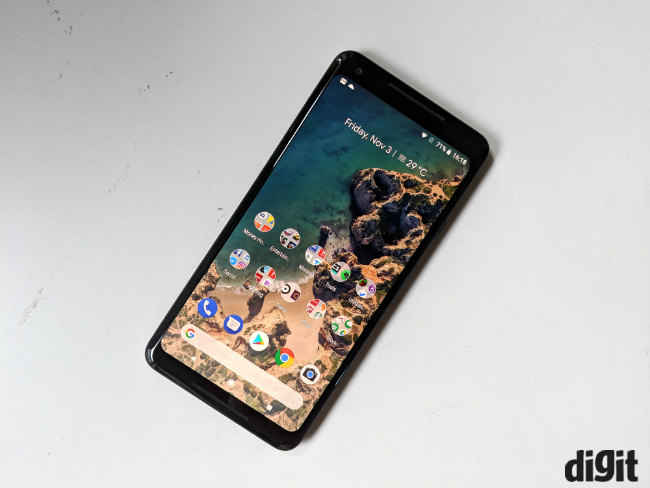 How does this matter to you?
While all of the above is true, it's also true that the terms sRGB and DCI-P3 make no sense or difference to regular consumers. What does make a difference though, are understaurated colours. The Pixel 2 XL's display feels like a gloomy and hazy day, instead of warm and sunny. There's a washed out feeling about the whole thing that's neither natural, nor pleasant. If it's natural you want, I'd direct you to the colour tones Apple chooses, although the iPhone maker has also moved to slightly warmer tones with the last two iPhones. This also means you will never really be sure what photos from the excellent Pixel 2 camera look like, since you will be looking at them on the phone's display. For those who like to use apps like Snapseed, Lightroom and more, editing pictures on this screen is a strict no no.
The blue tint won't matter as long as you're looking at the display up front. But lie down on a bed with the phone next to you, or try and watch a video with friends, and the colours do suffer. Personally, the fact that the Pixel 2 XL doesn't have a crisp, vibrant screen alone is a deal breaker for me.
Note: Google has now added a new "Saturated Mode" to the phone, which makes the Pixel 2 XL's display more pleasant. That said, the blue tint issue remains and we're still not completely fond of the display. The update basically makes colours more vibrant, though the Pixel 2 XL's display still pales in comparison to the iPhone X or Galaxy Note 8.
Build and Design: Utilitarian, but sturdy...
I'm also not a big fan of the big bezels on the Pixel 2 XL. It has an 18:9 display and yet it's unnecessarily wide. That makes the Pixel 2 XL unwieldy and difficult to use. Since most videos/movies won't support 18:9 right now, they are already pillarboxed, but the Pixel 2 XL's large bezels make them look like they're pillarboxed as well. I find that distracting and it seems to reduce the total screen real estate.
Otherwise, the Pixel 2 XL is a well built smartphone. Its aluminium casing feels solid and sturdy, though it could do with some heft. The screen curves into the edges on all four sides, which is a nice touch. The back is aluminium, but with a plastic-like textured finish on about three fourths of it. The top fourth is glass for improved antenna performance, with a slightly protruding camera module placed here. The fingerprint sensor lies below this, centered for where your finger will be falling naturally. I'll also take this opportunity to mention that Pixel imprint is as fast as it was last year.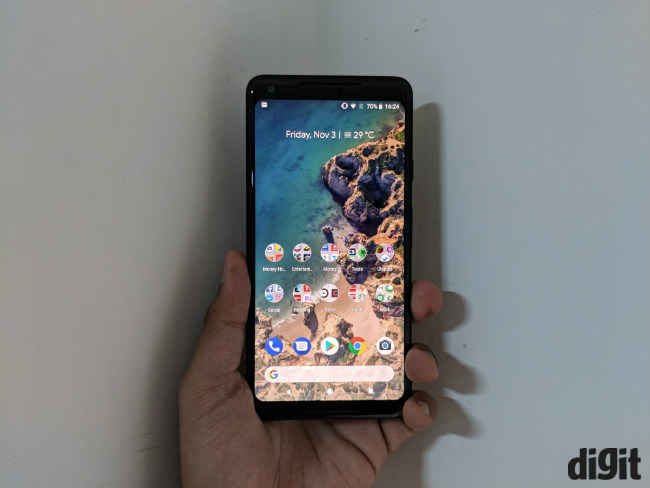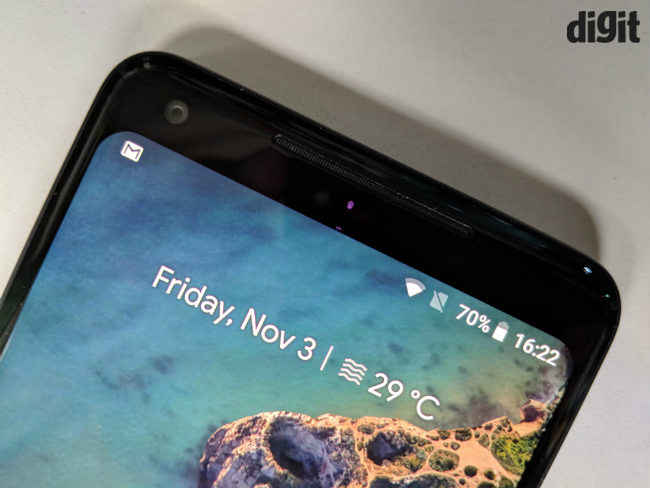 Due to the Pixel 2 XL's form factor, you will have to shift your grip to reach the power button on its right. The volume rocker rests under your thumb, but the power button is placed nearer to the top. The phone's SIM slot is on the left and USB Type-C port on the bottom. Google skipped the headphone jack this time, and sadly, the company doesn't bundle headphones in the box either. That's a definite fail for a phone that costs you over Rs. 70,000. You do get a Type-C to 3.5mm dongle inside the box though.
You could argue against Google's design philosophy here, but the Pixel 2 XL does look unique to some extent. My black review unit looks distinctly pedestrian compared to almost all other competitors, but at the end of the day, it is still functional.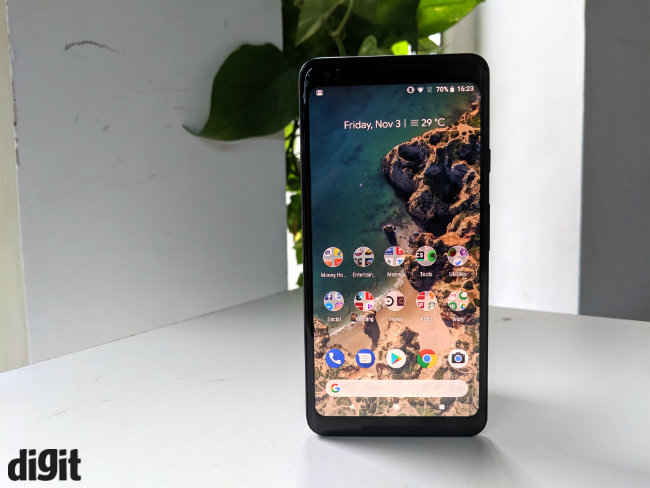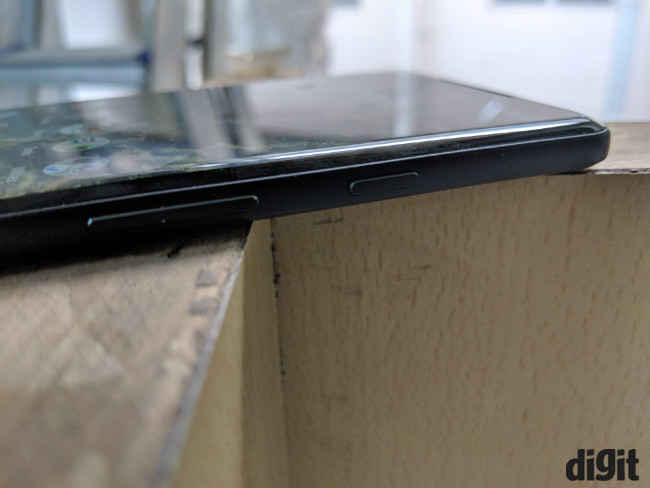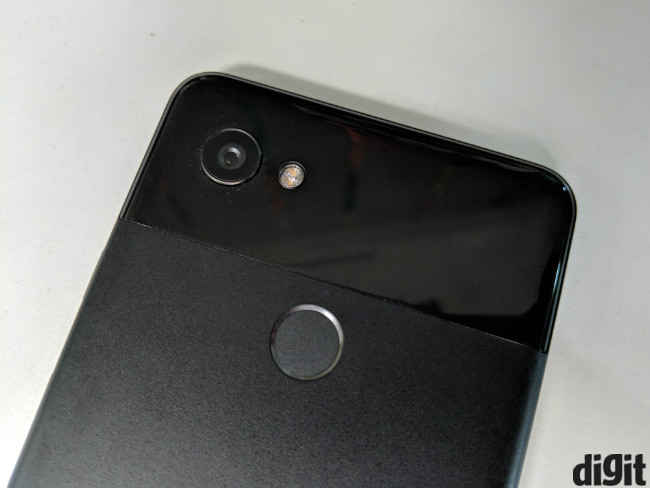 Camera: Par excellence, but...
Unlike Apple, Google actually tries to make the Pixel 2 and Pixel 2 XL feel the same. And a lot of that has to do with the fact that they have identical cameras. The 12MP sensor on the back, accompanied by Google's AI and machine learning mumbo jumbo makes for an impressive shooter. I'm going to break this down into parts, because though the Pixel 2/XL have great cameras, I'm not entirely convinced that they're the best smartphone cameras in the world today.
Pixel camera:
At the offset, it's important to mention that the Pixel's camera is par excellence. I do have my reservations with it, but I'll get to that in the next section. Why is the Pixel 2's camera better than compatriots? That would be because of the impressive amount of details it produces in photos. The photos do look dull on the phone's own display, but they can well and truly wow you otherwise. Google's algorithms are somehow good enough to manage colour differentiation even in shadow areas on low light shots, something phones like the Galaxy Note 8 promptly ignore. From a few shots I took with the iPhone X and Pixel 2 XL side by side, I'm pretty sure Google's camera is better at details, but we will be comparing these two very soon.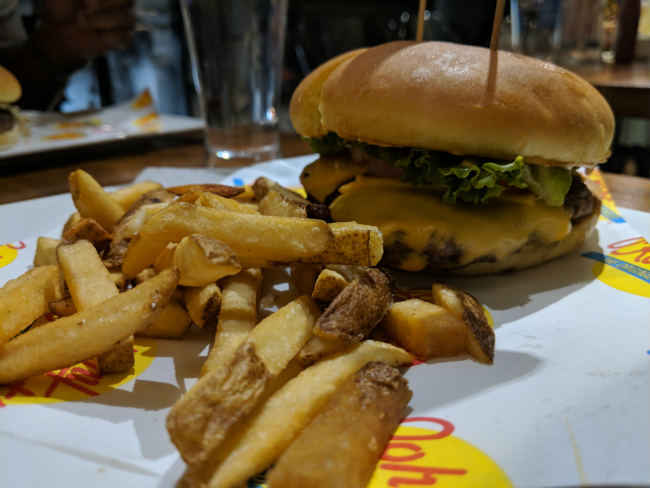 The Pixel 2 XL can capture amazing details in photos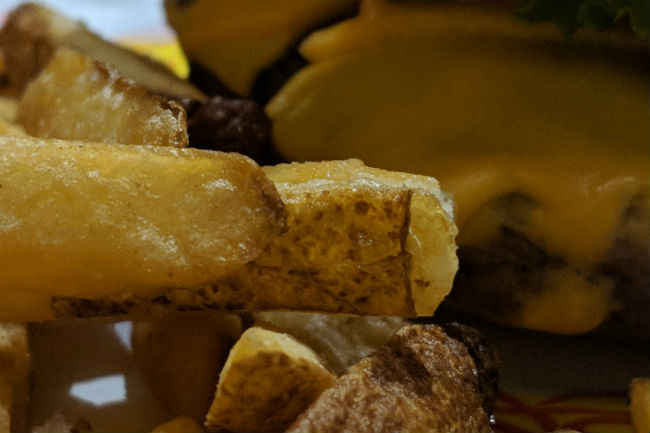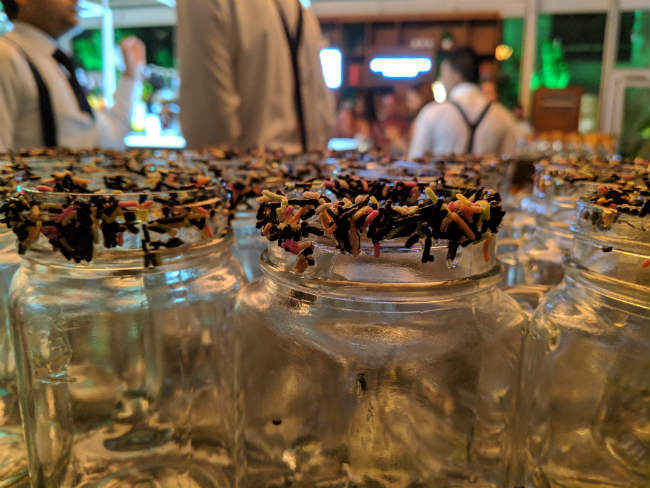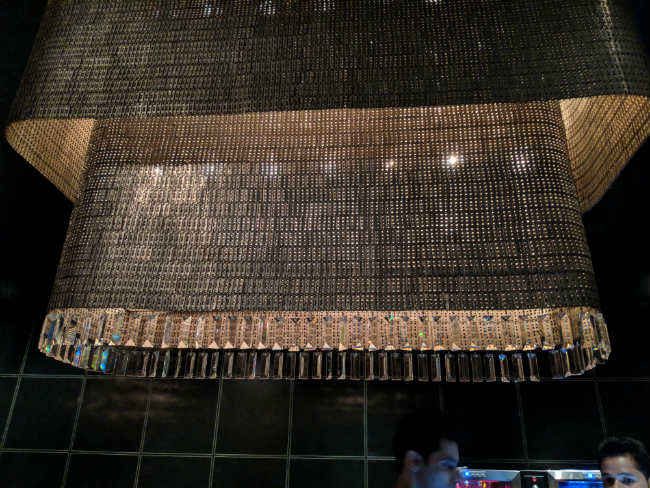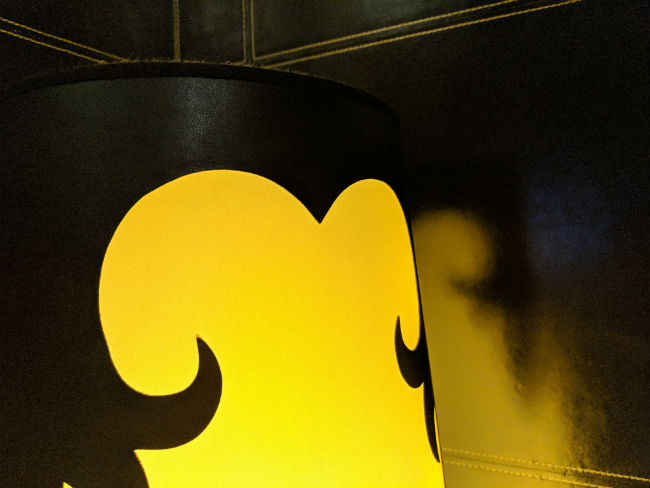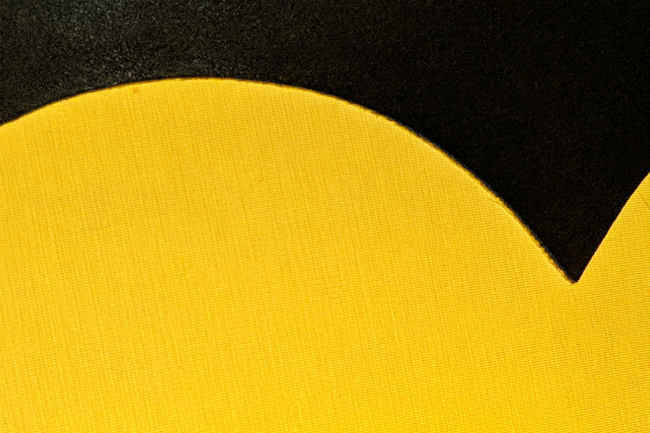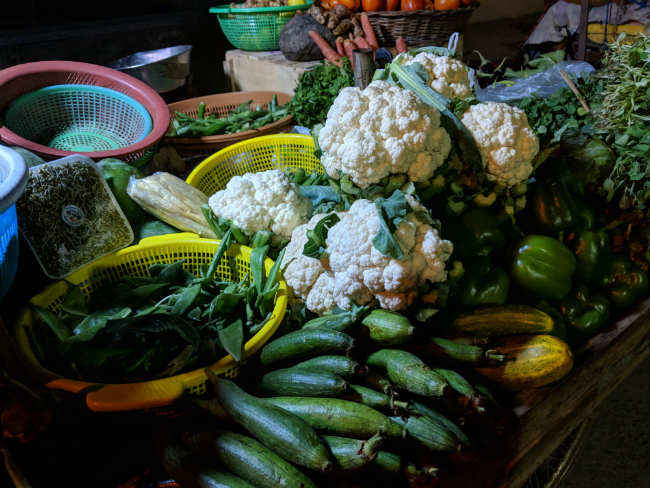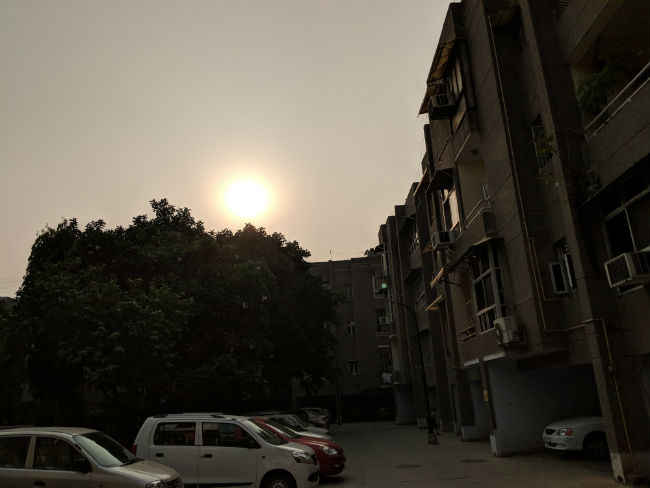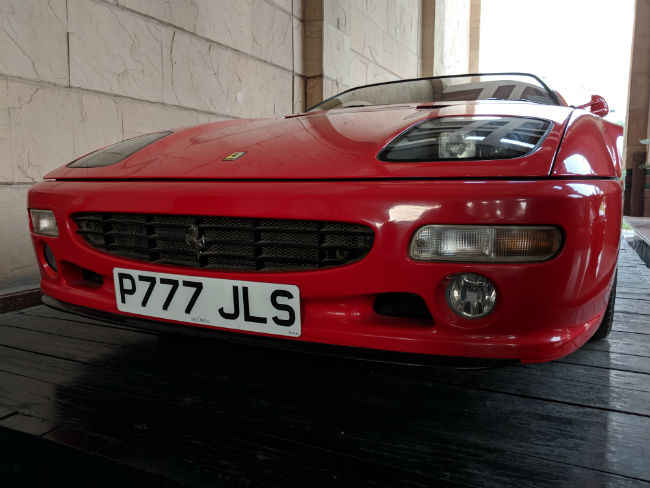 There's some finer noise that you can see when you zoom in. In that state, edges may look somewhat soft, but that's not really a practical use-case. And Google knows that. The Pixel 2/XL's is designed to put a nail in the point and shoot coffin once and for all. Though the phone does that, it doesn't necessarily improve on point and shoot cameras.
Why not?
That's because the Pixel 2's camera is finicky. It has a better camera than the Galaxy Note 8, but I'm far more comfortable using what Samsung provided. I know what the results will be and what I can expect when. With the Pixel 2 XL, I either get the best photos a smartphone can do today, or an absolutely average shot that's not worthy of the "highest rated smartphone camera" tag.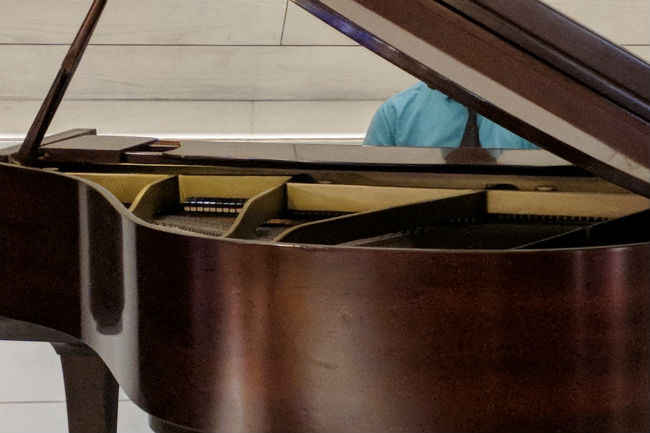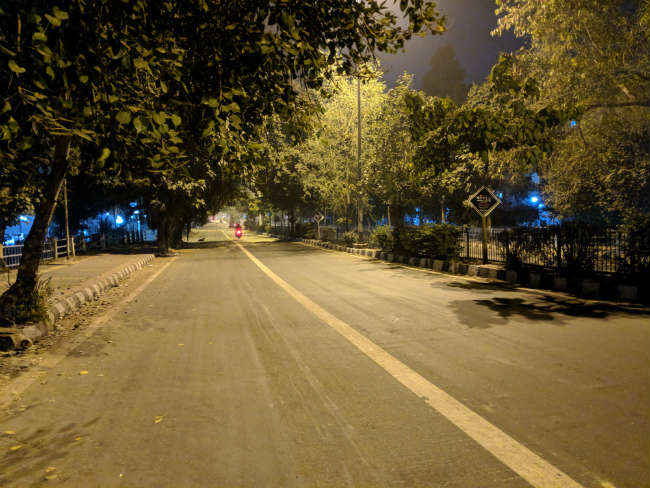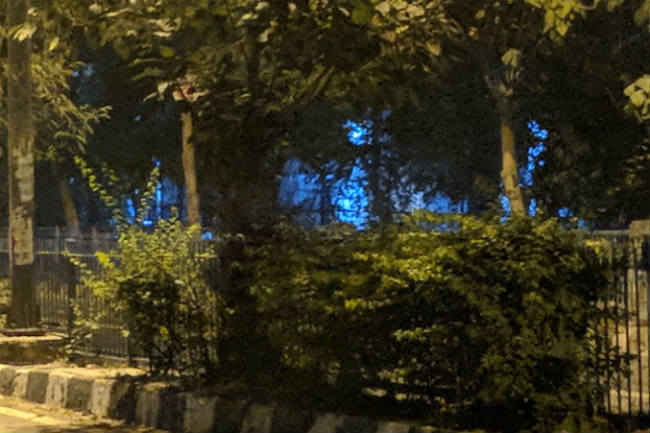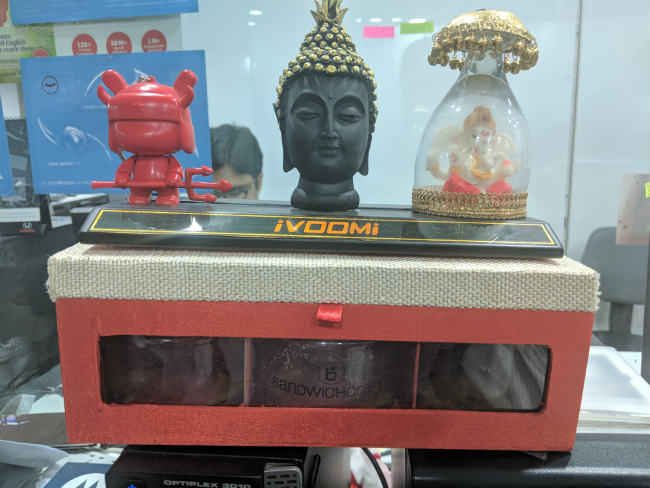 The Pixel 2 XL messed up white balance in many of the photos I took. In unconventional conditions, like the halogen lights inside hotels, the Pixel 2 produced unnaturally high levels of noise. For instance, the photo of the piano below is clicked under halogen lights, and the Pixel 2 XL produced lots of noise here. Similarly, in the second photo, it produces blue light in between the trees, whereas the original scene had only regular fluorescent street lamps.
It's worth noting that we took photos from two different units of the Pixel 2 XL and one Pixel 2, which means these issues aren't confined to a single unit.
Portrait Mode
Google's making a real statement with the Portrait Mode on the Pixel 2 XL. The phone has a single sensor on the back and front each, but there's portrait mode on either side. The fact that Google could accomplish this was a feat in itself, and I must commend its efforts too. That said, I would warn you against expecting the same bokehs you get from the two cameras on iPhones or the Note 8.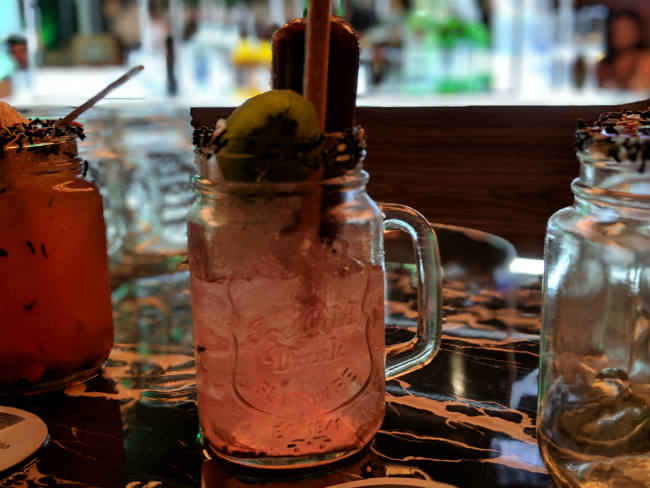 Rear camera portrait shots (above and below)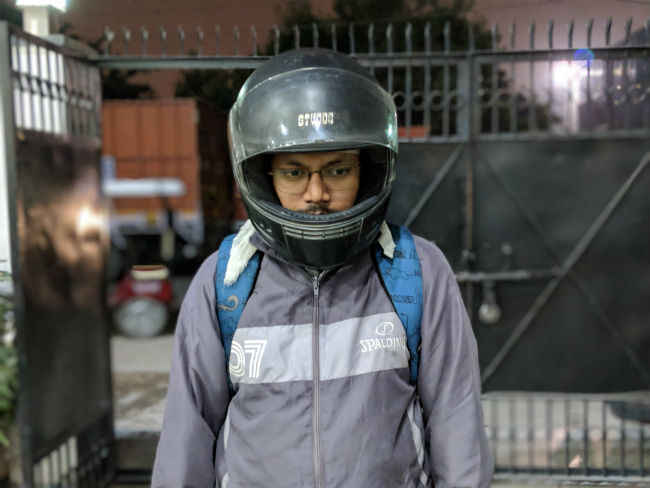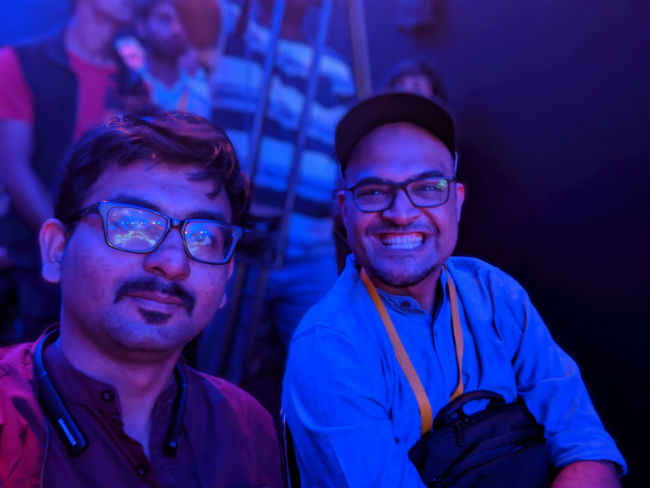 Front camera portrait
Being entirely dependent on software, the Pixel 2s can often falter with how they blur the background. You will sometimes find patches behind your subject that aren't blurred properly. At other times, it will sharpen the subject unnaturally. The portrait mode typically checks off a feature Google needed this year and it's neither impressive, nor disappointing.
Video
YouTubers and those who shoot lots of videos with their phones will drool at the Pixel 2 XL. The phone offers impressive stabilisation just like last year's Pixel. I shot videos while on a train and they came out completely stable and shake-free. The Pixel 2 XL also shifts focus across subjects really fast, making it an ideal phone to shoot videos with. The first impressions video below was shot using the Pixel 2 XL in a moving train.
Google Lens
It's also worth noting that the Indian versions of the Pixel 2 and Pixel 2 XL do not have Google Lens as of now. I'm yet to receive a confirmation from Google on when and if this is coming to India.
Adding it all up
A lot has been said about DXOMark's 98 rating for the Pixel 2's camera. Personally, I've never depended on DXOMark's ratings alone, and phones like the Pixel 2 XL are why. I mentioned in the beginning that the Pixel 2 XL has an excellent camera, and I stand by that. But, I would warn you against expecting excellent shots all the time. Personally, I'm put off by the white balance problems and I do not think this is a dependable camera.
Performance: Android at its best...but not the fastest
It's a fact that Android phones slow down over time. Believe it or not, the Pixel 2 XL will too. But it's fast out of the box. The Snapdragon 835 is the fastest processor you can find and the phone powers through most everything you can throw at it. App load times are the lowest Android can offer today and lags and frame drops are non-existent. For those wondering, the Pixel 2 XL also comes on top of benchmarks, and yes, it's not as powerful as the 2017 iPhones, on paper.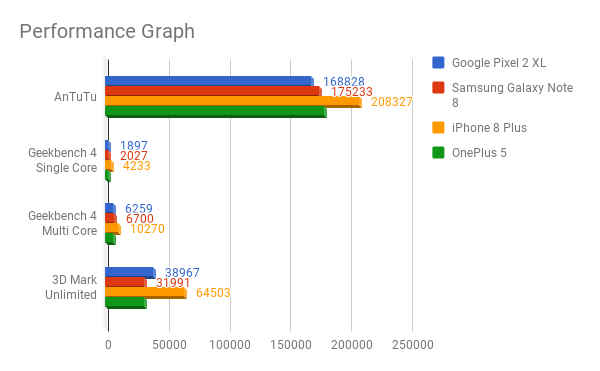 On regular usage, the Pixel 2 XL is smooth and fluid. But as a Google phone it needed to be the smoothest and fastest Android phone out there. That, the Pixel 2 XL is not. And that will probably matter only to nitpickers like me. I'm talking on miniscule differences here, that won't matter to most anyone. However, my Note 8 connects to WiFi when I'm below my home, while the Pixel 2 XL connects when I reach the door. Similarly, the OnePlus 5 feels snappier than the Pixel 2 XL when I tap on games like Sim City BuildIt. Admittedly though, these are minor differences and shouldn't be held against the Pixel 2 XL.
If you're looking for a fast Android phone, the Pixel 2 XL is certainly one of them. It has no heating issues, though it can get noticeably warm if you're downloading lots of apps together while performing other tasks. All things considered, the Pixel 2 XL is one of the fastest Android phones today. The question users like me will ask is, did it need to be the fastest? The answer likely, is yes.
Battery: Just about enough...
I and most reviewers like me will readily trade a lot of "features" for extended battery life. Google promises a day's worth of battery life, and I concur with the same. However, I could get noticeably higher battery life from the Galaxy Note 8. On a busy work day, with two 15 minute Facebook lives, seven phone calls, live tweeting for 20 minutes, shooting two short 1080p videos and streaming music for 40 minutes, the Pixel 2 XL lasted me from 10am to 5pm. Is seven hours on heavy usage enough for you?
The Pixel 2 XL will last most everyone through the work day, requiring a charge every evening. That puts it in the same league as most flagships today, barring the iPhone 8 Plus (review). The Galaxy Note 8 (review) will give you about two hours more battery life.
Now Playing: By far my favourite feature...
The Google Assistant is always listening on the Pixel 2, and it tells you songs that are playing around you all day long. So, I don't have to pull out my phone and launch Shazam when I need to know what song is playing. It works well too.
For instance, I listen to the radio while driving to and from work. In that time I often find songs I want to know about, but can't. The Pixel 2 always has the song name ready on the Always On display, whenever I need it too.
Now Playing is quite accurate too. I tested it with obscure songs and it could even recognise some of the obscure music I threw at it. It did fail a few times, but it took some doing to beat Google's knowledge database. Now Playing works offline, identifying music off a database that's prebuilt into the Pixel 2 XL. So, you could expect it to miss sometimes, especially when playing covers. Google says the database is updated on a weekly basis and should take up about 500MB of storage space on the device at any time.
While working offline is a good idea, assuring users that while the phone is continuously listening, it's not sending anything to the cloud. It also uses less battery than it would if the feature was connected to the Internet. That said, Now Playing surely has an impact on battery life, though nothing that noticeably reduces the Pixel 2 XL's battery life.
Active Edge
With its $1.1 billion investment in buying HTC's teams, Google also used its edge-squeeze feature on the Pixel 2 and Pixel 2 XL. With this, you squeeze the edges to turn on Google Assistant. While that seems like a nifty feature, I never really used it. That's because Google Assistant is barely of any use in India. I don't see a big change in functionalities from last year's Pixel here.
Moreover, with the Pixel 2 XL's wide form factor, I find it rather inconvenient to squeeze its edges when needed. It's easier to do on the Pixel 2. You can't customise this feature either, so you're stuck with that one use-case only. Didn't we already have a shortcut for the Assistant by long pressing the home button?
Lastly, to set its intensity, you go to Settings -> Apps & Notifications -> Default Apps -> Assist & Voice Input -> Active Edge. You can of course use the search bar inside settings to skip the multiple taps.
Should you buy the Pixel 2 XL?
So, the Pixel 2 XL is fast but not the fastest, it has a disappointing display, a great but inconsistent camera and average battery life. At Rs. 73,000, that doesn't make a very good value proposition. It's for sure a functional and even a good smartphone, but I'm not sure that's enough at this price. You could still buy the Pixel 2 XL for its excellent camera, but personally, I'm not convinced by it.
Google Pixel 2 XL Key Specs, Price and Launch Date
Price:
Release Date:
01 Sep 2017
Variant:

64GB

,

128GB

Market Status:
Launched
Key Specs
Screen Size

6" (1440 x 2880)

Camera

12.2 | 8 MP

Memory

64 GB/4 GB

Battery

3520 mAh