Google Android 4.1 Jelly Bean detailed review
Android 4.1 "Jelly Bean" is a solid refinement of what is now the world's most popular OS on new smartphones. While calling it 5.0 would have been a stretch, it's more significant than you'd expect for a point upgrade. For now, you can only get Android 4.1 on a few devices, including the Samsung Galaxy Nexus ($199.99, 4 stars) and Samsung Nexus S (3.5 stars) phones, and the Google Nexus 7 ($199, 4.5 stars) and Motorola Xoom (3.5 stars) tablets. The upgrades will roll out sometime in the middle of July as over-the-air updates. There's nothing revolutionary about Android 4.1—the new Google Now feature comes close, but it doesn't work well enough just yet. Still, there are so many minor updates and overall performance improvements that Jelly Bean adds up to our new Editors' Choice for mobile smartphone OSes.
User Interface Improvements
For this review, I tested Android 4.1 on an unlocked Samsung Galaxy Nexus. Right from the beginning, the setup process was smooth, and faster than it is with earlier Android phones. Most of the default options were already checked, for example, and I had no problem adding my existing Google account. Once you're in, the OS walks you along with a series of translucent tip screens that appear over the home screen and main menu. This hand-holding is definitely helpful if you're new to the OS, though experienced users will already know many of the tips.
There's more going on here than just minor UI refinements, though. At Google I/O, Google engineering director David Burke talked about Project Butter, which was the company's effort to improve Android performance enough that it feels "buttery" smooth in use. This effort affected many aspects of the OS, such as improved vsync timing for faster frame rates on the display itself, triple graphics buffering for preventing dropped frames in video games, and improved overall touch-screen response.
On the Galaxy Nexus, there's definitely a noticeable improvement. You can now easily resize and move around icons and widgets on each home screen panel or delete apps by swiping the icon up, which causes it to disappear. The system font ("Roboto") already looked sharp and smooth before, and still does. But menu animations, finger swipes, and scrolling now feel at least as solid as they do on iOS, and possibly even a bit better in spots. The Galaxy Nexus is no longer one of the fastest Android phones on the market, but you wouldn't know that from how nicely the unit responds with Jelly Bean loaded.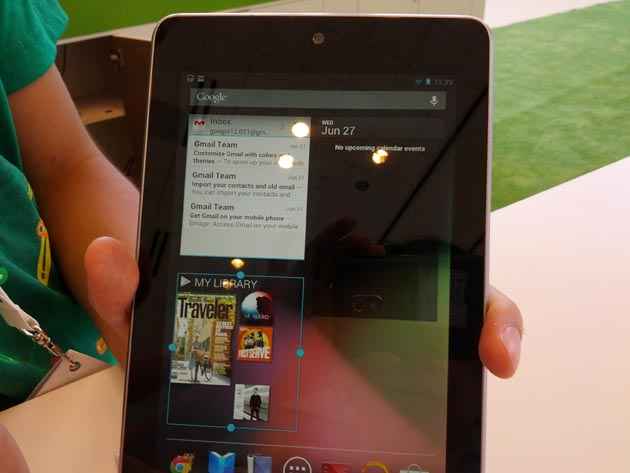 Keyboard, Web Browser, and Messaging
The new predictive keyboard is another solid upgrade. I spent quite some time typing on it, and it seemed to do a much better job than before at guessing the word I meant, even whenever I typed several letters incorrectly. The prediction function works just as it does on Apple iOS 5.1.1 (Free, 4.5 stars), in that it can figure out your left finger was slightly to the left each time, for example, and then figure out what word you meant based on that and the grammar of the sentence you're typing.
The new predictive text engine also one-ups that of iOS on the iPhone, in that it still shows the bar beneath the text window with possible alternatives—rather than just one the way the iPhone does—and then pops it in with a little animated fade as you continue typing. These are small details, but they're beautiful in action. This is exactly the kind of polish Android needed.
The Web browser offers smooth handling of multiple tabs, which you can swipe among on a separate screen. One issue; while auto-rotate was turned off by default, when I turned it on, I noticed some pages had trouble formatting columns of text when flipping between landscape and portrait mode. In other words, the screen would be formatted correctly in one orientation, but then end up with a thin column and tons of white space in the other.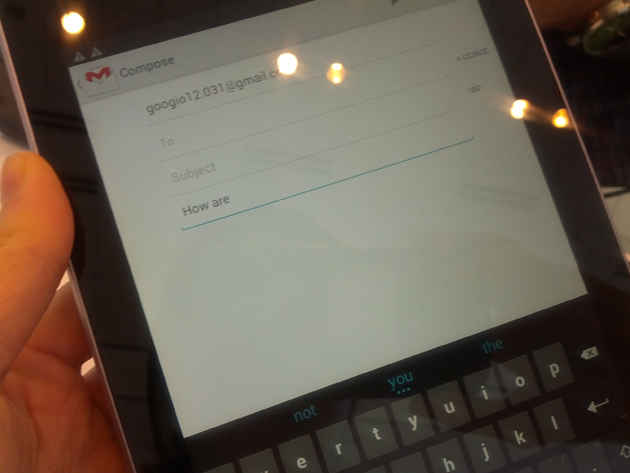 Adobe has officially dropped support for Flash, starting with Jelly Bean. This doesn't bother me as much as it bothers some other people. Even when it works on mobile devices, it doesn't really work all that well. The end of Flash for Android is hardly a surprise, at any rate, as Adobe said months ago it was discontinuing all mobile Flash development.
In the messaging app, tap the new message icon, and it pops up names and photos from your contact list as you type letters, including alternate phone numbers indented slightly as compared with the main one. I tested this function with a book of about 1,500 contacts and it was super-fast.
Visit page two to read about Jelly Bean's Search, Notifications, Maps, and more...
Copyright © 2010 Ziff Davis Publishing Holdings Inc.
Google Now, Search Upgrades, and Offline Dictation
One of the more significant upgrades is Google Now, which you can access via the search bar or by swiping up from the bottom of the screen, the latter of which is handy but takes a little practice (start below the screen and it works perfectly). Google Now uses your location history, email history, search history, and calendar to figure out exactly what you may be looking for and when you'll need it.
For example, if you're stepping off of a train and heading to your car, it will tell you how long it will take to get home given current traffic conditions. It can tell you're waiting for a bus and let you know when the next one is coming. Unfortunately, this didn't always work for me in practice. Google Now didn't seem to know the New York City subway exists, for example, and I had trouble cueing up relevant information at times.
More significantly, Google has also upgraded the way plain old search works. In addition to the usual voice and text input, the search window shows a series of cards with commonly accessed information. For our midtown location, I saw the local weather, the Madison Avenue bus schedule, and a number of cards representing local restaurants with photos, details, and the ability to check in.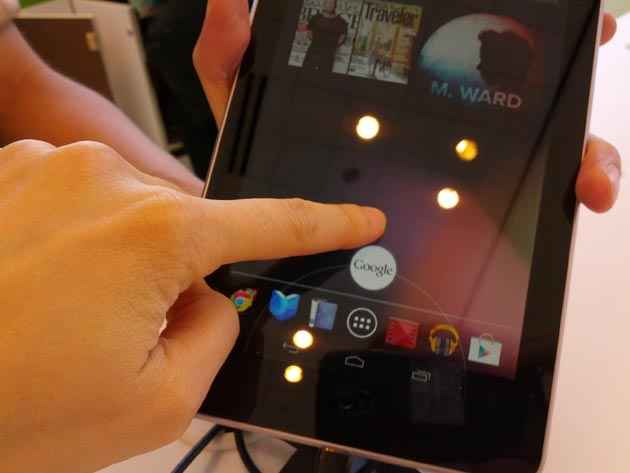 As you run new search queries, Jelly Bean adds cards showing the results for each and stacks them so you can access them whenever you want. Search for Chinese food, and search shows you a series of nearby places in a stack; choose one, and it does a smooth animation over to Google Maps showing the location and more information. I had to hit Back several times to return to the results list, though. Tapping "Results List" on the map brought me to an entirely different page, so it seems Google still has a little work to do on the interface here. It's pretty impressive stuff nonetheless.
Offline voice typing lets you compose messages by speaking to the device even when it's not connected to the Internet—just speak and your words will appear on the screen. I found the offline voice typing worked exceedingly well, and it rarely missed a word I was saying. For now, this only works in English, but Google is working to add support for additional languages.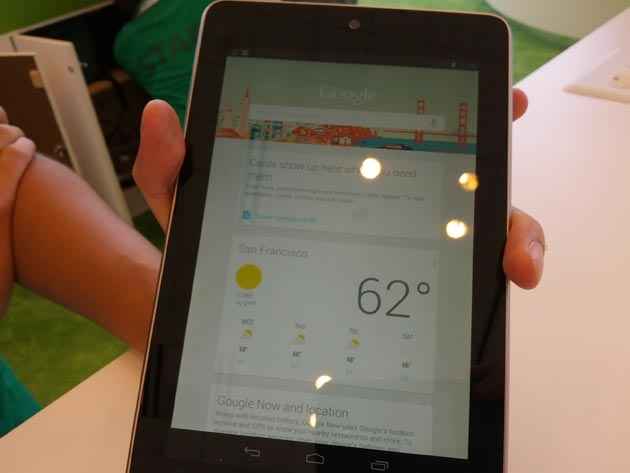 Notifications, Google Play, and Offline Maps
Notifications, which were already superior to what iOS offers, now include more information, and let you do more things. Starting with Jelly Bean, you can almost navigate the handset using just the notification tray. For example, you can expand and collapse each notification and perform basic tasks, such as previewing an incoming email, sending an email from a calendar request, seeing new Google or Foursquare updates, or dialing a phone number from a missed call.
Jelly Bean also brings proper Facebook contact integration. This takes an extra step, because you need to download and install the Facebook app first. Once you do, a Facebook item appears in the Settings page that lets you integrate Facebook contacts with the phone's address book. You still can't integrate Facebook's Events Calendar, but that's less of a problem.
With Google Play Movies & TV, you can browse, buy, and download media from Google's store. This actually appears as a default icon on the Nexus 7 tablet. On the Galaxy Nexus it's in the app drawer, along with additional icons for Play Books, Play Magazines, and Play Music. Google Play still needs more media partners, but it's a start. The YouTube app gets an upgrade, and it works better over Wi-Fi with a new buffering engine.
There's also more synergy with Android as a media platform now. For example, start watching a movie or reading a book on a tablet with Jelly Bean, and you can pick up where you left off on a smartphone with Jelly Bean. Individual apps like Amazon Kindle already do this, but the ability hasn't been OS-wide, as it is in Android 4.1.
As before, Android's third-party app support is robust. Google Play contains more than 400,000 apps, most of which should already work fine with Jelly Bean. One minor improvement: App updates can now be incremental, which improves download times.
For GPS, you still get free Google Maps Navigation (4 stars), which delivers excellent voice-enabled, turn-by-turn directions, as well as pedestrian maps, bike routes, public transit schedules, and more. Maps work offline as well—to enable this, you choose it from a pop-up menu, and then select a square area you want to make available offline. As you adjust the size of the map area, Jelly Bean estimates how much storage space this will take up. This is great, as it completely eliminates any caching issues with navigation in areas with poor signal strength. A square area that included all of NYC, Paterson (New Jersey), Hicksville (Long Island), and White Plains (NY) took up 44MB. But expanding the map out much further generated a "file size too large" error, which seems like a bizarre limitation.
Visit page three to read about Jelly Bean's Other Features, Comparisons and Conclusion...
Copyright © 2010 Ziff Davis Publishing Holdings Inc.
Other Features and the SDK
Plenty of new lower-caliber features are also welcome. Blind users have access to a new gesture mode that works in tandem with speech, and there's improved Braille support. Ice Cream Sandwich's Beam feature is now upgraded as well. Instead of just tapping two phones together to exchange info, you can pair a phone with an NFC-enabled Bluetooth device to do the same thing. You can also send photos and video this way.
The camera app now lets you scroll through photos using a new film strip-style view. Pinching a photo and swiping it upwards will delete it. Google had already improved the default camera app tremendously with Ice Cream Sandwich, but these are welcome upgrades nonetheless. The improved camera snaps photos faster than ever, too.
As part of Android 4.1, Google has already released an updated SDK to developers, and the company is working on a new platform development kit (PDK) that lets hardware vendors port Android to their devices more quickly. While app compatibility across devices has gotten better, it's still an issue, so it's good to see Google redoubling its efforts to aid developers.
So which devices will get Jelly Bean? That's the big question mark. The little Web page formatting bug I mentioned above is a perfect example of why OS updates need to happen often, and quickly. Today's devices are way too complex—it's not just about new features. If, say, Android 4.1.1 appears soon with a fix for the formatting bug, but U.S. carriers sit on the update for four months before releasing it, consumers are stuck. Not only are carriers holding back or not upgrading Gingerbread phones to Ice Cream Sandwich, much less Jelly Bean, but they're even holding back incremental updates. For example, Verizon delayed the 4.0.4 update to the Galaxy Nexus—which came with Ice Cream Sandwich to begin with—by several months after it had already been released by Google.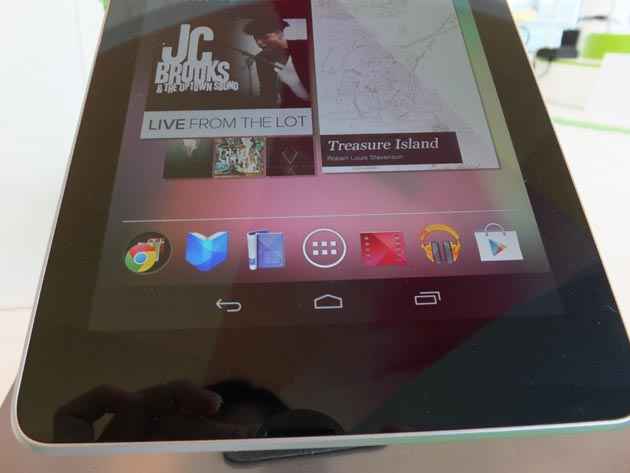 This is to say nothing of major upgrades for existing devices to Jelly Bean. Google's largest, most recent attempt at pushing carriers to promise and deliver OS upgrades failed miserably. Google still has to overcome the inertia carriers have to sell you a new phone and make more money, instead of letting you upgrade your existing one for free.
Comparisons and Conclusions
While three major smartphone players remain on the scene, Jelly Bean cements Android's status as a star platform. It's already the larger of the top two smartphone OSes available today (beating out Apple's iOS), and still offers the most flexibility for the most people, as we'll soon see it on every carrier in a wide variety of hardware configurations. But that's not the main story here. Android 4.1 is refined, powerful, smooth, and attractive. Just focus on the software, and Jelly Bean still shines.
In comparison, Apple iOS remains easier to use, still has the best multimedia platform and accessory support (speaker docks, car stereo support, and so on). It still benefits from the best app store on the planet, one that's larger, more organized, and better stocked with quality apps. The Apple App Store alone can tilt the buying decision for many consumers, because the difference in what's available and what's actually good is pretty striking. The iPhone also has zero bloatware; it remains to be seen what happens to Jelly Bean as various carriers begin selling phones and adding advertisements and other services, and as we've seen, even the Galaxy Nexus isn't entirely immune.
But iOS also has its own issues. Hardware-wise, the iPhone still has no 4G, no larger screen sizes, and no keyboards. But even software-wise, iOS offers much less hackability than Android does, which turns off a lot of people. Apple's tight lock on what the app store can carry and how users can tweak the operating system still grates on many, including us. And iCloud and iTunes Match have introduced complexities within iOS that, at least in my personal experience, have soured some of iOS's formerly super-tight responsiveness and reliability.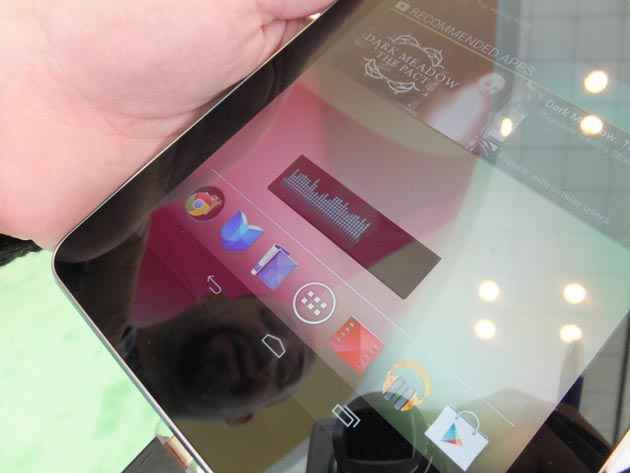 In fact, it's extremely difficult to weigh these two OSes against each other. In this review, we're focusing on the software first and foremost. We're not going to give many points to Android just because it appears on a wider variety of form factors, and that some Android devices are larger and faster and have 4G compared with the iPhone. What's tipping the balance to Android here, and netting it the Editors' Choice award, is that the OS looks and feels just as refined to us now, while offering more practical features like improved search and the same kind of quality keyboard iOS has had all along.
The other up-and-coming competitor here is Windows Phone, which looks to get some serious improvements in Windows Phone 8. Even now, it's a fun-to-use OS that's especially good for beginners and social networking mavens, and it's quietly becoming a stellar gaming platform on its own. But there still aren't enough devices on Verizon and Sprint, and with the announcement that no existing Windows Phone will be upgradable to version 8, Microsoft essentially made it unrealistic for anyone to buy one now. And BlackBerry OS—well, at this point, the less we say about it, the better.
Overall, Jelly Bean is a solid OS that will likely make your next Android phone purchase even better than it would have been otherwise. Unfortunately, the chances you'll see it soon as an upgrade for your current phone are slim, and, as we've seen with each successive version of Android, it could be quite some time before it even appears on many new handsets. More than anything else, this fragmentation is what we'd like to see Google tackle with the next version of Android. In the meantime, Jelly Bean stands as the best all-around mobile OS we've tested. Even though the Galaxy Nexus is no longer the best Android hardware on the market, if I were shopping for one, I'd push that phone back to the top of the list just on the strength of running Jelly Bean sooner. There's more going on here than just minor UI refinements, though. At Google I/O, Google engineering director David Burke talked about Project Butter, which was the company's effort to improve Android performance enough that it feels "buttery" smooth in use. This effort affected many aspects of the OS, such as improved vsync timing for faster frame rates on the display itself, triple graphics buffering for preventing dropped frames in video games, and improved overall touch-screen response.
Copyright © 2010 Ziff Davis Publishing Holdings Inc.