Asus Zenfone 3s Max detailed review
Battery and Android updates, these are two very common problems with Android smartphones today. Think back to the long list of smartphones online, Google launched Android Nougat months ago, but there are a handful devices on the new version, at best.
It is that problem that Asus is addressing with its newest device. The Asus Zenfone 3s Max has a 5000 mAh battery and comes with Android Nougat out-of-the-box. So, when we review the Zenfone 3s Max, these are amongst its biggest plus points. However, that isn't all you need in a smartphone now, is it? The Zenfone 3s Max hasn't been launched in India, so we can't quite tell you whether to buy it or not. As a standalone device, though, it is open for analysis. Here's ours, with tests done over the past two weeks.
Battery
Beginning with the part Asus puts on its marketing material, the phone has a huge battery inside and is designed to last long. And so it does, with an excellent PC Mark battery score of over 14 hours. The Zenfone 3s Max is also above average in terms of idle battery drop, which is important for a phone that has to last long.
In general, such benchmark results would amount to at least two days of real world usage. However, it doesn't quite translate that way. When using the Zenfone 3s Max, battery life is only about a full 24 hours. That's about a full work day and then 12 more hours.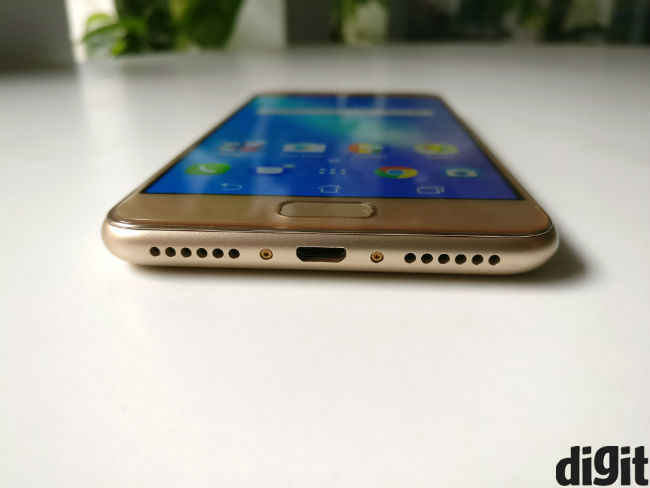 Gaming on the device takes up about 4% battery in 15 mins and about 10% in an hour. In theory, you can get about 10 hours of gaming from this device with the display turned to 100%.
Similarly, idle battery drop is about 2% every 12 odd hours. This is amongst the highest on the market today. It can also reverse charge other devices.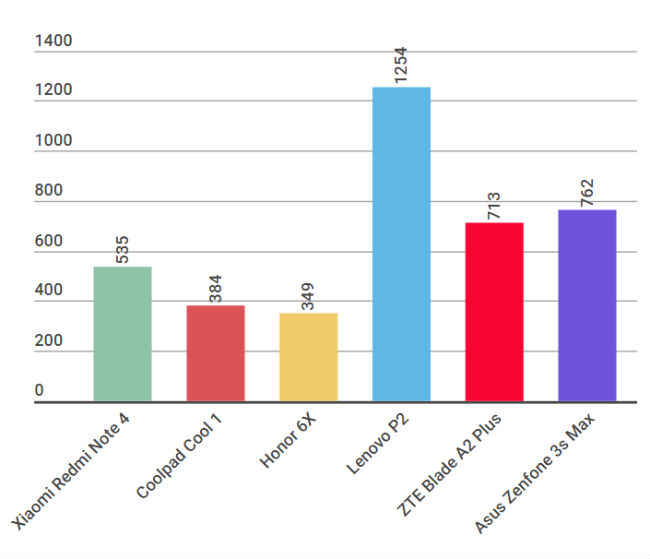 The phone has five power saver modes and is set to Normal by default. You can turn it to Performance Mode to get maximum performance, but it doesn't make a big different in regular terms. The battery life differs by about an hour at best. Numbers given above are all on Normal mode.
It is clear that the Zenfone 3s Max's battery life is better than most other smartphones. It is, however, worth mentioning that the Lenovo P2 does much better on regular usage and on benchmarks.
Operating System and ZenUI
As mentioned above, the Zenfone 3s Max runs on Android Nougat, layered with a new version of Asus' ZenUI. It looks the same aesthetically and is just as frustrating as it has ever been.
Asus has added a Spotlight search like feature this time, which often interferes with the notification drop down. The former is accessed by swiping down anywhere on the screen, while the latter appears when you swipe down from the top. As a result, the search comes up often when you're going for the Notifications drop down.
Moreover, ZenUI is just as bloated as ever. Asus' Mobile Manager keeps scanning apps I don't want it to and keeps sending notifications that I haven't asked for. In fact, ZenUI's myriad apps and background functions may be the primary reason for the Zenfone 3s Max having lower battery life than the Lenovo P2.
After the first boot, apps like Mini Movie, Mobile Manager etc. will overwhelm you with all the notifications they generate. We tried disabling every last one of them (most can't be uninstalled) and it doesn't affect usability at all, except making more resources available to the user. Asus needs to make its UI more stock like, as Lenovo has done.
Performance
Now, we do appreciate having Android Nougat out-of-the-box, Asus' choice of a MediaTek SoC is confusing. For one, it would have been easier to tailor the OS to a Snapdragon SoC. Secondly, the Snapdragon 625 is much more efficient for a battery-focused smartphone.
The Zenfone 3s Max runs on the MediaTek MT6750T octa-core SoC and 3GB of RAM and its performance is not the best. Benchmarks aside, the phone shows sloth often. For example, the fingerprint sensor on the front is slow to react. Similarly, apps take longer than usual to load. Especially heavier apps like gaming.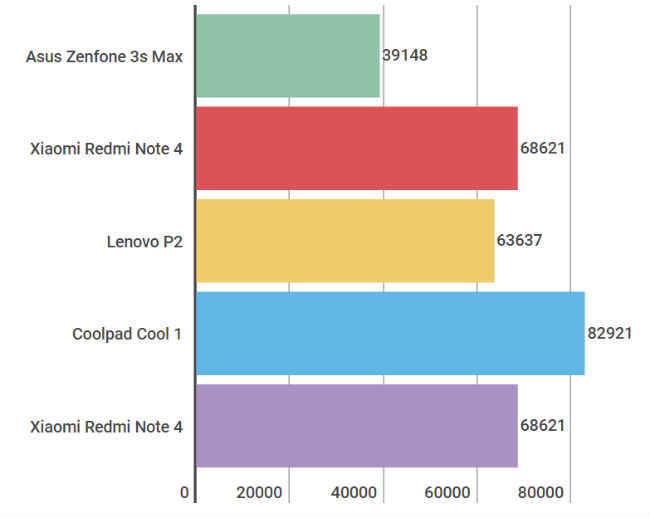 AnTuTu 6.0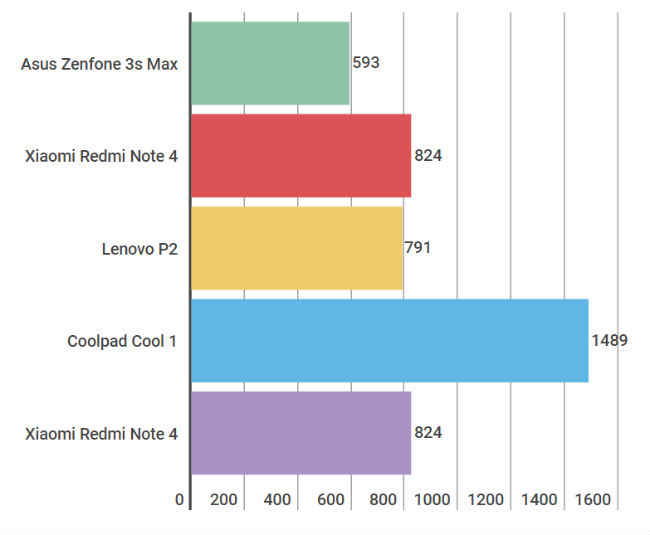 Geekbench 4 Single Core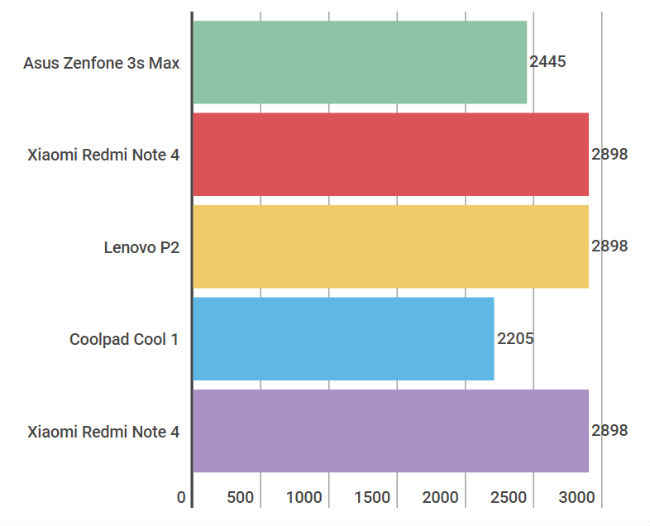 Geekbench 4 Multi Core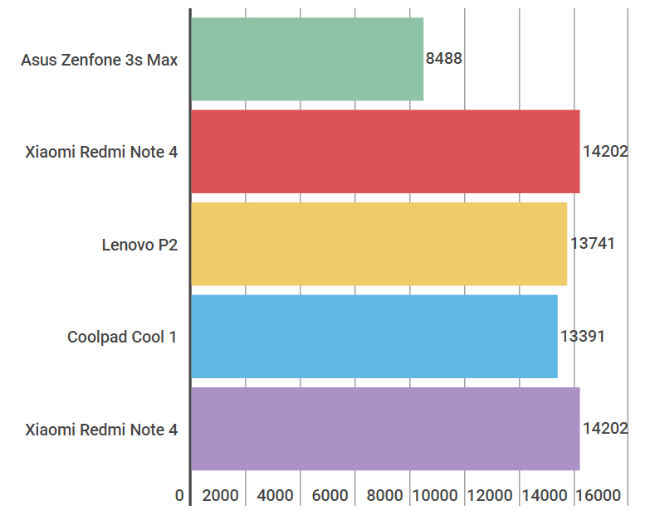 3D Mark Unlimited

In particular, Amazing Spiderman 2 froze often and even crashed twice. This could be a result of memory overload or a faulty UI. Even Asphalt 8 stuttered at times and overall frame rates dropped after about 20 minutes of gaming.
The overall performance, though functional, is far from ideal, especially considering the Zenfone 3s Max's competition.
Display
In order to improve battery life, Asus has chose HD resolution for the display. However, given the phone's performance and overall battery life, this doesn't make sense to me. Lenovo achieved much more without compromising on such specs.
720p doesn't make for low pixel density on a 5.2 inch panel. 282 ppi is easy enough to get onboard with, but colours on the Zenfone 3s Max are calibrated differently this time. Colour tones are a tad warmer than other Zenfones, though black levels aren't very good.
Overall, the display works for regular usage. Touch response is fine and 2.5D glass adds a premium touch.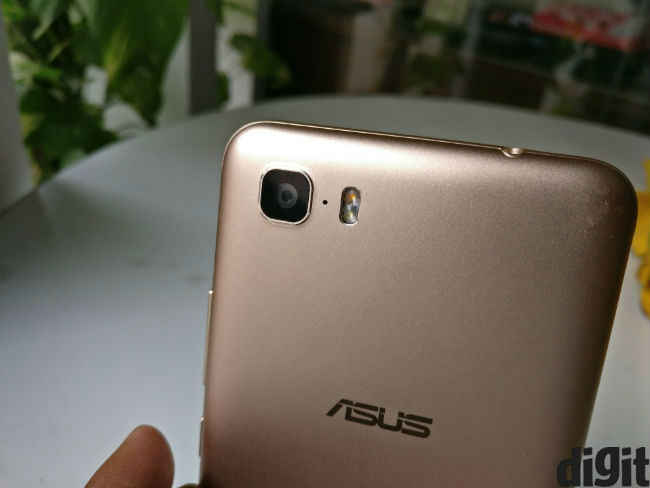 Camera
The Zenfone 3s Max has a 13MP camera on the back and 8MP camera on the front. Image quality wise, the camera isn't up to the mark. Low light images lack details often and colours are desaturated too, despite Asus' algorithms trying to make photos brighter. However, photos taken in natural light, or even indoors, are passable and will easily work for sharing on social media. The Zenfone 3s Max takes sharp enough photos, with reasonably true to source colours in this case.
Asus Zenfone 3s Max Camera Samples
Overall, the Zenfone 3s Max's camera is decent, but it doesn't make for the best you can buy. With the right pricing, this camera may be acceptable, but phones like the Honor 6x etc. can easily do much better.
Build and Design
The 3s Max also has a new design compared to other Zenfones. The phone has a square camera module on the to left side of the back panel. The fingerprint sensor is webbed into the home button on the front, and it has a more rounded design.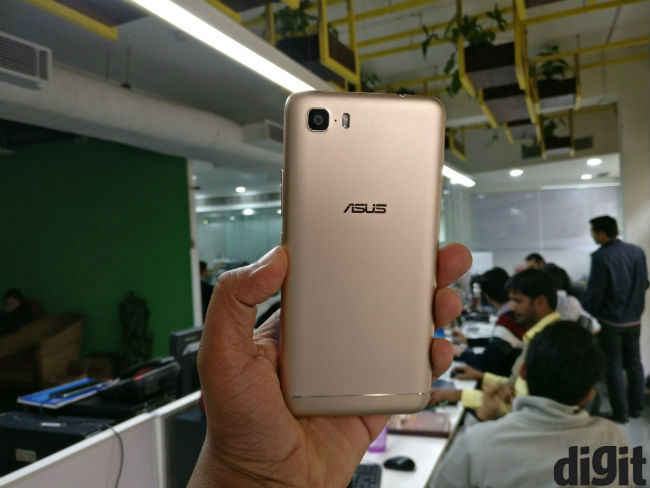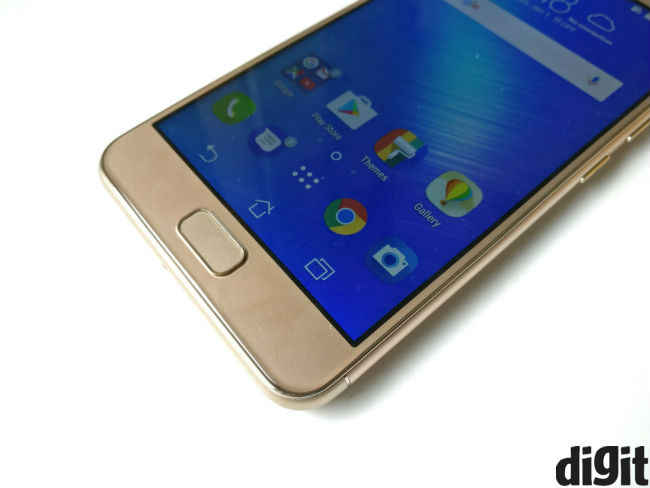 Asus concentric circles design is missing, except for the power button. The edges are rounded, with the antenna bands on the top edge of the device. In pictures, the phone can look like an iPhone, however, it doesn't really feel the same.
The mono speaker grilles are on the bottom, with the micro-USB port between them and the phone has on-screen buttons.
Audio Quality
Asus says the speakers on this device are supplied by AAC, the same company responsible for Apple's iPhone 7 (review) speaker. The audio is loud enough, but not very high quality. You'll get by with headphone, but much like most other smartphones, it isn't meant for listening to music without them. It has a mono speaker with one grille just for show.
Bottomline
From this, we're certain that the Asus Zenfone 3s Max is a decent smartphone. However, without the pricing, we cannot yet surmise whether it will be worth buying or not. It battery life is substantially lower than the Lenovo P2 (review) and other aspects pale in comparison to the Xiaomi Redmi Note 4 (review), Honor 6X (review) or Coolpad Cool 1 (review). On its own, the Zenfone 3s Max seems to be a device suited for a budget pricing, however, at Rs. 14,999, we have to recommend the other devices mentioned here over this one. The compromises made by Asus make little sense to us given the competition it is facing in the market.