VERDICT:
The Sony VAIO S 13-inch laptop retails for a price of Rs. 56,990 with a one year warranty. We think it�s a very good price for a thin, ultraportable laptop that packs quite a performance punch in its deceptively slim form factor. The laptop�s feature-packed, and one of the few notebooks that look equally good in a conference room and a coffee shop. Just don�t expect great battery life and you won�t be disappointed.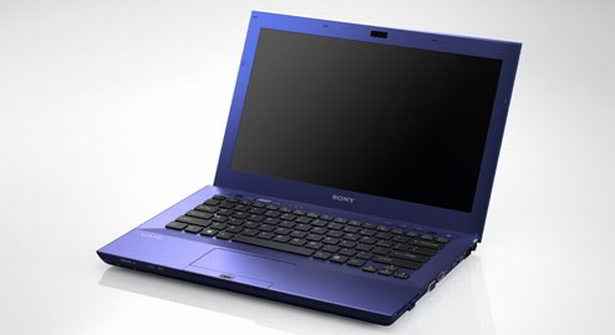 Sony VAIO S: Design, Look & Feel
The first thing you notice about the Sony VAIO S thin and light laptop is its exterior. The laptop's matte screen lid has a fine sandpaper-like finish, which is pretty unique, and the iconic VAIO logo sits emblazoned proudly at its center. Also the absence of gloss abates the nuisance of fingerprint smudges not only on the screen lid but even on the rest of VAIO S' body — a welcome change from the crop of mainstream laptops these days that overflow with gloss everywhere. The VAIO S laptop, when viewed from the front, has noticeable angular edges — Sony calls it a hexacell design. The design highlights a new spine for the laptop on the exterior, one that's sleek and elegant.
The portable Sony VAIO S laptop sports a reinforced magnesium chassis and its keyboard deck and palmrest are carved from a single slab of aluminum. While the color is a little dreary (mainly for its intended power business users), the VAIO S does feel elegant overall. In fact, it's a throwback to the VAIO Z. However, despite the VAIO S' feel-good metal exterior, its build quality isn't up to the same level as a MacBook Air — where the Air is rock solid and sturdy despite its thin form factor, the VAIO S' keyboard deck dips a bit and screen vibrates while typing furiously — it's barely noticeable but yet it is. The laptop weighs a mere 1.72-kg with its six-cell battery pack, making the VAIO S a worthy companion to consider for on the go computing.
So the overall impression of the Sony VAIO S is that it looks and feels premium but the thin-and-light laptop isn't really rugged or exceptionally built like the MacBook Air.
Sony VAIO S: Screen Quality
The Sony VAIO S comes with a 13.3-inch LED-backlit TFT LCD widescreen display, with a standard 16:9 aspect ratio and 1366×768 pixel resolution. The laptop's screen is quite bright and well lit throughout the surface area, there are no uncharacteristic dark patches when we viewed the screen with a white canvas on display. Interestingly Sony decided to continue the existing non-glossy screen of the previous S series range VAIOs to the new VAIO S laptop. I personally think reading text on a matte screen is much better on the eye than glossy screens, and I felt the same with the VAIO S. Despite its non-glossy screen, the VAIO S did pretty well while watching movies and videos, with vivid colours and no blur. The 13-inch display's viewing angles weren't great, it was good compared to the average TN-panel screen offered on most mainstream laptop today.
On top of the finely polished screen bezel sat a 0.3MP webcam for video chats and conferences. I must say it worked decently on Skype, no complaints.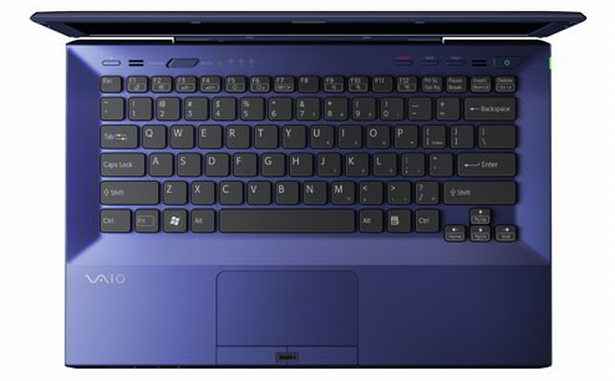 Sony VAIO S: Keyboard and Touchpad
Like any other VAIO laptop before, the Sony VAIO S (VPCSB16FG) continues in the company's tradition to outfit laptop keyboards with isolated, chiclet-styled keys. The VAIO S' keyboard has well-defined keys that are arranged very well and overall great to type on. The keyboard's deck flexes ever so slightly while typing furiously — there's just a hint, it's barely noticeable, and there's nothing in there to upset one's typing rhythm. The alpha-numeric keys are nice and big, so are the Enter, Shift, Space, Control keys — in fact, all the keyboard keys are right where you'd imagine them to be. The VAIO S' keys are backlit for added convenience while typing in the dark. As far as typing goes, there's no chink in this VAIO's armour.
And the laptop has one of the widest touchpad we've seen on a 13-inch laptop. The smooth metal — but matte — surface of the VAIO S' touchpad is nice and responsive, no problems with its haptic feedback. Clicking anywhere on the touchpad's surface translates into instantaneous action on the screen, there's no perceptible lag of any kind — whether you double-click or drag a window. The touchpad's two accompanying mouse buttons are well built, if only a little too hard in my opinion — clicking down requires a little extra pressure than you'd think, but after a few minutes of learning curve you get used to it.
Between the two mouse buttons sits a fingerprint sensor on the Sony VAIO S. It behaves like any biometric input device we've seen on laptops till date — allowing you to enter and store your fingerprint to logon without a password — within your PC or on a website.
Sony VAIO S: Hardware Features
The new 13-inch Sony VAIO S is decked out with the latest generation of laptop hardware currently available in the market. It has a Sandy Bridge Intel Core i5-2410M 2.3-GHz processor, with Turbo Boost 2.0 support taking it all the way to 2.93-GHz under load. Accompanying the upper mid-range processor are 4GB of DDR3 RAM, 320GB spinning hard drive, and DirectX 11 enabled AMD Radeon HD 6470M graphics (512MB RAM) paired with Intel HD 3000. Undoubtedly, the Sony VAIO S has the firepower of an all-purpose 15-inch home laptop built into a sleek 13-inch frame — an exciting combination of promised performance and portability.
All its connectivity ports are situated on the right, which relegates cable clutter only to one side of your desk — we think it's smart, it may or may not work for you. The Vaio S doesn't skimp on any obvious ports — there's HDMI and USB 3.0 — and also includes a fingerprint sensor for biometric protection. There's an SD card slot, Memory Stick slot, and 3.5mm jack for audio out. There's no eSATA port, but a VGA port is included. There's a Gigabit Ethernet port for wired LAN, but there's a Wi-Fi 802.11n adapter and Bluetooth 2.1 for wireless connectivity. The 13-inch Sony VAIO S thin laptop comes with a 64-bit Windows 7 Home Premium operating system.
Like any other Sony VAIO laptop, the VAIO S notebook comes with VAIO Gate, Sony's proprietary software — it sits unobtrusively on the top of your desktop screen. Move your mouse there to launch the VAIO dock to access shortcuts to media, photo, and other software — some of it is useful, other not so much. There are dedicated Web and Assist buttons on the VAIO for launching the browser and contacting support, respectively — a nice touch.
Sony VAIO S: Performance
Needless to say, with a Core i5 processor and AMD 6000 series GPU, we expected the Sony VAIO S to do quite well — and it didn't disappoint. With a PCMark Vantage score of 6690 and 3D Mark 2006 score of 5160, the Sony VAIO S places itself in a similar category as mainstream 15-inch performance laptops, and obviously better than most 13-inch thin laptops we've tested for some time — including the MacBook Air — which is a great start for the VAIO S, in terms of performance.
We had absolutely no problem multitasking with a handful of software on the VAIO S, and tasks like video encoding and casual gaming also went pretty well — we played games like Company of Heroes and Far Cry 2, at medium settings the frame rates were good and playable. But keep in mind that the VAIO S is no gaming laptop, so tread with caution. Watching movies — HD 1080p and DVDs — went very well, onboard audio was good enough for a small conference room. However, for best audio experience on the VAIO S, we recommend using earphones.
One Sony claim we were very eager to test was the VAIO S' super-quick bootup time — and we were left impressed. We consistently recorded cold boot times of under 30 seconds — avg between 27 to 29 secs — for the VAIO S, which is very good considering its slow-spinning 5400 rpm drive, there's no SSD in there. The laptop's battery life was quite good, not great though — in high performance mode, with everything maxed out, the laptop lasted for 2 hours 20 minutes while looping a video file. This was on the discrete AMD Radeon HD 6470M graphics, of course — on STAMINA or onboard Intel HD graphics, expect the battery to last longer on a conservative power plan. But we're not quite sure whether it will last a solid 4 hours.
All through our testing, the VAIO S operated at acceptable thermal output levels — nothing extraordinarily hot anywhere. The laptop wasn't noisy either.
Our Take:
The Sony VAIO S 13-inch laptop retails for a price of Rs. 56,990 with a one year warranty. We think it's a very good price for a thin, ultraportable laptop that packs quite a performance punch in its deceptively slim form factor. The laptop's feature-packed, and one of the few notebooks that look equally good in a conference room and a coffee shop.
It's not really a MacBook Air competitor — the newly launched VAIO Z stakes that claim. But competing lightweight or 13-inch offerings from brands like Lenovo and Apple are either too costly or not good enough in terms of performance, so the Sony VAIO S helps plug an important hole for businessmen or style savvy users desiring the right balance between performance and portability at an attractive price. Just don't expect great battery life and you won't be disappointed.
Price: Rs. 56,990
Rating:
Features: 4/5
Performance: 4/5
Build Quality: 3.5/5
Value For Money: 3.75/5
Overall Rating: 4/5
Test Scores Log Sheet

| | |
| --- | --- |
| Brand | Sony |
| Model | VAIO S |
| Warranty (months) | 12 |
| Price (Rupees) | 56990 |
| Features | |
| Component Specifications | |
| Processor Model No | Core i5-2520M |
| Processor Speed (MHz) | 2500 |
| RAM (MB) | 4096 |
| RAM Type | DDR3 |
| Memory Speed (MHz) | 1333 MT/s |
| Chipset | |
| Graphics Solution | AMD 6470 / Intel HD 3000 |
| Dedicated Video Memory (Y / N) | Y |
| Dedicated Video Memory Size (in MB) | 512 |
| Audio Chipset | Intel High Def Audio |
| Storage size (in GB) | 320 |
| Drive type (HDD/SSD/other) | HDD |
| Optical Drive Type / Speed | DVD RW / 8x |
| Bundled OS | Win 7 Pro 64-bit |
| Characteristics | |
| Screen Size (Inches) | 13.3 |
| Type of LCD | TFT with LED backlight |
| Screen Resolution (Native) | 1366×768 |
| Weight (Kg) | 1.72-kg |
| No. of USB ports | 3 |
| No. of FireWire ports | 0 |
| USB 3.0 (Y/N) | N |
| Connectivity (LAN / Bluetooth / Wi-Fi) | Y/Y/Y |
| E-Sata (Y/N) | N |
| Display output (VGA/DVI/HDMI/Display Port) | Y/N/Y/N |
| Memory Card Reader (Y/N) | Y |
| Type of Memory Cards Supported | 2 |
| Inbuilt Webcam (Y/N) | Y |
| Webcamera resolution (in megapixels) | 0.3 |
| Build, Ergonomics and Usability (So 10) | |
| Body | 8.5 |
| Keypad | 9 |
| Lid, movables | 8 |
| Keypad Tactile Feedback (So 10) | 8 |
| Key Layout, bevelling, spacing & Usability (So 10) | 8 |
| Shortcut Keys/Switches (So 10) | 7 |
| Trackpad ergonomics, size, position (So 10) | 8 |
| Trackpad accuracy (So 10) | 7 |
| Biometrics (fingerprint/face) login (Y/N) | Y |
| Wi-Fi On/Off Switch or Button (Y/N) | N |
| Dedicated Bluetooth On/Off Switch or Button (Y/N) | N |
| Dedicated TouchPad On/Off Switch or Button (Y/N) | N |
| Performance | |
| Synthetic Scores | |
| PC Mark Vantage | |
| PC Mark Score | 6690 |
| Memories Score | 3906 |
| TV and Movies Score | 3657 |
| Gaming Score | 4838 |
| Music Score | 5409 |
| Communications Score | 9401 |
| Productivity Score | 5634 |
| HDD Score | 2675 |
| 3D Mark 2006 | |
| CPU Score | 3458 |
| Graphics score | 2111 |
| Overall Score | 5160 |
| Maxxon CineBench R11.5 (CPU score) | 2.8 |
| WinRAR 3.9 (Compression / Decompression benchmark) | 2349 KB/s |
| Wi-Fi Signal Strength Test (Zone 2) | |
| Real World Tests | |
| Battery Life Test (in minutes) | 140 |
| Speaker Quality (at 50% volume) (So 10) | 6 |
| HD Movie Viewing (using VLC) (So 10) | 8 |
| DivX Encode 7.0 (.VOB to .Divx, default mode) | 56.3 |
| File transfer Test (4 GB test file-sequential) (Sec) | 139.6 |
| File transfer Test (4 GB test file-assorted) (Sec) | 157.5 |
| PassMark Wireless Mon 3.0 Signal Strength | – |
| PassMark Wireless Mon 3.0 bandwidth | – |
| Doom 3 (fps) (800×600, medium detail) | – |
| Far Cry 2 (fps) (1024×768, medium detail) | – |
| | |
| Cold Boot Time (sec) | 29.4 |
| Hot Boot Time (sec) [Restart] | 27.3 |
Contact Details
Website: www.sony.co.in
Phone: 1800-103-7799 (Toll Free)