VERDICT:
It's hard to justify spending Rs.1,00,000 on a laptop, but the Toshiba Portege Z30T-A makes a strong case for itself. It has a gorgeous screen, great battery life and one of the best keyboards that we've tested on a laptop. But is that enough? Let's find out.
Design and Build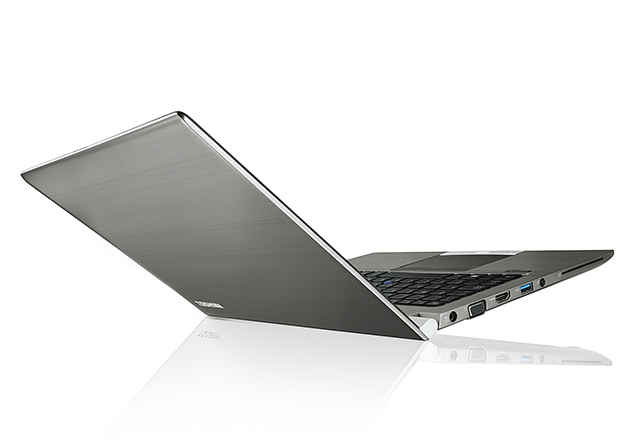 There's a fine line between an understated and elegant design and a design that's dull and boring. The Portege comfortably stays on that line and gives you a very elegant and simple design. Everything is brushed metal, a mixture of black and grey depending on your choice and it's all nicely put together in a well-crafted body.
Everything seems to be very neatly slotted in, with none of the superfluous wobbling and leaking backlight and other issues that you'd find on cheaper devices. But then again, you're not buying a cheap device and you'd expect nothing less for Rs.1,00,000.
Features and Ergonomics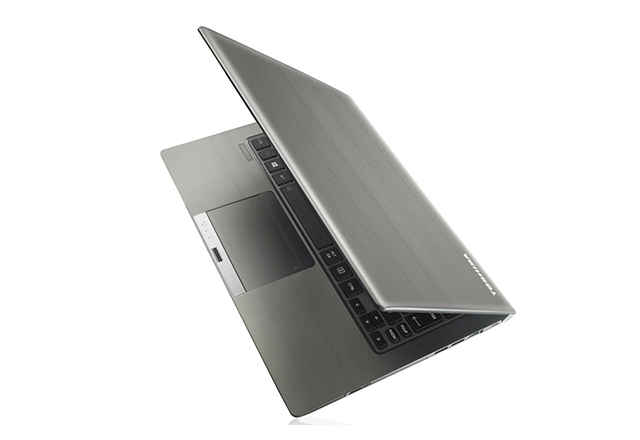 The laptop boasts of the standard set of features that you'd find on just about any other Ultrabook, the exceptions being the presence of a LAN port on a device this slim and the TrackPoint. A TrackPoint is something that we'd expect to see only on Lenovo ThinkPads and it's nice to see it here as well. It's as good as any TrackPoint we've ever used and is grippy too.
Also, if you want to know what the ideal laptop keyboard is like, just find a Portege and try it our yourself. It's among the most tactile and responsive keyboards we've used this side of a mechanical keyboard and we found ourselves naturally gravitating towards it when there was typing to be done.
The touchpad is, unfortunately, not as good. The tracking is decent and the buttons are a little hard to press, but we've experienced better, such as the trackpad on the Acer Travelmate P645. Still, this is only a bit of nit-picking since there's really not much else that's wrong with the device.
Performance
The hardware is bog-standard and basically consists of 4GB of RAM, an Intel i5 4200U and a 256GB SSD. The performance was a little below the average that we were expecting from that config, so there was obviously some throttling happening, but it was still not as bad as on some other devices.
| | |
| --- | --- |
| PCMark 8 | 1959 |
| 3DMark | 36194 |
| Peacekeeper | 4137 |
| Cinebench R15 | 233 |
| Sniper Elite V2 (fps) | 10.5 |
| Battery Life (min.) | 200 |
| Screen Brightness (cd/m2) | 216 |
| Contrast Ratio | 686:1 |
| Max. temperature | 74 |
Regardless, the performance, in terms of pure CPU power, is adequate. Where this device shines is with the display. It's quite gorgeous and with a measured contrast ratio of about 700:1, the best we've seen on a laptop yet. Brightness levels are also high at around 200cd/m2, which makes the measured battery life of about 4 hours that much more impressive. Why? Devices with less than half that screen brightness clock in at about 4 hours in our test, which means that at lower brightness and a less strenuous workout, you can easily get 30-50% more battery life.
User Experience
This laptop is an excellent companion for daily use, especially when it's work that you want to do on it. The keyboard and screen go a long way in making for a joyous and comfortable computing experience. We do wish the speakers were a bit louder as they're just too quiet to really enjoy something like a movie on, but then again, the screen is so gorgeous that those who're used to lesser screens need to be prepared to notice colours in movies that they never saw before (we're not talking about desktop users here).
The device itself is so light that you don't realise that you're lugging a laptpo around. In fact, the device is about 200g lighter than the ultra-slim Acer Aspire S7.
Verdict
Toshiba have really created quite a stellar device in the Portege Z30T-A. It's almost an ideal laptop because it is very light, comfortable, portable, has great battery life, a great keyboard and a lovely screen. It's only let down by its very high asking price and somewhat bad touchpad. If you can afford it, this is the laptop you should be aiming for.
It's a tough call between the Portege and the Acer Aspire S7 and the Portege Z30T-A, espeically as they sell for the same price. To put it in a nutshell, the Aspire S7 is a device for showing off, the Portege is a device to work on.