VERDICT:
The Microsoft Surface Pro is an innovative and flexible device that's great for doodling and jotting down notes all day long while looking up half a dozen reference pages on a browser and blasting music on the side. Living with one poses some challenges because it's still very much a tablet first and a laptop second, in terms of design and performance. You'll have to shell out a hefty amount on accessories to make this tablet a laptop and an electronic scribble pad at the same time.
The unit I've got with me for review is the Surface Pro i5 Model 1796. It includes optional accessories like the Surface Pen, the Surface Signature Type Cover keyboard (in Platinum colour), and the Surface Arc mouse. This model is powered by an Intel Core i5-7300U CPU (clocked at 2.60GHz), with 8GB of RAM and 256GB of solid-state storage. On Amazon, its price is only a few rupees shy of the 1-lakh mark (at the time of writing this review, at least). It should be noted that this price does not include the optional accessories. They are separate.
Let's dive deeper and see what all hides beneath this tablet's shiny er, surface:
Build and Design
The Surface Pro, with its accessories, can primarily be used in two ways: as a handheld tablet in either landscape or portrait mode, or as a laptop. The Surface Pen attaches itself magnetically to the left side of the tablet's body and can be removed for writing and drawing. The Type Cover keyboard also attaches magnetically to the bottom of the tablet and enables the keyboard and touchpad functionality. The Surface Pro's charger uses a long and flat connector that also connects magnetically to the Surface Connect port on the right side of the body.
Without these magnetic accompaniments, the Surface Pro is solidly built for a standalone tablet. It sports a matte finish on its magnesium alloy back and around much of its sides. The kickstand is fairly easy to deploy once you know in which part of the corner to stick your fingernail. The Surface Pro is comfortable enough to be held in one hand without losing grip or feeling warm. The fanless dual-core Intel Core i5 processor stays cool most of the time but can get quite warm when crunching a lot of data. It's still quite comfortable to hold and draw though. With the kickstand on, you'll feel nothing on your lap. And that's a huge relief for users who have been scalded in the past by traditional laptops that run hot.
The Surface Pro is stable on flat surfaces but is understandably wobbly on uneven surfaces. On an even lap, the Surface rests comfortably, but on crossed legs, the Surface threatens to slip and fall, especially while typing. Lifting it is a conscious operation. Because of its tablet-first design, it loses the steadiness of a firmly-hinged base; the Type Cover keyboard's connector attaches magnetically to the bottom edge of the tablet. Lifting the keyboard will cause the tablet to swing freely (and precariously) like a pendulum, a stunt that's not recommended unless you're standing in a ball pit. All this means that the user must train themselves to lift the device by the display, and not by the keyboard as with most laptops. It's a habit that takes a while to form.
Living with the Surface Pro, I realised there were too many things clinging to the sides of its body, and that's what made this device feel like a fragile touch-me-not plant. Let me explain: the Surface Pen almost always fouled with my palm and threatened to fall off when I moved the device around to find a more comfortable typing position. The Pen's magnet is strong but isn't any good against even light grazes. It positively fell off inside my bag while carrying the Surface Pro around and taking it out. It was the same case with the power connector on the right side. The feeling that there were too many things stuck magnetically to the device made me feel restricted and even a little claustrophobic. Luckily the Type Cover keyboard uses a stronger magnet and doesn't feel like it's going to fall off while lifting the device up by the display. But you'll still have to hold it if you don't want it swaying in the air. In other words, the Surface Pro is an easy device to live with you if you simply set it on the table and use it or hold it like a tablet. But if you sit on an armchair and change positions often, the Surface Pro can prove difficult to be held and handled.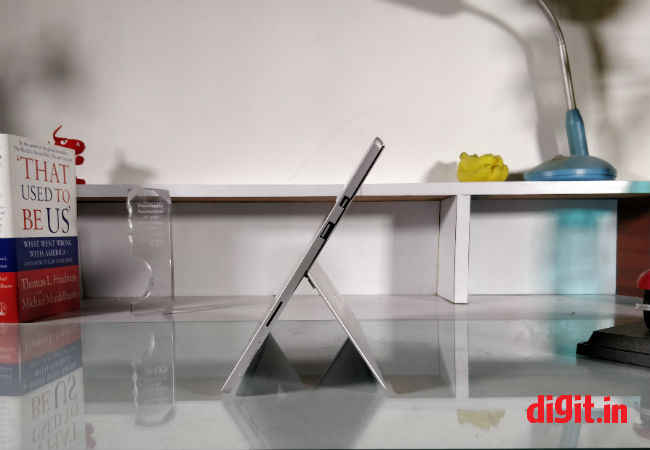 Display, Audio, and IO
Borrowed from the older Surface Pro 4, the 12.3-inch PixelSense display on the Surface Pro has an aspect ratio of 3:2 and a resolution of 2736 x 1824 pixels. It is arguably the best display I have seen on any portable computer of that size. The colours on this display unit stay within the sRGB space, but the overall colour contrast can be enhanced through Windows Settings optionally. In reality, this translates to increased pop in colours, which means skin tones do look richer but not to the point of looking overdone. The surface of the screen is glossy and reflective. With its screen brightness topping at around 390 nits, the Surface Pro's display is one of the brightest you'll see out there. It feels more than adequate whether you're indoors or out. The dual speakers on the Surface Pro are so loud and clear you wouldn't miss your portable Bluetooth speaker in case you forget it at home. Much of their volume and clarity come from the fact that they are front-facing. They sit along the left and right edges of the Surface Pro and blend well with the glossy black bezel around the display. Stereo separation while playing videos is natural and distinctly noticeable.
The Surface Pro has only a 3.5mm audio jack on the left side of its body. On the right, it has one full-size USB 3.0 port, a microSD card reader, a Mini DisplayPort, a Surface Connect port (the magnetic one for charging), and no USB Type-C port. To the chagrin of numerous Surface users, Microsoft was recently heard saying that it was still too early to bring in the Type-C port on the Surface Pro. Nevertheless, a Surface USB-C Dongle is supposed to go on sale this year for those who can't do without USB-C. If it's any consolation at all, the charging cable's power brick has a full-size USB port, which can come in handy when charging mobile devices.
Keyboard, Touchpad, and Pen Input
The keys on the Surface Pro's Signature Type Cover keyboard are flat but offer excellent feel in the fingertips. Although the keyboard itself looks shallow, the keys travel deep and every stroke is reassuringly tactile in nature. The Function key row houses the Home, End, Page Up, and Page Down keys, apart from the controls for screen brightness and volume. The Function key is lockable to switch between Function keys and shortcut keys easily. The backlight has three levels of brightness that range well. The Type Cover accessory features a texture-free precision touchpad below the keyboard, which is smooth and easy to use. Since it's a precision touchpad, it's high on accuracy without needing any third-party drivers, and can be customised through Windows Settings. Pressing down hard on the touchpad enables a click, apart from the regular tap.
The Surface Pen works splendidly with the PixelSense display on the Surface Pro while drawing and writing. Palm rejection is excellent on this device and there's almost never a case of unintended input or unexpected latency on the screen. The Surface Pen, with its 4,096 levels of pressure sensitivity, offers a very natural writing experience. It works well with OneNote, OneNote 2016, Paint 3D, Sticky Notes, Sketchable, and SketchBook. The Pen's default tip is HB, and Microsoft sells other tips as an accessory… to this accessory. Yes, the Surface Pen is no longer bundled with the Surface tablet and must be bought separately. What a shame. As opposed to Apple Pencil, which recharges through the Lightning connector on the back, the Surface Pen asks for an AAAA battery when depleted.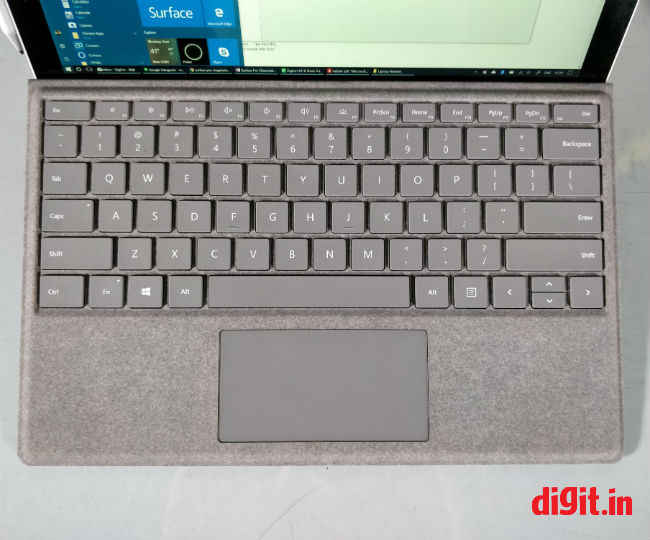 Performance
Performance on the Surface Pro, it must be said, is somewhat underwhelming. The Intel Core i5-7300U processor, clocked at 2.60GHz, is sufficient for most office and light creative tasks. The 8 gigs of RAM keeps most things snappy enough. And yet, during my time with the Surface Pro, there were areas where I saw unexpected lag. For example, switching applications on light load were not as quick as I'd expected. Every so often, there would be a second's delay in even displaying the application switcher. Restoring a recently minimised application too would take longer than expected. Gaming is best avoided on the Surface Pro. Playing Metro: Last Light on low graphics made the frame rate drop to 7–17 FPS, even in scenes with little action. You should have better luck running platform games like Limbo and Ori and the Blind Forest though.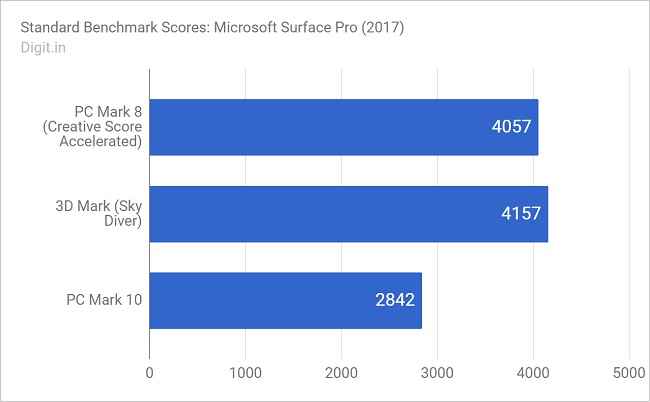 Battery
Running PCMark's Creative conventional battery life test revealed a score of 4 hours and 33 minutes on a full charge. On at least two occasions, the Surface Pro clocked five hours without begging to be plugged in when I used it for writing: a process that demands at least a dozen open tabs on Chrome (with one tab constantly playing a YouTube video in the background), Windows' Mail application, and OneNote 2016. Strangely, Microsoft has done away with the estimated battery life indicator for Surface devices in the Creator's Update of Windows 10. So all you'll see is the remaining percentage when you hover over the battery icon in the taskbar.
Windows 10's tablet-worthiness
This section of the review does not have so much to do with the Surface Pro as it does with Windows, the OS that powers it. So please treat these remarks as more of a personal opinion. Since Windows 8, Microsoft has been trying to foray into the world of touchscreen tablets without making its three-decade-old mouse-and-keyboard-based OS seem difficult and cumbersome. Microsoft had to invent a new type of applications and make all the tiny elements in its traditional applications appear larger so that they are easy-to-touch, making them easier to use on touch based interfaces. Understandably, it struggled, but now it's finally made some good progress.
Using Windows 10 in Tablet Mode is not exactly convenient, but it's not too bad either. When the device is switched to Tablet Mode, restored windows maximise automatically, the Start menu spans the width of the entire screen, and the buttons on the taskbar become enlarged. Auto-rotation of the display works well on the Surface Pro, but on one occasion Windows didn't know in which direction to rotate the screen. So, it vacillated between portrait and landscape and eventually caused the screen to flicker like mad and show a sorry blue screen of death. In general, the transition between tablet and desktop mode seems strained at all times and one or the other application turns glitchy. Come on, Windows shouldn't crash and restart three times in the one week I've had it.
It's my feeling that many of the Surface Pro's blemishes sprout from incompatible and badly-tested software and not from hardware. Sure, Windows is still largely a desktop-based OS, but it's constantly growing and improving. It's reassuring to know that Microsoft is hard at work tinkering with the long-standing OS to make it compete with the likes of Android and iOS.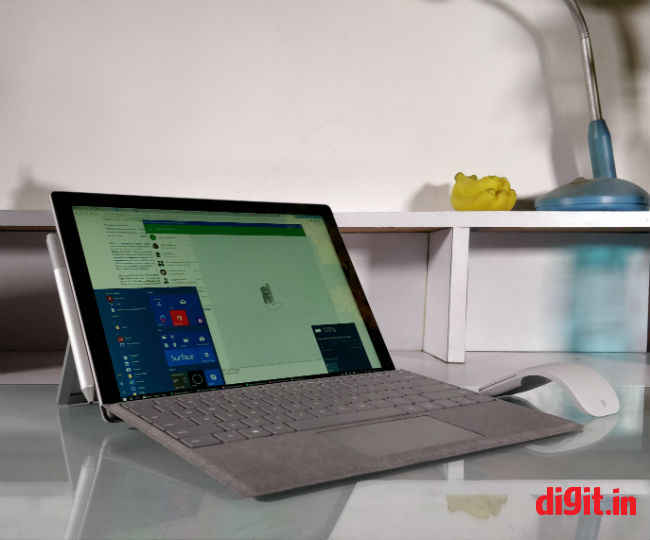 Bottom line
All things considered, the Microsoft Surface Pro shines in a lot of areas where a regular laptop simply can't. Its versatile nature continues to pave the way for a new genre of computers: the hybrids. At a time when our mode of interface with the computer is becoming more touch-oriented, Microsoft definitely has taken a step in the right direction in continuing to focus on the Surface line. Save for the high asking price for both the tablet and its accessories, it's a fine tool that'll warm up easily to an artist's hands.