VERDICT:
The Micromax Canvas Lapbook is a good only because it's inexpensive. If you're an absolutely basic user, then this device makes a lot of sense for you. For every one else though, there are myriad other options, albeit in higher price ranges.
Build and Design
For an 11.6-inch laptop, the Lapbook is small enough and weighs 1.3kg, which makes it quite easy to carry. Yes, it doesn't fall in the ultra-light category, but then, not many of its competitors do either. The HP Stream 11 weighs 1.2kg, while the Asus Eeebook X205TA is the only one to fall below the 1kg mark. Regardless, the Micromax Canvas Lapbook is light enough to carry around as a daily driver.
What you may not like about this netbook though are its looks. The Canvas Lapbook is made of plastic and can be bought in black or grey colours. Neither of these look as good as the Asus Eeebook X205TA, but they're not bad either. The Lapbook has a personality of its own and its pedestrian, but likeable. The netbook feels sturdy and there are no unnecessary creaks.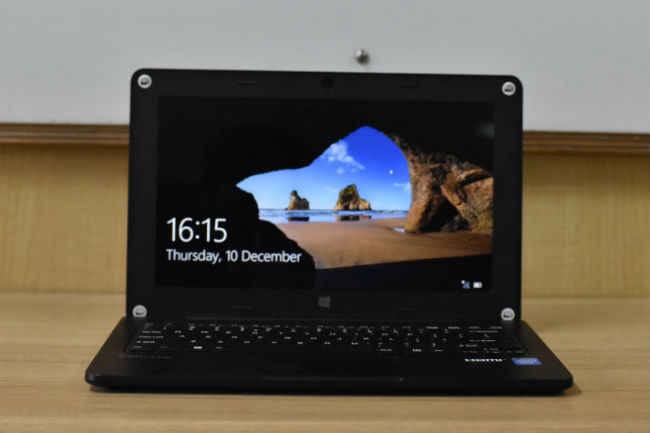 The Keyboard, Trackpad and Ports
The chiclet style keyboard on the Lapbook is easy to type on, with adequate travel between keys, but slightly less than favourable feedback. It's not enough to hamper typing and it didn't take me much time to get used to the keyboard. Unless you're a mechanical keyboard lover, I don't see any reason to not like the Lapbook's keyboard. It's of course not a full sized keyboard, but it has most of the most used keys, which some Chromebooks ignore.
On the other hand, the same can not be said of the Lapbook's trackpad. The trackpad often stutters when using shortcuts, like two finger scrolling or pinch zoom. Zooming in and out isn't seamless as it should be.
The Lapbook has two USB ports, an HDMI port, a headphone jack and the charging port. Unlike the Laptab before it, the Lapbook, thankfully, charges via a thin pin DC in cable. So, charging the device doesn't take a lot of time, which is something that really bugged me with the Laptab's micro-USB charging mechanism.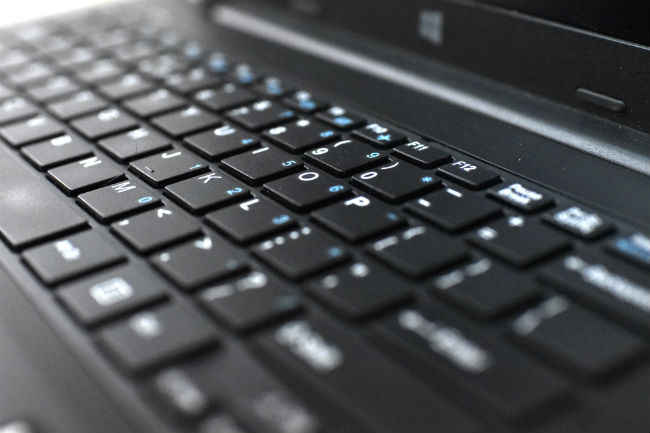 Performance and Battery
From a performance point of view, you're certainly not going to use this device for much more than browsing, documents and watching videos, and the Intel Atom Z3735F processor just about manages that. For that, the Lapbook functions at par with its competitors, like the Asus X205TA and the Xolo Chromebook. Speaking of the Chromebook, the Lapbook is in fact like a Chromebook but powered by Windows. It is meant for connected usage, just like many of its competitors. It comes with only 32GB of internal storage, which can be expanded to 64GB, so if you're going to watch movies, they should ideally be streamed instead of stored.
For that, the Lapbook is ideal. With the battery charged to 100%, the Lapbook can continuously stream videos, at 480-720p, for over six hours. On regular usage, with tons of browsing, mild browser-based gaming and lots of typing on Google docs, the Lapbook's battery can easily last for over 12 hours, which is idea for this kind of a device. It's worth noting though that the Lapbook still has 2GB of RAM and opening heavy websites or lots of tabs on Google Chrome does hamper performance. It's meant for the most basic users out there.
Display
Interestingly, what I hate about the Lapbook is something I really liked in the Laptab. The display on this device is really not ideal for any device. The viewing angles are quite weak and I had to keep tilting the display every time I changed positions. This isn't suitable, especially for watching movies, TV shows etc. where the background colour keeps changing. I kept having to tilt the display back and forth to deal with the colour shift.
Also, the colours on the 11.6-inch display don't pop, like they did on the Canvas Laptab. The Lapbook's predecessor had a really nice display, in terms of colours and made Windows 8 come alive. The Lapbook's on the other hand, makes Windows 10 look dull.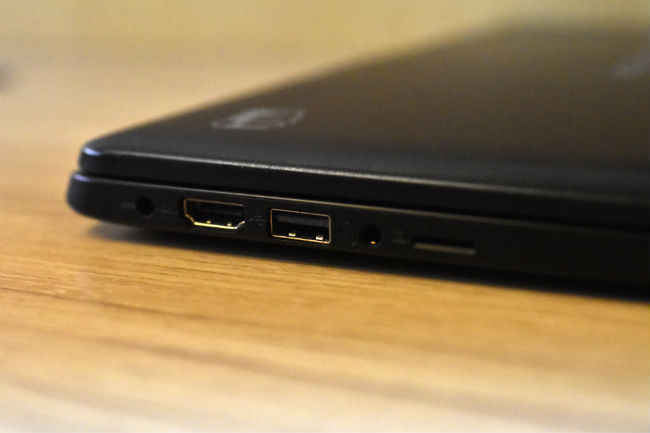 Bottomline
To conclude, the Micromax Canvas Lapbook makes a lot of sense for basic users, but only for basic users. The Intel processor inside isn't very powerful, means anyone looking to do more than the bare minimum on their netbook will not find this device useful. If you need something to just write and occasionally entertain yourself, then the Lapbook can be a quick and inexpensive purchase.