VERDICT:
The Lenovo Yoga C930 is high on performance, display quality, build quality, design, style, and sadly, price as well. Its glass top cover is sure to draw many eyes towards it.
The HP Spectre x360 2019 refresh, which I reviewed last month, is one of the few laptop models out in the market that I believe belongs to an unconventional product category I like to call Creative Convertibles. Apart from being portable, capable, and ready for pen input, such devices are also a little quirky in their exterior design. They sport expensive build materials in bright, bold colours to stand out in a crowd. They're hipsters. They're eccentric. They scream style and boldness. And the Lenovo Yoga C930 is one of them.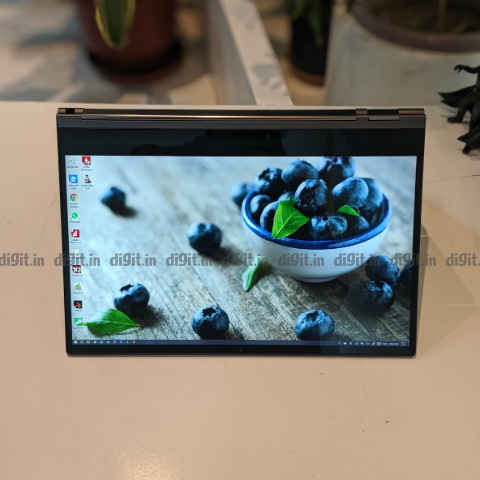 Agreed, the Lenovo Yoga C930 has been around in the market for quite some time now. But that doesn't mean it's irrelevant. We've had a test unit with us for nearly two quarters of a year now. It has seen at least two long-term users in that period. We've run all the numbers on it. We've given it a proper go. Now we think it deserves a proper review. Let's see how it was to use one of Lenovo's most expensive Yoga models during the past few months.
Performance
The Lenovo Yoga C930 is powered by an Intel Core i5-8250 CPU and 16GB of RAM. Bear in mind that this is not the most recent 8th Gen "Whiskey Lake R" refresh from Intel but the slightly older "Kaby Lake R" refresh. Storage is taken care of by an SK Hynix 512GB PCIe NVMe solid-state drive. Rendering graphics is taken care of by an internal Intel UHD 620 graphics card. In terms of sheer numbers, the Yoga C930's spec sheet doesn't look too strong, given the laptop's hefty price tag. It's our assumption then that Lenovo has blown a lot of money on the design of the laptop's glass panel.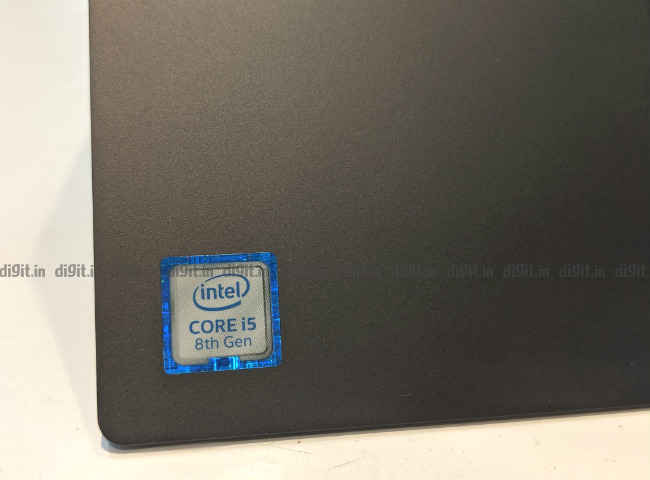 Intel Core i5-8250U inside
Our Yoga C930 review unit bagged average scores in our CPU and GPU benchmark tests. On PCMark 8's Accelerated Creative test, the review unit scored 3373, which is nothing to write home about. The Yoga 730, which is powered by an Intel Core i7-8550U and 8GB of RAM, scored 5012 in the same test. The HP Pavilion x360, which shares its CPU with the Yoga C930 but has only half the RAM, scored 4709 in the same test. In 3DMark's Cloud Gate and Sky Diver, the review unit bagged 7428 and 4024. In contrast, the Yoga 730 scored 7852 and 4058 in the same two tests respectively. The HP Pavilion x360 scored 3789 and 3557 in the same two GPU tests respectively.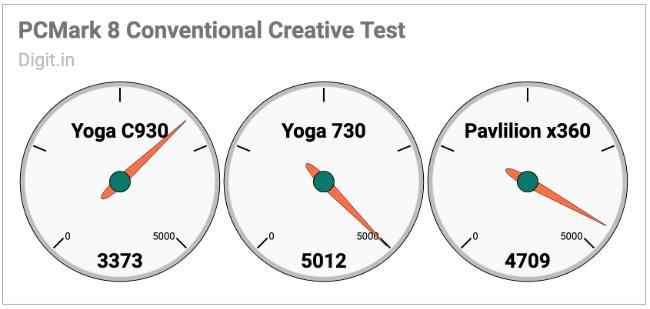 In everyday use tests, the review unit met our expectations but didn't exceed them in any way. The laptop was able to handle tens of instances of everyday applications, such as Chrome, OneNote, Paint 3D, Word, Excel, iTunes, Microsoft Store, File Explorer, and WhatsApp for PC across multiple virtual desktops without any lags or stutters in outright data processing. Where it hiccupped was in screen animation. The screen froze for about a second or two when I hit Win + Tab, the combination shortcut to bring up Task View. It was clear that the puny internal graphics card wasn't prepared to animate so many elements so quickly. In summary, performance on the Yoga C930 is good but not exceptional.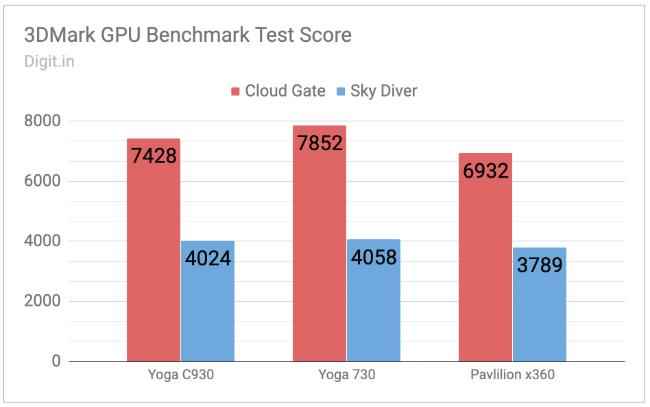 During our tests, there were times the Yoga C930 got hot but never to a point where the laptop became unusable or uncomfortable to hold. Heat in and around the keyboard area was hovering around 50 degrees Celsius when the CPU was on full load. On CrystalDiskMark, the review unit scored 2688.2MB/s for sequential read speed and 1390.1MB/s for sequential write speed. In comparison, the cheaper Yoga 730 scored 2518.5MB/s and 726.2MB/s on the same two tests respectively. The SATA III-powered HP Pavilion x360, on the other hand, scored 523.8MB/s and 469MB/s on the same two tests respectively.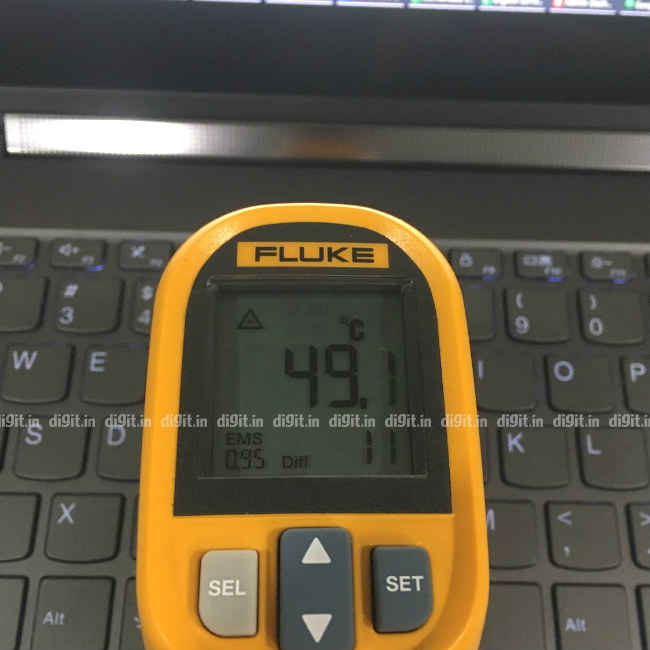 Gets hot but doesn't scald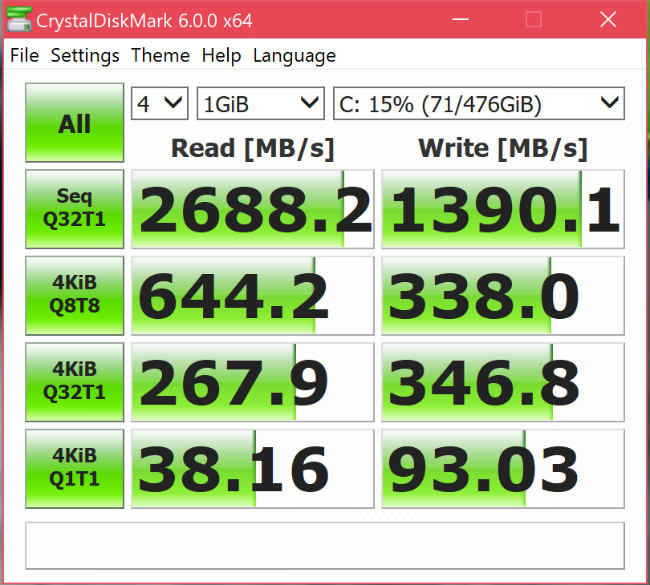 Impressive figures from the Yoga's SSD
Display, Audio, and IO
The display is easily the Yoga C930's most distinguishing feature. It sports a 13.9-inch IPS LCD touchscreen panel with Dolby Vision. The native resolution is not Full HD but 4K UHD (3840 x 2160 pixels). Colours on the display appear neither washed out nor oversaturated while browsing and watching videos. Reds, greens, and blues appear quite spot on. According to our test kit, the display is capable of recreating 98 percent of the colours in the sRGB colour space and 78 percent of the colours in the Adobe RGB colour space, which is impressive. If anything, the glossy panel makes content on the screen hard to view in some angles, especially when there are bright lights directly above the laptop.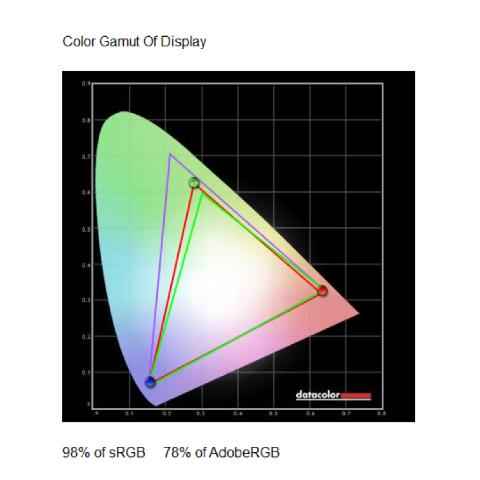 98 percent sRGB is impressive
The Yoga C930 comes with a bundled stylus for drawing and scribbling on the nearly 14-inch touchscreen display. Parked safely (and charging) in a garage behind the laptop's display when not in use, the stylus is capable of recognising 4,096 pressure points when touched against the display, according to Lenovo. It's easy to pull out and use with apps, such as OneNote and Paint 3D. Palm rejection is impeccable and touch latency on the display is unnoticeably low. If anything, the device could have been more compact and lighter for use as a tablet. Other than that, this Yoga is comfortable in any mode.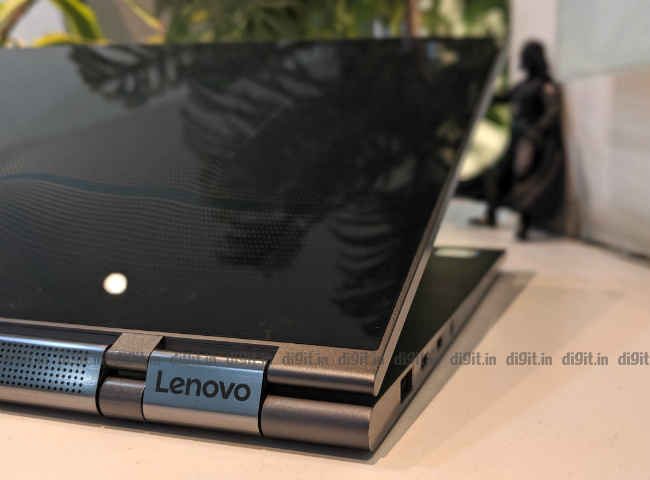 This Yoga oozes style and class
Sound from the Yoga C930's "rotating sound bar" is underwhelming. It's perhaps more so because the speaker set looks so poised and ready for delivering crisp audio from its integrated sound bar form factor. Songs like Starboy by The Weeknd and Desert Rose by Sting sound flat and uninspiring. Mids and highs come out crisp from the clean chrome grille but lows fall flat; they're neither heard nor felt from the laptop. Volume is sufficient for watching a few videos during lunch in a quiet office cubicle but not for sharing a new track with a bunch of noisy colleagues. The inbuilt Dolby Atmos app features sound profiles for music, movies, games, etc. but there's little difference felt when these settings are changed.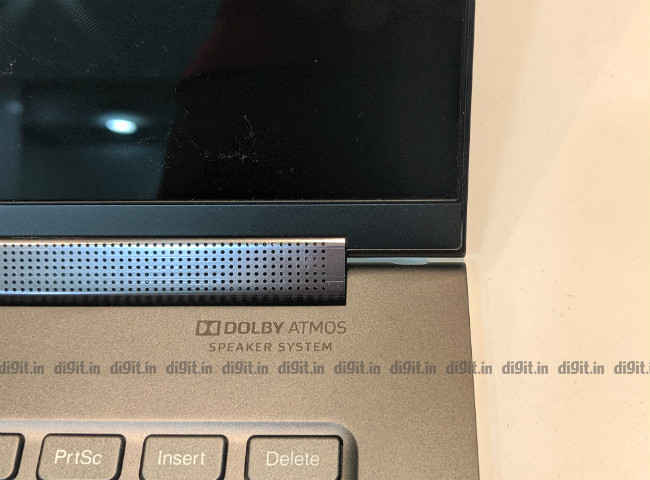 Underwhelming audio despite promising stance
The Yoga C930 doesn't offer too many ports but that's understandable, given its slim form factor. On the left, we see a USB-A 3.1 port, a 3.5mm audio jack for headsets, and two USB-C 3.1 ports that support Thunderbolt 3 and PD. One of them gets eaten up by the standard bundled charger for regular charging. On the right, we see no ports at all. We do, however, see a power button with a status light on it. This flexible laptop could have benefitted from an extra USB-A port and an SD card slot. On the bright side, it gets a fingerprint sensor and a physical privacy lock for the webcam, a rare ThinkPad privilege.
Two Thunderbolt 3 ports and a USB-A port
Build and Design
The Lenovo Yoga C930 isn't your average laptop. Unlike most high-end models, which employ a premium alloy of metals in a matte or brushed finish for the top cover, the Yoga C930 sports glass. The top cover also gets a wavy graphical design in dark teal and white colours that Lenovo likes to call Vibes. "A soft coat of dotted lines spreading across space to create contrasting combinations that give the appearance of vibration and infuse the image with dynamism and lightness," writes Brian Leonard, Executive Director of Industrial Design at Lenovo in a product document, describing the pattern inside the glass.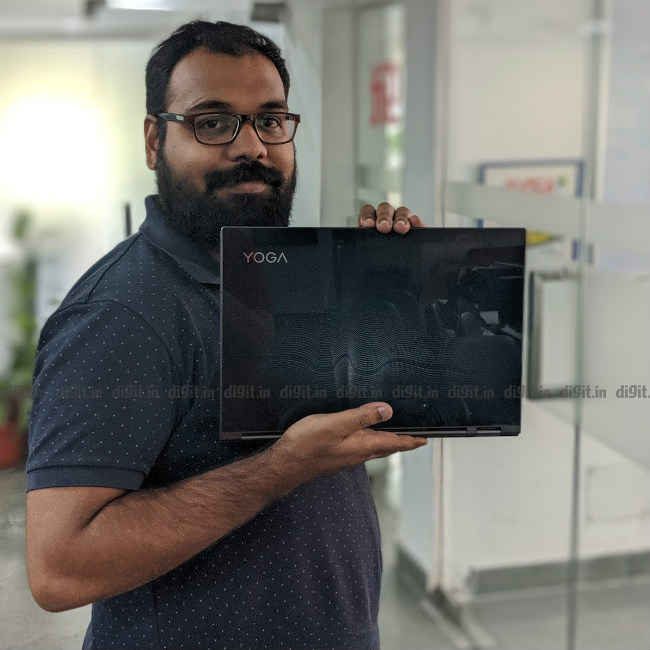 Sourabh was very pleased with the Yoga's glass design
The Yoga C930 is easy to grip and carry around. At 1.4 kilogrammes, it's not the lightest laptop around in the market. But it's far from being considered heavy, even by Thin and Light Laptop standards. The angled display hinge becomes slant when the lid is closed, giving the holder an extra ounce of grip when using one hand. It's easy to grab attention in public with the Yoga C930; its exterior design is truly unique and stylish. This laptop is clearly for those who can't do with the usual brushed metal finish on their portable workstation.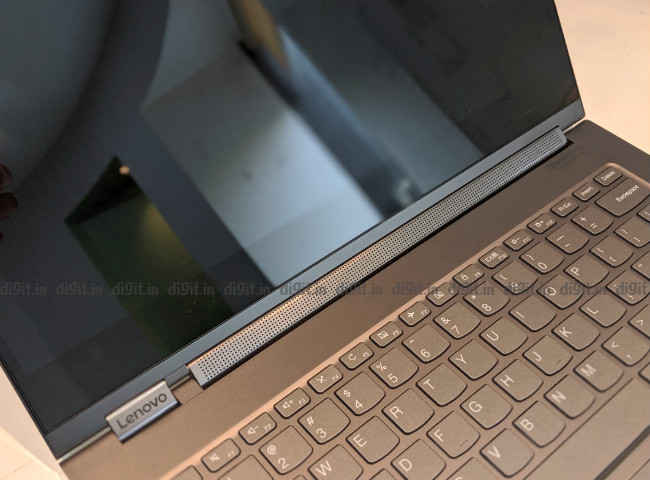 That "sound bar" look
Opening the lid of the Yoga C930 reveals a glossy 13.9-inch touchscreen display that's surrounded by glossy black bezels of moderate thickness. The bezels are no bother but they could have been a lot slimmer, given that aesthetics are what Lenovo is going for with this model. The keyboard area is metallic and has a clean matte gunmetal grey finish. The speakers are tucked away on the inner side of the display hinge, giving one the impression that there's a sleek sound bar ensconced between the laptop's two main panels. In summary, the Yoga C930 is well built and has oodles of class and style.
Keyboard and Touchpad
The keyboard on the Yoga C930 is similar to that on other Lenovo models. Compared to the one on the Yoga 730 that we reviewed earlier, the keys on this keyboard appear slightly larger. The keys have the right amount of travel and resistance for long documents and emails. The two-stage backlighting is neither two bright nor too dim. If anything, the keyboard could have incorporated dedicated Home, End, Page Up, and Page Down keys for easier text manipulation.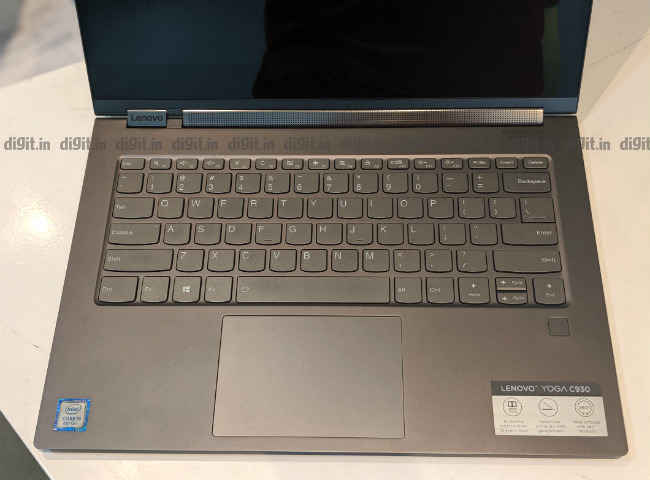 Good keyboard and touchpad setup
The touchpad on the Yoga C930 is a precision unit, just like the units on other modern Yoga models. This means three- and four-finger taps and gestures can be modified from Windows Settings directly without the need for any other third-party utility. The left- and right-mouse buttons inside the touchpad are easy to click. On the whole, the touchpad experience on the Yoga C930 is very positive. It's nearly as good as the one on the Apple MacBook Air in terms of precision and feel, and that's saying something.
Battery
On our standard battery benchmark test, the Yoga C930 review unit scored 4 hours, 10 minutes, which is not bad by any laptop standard. In comparison, the Yoga 730 scored 2 hours, 37 minutes on the same test. The HP Pavilion x360, on the other hand, scored 3 hours, 5 minutes on the same test. In everyday use scenarios, the review unit lasted about four hours on a single charge. During the tests, Wi-Fi and Bluetooth were enabled, the screen brightness was set to about 80 percent, and the display was in its native 4K resolution.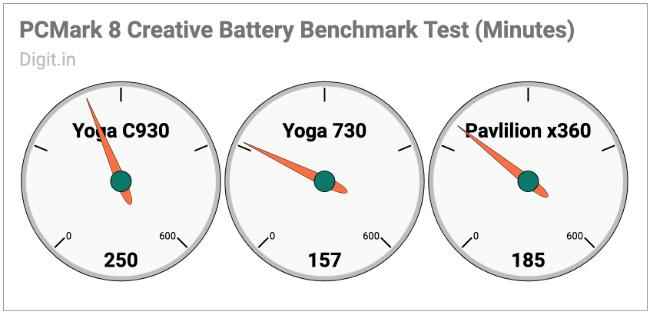 During the tests, I used the Yoga mainly for writing and browsing. There were numerous instances of Chrome open, Microsoft Store was downloading apps in the background, and audio was playing through headphones for a brief period. In one such instance, the battery fell from full charge to 20 percent in about 3 hours, 40 minutes. Charging the laptop back up to 100 took nearly two full hours. In summary, the Yoga C930 isn't bad when it comes to running long hours on battery power but it isn't great either. Its 4K touchscreen panel, we reckon, is one big reason why the Yoga doesn't do as well as it could've on battery power.
Bottom Line
It's quite clear from its exterior design that the Lenovo Yoga C930 is unique. Lenovo's focus is on solid build, premium looks, portability, and good performance. The Lenovo Yoga C930 has all of those things but it brings them all at a steep price of about Rs 1,54,000. If it's the performance of the Yoga you're after, you can get it from say, the HP Pavilion x360 at nearly one-third of the Yoga C930's cost.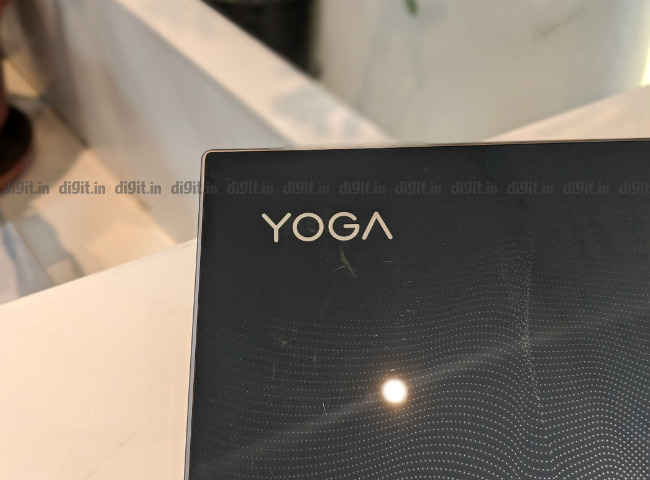 On the other hand, if it's a reliable convertible from Lenovo that you're seeking, then you could consider the Yoga 730 instead. It's significantly cheaper for an Intel Core i7 CPU and half the RAM. However, if you simply can't do without the Yoga C930's cool glass design, then hit the "Add to Cart" button on it without a second thought. You'll have the coolest looking convertible laptop in a ten-kilometre radius for sure.