VERDICT:
The Lenovo Yoga Book is an interesting concept, but there are kinks to be worked out. The Yoga Book is more like a proof of concept right now, and not the best laptop you can buy for the price.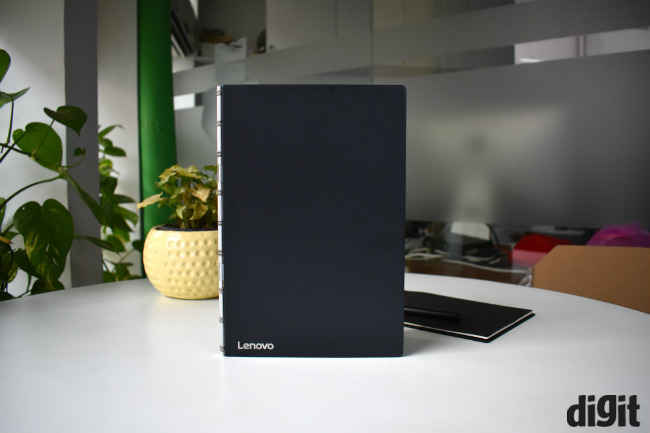 Halo keyboard/Sketch pad
Let's begin with what this laptop is all about, the keyboard deck, which looks futuristic, but Lenovo isn't the only one who's thought of it. Microsoft had a similar idea back in 2010, with its prototype, codenamed "Courier", but that never made it past the drawing board. Sony also tried its hand at this concept in 2012, with the Tablet P.
There have been others since, but all of those tablets had secondary touch displays for drawing/sketching. The Lenovo Yoga Book on the other hand replaces the secondary display with a capacitive touchpad, which doubles as touch-based laptop keyboard.
This allows this machine to be a laptop and a designer's tool at the same time. Using the Halo keyboard is a challenge at first, I eventually got a hang of it. It's new hardware and the learning curve is inescapable. Now, depending on how you type, that learning curve can be long or short, or completely frustrating. My first article written on this machine carried a lot of typos. Over a couple of weeks my typing speeds have increased and typos have been reduced to a great extent. As hard as I tried, though, this gets nowhere close to a laptop keyboard in terms of speed, feedback and overall typing comfort. If you're buying this, you just have to make your peace with this.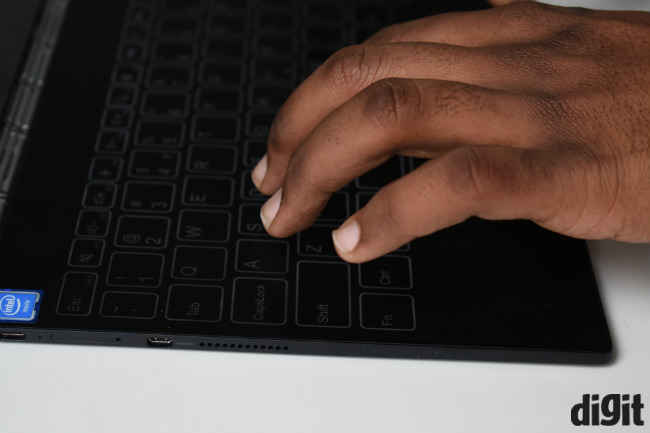 Being a capacitive touchpad, the Halo keyboard has no travel and all you get is strong haptic feedback and low audio alert for key presses. While you can turn off the audio tone, the haptic feedback can't be turned off, and can be annoying. Further, the keyboard does not register multiple key presses at the same time, but Windows shortcut commands, like Cut (ctrl + x), Minimize all (Windows key + D), Lock Screen (Windows key + L), etc. will work.
The keyboard is a nightmare for touch typists (people who type on muscle memory), as they rest their fingers on the keyboard between keystrokes. You can't do this with the Yoga Book without triggering unintentional commands.
Accompanying the odd keyboard is the rather small touchpad, denoted by a white outlined section below the keyboard, on the same matte surface. Like the keyboard, it has its own learning curve and can be equally painful to use. For example, I often pressed the spacebar instead of the touchpad or swiped too close to the edge, opening menus I didn't want.
There are two side margins on the touchpad, denoting the left and right clicks, but they often do not respond, and have the same haptic feedback as the rest of the keyboard.
The touchpad deactivates whenever you're typing. So, if you need to use it while typing, you'll first need to press the dot on the centre of the touchpad, to turn it back on. Also, it only supports the page scroll gesture and nothing else.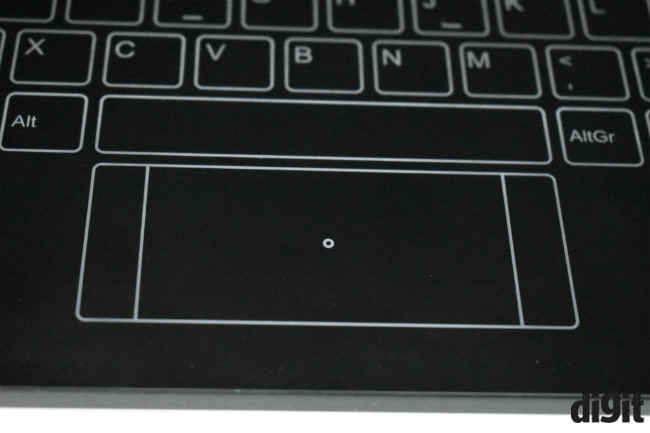 There's a button on top of the keyboard that switches it to the sketch mode. The sketch-pad or "create pad", as Lenovo calls it. It functions like a Wacom digitizer, which changes the pen input into digital format. Lenovo says the stylus on the Yoga Book has 2048 levels of pressure sensitivity and can even detect angles, and it feels quite good. The Apple Pencil and Surface Pen feel more responsive than this one. You will also have to carry the pen separately, since there's no slot on the laptop for it.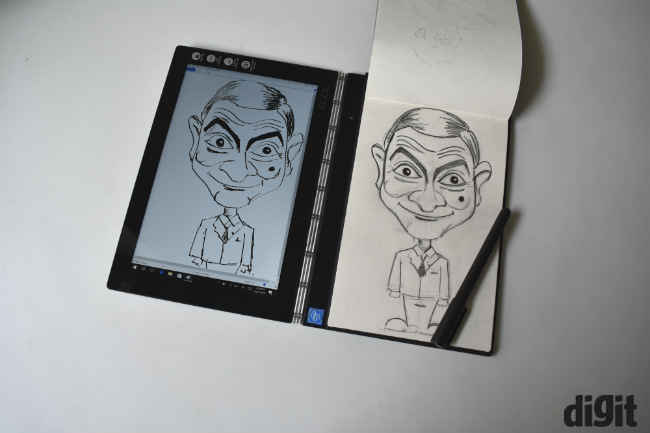 Further, you can also keep a piece of paper on the keyboard deck and write on it. This copies whatever you write or draw on the paper to the Yoga Book. Lenovo has bundled a magnetically attachable pad with 15 sheets of paper, but any paper can be used with thickness less than 5mm. To use the digitizer as a pen, one is required to replace the plastic nib with a ball pen nib (three are included with the pen).
Build and Design: A tablet in a laptop's guise
The Lenovo Yoga Book looks and feels more like a tablet than a laptop, thanks to its ultrathin 9.6mm profile. It weighs only 700 grams. However, unlike most hybrids the keyboard on this machine is not detachable.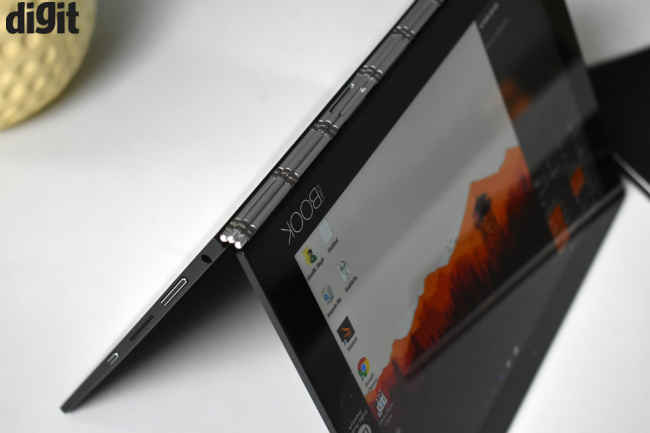 It looks like two black slabs are joined together by Lenovo's signature watchband hinge. It is quite good and holds the display sturdily at all possible angles. You can rotate the display all the way back and use it as a tablet. I observed some screen wobble while using it on my lap, but it was still bearable compared to the Halo keyboard. The screen also wobbled while using touch inputs with the machine placed on a flat table.
Ports: Compromised
Thinness and good looks come at a cost, which is paid by the consumer. In the case of the Lenovo Yoga Book, you get only two ports; a microUSB port, and a micro-HDMI port. This means you can't plug in a mouse without a USB-to-micro USB adapter. You may also need a dongle for the micro-HDMI port.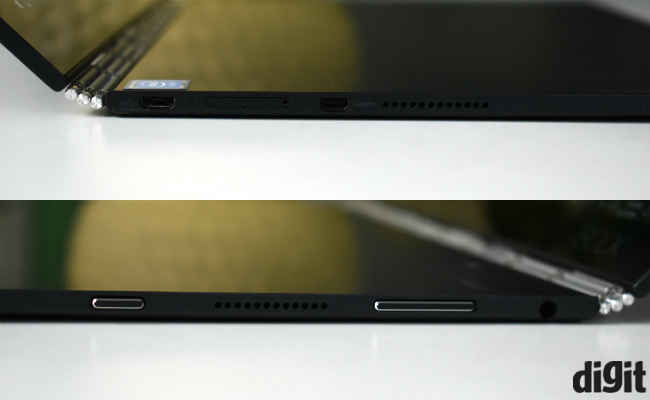 An USB type-C port may have been a better choice, and given the shape and size of this machine, it does make sense. Further, the multi-functionality of a USB Type-C port would have further helped users to connect the device with different peripherals and devices at the same time.
Display: Small yet good
I love the display on the Yoga Book. It has good colour reproduction and amongst the best in terms of viewing angles, on on 10.1-inch machines that I've reviewed. The small display has 1920 x 1080p resolution, which is ample for watching videos.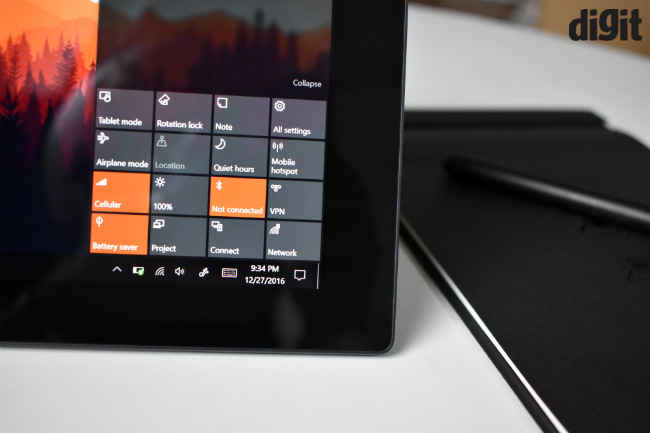 The black border around the display gives your thumb enough space to hold the device from any side. The multi-touch display also supports the stylus, but does not recognise the various sensitivity levels. Sadly, the display is not that bright and has max luminescence of 154 lux.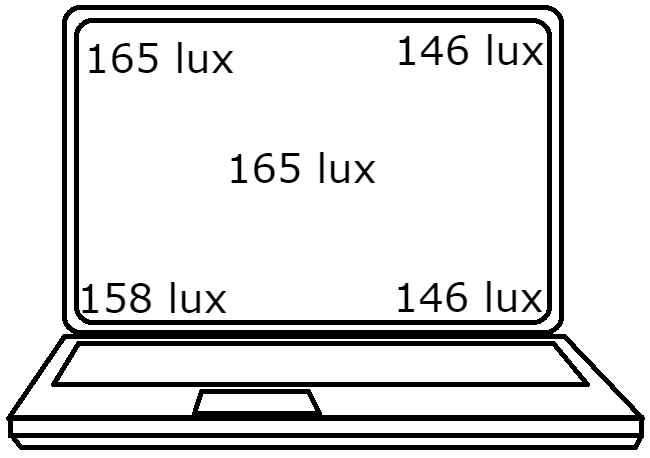 Performance: Loading…
Powering the Lenovo Yoga Book is the humble Intel Atom processor, which has been around since ages. The small dual-core processor is paired with 4GB of LPDDR3 RAM, giving it enough power to keep couch potatoes happy.
This means you can stream movies, surf the net and video chat simultaneously, without any issues. However, if you are a power user and like to run heavy Microsoft Excel files, or use Photoshop etc, this is not the machine for you. The Yoga Book isn't snappy as many other laptops at this price would, or should be.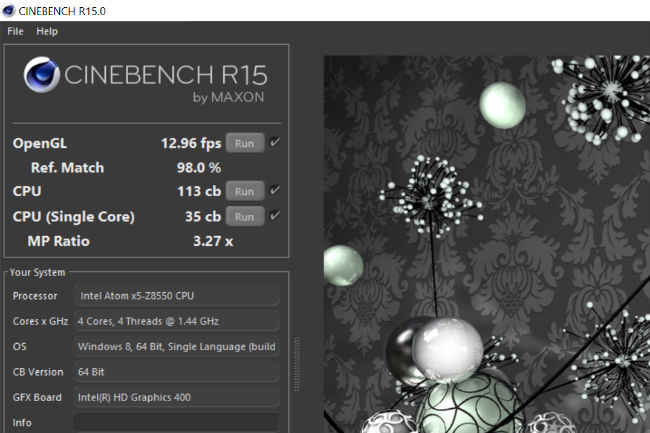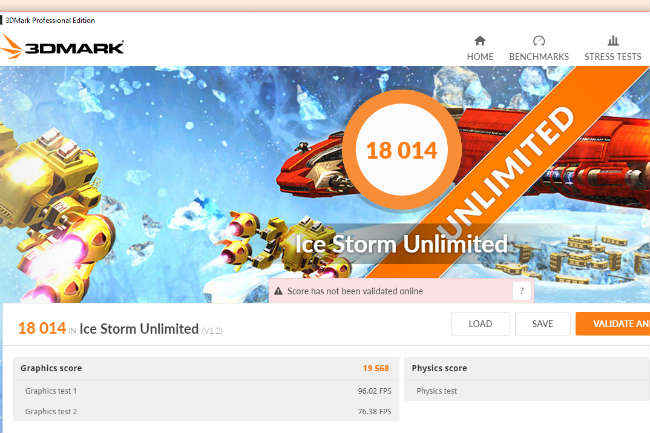 Creative professionals needs software like Adobe illustrator or Photoshop, and the Intel Atom can't really support them. You can at best doodle on it with applications available on the Windows Store. The image shown below was made on paint.
Battery life: Brilliant
Driving this device is a 8500mAh battery that does a really good job keeping up with all the video streaming, web surfing and doodling. With a full charge, the Yoga Book can easily manage about 8-10 hours of usage. Also, since the 2-in-1 has only a fanless Atom processor, the power brick is as big as a mobile charger, adding to its portability.
It charges very slowly, and takes just over two hours to charge. That's one of the limitations of using micro-USB charging.
Bottomline: Proof of concept…
The Lenovo Yoga Book is light, has good battery life, and a rotating display. That makes it a pretty good media consumption device, despite its poor performance. However, if you're going to spend 50k on a laptop, this isn't the one to go for. There are faster laptops available at this price, like the Asus Zenbook UX305 and HP Pavilion X2.
You buy the Yoga Book if you want something "cool", but overall, it's not a device that fulfills any purpose. The Intel Atom processor is a letdown, and the keyboard is not quite good enough to replace regular laptop keyboards. It is a really nice concept, but not yet market ready. There are kinks to be worked out.