VERDICT:
The Lenovo Thinkpad X1 Carbon has a brilliant keyboard, performs well and good battery life. The security features are impressive as well and all this makes it the best business class ultrabook to buy today.
So, in its fourth iteration, the Thinkpad X1 Carbon is not trying to break away from the tried and tested design and build, but refine it. Lenovo hasn't changed a whole lot here, but whatever small improvements it has made, have worked. The Thinkpad X1 Carbon has been pretty much the holy grail of business laptops so far. Here's the review to find out what the newest iteration is all about.
Specifications of our test machine
Display: 14-inch display, 1920 x 1080p
CPU: Intel Core i5-6300U
RAM: 8GB
Storage: 180GB SSD
Battery: 52 watt-hour
Weight: 1.18kg
Build and Design
Like its predecessor and previous Thinkpad laptops, the X1 Carbon dons the raven black matte-ish paint job, which looks professional any way you look at it. It is made of Carbon fibre and magnesium and is one of the most sturdiest laptops we have tested in the past year. Use of premium materials has also reduced the weight and there is a slight decrease in dimensions compared to its older generation.
The carbon fibre and magnesium frame also makes it one of the toughest ultrabooks around, right at par with the Dell XPS 13 or the new Macbook. However, the 14-inch screen size also sets it apart from the rest of the general 13.3-inch devices. This translates into extra viewing space and the larger footprint means that it is less portable compared to the Ideapad 710s or the new MacBook.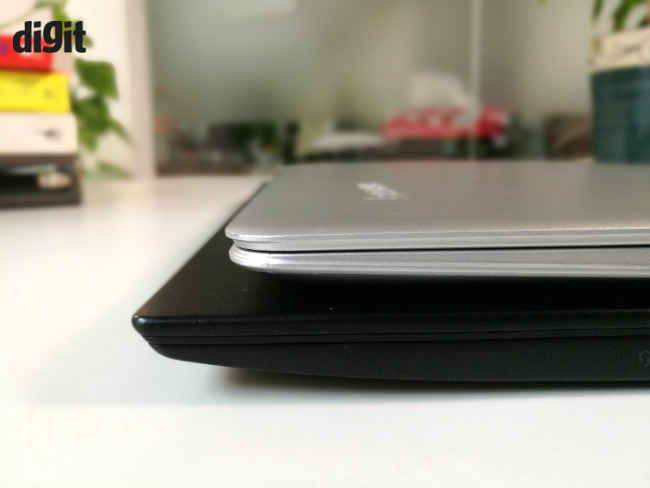 Ideapad 710s is slimmer, smaller and lighter than X1 Carbon
The matte-ish finish is consistent across all panels, even the plastic keyboard has the same feel as the rest of the machine. This shows the consistency of the material used and the company's eye for detail. The two metal hinges that hold the display are well calibrated and can hold it in place even when using the laptop in a moving vehicle. The fact that the display can be tilted to 180 degrees does add a bit of wobble to the display, but not enough to really mind.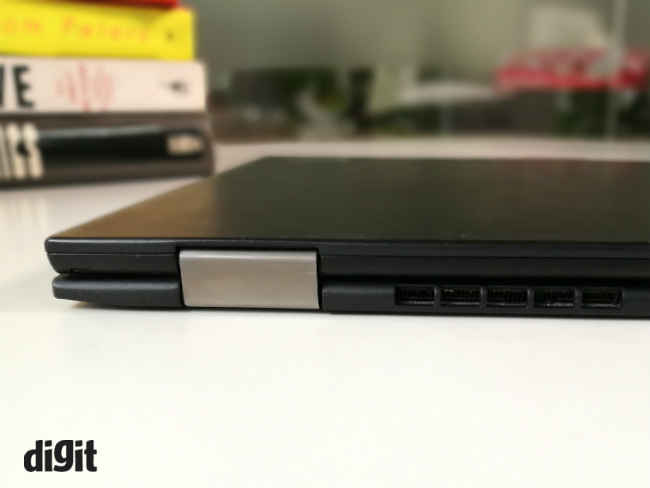 Another important addition is the fingerprint scanner, which unlike most ultrabooks is a single-touch scanner, which is much easier to use. You can simply touch it, instead of swiping your finger on it. It is more accurate and easier to enroll. You can add it to pre-boot authentication as well, making it very secure. With the speed that fingerprint scanners have achieved on phones, though, it's surprising that laptops don't do better yet.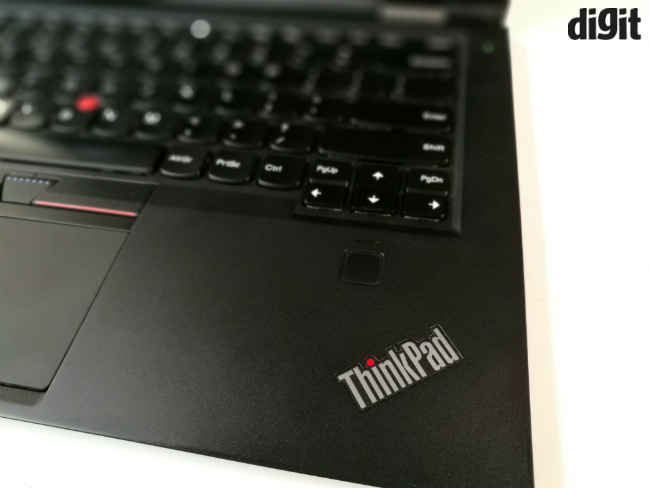 If you are paranoid that someone may tamper with the storage or internals by opening the rear hatch, then the BIOS also allows a safety seal that notifies you if the rear hatch has been tampered with.
Ports
A slimmer profile generally means lack of ports, but the Thinkpad X1 Carbon is just thick enough to include all the ports one may require on a laptop this size. On the left, it has a mini display port, one USB 3.0 port, a proprietary charging port and a Onelink port. It features two USB 3.0 ports, HDMI and a microphone/headphone jack combo on the right.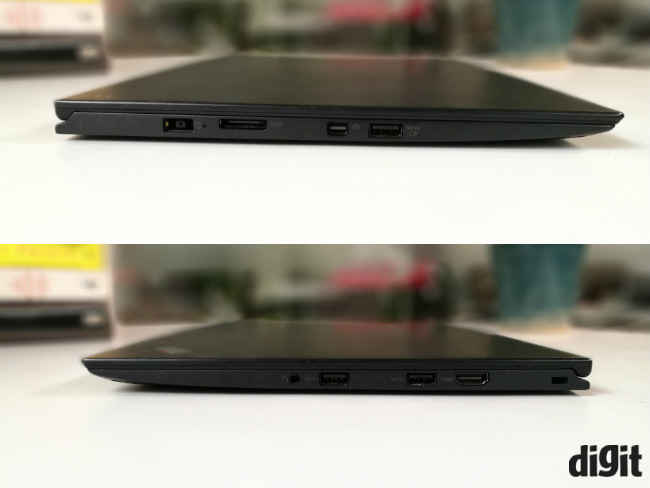 The microSD card slot is on the back, along with a SIM card slot. The addition of a SIM card slot certainly makes this a portable machine, but I would have preferred an added SD card slot as well.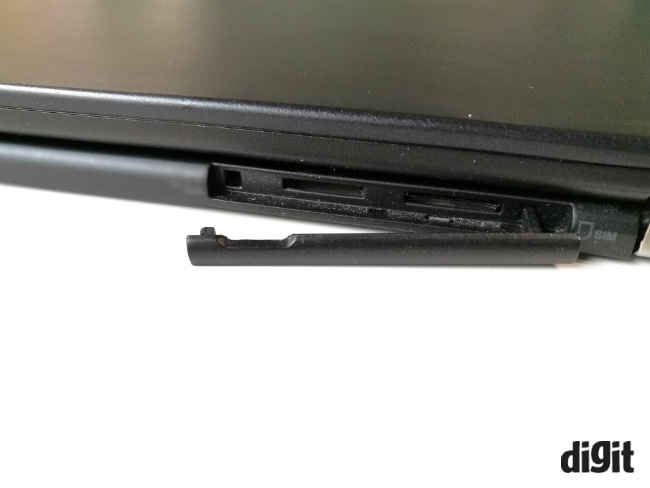 You can also use the X1 Carbon as a power bank USB port on the left is an always-on port and can be used to charge a smartphone or any other compatible device even when the lid is down.
Display
Unlike the last Thinkpad I reviewed, the X1 Carbon has a proper IPS panel and does a remarkable job. The 14-inch display has a resolution of 1920 x 1080p and is one of the best we have seen in recent times. It is not at par with the Ideapad 710s, but comes close. The X1 Carbon is available with a WQHD IPS display as well, which is even more pixel dense.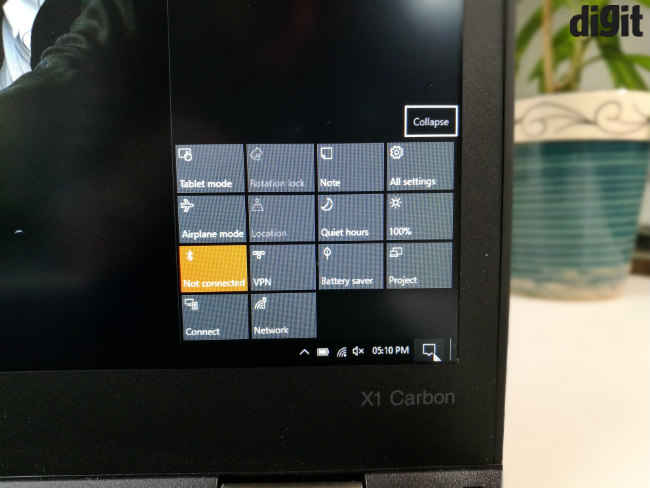 Colour saturation as well as the viewing angles are quite good and contrast ratios are well calibrated right out-of-the-box. There is slight backlight bleeding at full brightness, but it is not noticeable unless you're looking for it. Images as well as video content on the display look sharp, making it a good laptop for watching movies.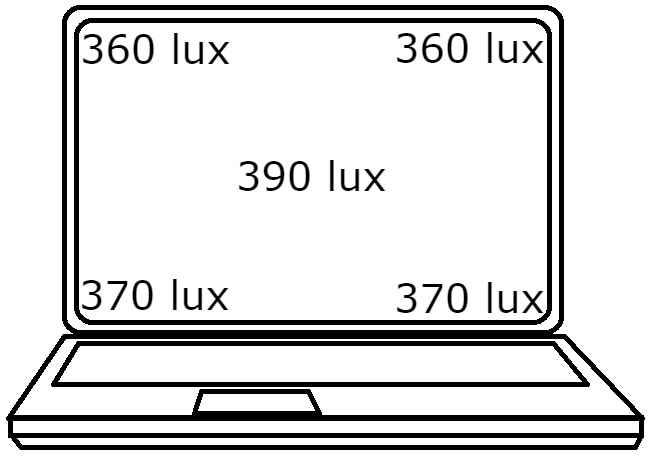 The X1 Carbon does a good enough job when it comes to sunlight legibility, thanks to the anti-glare matte display. You will have to adjust the positioning of the display when it's under direct sunlight, but it's easy enough to use outdoors otherwise.
Keyboard and Touchpad
As far as laptop keyboards go, nothing beats the Thinkpad keyboard, or at least that's what I think. Thinkpad laptops have primarily used the same keyboards since the brand's birth and for good reason, they are perfect for touch typists. The chiclet keyboard offers best-in-class key travel, with a tried and tested scissor mechanism.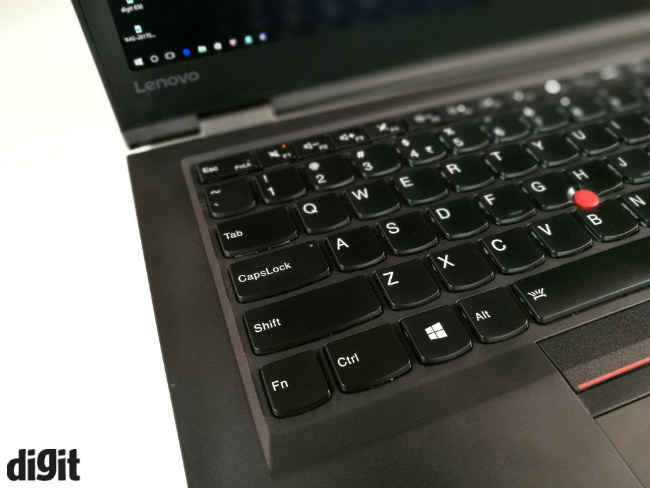 Each key is well weighted feedback is good, without any unnecessary clatter. However, if you are coming from a non-Thinkpad laptop, there is a slight learning curve here. Things like the fn and left-Ctrl key are swapped, which causes fatigue to those who aren't used to them. The arrow keys at the bottom right, along with the page up and down keys are also small and will take some time to get used to.
The keyboard can also take an accidental water spill, but we weren't brave enough to test that on our review unit.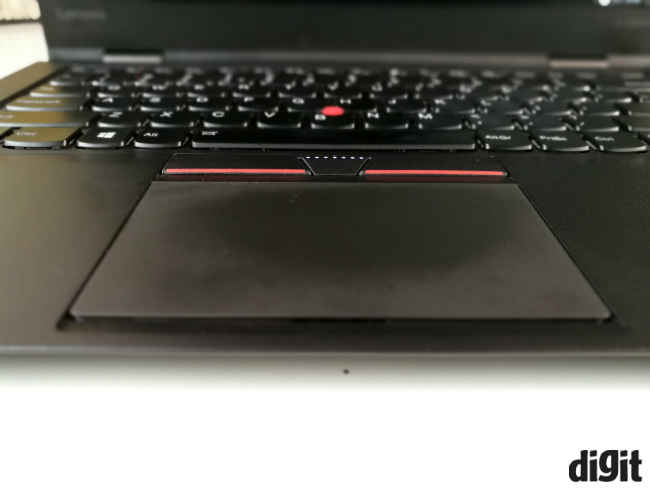 The fairly large touchpad is made out of glass and is also one of the best touchpads amongst laptops. It has a smooth surface that allows for an even glide across the pad and the bottom integrated left and right keys are soft to press, yet precise. However, like me you will end up using the physical mouse keys along with the red nub in the centre, eventually. Once I got used to it, I found it far more easier to use and there is no better way to navigate through a doc file. Adding to that the Synaptics-enabled touchpad recognises all Windows-based gestures and works as intended.
Performance
The Lenovo Thinkpad X1 Carbon is available in different processor configs and my test unit was powered by a 6th gen Intel Core i5-6300U processor. This is a dual core 2.4GHz processor with Turbo boost speeds of up to 3GHz. Combined with 8GB DDR3 RAM, the laptop has enough power to run office docs, multiple tabs in multiple browsers, video/music streaming and even more, without breaking a sweat.
I even tried pushing the processor using Prime95's Blend benchmark and the i5-6300U performed smoothly, going up to 2.5GHz and averaging around 2.4GHz with 99% load throughout the test. What's even more impressive is that the core temperature remained stable around 70-75 degree celsius and the single fan and improved heat pipes dissipate that heat without easily and without noise. It reached max temperatures of 42 degree celsius, just above the F11 and F12 keys, which are placed really close to the rear exhaust. The rear panel also gets a little warm, but if you are trying to push the processor, by say gaming on it, you would be doing so while sitting on the table and not with the laptop on your lap.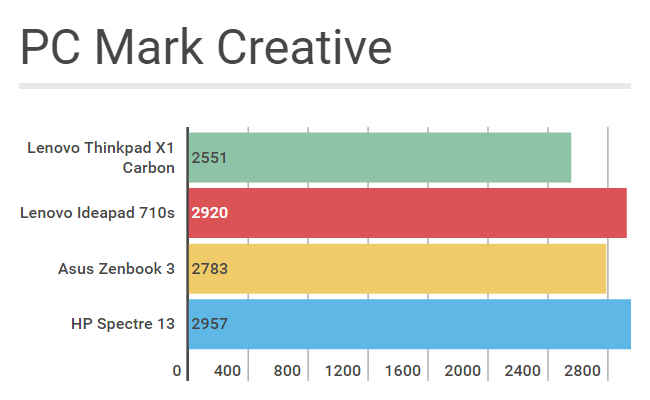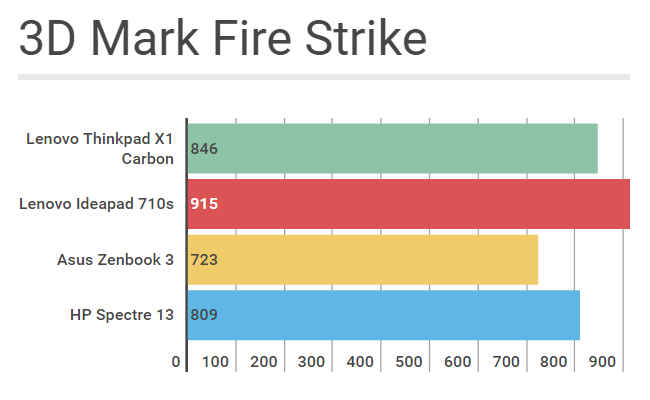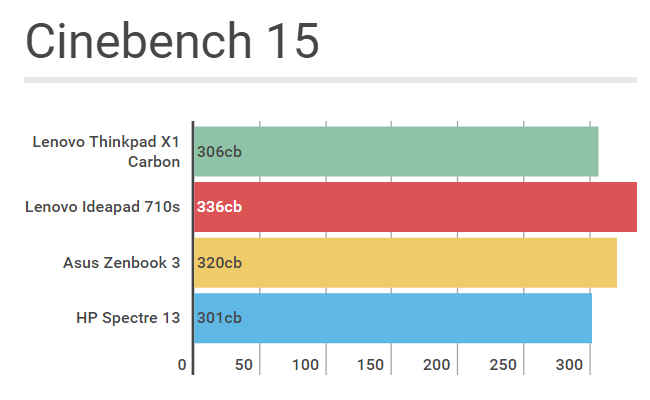 Talking about gaming, the integrated Intel HD 520 GPU does not have the best credentials for gaming. Still, you would be able to to dabble into games such as League of Legends or Dota 2. These are playable at lower or medium settings, at native 1080p, and you don't have to worry about going afk if a power socket is not nearby, since there is only a small performance drop while playing on batteries.
Battery
After checking all the right check boxes, the Thinkpad X1 Carbon does not disappoint in the battery department either. The laptop packs in a fairly large 52 watt-hour battery, churning out about 8-9 hours of battery life with normal workloads. If you like watching movies, you can enjoy at least two movies back-to-back on a single charge. While this is good enough for a Windows ultrabook, there are better options if battery life remains your priority. The new Macbook Pro and the Dell XPS 13 can both provide 10-11 hours worth of battery life.
Bottomline
The Lenovo Thinkpad X1 Carbon is the best business class ultrabook you can buy today. It has all the standard security features you need from a machine of this caliber. It is light, performs well, has good battery life and has a phenomenal keyboard. However, if you are looking for the best ultrabook, we would still suggest the much affordable Lenovo Ideapad 710s. It doesn't have the fancy security suite but is just as powerful. Where the X1 Carbon is meant for the enterprise user, the Ideapad 710 is much cheaper, offers a better display and is lighter.