VERDICT:
The Lenovo IdeaPad Y570 is a solid home entertainment laptop which is good for casual gaming as well. It has the right mix of hardware and features to deliver better-than-average performance compared to other laptops.
Design and Build:
In terms of style and design, the new Lenovo IdeaPad Y570 doesn't sport a radically different look from its predecessor, the above-mentioned IdeaPad Y560. The 15-inch Lenovo laptop has a brushed metal screen lid with a funky dot-pattern (Morse code?) to lend the IdeaPad Y570 an air of premiumness on the outside, while the laptop's gunmetal gray deck with black keys feels good on the eyes. The IdeaPad Y570 certainly isn't easy to carry around for a 15-inch home entertainment laptop, weighing just under 3-kg.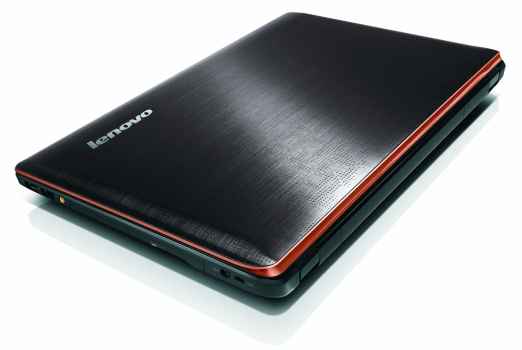 If anything, we feel the IdeaPad Y570 is a bit dull in terms of looks compared to the Dell XPS 15z or HP Envy 17 3D. No questions about the laptop's build quality, though — its 15-inch widescreen display is ably supported by the IdeaPad Y570's hinge and the lower chassis. And the overall finish on the laptop is a cut above the rest.
Features:
The Lenovo IdeaPad Y570 comes with a standard 15.6-inch widescreen display with a 16:9 aspect ratio, 1366×768 pixel resolution, pretty much standard for a 15-inch laptop. The screen is nice and bright and has ordinary horizontal viewing angles — great for personal entertainment, not so good for family viewing. There's a webcam grooved into the screen's top bezel which handles Skype video calls pretty well. The webcam comes with appropriate software to help you record video messages or take snaps and upload them on popular image hosting websites — very convenient. The Lenovo IdeaPad Y570 also comes with a row of touch-sensitive multimedia buttons at the top of its keyboard which is great to use.
Apart from a 15-inch widescreen display, the Lenovo IdeaPad Y570 laptop sports an Intel Core i7-2630QM 2 GHz processor, 6 GB of DDR3 RAM, a 750GB hard drive and 1 GB Nvidia GeForce GT555M graphics. Quite a potent hardware combination for a laptop, if you ask me. The Y570 supports Wi-Fi 802.11n and Bluetooth for wireless communication. It ships with a 64-bit Windows 7 Home Premium operating system. All good but the only minor complaint we have is that the manufacturer should've offered more RAM and a larger capacity hard drive — it's nice to dream.

There are, obviously, Lenovo OneKey backup and recovery software to safeguard your data on the IdeaPad Y570. For entertainment junkies, the laptop comes with onboard surround sound JBL speakers which are quite good at pumping out music. The laptop has a multitude of connectivity options, like four USB ports (two of which are USB 3.0 enabled), HDMI, VGA, eSATA, Gigabit Ethernet, and SD card reader slot. There's an 8x tray-loading DVD writer and standard 3.5mm microphone and headphone jacks on the laptop. All these ports are carefully scattered all across the Lenovo IdeaPad Y570 laptop's side edges. There's a toggle switch at the front edge which manually lets you pick between discrete or onboard graphics, it's conveniently placed.
Visit the next page, to know more about the performance of the Lenovo IdeaPad Y570, and our verdict…
Performance:
The Lenovo IdeaPad's performance is in line with the laptop's high-end hardware parts. With a PC Mark Vantage score just behind that of the Alienware M14x's, the Lenovo IdeaPad Y570 gives an example of its performance prowess. Along with the Dell XPS 15z, the Lenovo IdeaPad Y570 is one of the fastest laptops we've tested in the past few months, and it is an easy entrant into our Top 10 Laptops list.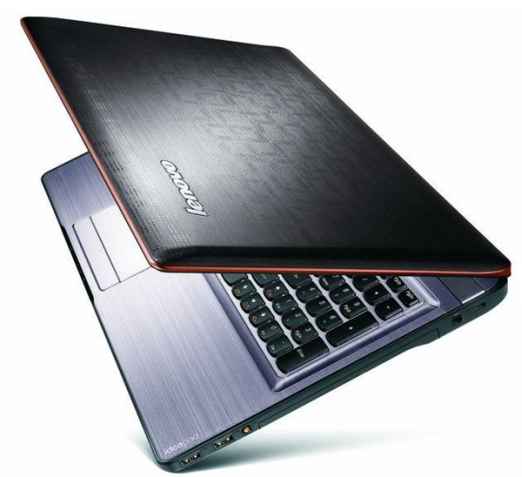 As you can see from the specs alongside, the Lenovo IdeaPad Y570 comes with a potent mixture of latest hardware building blocks, lending the laptop a great foundation to deliver high performance, be it gaming with 3D games or watching HD 1080p movies or listening to audio on the laptop's JBL speakers, the overall user experience on the IdeaPad Y570 is very good. The screen, as said earlier, is great for personal entertainment, and the onboard audio is one of the best we've heard on a 50k laptop. We think the Lenovo IdeaPad Y570 does a very good job of living up to its billing of a home entertainment laptop, since its discrete GPU can play latest games at Medium to High settings. So a bit of casual gaming is also covered for the demanding customer.
We liked the IdeaPad Y570 laptop's isolated keyboard with scalloped, curved keys which are great for typing, and the keyboard had no flex to deliver a top-notch typing experience. Its accompanying palmrest is wide to park your wrists and the touchpad has a nice dotted grid for haptic feedback while scrolling with your finger — if only the included mouse buttons were separate, everything would've been just perfect in terms of input options on the IdeaPad Y570. The laptop's 6-cell battery lasted just under 2 hours in our benchmark tests, which is very good for a high-performing laptop. Expect close to 4 hours of battery life on a single charge while browsing the Web over Wi-Fi at a conservative power plan on the Lenovo IdeaPad Y570. The laptop didn't heat unduly all throughout our testing and it wasn't noisy on full-load as well.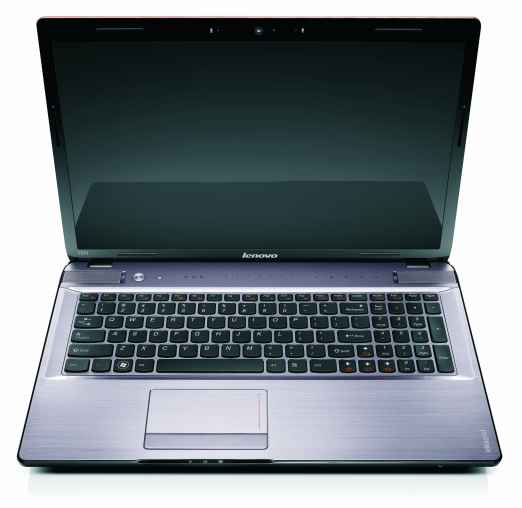 Verdict: The Lenovo IdeaPad Y570 retails for an astonishing price of Rs. 49,990. At that price, the laptop has a pretty formidable hardware setup, is very well built, and offers all the regular connectivity features. It may not be as great looking as some of its competitors but its more about substance than style, as far as the Lenovo IdeaPad Y570 is concerned. Overall, we're very impressed with the IdeaPad Y570 and have no hesitation in recommending it for your home entertainment use.
Contact Information for Product Enquiry: 080-30533000 / www.lenovo.com/in
| | |
| --- | --- |
| Brand | Lenovo |
| Model | IdeaPad Y570 |
| Processor Model No | Intel Core i7-2630M 2-GHz |
| Number of cores | 4 |
| Processor Speed (MHz) | 2000 |
| Memory (GB) | 6 GB |
| RAM Type | DDR3 |
| Memory Speed (MHz) | 1333 |
| Chipset | Intel Cougar Point HM67, Intel Sandy Bridge |
| Graphics Solution | NVIDIA GeForce GT 555M |
| Dedicated Video Memory (Y / N) | 1 |
| Dedicated Video Memory Size (in MB) | 1024 |
| Audio chipset | Intel Cougar Point HDMI @ Intel Cougar Point PCH – High Definition Audio Controller [B-2] |
| SSD/HDD Size (GB) | 750 |
| Blu-ray? | N |
| Bundled OS | 64-bit Windows 7 HP |
| | |
| Screen Size (Inches) | 15.6 |
| Type of Panel | LED backlit |
| Screen Resolution (Pixels) | 1336×768 |
| Weight (kg) | 2.7 |
| No of Ports (USB/Firewire) | 4/0 |
| No of USB 3.0 (Y/N) | 2 |
| Connectivity (LAN / Bluetooth / Wi-Fi) | Y/Y/Y |
| E-Sata / Thunderbolt (Y/Y) | Y/N |
| Display output (VGA/DVI/HDMI/Display Port) | Y/N/Y/N |
| Built-in TV Tuner? | N |
| Headphone/Mic (1/1) | Y/Y/Y |
| Wireless Keyboard & Mouse? | N |
| Memory Card Reader (Y/N) | Y |
| Optical Drive (Y/N) | Y |
| Inbuilt Webcam (Y/N) | Y |
| Webcamera resolution (in megapixels) | 0.3 |
| | |
| PCMark Vantage | 7134 |
| 3D Mark 06 | 10334 |
| Maxxon Cinebench R11.5 (CPU Score) | 4.19 |
| Battery Meter (in mins) | 115 min |
| Speaker volume (at 50%) | 7.5 |
| Speaker clarity (at 100%) | 7.5 |
| HD video playback test (So 10) | 8.5 |
| WinRAR 3.9 (Compression / Decompression) | 3452 KB/s |
| 4GB single file copy (secs) | 174 sec |
| 4GB folder files copy (sec) | 209 sec |
| 100 MB File Conversion (VOB-to-DivX) (secs) | 27 sec |
| | |
| Warranty | 1 year |
| Price | 49990 |