VERDICT:
When it comes to performance the iBall i360 is about average. It can perform basic tasks like HD video streaming, browsing, and office applications without too much of a hitch. We did struggle a bit with the WiFi and the lack of an ethernet port did not help. But then again, you don't normally get an ethernet port on laptops this size. You'd think 11.6-inches is small for the 13k price mark, but once you consider that it doubles as a tablet as well it seems a little more reasonable. Yet, it also feels a bit unnecessary. You're not going to be doing any heavy lifting with this laptop either. If you're looking for an economical laptop just for basic needs you might as well look elsewhere, but if it's a budget 2-in-1 you want and you just need to have that touch interface, then the iBall isn't too bad.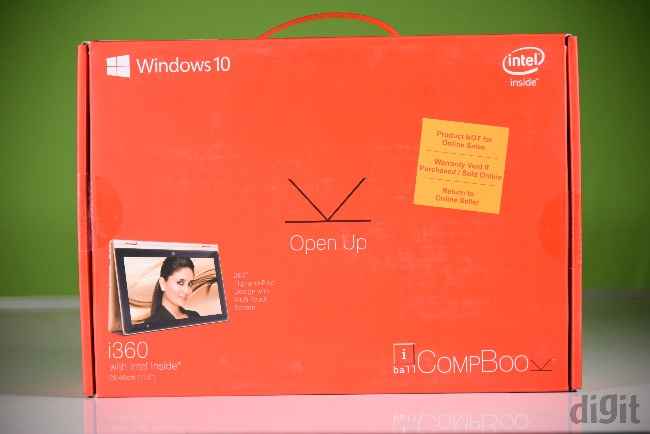 The iBall CompBook i360 is a 2-in-1 touchscreen laptop which converts into a tablet. And at the 12,999/- price tag, the i360 looks like a compelling offer on the surface. Well, let's find out if the i360 actually is worth its price.
Inside the Box
The iBall CompBook i360 comes with a power adapter, a user manual, a cleaning cloth for the display, a warranty card, a feedback form you can send back to iBall, and for some reason, a micro-USB to USB cable.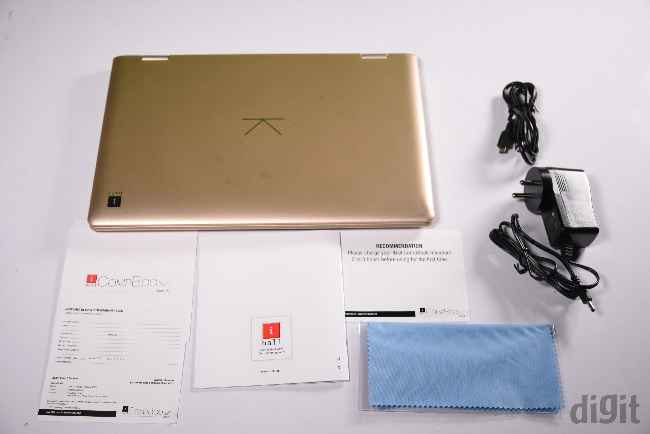 Build
Budget laptops are limited when it comes to materials for build quality. The i360 is no exception and like most laptops in this segment, features a plastic build. The overall appearance isn't too bad; the gold champagne colour is nice to look at.
The i360 uses a pretty sturdy dual-hinge system, it stays put at about any angle. It's a convertible, so the display can be flipped all the way to the back and be used as a tablet. Of course, you can stop midway and use it in 'stand' and 'tent' mode.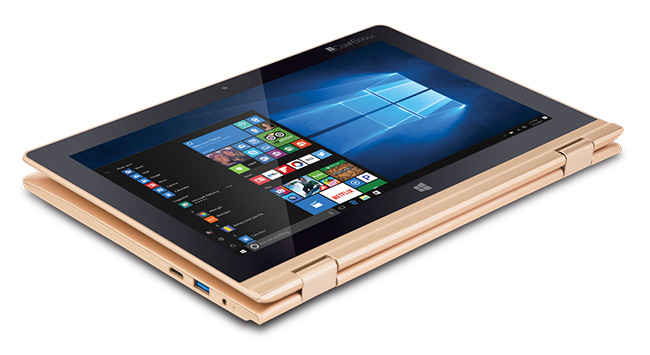 There's little to no flex when the laptop is closed. However, the lid flexes when opening the laptop, and often warps the display. This is especially prominent when in tablet mode, where even slight pressure warps the display.
The iBall i360's power button is on its right side, next to a switch which disables/enables the keyboard and touchpad for when you switch to tablet mode. For non-frequent tablet users, the position of the power button might take some getting used to. We accidentally turned the display off several times. Also, while in tablet mode, if the power button happened to be at the bottom side, placing the i360 down on a surface would also turn off the display.
We really shouldn't need to enable/disable the keyboard and touchpad ourselves. They should have made that function automatic; making us do it just seems lazy on their part.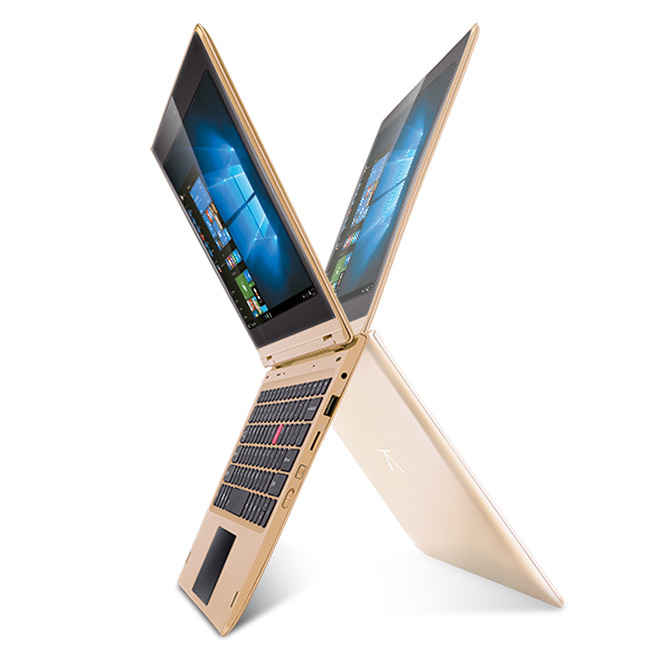 The i360 uses an 11.6-inch TFT LCD multi-touch display with a resolution of 1366×768. Touch response on the display is pretty good. The viewing angles are tight; the display isn't clear unless viewed from the sweet spot, any lower or higher.
The i360's keyboard is not very comfortable to type on because of its proximity to the touchpad. While typing we'd often brush against it which would cause us to either switch to another window or accidentally minimize it. This window minimized at least four times while typing just this paragraph. Which can be quite annoying. We found that locking the touchpad (Fn + Space) solved our problem. Another thing about the keypad is that it flexes a lot while typing.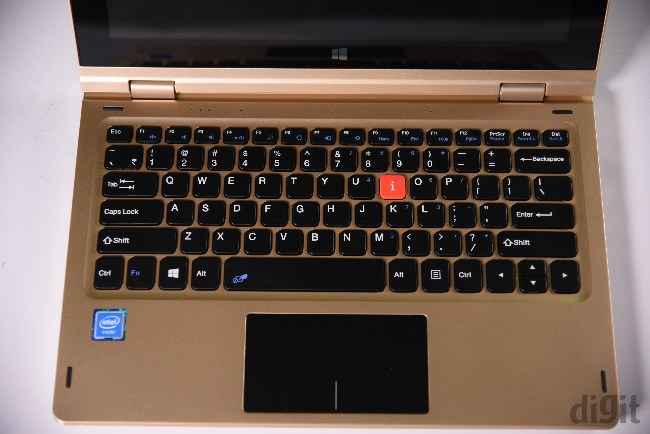 The touchpad uses a wide clickable touch area instead of left and right click buttons. Something we see often in smaller laptops in order to save space and not sacrifice on touchpad surface area. We had no qualms with the touchpad, other than, as we mentioned above, while typing.
The laptop is 17 mm thick so it's very slim, but it feels slightly heavy in your hands at 1.35 Kgs.
Connectivity
For physical connectivity, we have two USB ports, one 2.0, and the other 3.0. There's also a mini-HDMI port, a 3.5mm headphone and microphone unijack, and a microSD card slot. There's no full SD card reader.

The iBall i360 features WiFi b/g/n and Bluetooth 4.0. There's no ethernet port, which is common in laptops in this segment. However, we would have appreciated an USB-to-ethernet adapter with the laptop. The laptop also has a VGA webcam.

Performance
Processor – The iBall i360 runs on an Intel Atom x5-Z8300 SoC. The x5 offers performance similar to that of a Qualcomm Snapdragon 801. It's adequate for a device such as the i360 which should ideally be used primarily for light tasks like browsing and Office. Additionally, this SoC doesn't really need any active cooling and doesn't heat up as such unless performing heavy tasks, which it shouldn't be used for in the first place.
System performance benchmarks – The i360 scored 1285, 1384, and 1142 respectively on the PCMark Home accelerated, Creative accelerated and Work accelerated benchmarks. The i360 is powered by Intel HD Graphics 5300. While it shines when it comes to power consumption, it is not capable of running high intensive games. As a result, the i360 performed quite abysmally in the 3DMark benchmarks. However, it is capable of running simple gaming apps and older games at lower settings.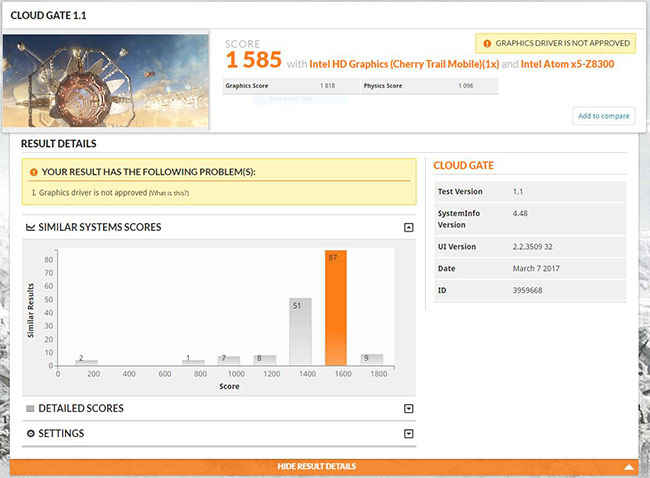 It wasn't possible to run most 3DMark benchmarks, but it did manage to run Cloud Gate, Ice Storm and Sky Diver returning a score of 1585, 17942, and 799 respectively.
Noise
During our time using it, the i360 made little to no noise. Of course, the lack of a cooling fan contributes to this.
Speakers and Mic
The i360s speakers are located below its base near the outer corners, right beside the grips. It can get pretty loud but don't expect any high-quality audio from these speakers. The speakers are audible even when in tablet mode. The laptop has two microphones, each located above the keyboard, near either hinge. They were actually surprisingly good.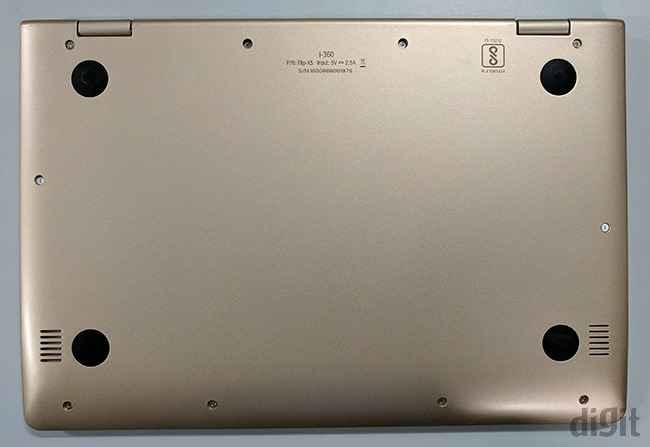 Storage
The i360 doesn't come with too much in it. Which, considering the tight space constrictions, is a good thing. There's very little in the form of bloatware save a few apps and games from the windows store. The laptop has an internal flash storage of 32GB which can be expanded via microSD cards. Out of the 32G, you barely have about 20GB for your own use, you will definitely want that SD card.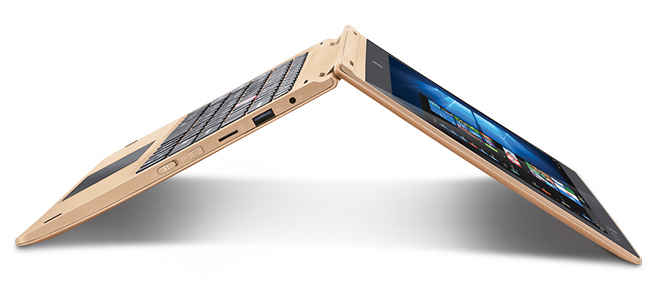 Battery
iBall has put a massive 10,000mAh battery into the CompBook i360. iBall boasts 7 hours of working time, 7 hours of video playback and 20 hours of music. Well, we can assure you that with extensive use, the i360 should easily last you for around 7 hours. It'll easily last the entire day if it's not being used extensively. The only drawback is the time it takes to charge. Which is unsurprising with that measly 5V output charger.