VERDICT:
The HP Folio 13 is one of the best ultrabooks on offer, packing outstanding performance in a compact, sleek, ultraportable shell that's easy to carry around and is guaranteed to draw eyeballs.
The HP Folio 13 isn't the first ultrabook to launch in India, but it's definitely among the best ones. Let's take a closer look…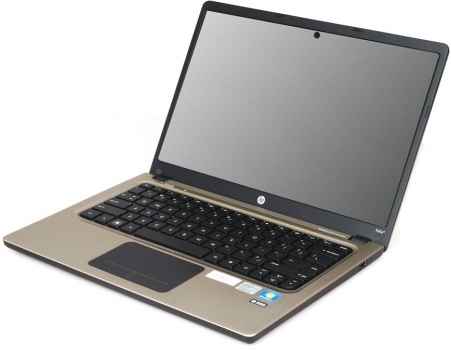 Design & Build
Ultrabooks are still relatively new to the Indian market. While it may not be the sleekest, lightest, ultrabook of the bunch launched and available in India, the HP Folio 13 is definitely one that has a simple design aesthetic and a touch of understated elegance. It has a brushed metal screen lid made of aluminium coated with a soft champagne brown hue that looks classy from the outside. Prop it open to reveal the same colour and surface encasing the black keyboard deck. And, of course, the HP ultrabook is thinner, lighter than mainstream 13-inch laptops, making it easier to carry around.
The HP Folio 13 is very well built, its dual hinges provide great balance to the two halves of the ultrabook it binds together. Touch and feel the HP ultrabook's surface and you feel you're interacting with a premium product. The only disappointment is its plastic bottom panel which is black in colour — it's definitely inferior to the Asus Zenbook or the Lenovo IdeaPad U300s' metallic bottom panel. That bit just ruins the HP Folio 13's exterior aura a bit, but it doesn't compromise the ultrabook's rigid build quality.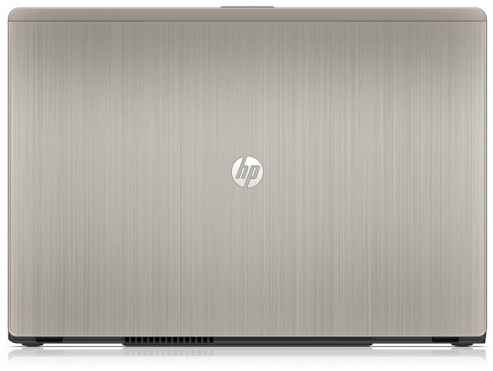 The laptop's 13-inch form factor is thin and light and easy to hold. Tuck the HP Folio 13 inside a backpack or a laptop bag, and you can barely feel its weight while walking around. It weighs just 1.5-kg, just a little over a regular 10-inch netbook's weight (1.33 kg). But below the hood, the HP Folio 13 has the potential to match any mainstream 14 or 15-inch laptop and in some cases even beat them outright.
Screen, keyboard, touchpad
The HP Folio 13 has a 13.3-inch widescreen display with a 1366×768 pixel resolution. The display appears bright and offers adequate contrast in an indoor setting, offering up to 170-degree horizontal viewing angle with minimal distortion — this is very good as it lets you share the HP Folio 13 ultrabook's screen with a larger audience around you. Vertical viewing angles are okay at best. The Folio 13's screen is good for reading text and watching movies.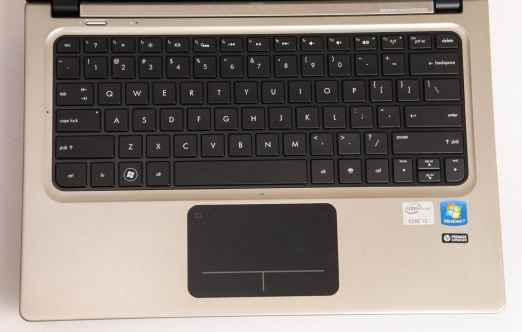 The HP Folio 13 ultrabook's keyboard has a distinctive HP laptop's trademark on it — the key design, layout and spacing are reminiscent of HP's Pavilion laptops. The keyboard is good to type on, no complaints on the feedback, the overall experience is pretty good.
The touchpad, however, is a work-in-progress — not just for the HP Folio 13, but for all ultrabooks released in India. We aren't big fans of the current touchpad design found on all ultrabooks, where the multi-touch pad and two mouse buttons are on a single, continuous surface. While the MacBook Air deploys a similar design on its touchpad, using it is much better than any touchpad found on the current ultrabooks in the market — that includes the one found on HP Folio 13. It takes time getting used to the touchpad surface, and with practice you can use it flawlessly — but the learning process involves more than a few hit-n-misses.
Visit page two to see specs, performance and verdict…
The HP Folio 13 ultrabook breaks the trend of ultraportable laptops that had miserable performance quotient. On the contrary, the HP Folio 13 is one of the fastest commercial laptop out there, let alone an ultrabook. Packed with an Intel Core i5-2467M 1.6 GHz processor, 4 GB of DDR3 RAM, 128 GB SSD, and onboard Intel HD 3000 graphics, the HP Folio 13 manages to deliver performance greater than most mainstream 14 or 15-inch laptops available in the market today — this is largely due to the SSD inside.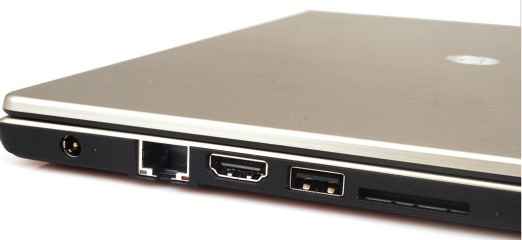 Despite its minimal and ultraportable design, the HP Folio 13 manages to house all the essential connectivity options and I/O ports on board. There's no optical drive, but on the HP ultrabook you can find 2 USB 2.0 ports, one HDMI port, audio and microphone jacks, SD card slot, and Gigabit ethernet. Wireless connectivity includes Wi-Fi 802.11n and Bluetooth 3.0 support. The HP Folio 13 ultrabook comes with 64-bit Windows 7 Home Premium bundled. The ultrabook's 13-inch screen has a 1.3 MP webcam grooved into the top bezel which is good for video chats on Skype. Overall, the HP Folio 13 doesn't skip a beat in terms of offered feature — there's no USB 3.0 but it isn't a huge setback.
Performance:
If so far you thought ultraportable, thin laptops equalled to measly, sloth-like performance, wait till you see one of the ultrabooks. Especially, the HP Folio 13. It is one heck of a performance machine, given its petite dimensions, putting to shame even some 14 and 15-inch mainstream laptops in its wake. This is all thanks to the powerful second generation Intel Core i5 Sandy Bridge processors, ample RAM, and a superfast SSD present on the HP Folio 13.
With a PC Mark Vantage score of 9205, the HP Folio 13 is the best-performing ultrabook we've tested so far, even better than the higher-priced Asus Zenbook UX31E. The HP ultrabook's dominance is reflected especially in areas like productivity, music, and hard drive scores — these are some of the highest numbers we've seen on a sub-1 lakh laptop. Through our benchmark results, the HP Folio 13's shown impressive multitasking capability, apart from very good multimedia potential as well. It's screen and onboard speakers are sufficient to deliver a captivating personal entertainment experience, with HD 720p and 1080p files playing smoothly without any jitters. However, with just onboard Intel graphics, there's little scope for gaming on the HP Folio 13.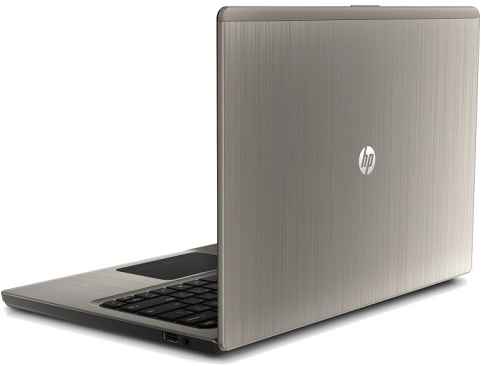 The final cherry on the HP ultrabook's performance cake is its exceptional battery life — we recorded a sum total of 4 hours 40 minutes of battery life on a single charge. That's like way better than any other ultrabook or mainstream laptop and entering into the netbook category, the battery life of the HP Folio 13. Easily expect over 7 hours of battery life while surfing the Web over Wi-Fi on a conservative power plan, true all-day computing without the hassle of searching for a plug point.
Verdict:
The HP Folio 13 retails for a price of Rs. 69,990 and comes with a 1 year warranty. Granted it isn't the cheapest ultrabook out there — like the Acer Aspire S3 or Samsung Series 5, but then what it offers is better than any other ultrabook: very good (and mostly unparalleled) performance, amazing battery life, and a well-rounded feature set, all packaged into a stylish, elegant, and premium metal exterior that makes the HP Folio 13 ultrabook a one of a kind.
| | |
| --- | --- |
| Brand | HP |
| Model | Folio 13 |
| Price (Rs) | 69990 |
| Specs | |
| Processor | Intel Core i5-2467M 1.6 GHz |
| Speed (MHz) | 1600 |
| RAM (DDR3) | 4 GB |
| Graphics | Intel HD Graphics 3000 |
| HDD | 128 SSD |
| OS | Windows 7 HP 64-bit |
| Screen Size (Inches) | 13.3 |
| Type of Panel | LED backlit |
| Screen Resolution (Pixels) | 1366×768 |
| Weight (kg) | 1.5 kg |
| No of Ports (USB/Firewire) | 2/0 |
| No of USB 3.0 (Y/N) | N |
| Connectivity (LAN / Bluetooth / Wi-Fi) | Y/Y/Y |
| E-Sata / Thunderbolt (Y/Y) | N/N |
| Display (VGA/DVI/HDMI/Display Port) | N/N/Y/N |
| Headphone/Mic | Y/Y |
| Memory Card Reader (Y/N) | Y |
| Fingerprint scanner? | N |
| Optical Drive (Y/N) | N |
| Inbuilt Webcam (Y/N) | 1.3 MP |
| Performance | |
| PCMark Vantage Score | 9205 |
| Memory Score | 4944 |
| TV and Movies Score | 3841 |
| Gaming Score | 7268 |
| Music Score | 10402 |
| Communications Score | 10094 |
| Productivity Score | 12259 |
| HDD Score | 26072 |
| 3D Mark 06 Score | 3453 |
| Maxxon Cinebench R11.5 (CPU Score) | 1.95 |
| Battery Meter (in mins) | 280 |
| Speaker volume (at 50%) | 7 |
| Speaker clarity (at 100%) | 7 |
| HD video playback test (So 10) | 7.5 |
| 4GB single file copy (secs) | 45.1 |
| 4GB folder files copy (sec) | 53.7 |
| 100 MB File Conversion (VOB-to-DivX) (secs) | 44 |