VERDICT:
The HP Elitebook Folio is a very good business laptop. It feels like a Macbook, but has Windows inside, along with perhaps the best keyboard in the market. It's battery life isn't quite ideal, though, and the screen may irk some users, making it a less than ideal buy. The Dell XPS 13 and Asus UX305CA are faster and have better battery life, while also offering more ports.
Ports: The USB Type-C Conundrum
The newest standard in USB ports is great, and having two instead of just one is better (are you listening, Apple?). You can charge your Folio while you connect other devices to it, and it's incredulous to think that a laptop should offer anything less than that. Still, embracing the Type-C solution is no easy task, especially in India.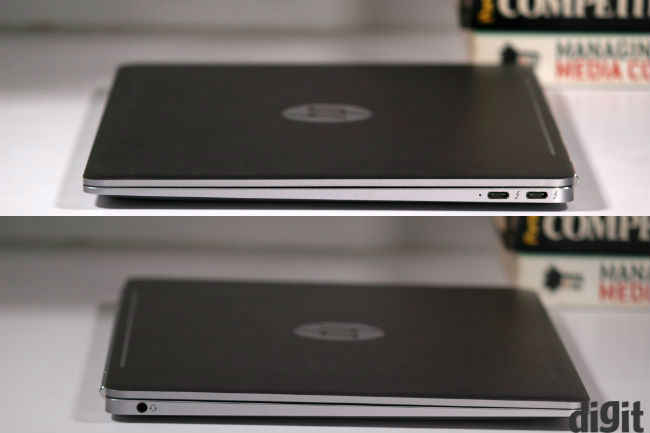 A quick Amazon search shows Type-C docks to be quite expensive, and not many are available in the first place. That said, even with a dock, you're looking at a sea of wires. The laptop's charger is one, while the dock itself will add another. Everything you attach to the dock will add even more. It interferes with the overall sleekness of the laptop itself, and can be quite cumbersome, too. You may want to have a NAS setup to make transferring files to and from this laptop easier. With that said, it's a matter of time before the adoption of USB Type-C is complete from all quarters, and laptops like the Elitebook Folio are going to be standard.
There's also a 3.5mm headphone jack on the left side of this keyboard.
Build and Design
The Elitebook Folio is thinner than the Macbook, but it's larger in terms of overall dimensions, meaning it's just slightly wider and taller. None of that really matters when your laptop weighs just about a kilogram, though (the non-touch variant is supposedly lighter still). I usually carry my things in a sling bag, and the Elitebook Folio is sufficiently light for my shoulder to not start aching over time. Even when I carry the charger with it, the weight really didn't bother me.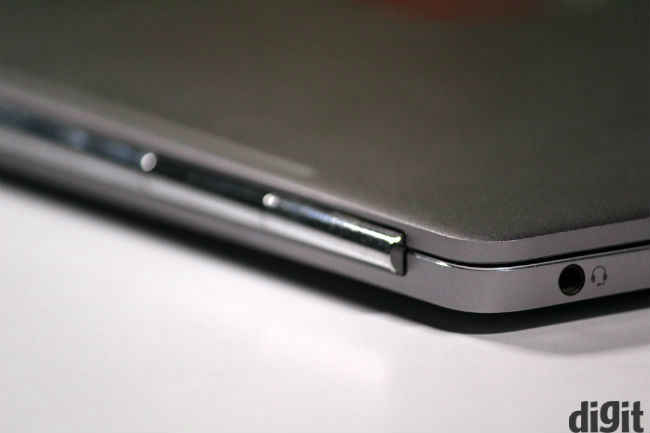 On the outside, the Folio looks like two plates of premium silver aluminium on top of each other. I'd call this a good looking laptop, but that would be a major understatement. The Elitebook folio is visibly light, and the silver aluminium, combined with its thinness makes this one of the best looking laptops right now. I say visibly light because when you pick this up, people will know it's a light laptop. It weighs just under 1kg.
Interestingly, HP also says that the Elitebook Folio is MIL-STD 810G certified, which is a certification for ruggedness, covering dust, vibration, high altitudes and shocks. The company apparently dropped the laptop 26 times from 30 inches, onto a hard surface, and it survived. I haven't actually tested this bit, though.
The hinge on the Elitebook Folio is a point of contention for me. The shiny silver mechanism looks distinct, but is somewhat loose. As a result, the Folio's screen wobbles when you're touching it, or if you're in a car with the laptop on your lap. Since the display can be tilted back a full 180 degrees, this can be quite annoying at times. If you happen to carry this in a bag not meant for laptops (and hence without a strap to hold the laptop), you'll usually find the flap slightly apart when you take the laptop out. The top and bottom part keep bumping against each other in such a scenario.
Lastly, the bezels around the sides of the screen are quite big. HP has probably had to do this in order to fit the keyboard, and it doesn't quite bother me, but one wonders whether a similar keyboard would have been possible with a smaller bezel, especially below the display.
Keyboard and Touchpad
Fitting a backlit keyboard in a thin laptop, and one that is this easy to type on, is HP's feat of engineering on the Elitebook Folio. Despite being thin, the key travel is quite great, but what's really worth appreciating is the feedback. Keys never bottomed out while typing on this keyboard, and it makes a pleasant clack noise along with good key feedback that regular typists will really enjoy. The keyboard on the Elitebook Folio is one of the best I've seen on laptops so far.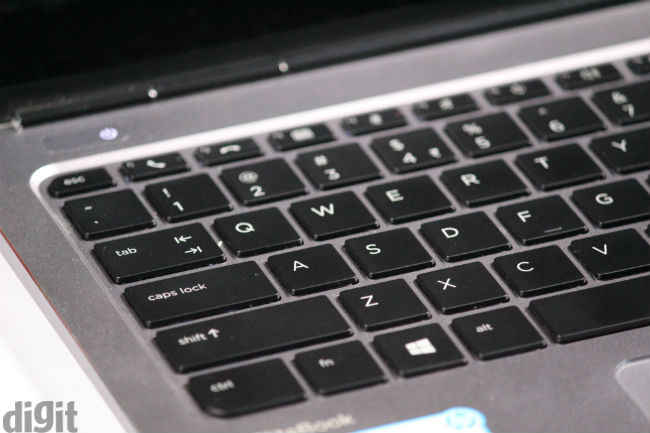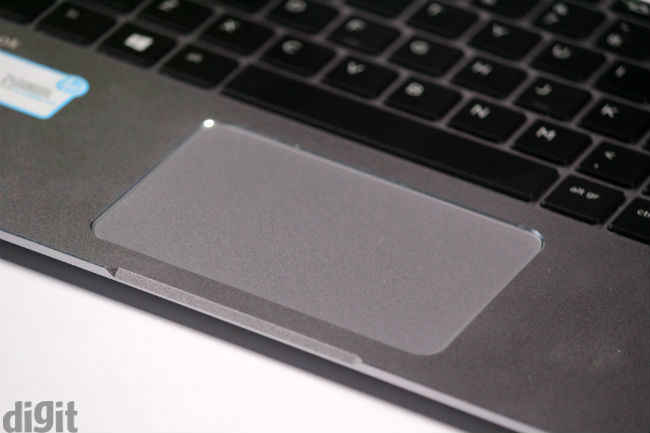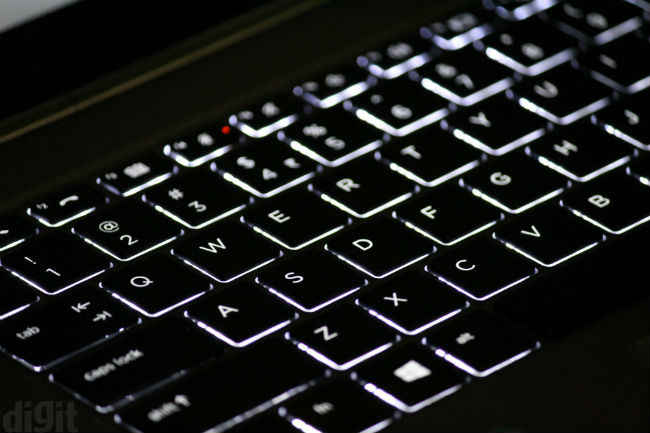 Moving to the touchpad, HP offers both the Microsoft Precision touchpad and the option to switch to Glidepoint touchpad. The Precision touchpad allows all Windows gestures, and I had no trouble using any of them, from two finger scrolling, to three finger tap to open Cortana.
There was however a hitch, in the fact that the Touchpad refused to scroll at times. It's quite annoying when that happens. At first I thought it was a device specific issue, but the problem persisted in the second unit that HP sent as well. I found nothing in the touchpad settings to change this, and the drivers were updated to the newest versions.
Display
The Indian variant of the Elitebook Folio comes with a 1080p display, however, HP can customise it to 4K on request. The 4K display on this device, which I saw on a recent trip, is considerably brighter than the 1080p on my unit. Nevertheless, the display on the HP Elitebook Folio is a mixed bag of good and bad.
Brightness and reflectiveness can easily be an issue with this screen. The best I found was 420 lux, at the centre of the display, and the display is dimmer near the corners. Furthermore, the viewing angles are affected by the reflectiveness of the screen. Strictly speaking, viewing angles are great, but you will see reflections of whatever's behind you, especially when using this laptop in outdoor cafes etc. To put it simply, you won't have issues while typing, hunched over it, but, lying back, watching videos, you may see distracting reflections.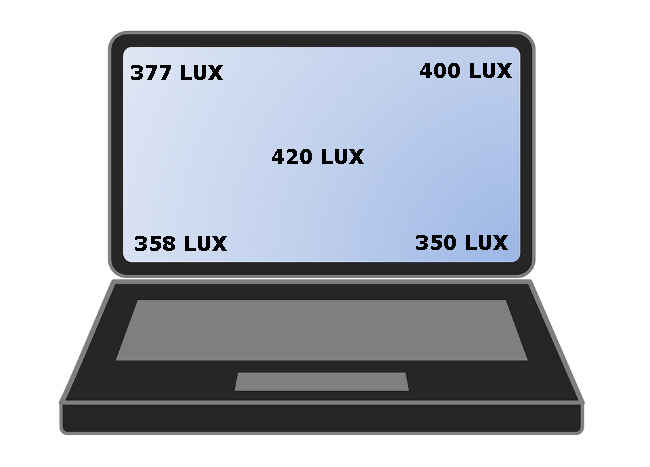 The image denotes luminance values for different areas of the screen.
Ideally, you would want a better display at these prices. The HP Elitebook Folio doesn't have a very bright display, nor is it the best with colours. The Microsoft Surface Pro 4 may not be an ultrabook, but it has a far better and brighter display. The Elitebook Folio would work for most business users, but it's not meant for editors.
Audio
HP has partnered with Bang & Olufsen for the bottom-firing speakers on this laptop. The fact that they're bottom firing automatically means they're not suited to being used on a bed. You should be fine using this on a desk, though. There's an in-built B&O app on the laptop, that provides an equaliser and presets for various music genres. It is turned on by default, and I didn't hear a significant difference by turning it off either.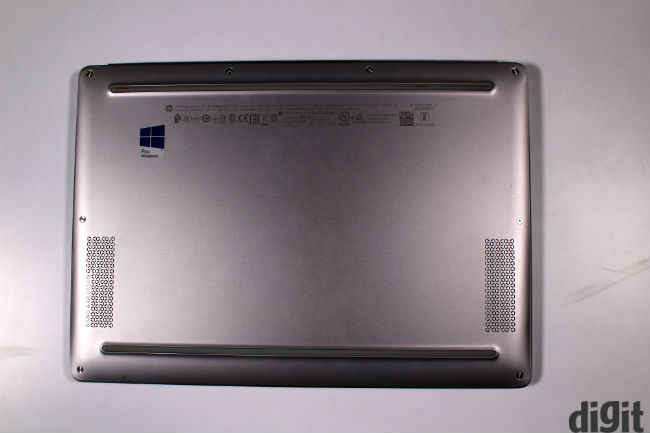 The laptop is loud enough to be heard in a moderately silent room, but not meant to be used outdoors, or even with a few people conversing around you. The audio quality, on the other hand, is quite crisp. You may hear some distortion at the maximum volumes, but for videos, movies and calls, it's clear enough by itself.
Performance
The HP Elitebook Folio is available with Intel's Core m5 and m7 vPro processors. These are low power processors, which are primarily meant for such thin and fanless designs as the Folio. In theory, the Core m series is not as powerful as the Intel iX series processors, but they do a fine job for business use cases.
My unit comes with a 256GB SSD, 8GB of RAM and the Intel Core m7 Pro processor, and it handles intense multi-tasking with ease. With a dozen Chrome tabs open, files being transferred on Bluetooth, and a video being played, the Folio refused to lag, which is perfect for an ultraportable laptop. It's performance can hardly be questioned and amongst Core m-powered ultraportable laptops, it is amongst the best.
It's of course not as powerful as an Intel i7 processor, but streaming HD videos on Netflix, working on Google Docs and Sheets and Microsoft Excel showed no issues whatsoever. It's worth noting that Microsoft Edge is better optimised for Windows 10, and feels a tad smoother than Google Chrome on the Folio and many other Windows 10-powered laptops.
The Folio's performance is exactly what you would expect from its specification sheet, and there's little to complain about, at least for a business user. It's a workhorse, and obviously not a gamer.
Heat
The low power m-series processors can be used without a fan because they don't generate as much heat. As a result, the Elitebook Folio is tough to heat up. In the hot Delhi summers, with the outside temperatures above 40 degrees celsius, I sometimes saw the bottom of the Folio go above 40 as well, but that's not abnormal.
Using this in an air conditioned room, the temperature on the keyboard and touchpad were never above 27 degree celsius, while the bottom approached 33 degrees after continuous video streaming for over an hour and a half. The 40 degrees I mentioned above was after two continuous hours of video streaming, without an air conditioned environment.
Battery Life
The HP Elitebook Folio lasts for about 7 hours on regular usage. It survived 4 hours of typing and browsing, along with two hours of continuous HD video streaming on Netflix. This is only average for the ultraportable laptop class, but ideally you can get 10 hour battery lives in this range as well.
This is especially important if you're getting the 4K model, which should give you considerably less battery life. Even with the 1080p model, you can't always leave the charging cable back at home.
Security and Other Software
The HP Elitebook Folio comes with HP's Client Security software, which allows you to use the company's Password Manager, drive encryption, and you can also use your phone to login to the laptop. You also get HP's Sure Start solution, which keeps a clean copy of your BIOS in case the same is corrupted or an attacker has gained access to it.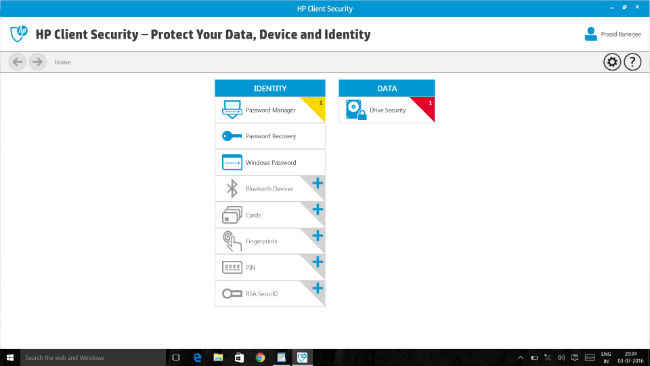 In some SKUs of the Elitebook Folio, you can also access Microsoft's Windows Hello feature, thanks to the infrared webcam that comes with them. For some reason, though, HP doesn't seem to be talking about them in India, perhaps because they aren't actually available. At over Rs. 1 lakh, that is quite a bummer. In fact, support for Windows Hello would have given HP an edge over competitors, none of which have an IR webcam.
Bottomline: Business and class…
The HP Elitebook Folio is easily amongst the best business class laptops today, but it's not the absolute best. You'd want a tad more battery life out of a device in this range, and the display can be a letdown for many. We'd recommend this to business professionals who work primarily indoors. It's a very good laptop for those who have to travel on business often, and it deals with Google Docs, Sheets, Word etc. like a boss. It looks and feels like a Macbook, and it's a good, but not ideal choice for Windows users. The Asus UX305CA can offer better performance and higher battery life in this range, while being just a little heavier.