VERDICT:
The Dell Inspiron 15R laptops with switchable lids start at around Rs. 35,000. At that price, the Inspiron 15R is a very good buy as a day-to-day laptop.
Dell Inspiron 15R: Look and Feel
The Dell Inspiron 15R (N5110) isn't drastically different looking in terms of design compared to the previous generation of Dell Inspiron 15R. The laptop has a similar protruding hinge on its back like the Dell Vostro V13 and Vostro V130 laptops. The previous Inspiron 14R and 15R laptops sported a glossy screen lid, but where the new Inspiron 15R differs is it allows you to change its screen lid with a variety of options Dell sells on its website. As a rule, Dell provides an extra glossy screen lid with every new Dell Inspiron 15R you purchase. We recommend buying a non-dark colour as dark colours with glossy surfaces attract a lot of fingerprint smudges. When it comes to switching the lids, the process is extremely easy and the lids fit and align onto the screen's back panel elegantly.
[RELATED_ARTICLE]The new Dell Inspiron 15R (N5110) sports a shiny black surface on its screen bezel, while the palmrest and the strip above the keyboard have slightly muted gloss on them — they still shine though. The keyboard deck has a shiny metal-like strip which adds a nice touch to the Dell Inspiron 15R's otherwise monotonous look. The laptop's build quality is fine, given the fact that the Inspiron is Dell's value-for-money laptop segment — the twin hinges on the spine secures the screen with the rest of the chassis pretty well. The Inspiron 15R weighs about 2.4-kg with a standard 6-cell battery, which is good for a 15-inch laptop, but don't have high hopes of carrying this to college or on your travels every now and then as it's frame is bulky.
Dell Inspiron 15R: Screen
The laptop comes with a 15.6-inch glossy WLED widescreen display with a 1366×768 pixel resolution. Just like any other glossy screen laptop out there, the Dell Inspiron 15R's screen reflects objects behind you — especially light sources — when its screen is black. Bright visuals diffuses the reflection a bit but you still have to train yourself to ignore the distraction. But glossy screens is pretty much the industry norm now, not an isolated exception on the Dell Inspiron 15R.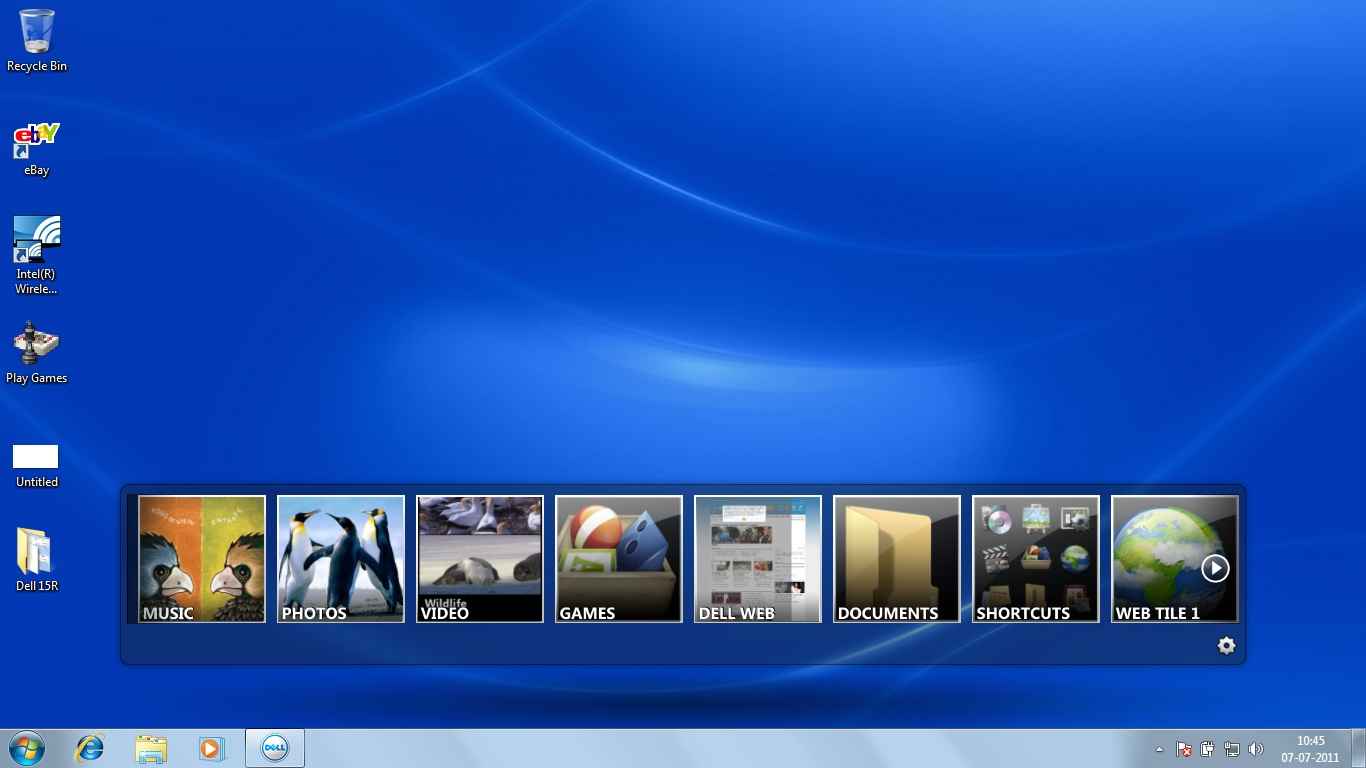 The laptop's screen is quite bright and evenly lit. Colors are washed out though, they don't seem optimally saturated. The Dell Inspiron 15R's viewing angles are ordinary, with noticeable colour shift when you watch an image from three different positions in front of the screen. But watching movies and videos is a good experience due to the screen's glossy layer — gaming too, for that matter, at native resolution. Reading text is comfortable. The Inspiron 15R comes with a webcam with face-recognition support and it's alright for video chatting.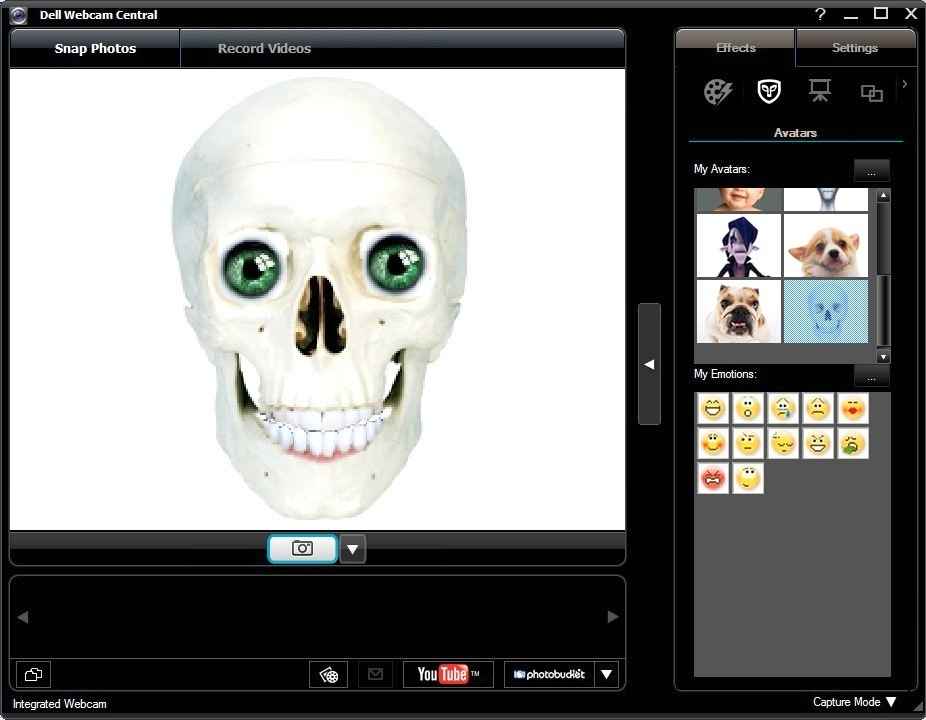 Dell Inspiron 15R: Keyboard and Touchpad
Dell has completely replaced the Inspiron 15R's keyboard. Gone are the previous closely-packed keys, instead you now find isolated, chiclet-styled keys on the laptop's keyboard. The chiclet key's touch on the Inspiron 15R is different from that on the Sony VAIO S, and it isn't as great as the Lenovo ThinkPad X1's keyboard, but it's good to use nonetheless. All the prominent and frequently-used keys are nice and big and work well, while the dedicated number pad on the right is a life-saver for someone who's used to entering numbers in a spreadsheet — nothing is out of place in the Dell Inspiron 15R's keyboard layout, as well. Keyboard response and feedback is good overall and it has a good amount of shortcut buttons — Wi-Fi toggle, turn of touchpad, multimedia buttons, etc.
The Dell Inspiron 15R's touchpad is nice and wide — it sits slightly shallower than the rest of the palmrest. It's smooth surface feels good on touch and the touchpad is quite sensitive, requiring only soft impacts for manipulating things on screen. The touchpad's multi-gesture enabled, allowing you to pinch to zoom, pan, scroll through pages and images. The Inspiron 15R's two accompanying mouse buttons are alright and work well.
Click next to read more about the Dell Inspiron 15R, its hardware, features, performance, and our verdict…
Also check out:
Dell Vostro V130 review
HP Pavilion G6 review
Lenovo ThinkPad X1 review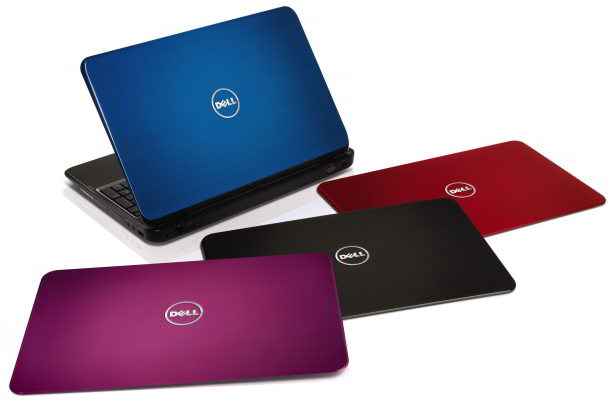 Dell Inspiron 15R: Hardware & Features
Like any other laptop released and reviewed recently, the 15-inch Dell Inspiron 15R sports the latest Sandy Bridge Intel Core i3-2310M 2.1-GHz dual-core processor (can be upgraded to Core i5-2410M), 4GB of DDR3 RAM, 320GB 5400rpm hard drive and dedicated Nvidia GeForce GT 525M graphics with 1GB of RAM. There's onboard Intel HD 3000 graphics as well, and Nvidia's Optimus automatic graphics switching support to intelligently use the two GPUs to give optimum battery performance. But for an entry-level Core i3 processor, the Dell Inspiron 15R is almost bumping shoulders with Dell's XPS range.
[RELATED_ARTICLE]The Inspiron 15R comes with most connectivity features, for an entry-level laptop. You get four USB ports — two are USB 3.0 compliant — HDMI out, audio jack, microphone in, eSATA port, 8-in-1 card reader slot, Ethernet and an 8x DVD RW tray-loading drive. These connection ports are spread across the laptop's chassis — left, right, and back spine — so as to avoid cable clutter to any one side of the laptop. There's no VGA out port, which is a bit sad if you have an old monitor or projector in the house. What's more, the Dell Inspiron 15R still doesn't support Gigabit Ethernet, making do with only 100Mbit LAN — a feature that can be dated back to the Inspiron 1525 sold in 2008. Wireless connectivity is taken care by Wi-Fi 802.11n and Bluetooth.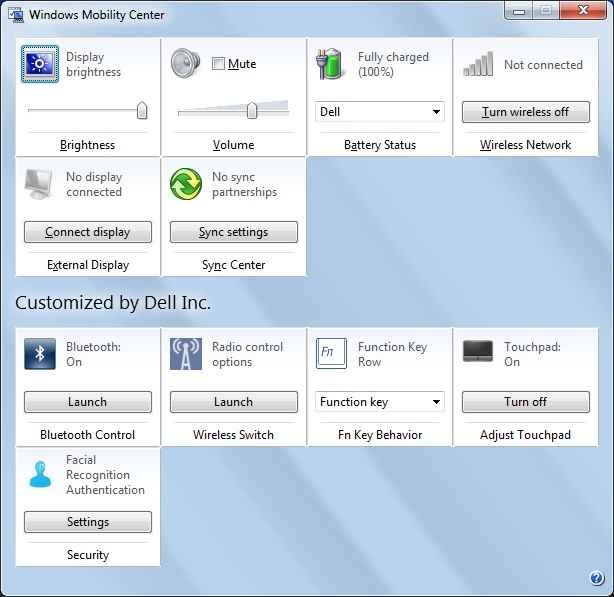 The Inspiron 15R comes with 64-bit Windows 7 Home Basic edition and one year warranty. Dell also equips the Inspiron 15R with some useful proprietary software like Dell DataSafe — for online backups of your personal data, free for a year; A dock on the desktop for quickly launching apps related to music, photos, videos, etc. Dell also provides quick-launch buttons above the Inspiron 15R's physical keyboard — one key launches the Windows Mobility Center, another launches Dell DataSafe and the third key turns off the monitor. These apps and keys no doubt come in handy every day.
Dell Inspiron 15R: Performance
The Dell Inspiron performed well overall, but it was a bit of a mixed bag. In our synthetic tests, it got a PC Mark Vantage score of 4839 which is a result of its entry-level processor, but it got a fairly good 3D Mark 2006 score 7752 owing to its promising Nvidia GeForce GT 525M graphics. For day-to-day home use, the Inspiron 15R's Core i3 processor will suffice for basic multitasking, nothing too strenuous. As long as you're not buying the Inspiron 15R primarily for video or graphics editing or 3D animation, you should be fine.
The Nvidia GeForce GT 525M bundled with the Inspiron 15R makes a good case for casual gaming on the laptop. We played Far Cry 2 at 1024×768, medium settings at 40 fps — which isn't awfully bad. At low settings, and with low expectations, you may even get away with playing newer games on the Dell Inspiron 15R.
Watching HD movies and videos — both 1080p and 720p — went largely well on the Dell Inspiron 15R. We weren't particularly impressed by the laptop's onboard audio, it's loud enough to be audible in a medium-sized room but not crisp. However, plugging in a pair of external speakers solves that problem.
Coming to the Inspiron 15R's battery, we think it's about average for a 15-inch laptop at this price range. On dedicated Nvidia GeForce GT 525M graphics, the six-cell battery lasted 1 hour 33 minutes, while it delivered 2 hours 11 minutes of usage on Intel HD 3000 graphics — we looped a video at high performance mode with full screen brightness and 100% volume. Expect the battery to go past 3 hours while browsing the Web over Wi-Fi on a conservative power plan, which isn't bad at all for a 15-inch laptop.
Bottomline
The Dell Inspiron 15R laptop we got for review sells for a price of Rs. 41,000 — although the range with switchable lids starts at around Rs. 35,000. At that price, the Inspiron 15R comes with the same processor, 3GB RAM, 320GB hard drive, and only onboard Intel HD 3000 graphics — connectivity, other features remain same. A very good buy as a day-to-day laptop for Rs. 35,000.
But the laptop configuration we tested (selling for Rs. 41,000) is a little hard to decide. An entry-level processor, slow hard drive paired with a good dedicated GPU — somewhere there's a mismatch. And omitting features like VGA out and Gigabit Ethernet is also inexcusable. But overall, the new Dell Inspiron 15R is a good update to the company's entry-level laptop with a trendy switchable lid feature which its competitors lack.
RATING: 3/5
Also check out:
Related Reviews:
Dell Vostro V130 review
HP Pavilion G6 review
Lenovo ThinkPad X1 review
Related News:
Dell launches updated Inspiron 14R and 15R laptops, with interchangeable ethnic lids
Dell XPS 15z, the thinnest 15-inch laptop in the world, expected in India soon
Dell launches four new Vostro 3000 laptops in India, with Sandy Bridge processors
Dell announces the latest generation of Latitude series of laptops

Test Scores Log Sheet

| | |
| --- | --- |
| Brand | Dell |
| Model | Inspiron N5110 |
| Warranty (months) | 12 |
| Price (Rupees) | 41000 |
| Features | |
| Component Specifications | |
| Processor Model No | Core i3-2310M |
| Processor Speed (MHz) | 2100 |
| RAM (MB) | 4096 |
| RAM Type | DDR3 |
| Memory Speed (MHz) | 1333 MT/s |
| Chipset | Intel Cougar Point QM67, Intel Sandy Bridge |
| Graphics Solution | Nvidia GeForce GT 525M / Intel HD 3000 |
| Dedicated Video Memory (Y / N) | Y |
| Dedicated Video Memory Size (in MB) | 1024 |
| Audio Chipset | Intel Cougar Point HDA |
| Storage size (in GB) | 320 |
| Drive type (HDD/SSD/other) | HDD |
| Optical Drive Type / Speed | DVD RW / 8x |
| Bundled OS | Win 7 HB 64-bit |
| Characteristics | |
| Screen Size (Inches) | 15.6-inch |
| Type of LCD | WLED backlit |
| Screen Resolution (Native) | 1366×768 |
| Weight (Kg) | 2.38 |
| No. of USB ports | 4 |
| No. of FireWire ports | 0 |
| USB 3.0 (Y/N) | Y |
| Connectivity (LAN / Bluetooth / Wi-Fi) | Y/Y/Y |
| E-Sata (Y/N) | Y |
| Display output (VGA/DVI/HDMI/Display Port) | N/N/Y/N |
| Memory Card Reader (Y/N) | Y |
| Type of Memory Cards Supported | 8 |
| Inbuilt Webcam (Y/N) | Y |
| Webcamera resolution (in megapixels) | 1 |
| Build, Ergonomics and Usability (So 10) | |
| Body | 6.5 |
| Keypad | 6.5 |
| Lid, movables | 6 |
| Keypad Tactile Feedback (So 10) | 6 |
| Key Layout, bevelling, spacing & Usability (So 10) | 5.5 |
| Shortcut Keys/Switches (So 10) | 6.5 |
| Trackpad ergonomics, size, position (So 10) | 6.5 |
| Trackpad accuracy (So 10) | 7 |
| Biometrics (fingerprint/face) login (Y/N) | N |
| Wi-Fi On/Off Switch or Button (Y/N) | Y |
| Dedicated Bluetooth On/Off Switch or Button (Y/N) | N |
| Dedicated TouchPad On/Off Switch or Button (Y/N) | Y |
| Performance | |
| Synthetic Scores | |
| PC Mark Vantage | |
| PC Mark Score | 4839 |
| Memories Score | 3346 |
| TV and Movies Score | 1987 |
| Gaming Score | 4560 |
| Music Score | 4710 |
| Communications Score | 4721 |
| Productivity Score | 4625 |
| HDD Score | 2601 |
| 3D Mark 2006 | |
| CPU Score | 2512 |
| Graphics score | 3109 |
| Overall Score | 7752 |
| Maxxon CineBench R11.5 (CPU score) | 2.02 |
| WinRAR 3.9 (Compression / Decompression benchmark) | 1968 KB/s |
| Wi-Fi Signal Strength Test (Zone 2) | |
| Real World Tests | |
| Battery Life Test (in minutes) | 93 on Nvidia / 131 on Intel GFX |
| Speaker Quality (at 50% volume) (So 10) | 4 |
| HD Movie Viewing (using VLC) (So 10) | 7 |
| DivX Encode 7.0 (.VOB to .Divx, default mode) | 46.6 |
| File transfer Test (4 GB test file-sequential) (Sec) | 203.7 |
| File transfer Test (4 GB test file-assorted) (Sec) | 214.6 |
| PassMark Wireless Mon 3.0 Signal Strength | – |
| PassMark Wireless Mon 3.0 bandwidth | – |
| Doom 3 (fps) (800×600, medium detail) | 180.6 |
| Far Cry 2 (fps) (1024×768, medium detail) | 40.23 |