Asus ZenBook Flip UX360CA detailed review
Convertible laptops are funny devices. Think about it, laptops were originally meant to be portable. Then they made them smaller, and then they made tablets to replace laptops all together. When none of that worked, we got convertibles, laptops that are meant to be tablets too. Anyone see an error there?
Nevertheless, while the convertible bit may be a gimmick, these often make for fine ultrabooks. And recently, Intel's M-series processors have become mighty popular with such devices.
The Asus Zenbook Flip UX306CA is one of those laptops.
Build and Design
If you've seen its photos, you're probably drooling over the design. I know I was. That's until I actually unboxed it. The Zenbook Flip is a decent looking laptop, and at just about 14mm and 1.3kg, it just about qualifies as "ultra" portable. The best way to describe the Zenbook Flip's looks, though, is pretty but boring. Also, 1.3kg is light enough for a bag, but not enough to be held comfortably in the hand as a tablet.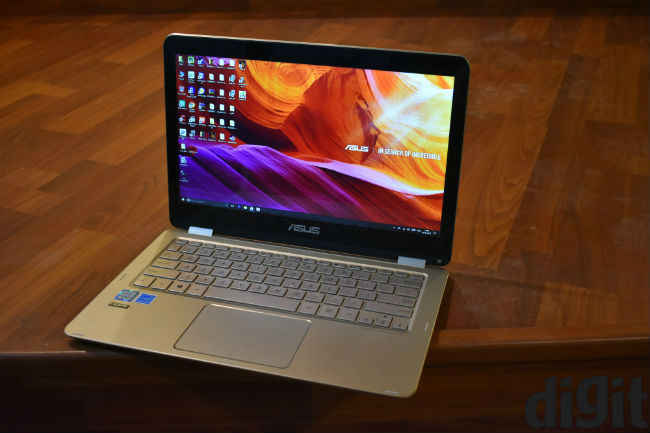 The Asus Zenbook Flip UX360CA is pretty but boring to look at
This is also a different design from Asus' usual. The sharp edges from other Zenbooks are replaced by a rounder profile, and it feels like a single block of aluminium indeed. The concentric circles still remain, though.
We did have some issues with Asus' design, though. The first- while convertibles understandably need flexible hinges, on the laptop mode, which is how you'll be using it most often, the hinges on the Zenbook Flip's screen have too much play and the screen wobbles when using touch commands.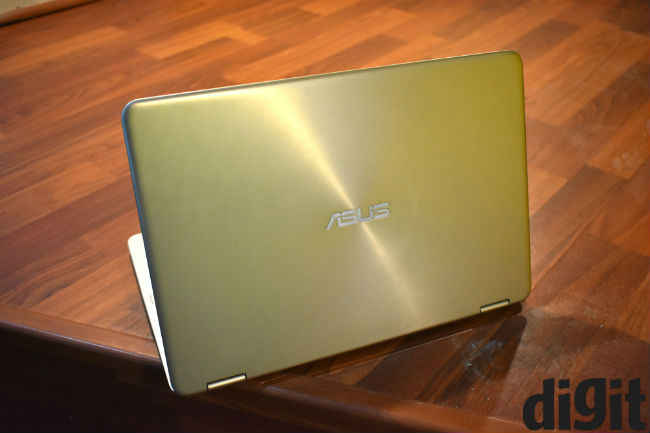 Asus' concentric circles design continues on this one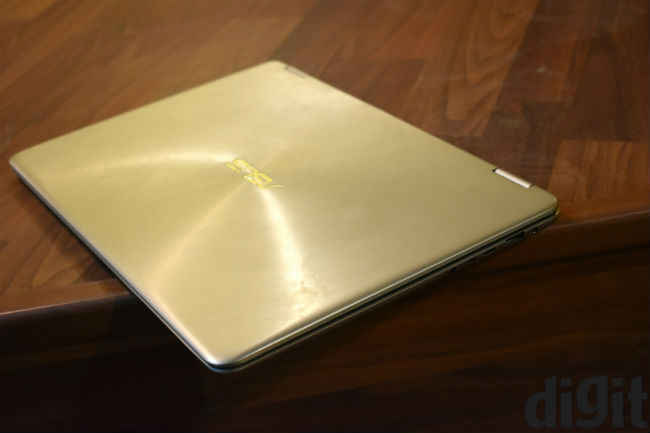 The edges are more rounded than usual Asus machines
Next, speakers on the laptop are at the bottom, which means they're muffled when using it in the tablet mode. Yet another reason why you won't be using it so.
Overall, the Zenbook Flip UX360CA is well designed from an ultraportable point of view, but there are definite holes from a convertible point of view.
Ports and Buttons
The added thickness on the Zenbook Flip allows a good portfolio of ports. There are two USB 3.0 ports, one on each side, a USB Type-C port, a micro-SD card slot, and a 3.5 mm headphone-mic socket. There's also a micro-HDMI port for those who need it.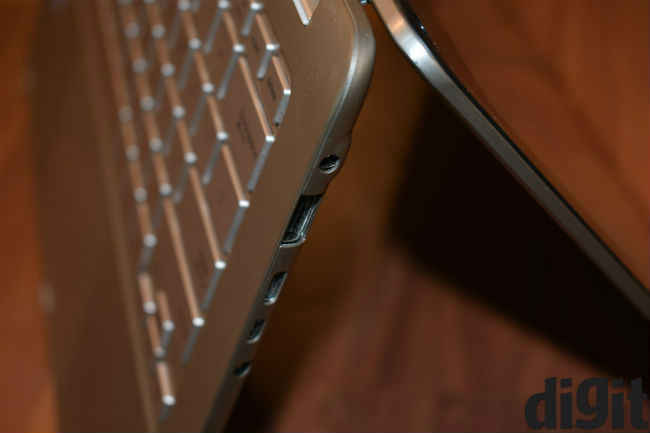 The Zenbook Flip is one of the only ultraportables with enough ports.
Of the ultra portable laptops we've reviewed recently, the Zenbook Flip UX360CA is the only one that provides a favourable number of ports.
However, button placement is somewhat irksome. The volume rocker and power button are on the left side and we often found ourselves pressing the power button inadvertently.
Display
Asus sells only the 1080p variant of the UX360CA in India and for the most part, it does the job. Colors look nice with 97% of the sRGB gamut and 71% of the NTSC gamut. This is in line with Asus' claim of 72% NTSC colour.
However, it's dim and glossy, which really gets in the way of outdoor usage. In fact, even watching movies indoors can be problematic sometimes when your reflection shows up more often than needed. It is evenly lit, but maximum luminescence of 214 Lux just doesn't cut it.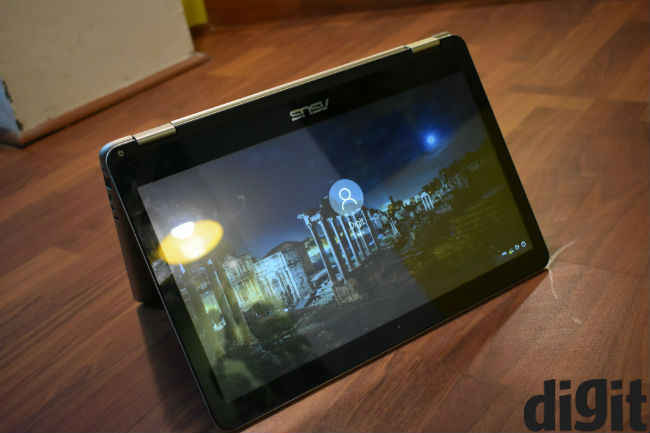 The display on the Asus Zenbook Flip is too dim to be likeable.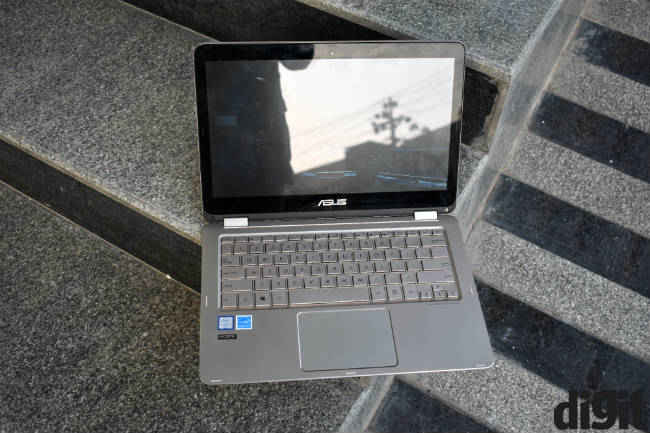 No, the display isn't turned off here. It's actually at nearly full brightness.
The glossy and dim display creates an underwhelming experience overall, diverting attention from the impressive colour and contrast.
For example, watching a 5GB rip of Avengers on this machine, most of the darker scenes look bad, since you will see your reflection most of the time. Skin tones and other colours look nice, but you won't notice that since the brightness is low. It also affects viewing angles, since light reflects differently from different angles.
Keyboard, Touchpad and Touch Response
Despite above-average thinness, the keyboard on this device is quite impressive. Key travel and pitch are good so that you can type fast without a steep getting used to period. However, key feedback could perhaps have been slightly better.
The keyboard is also not backlit, which is disappointing for a laptop that costs almost 60k. Plus, the keys don't retract when you tilt the display past 180 degrees, which makes it uncomfortable when using as a tablet. Yet another reason to not use the tablet mode. It is however turned off automatically, which is good.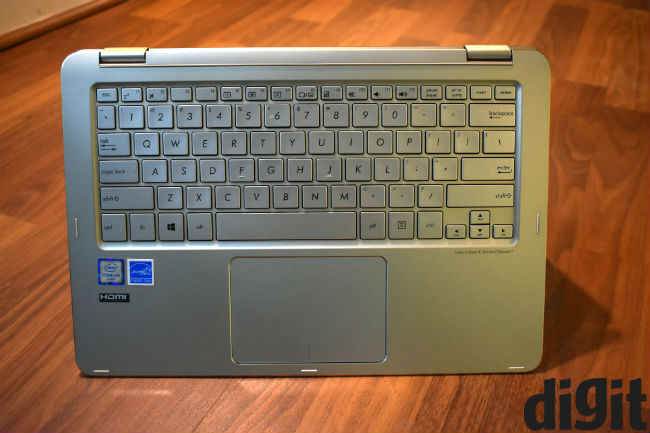 The keyboard works for the most part, but perhaps key feedback could have been better
The touchpad also functions as it should about 85% of the times. Windows gestures responded for the most part, but sometimes it registered clicks instead of two finger scrolls. It recognises left and right clicks based on where you're pressing, but isn't very tactile.
On the other hand, the screen's touch response is admirable. While Windows is still not well suited to touch-based usage, if you have to, this one works as well as any tablet out there.
Performance
There are a few things worth noting about the Flip's performance. The Indian variant runs on the Intel Core M3-6Y30 processor and 4GB of RAM. On paper, that may not sound like a lot of power, but if you consider the price to performance ratio, this is actually still reasonable. For average users, it's difficult to pinpoint where you're losing out.
This means the Zenbook Flip is fast enough to run 12 or more tabs on Chrome at the same time, while running six Chrome extensions and Microsoft Word in the background. For a regular user, even business users for that matter, the UX360CA should suffice. It's obviously not a gaming machine, even for casual gamers, but the Intel HD 515 GPU can handle mobile games, like Asphalt 8, satisfactorily.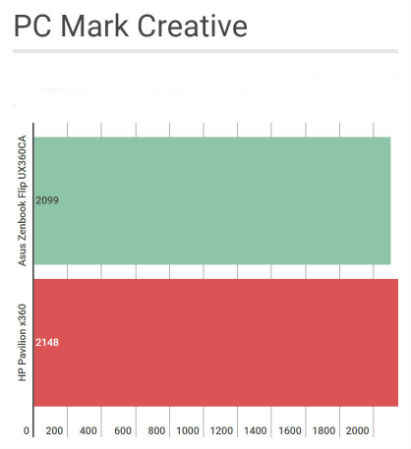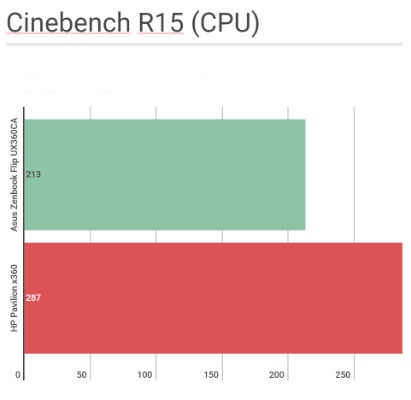 While the Zenbook Flip UX360CA isn't suited for gaming or demanding editing software, it can handle video playback well. You can play the highest resolution video, or stream on Netflix, without any lags or stutters.
The Flip's has a 512GB SSD inside, which takes about 30 seconds to transfer a large 5GB file from one folder to the other. A collection of files worth 20GB takes over 2 minutes, at a leak speed of 17 MBps. That is slower than ideal, but not really a big issue.
As far as heating is concerned, passive cooling on the UX360CA works better than expected. It takes some doing to get this laptop to heat up, but it can get warm on the underside, with temperatures of about 40 degrees celsius recorded on the body. However, the keyboard and touchpad never got hot enough to be uncomfortable. Passive cooling makes the laptop quite silent as well.
Audio Quality
Beds or similar surfaces will muffle the bottom-mounted speakers, but the speakers are just about loud enough in other cases. For a laptop, the audio quality isn't decent, but you'll need headphones if you want high quality audio. The speakers will work if you need to share a presentation with someone, or watch a quick video on YouTube, but that's about it.
Battery
The Intel Core m3 is a low power processor meant for better battery performance. While you're not looking at 10-hour battery life on this device, it will last for about 6.5 hours on continuous video streaming at 720p or below.
On mixed usage, with web surfing, typing on Google Docs, and an hour of video streaming, the laptop lasts for about 7 hours. It lasts for 5 hours and 20 minutes on PC Mark's Work battery test, which is quite good.
Bottomline
While the Asus Zenbook Flip UX360CA is a well-rounded laptop, it isn't the best you can buy at this price. If you're spending nearly Rs. 60,000, the HP Pavilion x360 runs on the 6th-Gen Intel Core i5 with a 1TB HDD. It also has a brighter display. The Flip is better as far as portability is concerned, and if that is your priority, then the compromises may still be worth it. The Asus Zenbook Flip UX360CA is definitely worth considering, but not the best you can buy.
Asus ZenBook Flip UX360CA Key Specs, Price and Launch Date
| | |
| --- | --- |
| Price: | |
| Release Date: | 08 Sep 2016 |
| Market Status: | Launched |