VERDICT:
For the configuration we received, the price of Rs. 98,900 makes the Air an expensive proposition, and not value for money. However, that discounts the fact that it is a much better package, and a beautiful, upmarket piece of equipment. This is one of those products you buy, when your heart rules your head, and your wallet, which is the fraternity Apple caters to.

For us, 13-inches wasn't really small – a fact Apple seems to have addressed this time. The new Air comes in two sizes – 11-inches and 13-inches. We feel the 11-inch model is a very good idea because it no matter how slim a 13-inch notebook is, the footprint itself is pretty big. And for the money, people are going to expect a smaller device. However, for those who need a bit more screen real-estate, the 13-inch model should please.
Look and feel: metallic!
On first glance, the MacBook Air is lovely. It's damn slim and curvy in the right places. Grudge Apple all you will, but their designers really know their way around a hunk of aluminium. Three years down the line, the unibody is still a gorgeous piece of equipment, and the lid and body are rigid – having been shaped out of single blocks of aluminium. Close the lid, and you'll realise how slim the new Air is. We received the slightly larger 13-inch version, that should look slimmer than the 11-inch one, owing to its dimensions being larger (their thickness is identical).
The neat cutaway for your thumb to lift the lid reminds you again of how thin the body is. The lid is also really slim thanks to LED backlighting. Kudos to Apple for shoehorning hardware into such a trim package. Copying the body design by others, should be as easy as achieving the aerodynamics of an Enzo, few competitors will even try. As we've seen, from more than two years of hands-on with these notebooks, the aluminium body wears extremely well, which err…means it doesn't wear at all.

The bezel around the display is also aluminium. The edge of the palm-rest is not as sharp as earlier Mac Books, this is especially important because it represents an old nit our sore wrists had with Apple. And finally the multi-touch trackpad makes a badly needed appearance – a huge plus. The trackpad is pretty responsive and very accurate – much more than any Windows notebook. However, for image editing, where fine grained control is needed, it's still deficient. Compared to other Mac Books, we feel the click on the Air's trackpad has less travel and feels more tacky and unintuitive, as opposed to positive and meaty on the MacBook Pro. The less travel could be a result of the slimmer profile, (less space), but the tackier response smacks of cost cutting. A memory card reader is standard.
[RELATED_ARTICLE]Open her up, and the Air is a sharp looker. The keypad is the same size and layout as the MacBook Pro, and there's enough space around the sides to ensure the 11-inch version would be identically sized and spaced. The keypad is a segregated design and exudes good feedback, and the keys, although not bevelled, have sufficient spacing to make up for this. Usability is good. The keys are not backlit. This is a major pain, after getting accustomed to the funky and and very utilitarian backlighting on the MacBook Pro. More battery conservation? In fact, I'm writing this in the wee hours, with minimal light, and the backlit keypad on the MacBook Pro is a godsend. Incidentally the ambient light sensor is also missing, therefore, the display doesn't dim/brighten automatically.
While Apple got the display resolution right (1440×900 pixels), they've gone cheap on the quality of the panel. Colours look washed out, contrast is minimal, and on maximum brightness, the blackness level is very mediocre. Even the older MacBooks have much better displays, and this is a mile behind the beautiful display of the MacBook Pro. We also expected an optical drive, there's surely need for it. Apple's reason for omission is moving parts consume more power. Sure – but better power management will ensure minimal drain, and hey Apple! – It's not like drives spin up by themselves. Once again the Air trades versatility and functionality for slimness and (alleged) power saving.

Sore points aside, this will attract attention akin to a Ferrari on Indian streets. However, the innards of the Air are anything but Ferrari-grade, although Apple seems tried this time. The charger is smaller than the MacBook Pro, and of a slightly lower rating than the 13-inch MacBooks. The charger cable is also thinner, and Apple has used the new design charger, that when fitted to the notebook, routes the cable behind it, rather than protruding from the side.
Click next to read about its performance and our final take
Performance
This Air comes with a 1.86 GHz Core 2 Duo – not bad, considering its slimness, anything more would cause heat issues. The graphics solution is a pretty robust NVIDIA GeForce 320M running of a PCI (why?) bus, with 256 megabytes of video RAM. This should suffice for casual gamers, and is definitely a cut above Intel's integrated solutions. 2 GB of DDR3 RAM might seem a bit slim, but we keep reminding ourselves that the Air is a Ferrari on the surface only. Snow Leopard is pretty good with memory management so this should not be a huge issue. The real surprise, (not really, considering Apple's moving-parts theory), is the inclusion of a 256 GB SSD, this obviously saves on space as well as improving read performance. Downside is, it adds to the price, big time!
The first inkling of an SSD is the boot-up time – very fast; faster than the MacBook Pro by a good margin. We measured 12 seconds, while the MacBook Pro takes a little over 20 seconds. Applications open very quickly, and opening multiple applications and windows is snappy. As mentioned, the display quality is a let down. Pointer trail is also visible albeit barely, but this is the case with all Mac Books.
[RELATED_ARTICLE]As per the testing done, the storage system is indeed speedier, and file transfers to and fro are as much as 70 per cent faster than non-SSD Mac Books, making the Air an ideal proposition for working with many apps and switching between them. Remember that notebook hard drives typically spin at 4,200 rpm or 5,400 rpm – much slower than their desktop counterparts, therefore the difference with an SSD is even greater. However, with an "L" (low power) series CPU, it's clear the Air is not intended to be a performance heavyweight, and in this regard, it lags behind other Apple notebooks, though a slouch it is not.
The GeForce 320M means it's good with graphic-based applications, and the possibility of using the mini DisplayPort to connect to a large TV for 1080p movies is very real. Don't try any taxing games though – you'll be disappointed. But the overall multimedia potential is very good, and the Air has the innards to handle semi-pro sessions with PhotoShop.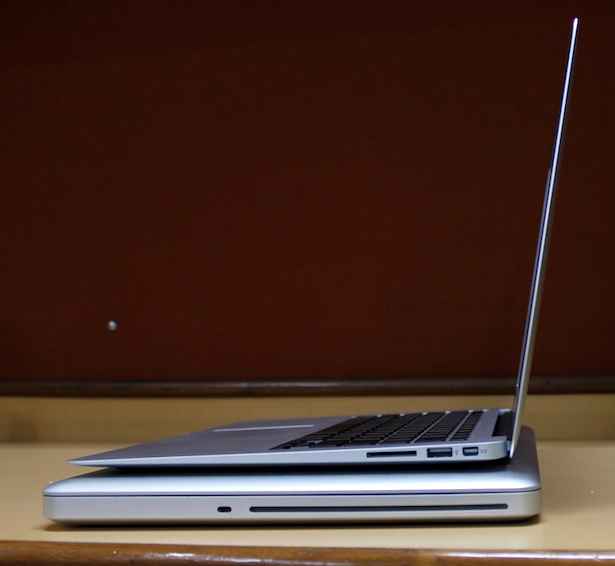 While the small dimensions and lower weight dictates the sealed battery holds less juice, the optimised components mean it doesn't need the extra power. In reality, we watched a 720p version of Kingdom Of Heaven, a 2 hour, 20 minute movie at 100 per cent battery charge and 100 per cent display brightness and volume, and saw a drop of 40 per cent after it was over. We then browsed for an hour, using Wi-Fi, during which, we copied this movie to an external drive. Battery life fell to 47 per cent. If you're browsing, using Wi-Fi, you would get well over 4 and a half hours, on the 13-inch version. Pretty darn good, almost at par with netbooks, with undoubtedly better hardware.
Conclusion
With a 256 GB SSD, cheap is a dream, affordable, a considerable accomplishment. Apple fails both – Rs. 98,900 made us flinch as well. No, the Air is not terrible value for money. It's got good hardware, is very sleek, and we suspect a few richer people and Apple fans will storm in and buy one. It's also usable and functional, with 2 USB ports, a great keypad and trackpad. However, at this price, you can pick up a MacBook Pro, with better hardware; but then you lose a bit of portability, and a lot of show. Either way, you are going to compromise, and there are a few shocking omissions on the Air. Mediocre display, no-backlit keys, no optical drive and a seemingly tacky trackpad. The good is that there is nothing like it out there, though you pay pretty penny for exclusiveness and an Apple moniker!
But wait. There are two configurations. A smaller 128 GB SSD in lieu of the 256 GB one reduces the price to Rs. 79,900. You can, of course configure the 13-inch Air to over a lakh, by decking it with a faster 2.13 GHz processor, and 4 GB of RAM. This still falls short of the Core i5 MacBook Pro, but it's powerful hardware in a small shell, and moneyed people looking for a lifestyle product will swing the deal. We suspect the 11-inch version might actually garner more votes from a generation obsessed with petiteness, especially since it's quite a bit cheaper too.
Specifications: CPU: Core 2 Duo L9400 (1.86 GHz); RAM: 2 GB DDR3; Graphics: NVIDIA GeForce GT320M (256 MB); Storage: 256 GB SSD; display: 13-inch, 1440 x 900 pixels; weight: 1.32 kgs
Rating:
Features: 7.5
Performance: 7
Build: 9
Value: 5
Overall: 7.5
| | |
| --- | --- |
| Brand | Apple |
| Model | MacBook Air |
| Price (Rs) | 98,900 |
| Features | |
| Components | |
| Processor | Intel Core 2 Duo L9400 |
| Processor Speed | 1.86 GHz |
| RAM (memory / speed) | 2 GB / 1067 MHz (DDR3) |
| Graphics Solution | NVIDIA GeForce 320M |
| Hard disk space | 256 GB |
| Monitor size | 13 |
| Monitor resolution (pixels) | 1440 x 900 |
| Ports and expansion | |
| No of USB ports | 2 |
| No of eSATA ports | 0 |
| No of FireWire ports | 0 |
| No of DisplayPort / Mini DisplayPort | 0 / 1 |
| Memory Card reader (Y/N) | Y |
| Performance | |
| Speakers (out of 10) | 7 |
| Geekbench Overall Score) | 2690 |
| Xbench | 159.07 |
| Cinebench R11.5 | |
| OpenGL | 12.85 |
| CPU | 1.1 |
| Time taken 4 GB Sequential | 58 sec |
| Time taken 4 GB Assorted | 81 sec |
Contact: Apple India
Email: indiasales@mac.com
Phone: 080-2574-4646
Website: http://www.apple.com/macbookair/
Price: Rs. 98,900 (MRP)