VERDICT:
The Acer Spin 1 has a combination of features that you might not get in any other laptop in the same price range. It compromises on performance and overall build quality, delivers with an impressive screen and MS Office pre-installed. It's a laptop worth considering.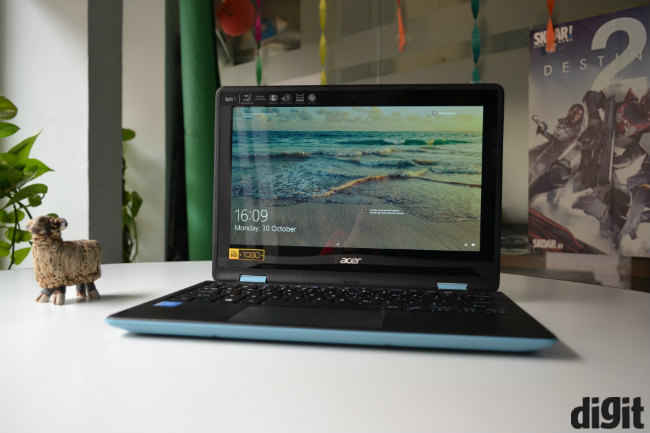 Specifications of our test unit
Display: 11.6-inch, 1920 x 1080p
CPU: Intel Pentium 4200
GPU: Intel HD 505
RAM: 4GB
Storage: 500GB
OS: Windows 10
MS Office bundled
Build and Design
Being a budget centric machine, the Acer Spin 1 tries to offer the right mix of specifications and build and quality. This means that the Acer Spin 1 ends up making some compromises in order to keep the cost low. Our test unit is the turquoise blue colour. There's a denim-like texture on the front and back of the device, which gives it a premium look and feel for its price. The keyboard deck and the frame around the display are also textured but have a black exterior only.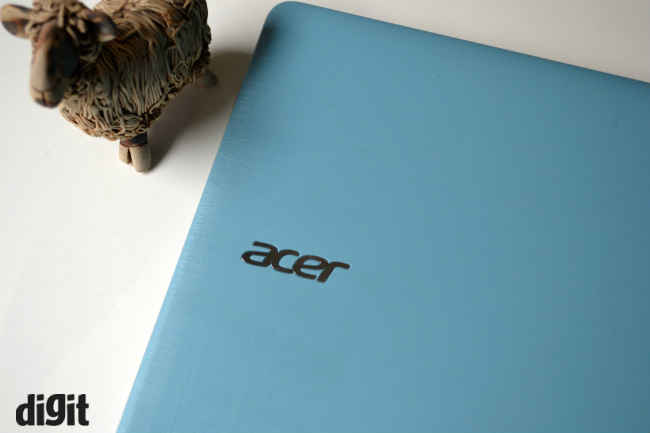 Being a part of the Spin range, the display can rotate to a full 360 degree on the hinge, making it an 11.6-inch Windows tablet. Hence, the display has thick black bars running around it making it easier to hold in tablet mode. Acer has put some effort into designing this machine. For example, the keyboard deck curves towards the display, giving the user better grip when holding the laptop in tablet mode with one hand. The hinge itself is quite stiff, which is a good thing as their is no discernible wobble in the display when you touch it in normal laptop mode.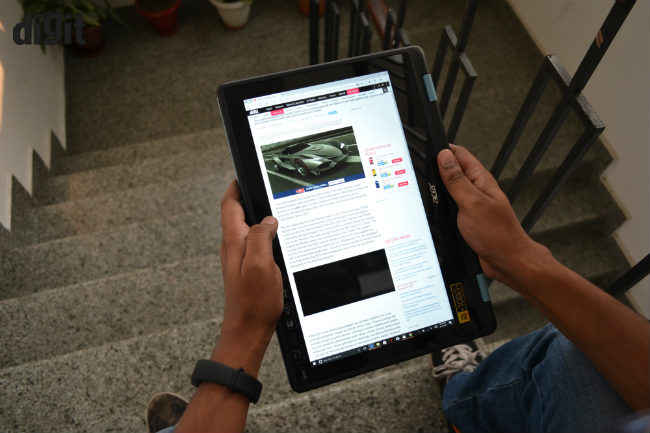 There is some flex, both in the display and the body, but considering the price and specifications it offers, we believe Acer has done a decent job nonetheless.
Display and I/O
The Acer Spin 1 also impresses in the display department, as the machine features a full HD display, which on a 11.6-inch screen size looks crisp. It has decent colour fidelity, covering 100% of the sRGB gamut and 76% of NTSC. It is also reasonably smooth to touch, thanks to Gorilla Glass. Using an IPS LCD panel enables the laptop to offer good viewing angles. It is however not very bright and you will have a hard time understanding content on the display under direct sunlight. That being said, the display remains reasonably legible outdoors, under overcast conditions, or under shade. There is also minor light bleed, but it does not hinder your viewing experience, unless you are watching something in complete darkness.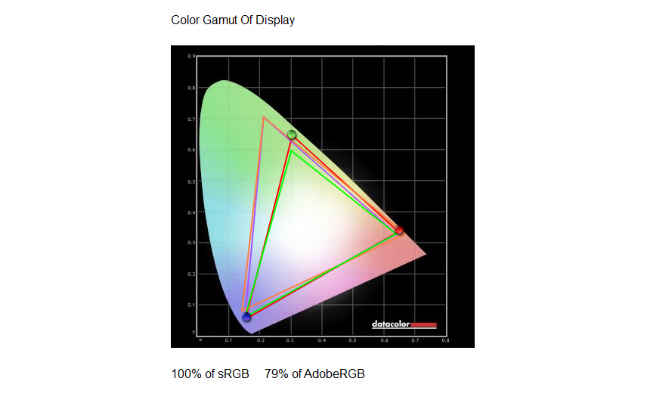 Further, the display supports touch input quite well. The laptop can be used in tablet or tent mode to watch videos or just browse the web. However, we would suggest you change the scaling layout from 100% to 150% to make the interface a little bigger for touch usage. Of course, Windows still struggles to offer a quality tablet experience, since there are only a few apps that offer seamless touch support.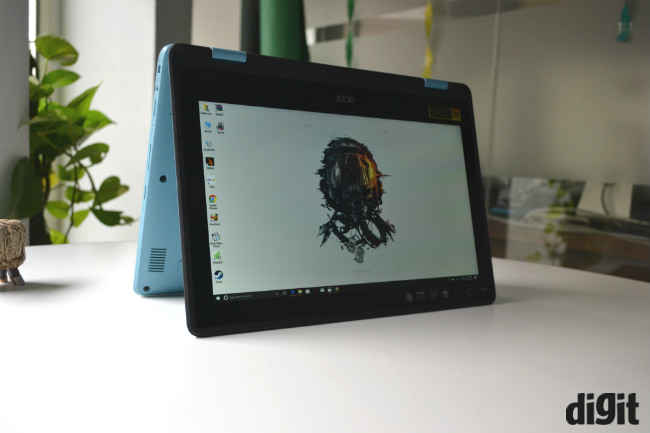 Like the display, the I/O selection is also nothing short of impressive. On the left side of the laptop, we have the HDMI out, USB 3.0 port, two USB 2.0 ports and a microphone and headphone jack. On the right side, there's just a microSD card slot and the barrel power pin jack. Since this is a convertible, the power and the volume keys are also located on the right. While we like the layout, a proper SD card slot instead of a microSD would have made more sense.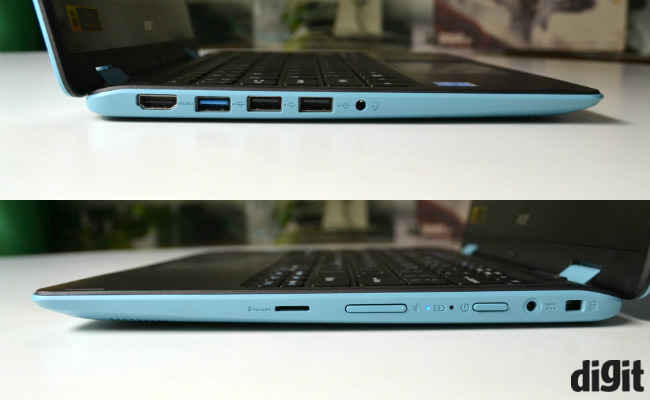 Keyboard and touchpad
The 11.6-inch Acer Spin 1 features a fairly usable chiclet style keyboard. The keys are slightly textures, which offers good control over the keyboard and they press down with no audible sound. They are soft to press, have an early actuation point and do not bottom out consistently across the keyboard. It is not a big issue, especially considering the price, but it is something a touch typist would consider before buying this.
As for the keyboard layout, we still don't like the dual-function top row for quick toggles, which requires you to hold down the 'Fn' key to use. The integration should be the other way around. Due to limited space, Acer has moved the brightness controls, volume control and 'pg up' and 'pg dn' keys to the arrow keys. On top of that, the keys have been shrunken down to half the size. This means you will need to be very careful while typing and moving the cursor, otherwise you would end up on the next page. Moving the cursor across words with "ctrl + right arrow" sometimes ended up with "fn + right arrow", which incidentally toggles brightness.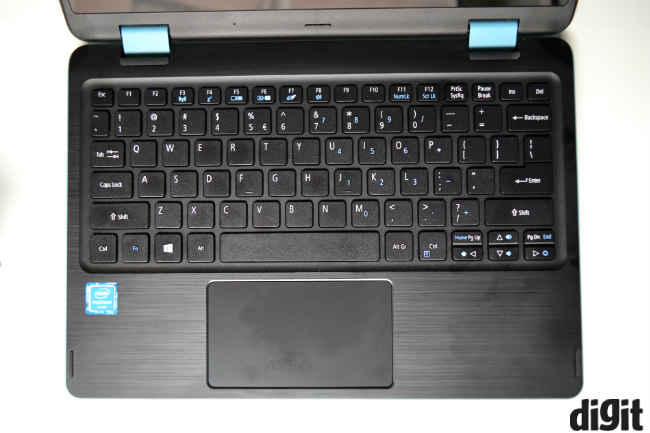 On the other hand, the touchpad is far less confusing and though it's small, it works just fine. The matte-ish touch area tracks works well with drag and drop gestures. We did not observe any resistance and the touchpad is quite smooth for a laptop in this budget category. The left and right clicks are not well pronounced and rather short, but satisfactory.
Performance
Our test machine is powered by an Intel Pentium N4200 processor, which combined with 4GB of RAM, has enough performance to take on day-to-day applications. The laptop is happy to just chug along when you use the pre-installed MS Office suite or just surf the web. Technically, the 1080p panel is not very helpful from a performance standpoint, but if you like watching (streaming) videos, you won't complain. The laptop can handle all popular video codecs and audio output via the its two bottom firing speakers is decent.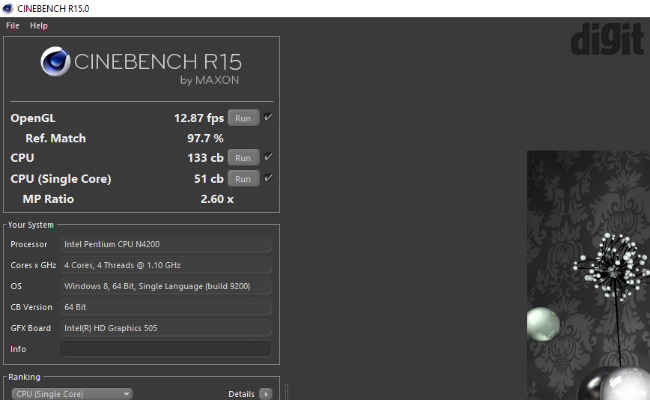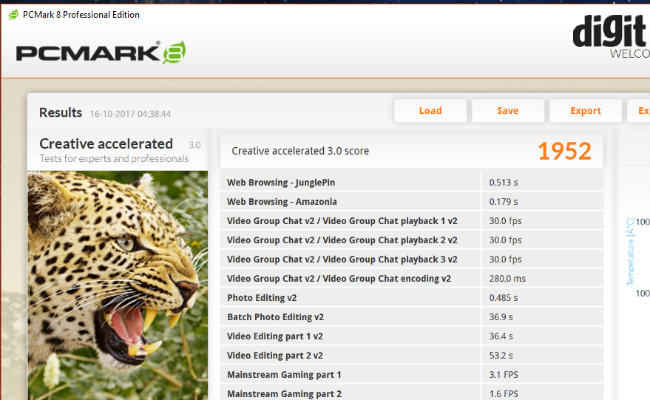 However, if you are expecting Core i3 level performance then you would be disappointed. The small N4200 on the Acer Spin is one of the most powerful mobile Pentium processors out there, though you still can't game on it or run heavy photo editing apps. Multi-tasking is also limited as there is just 4GB of RAM and the processor is passively cooled. Hence, heavy users will run into bottlenecks easily.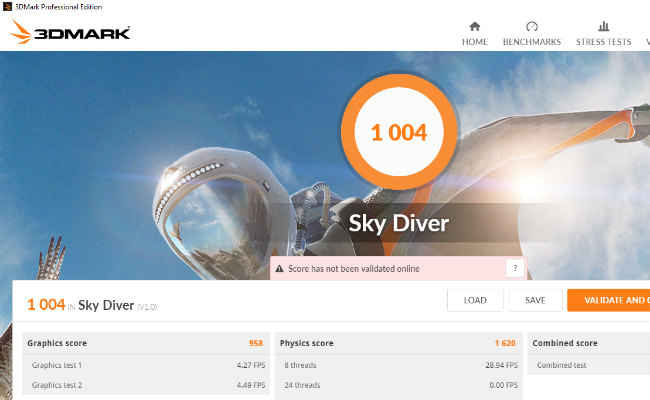 All that said, it is hard not to appreciate the amount of hardware and software packed into this machine for its price.
Battery life
While performance could have been better with an Intel Core i3, it seems like the N4200 is a necessary compromise for the battery life it offers. Its small chassis makes room for just a 48.9 Wh battery, which thanks to the low power CPU and small display, manages to run things for a little over 8 hours quite easily. In the PCMark battery life work benchmark, the laptop scored an impressive five hours and forty nine minutes, which is better than most in its category.
Bottomline
The Acer Spin 1 is quite simply a jack of all trades. It has an impressive touchscreen display, has a decent keyboard and touchpad setup and offers good battery life. Its build quality and performance could have been better, but both seem like a minor compromise to keep the price low.
Overall, if you are looking for a laptop with a 1080p touch-capable display, with Windows 10 and MS Office Pre Installed, this might be your only option. However, keep in mind that the processor is just powerful enough to take on day-to-day applications only.