Nero Multimedia Suite 10: Nero StartSmart detailed review
At the centre of the Nero Multimedia Suite is Nero StartSmart, an application that features a simplified interface that helps you launch the appropriate application from the Nero Multimedia Suite depending on the task selected.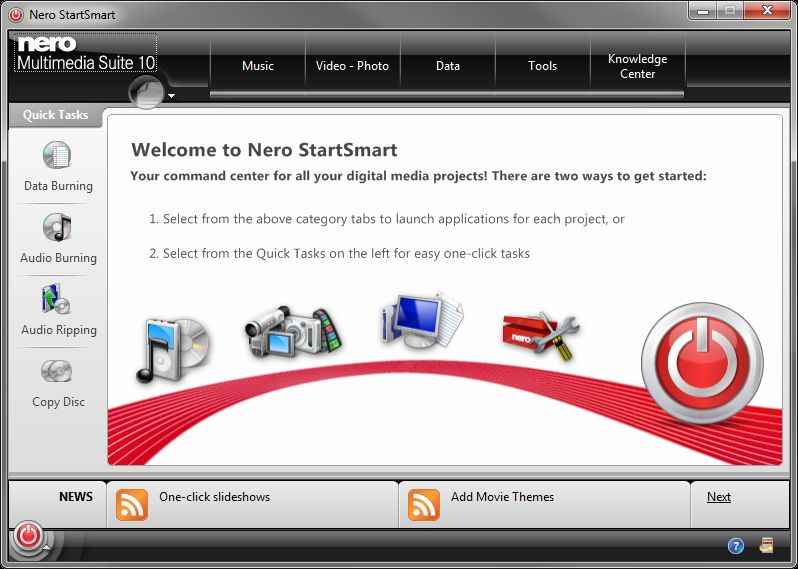 Many simple routine tasks can be performed quite easily from StartSmart itself, without requiring any other application to be launched. From SmartStart you can burn data discs, audio discs, and MP3 / AAC discs, you can also create copies of discs and rip audio CDs. Since StartSmart launches quickly compared to the other applications it is a good option for simple burning sessions which require minimal configuration. The recently released free version of Nero in fact just contains Nero StartSmart.
The StartSmart application has a very task-centric interface, with Quick Tasks along the left side, which include Data Burning, Audio Burning, Audio Ripping, and Copy Disc. These are perhaps the most common tasks that one would perform with their disc drive.
Data Burning
The data burning quick task takes you directly to a simplified disc-burning interface. All you need to do is to drag and drop files that you wish to burn onto this interface, or use the Add button to add files / folders. As you add more files Nero StartSmart will automatically adjust the target disc type from CD to DVD to BluRay to accommodate your files. Once you are done, just give the disc a name and click burn.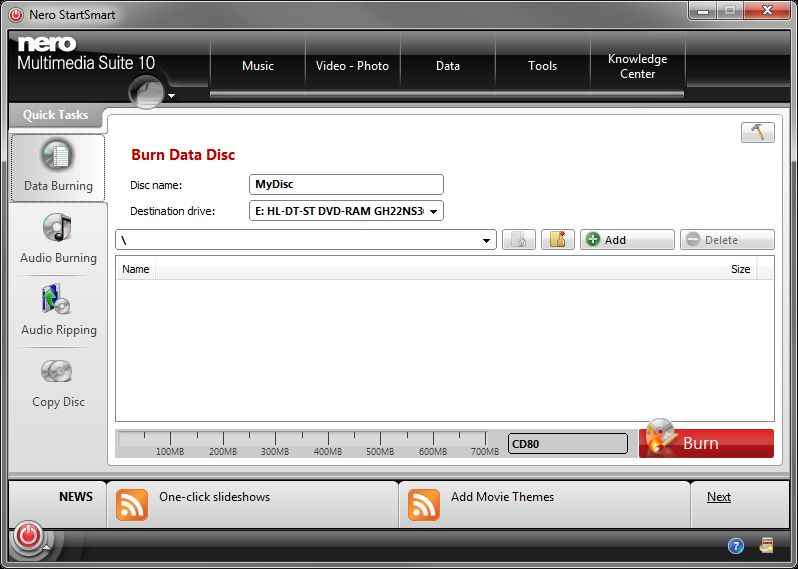 Audio Burning
Audio burning is quite simple as well. The Audio burning quick task will give you three options, burning an Audio CD, an MP3 Disc or an AAC (MP4) Disc. Each option takes you to an interface that resembles the data burning interface. Once again, just drag and drop your audio files, and if they are of the incorrect type, Nero StartSmart will automatically convert them.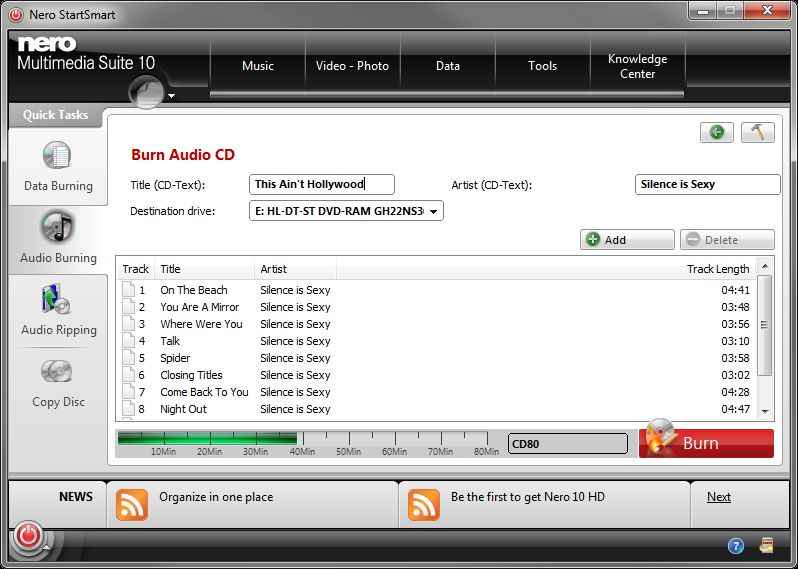 Audio Ripping
The Audio ripping feature of Nero StartSmart is likewise quite simple to use. All the basic parameters, which you need to worry about while ripping audio, are right there in front of you. You can select the drive with the audio disc to rip, the target folder to place the ripped files, the format of the audio (Nero StartSmart supports popular audio formats such as MP4, MP4, and even Ogg Vorbis and FLAC) , and click on Rip to start the process. Selecting the checkbox labelled "Enable ripping of each entire Audio CD in a row" makes Nero StartSmart perfect for bulk-ripping sessions, as you just need to keep inserting a disc and clicking on Rip.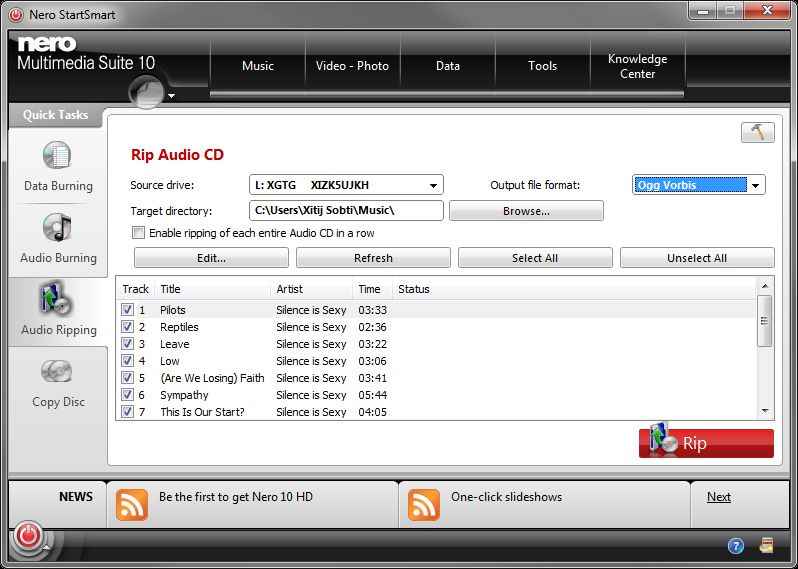 Copying Discs
Copying disc is also a simple matter of selecting a source and target drive. If you wish to create an image of your disc, you can select the Image Recorder and specify where to save the disc image. Likewise, to burn an image you can select the Image recorder as the source.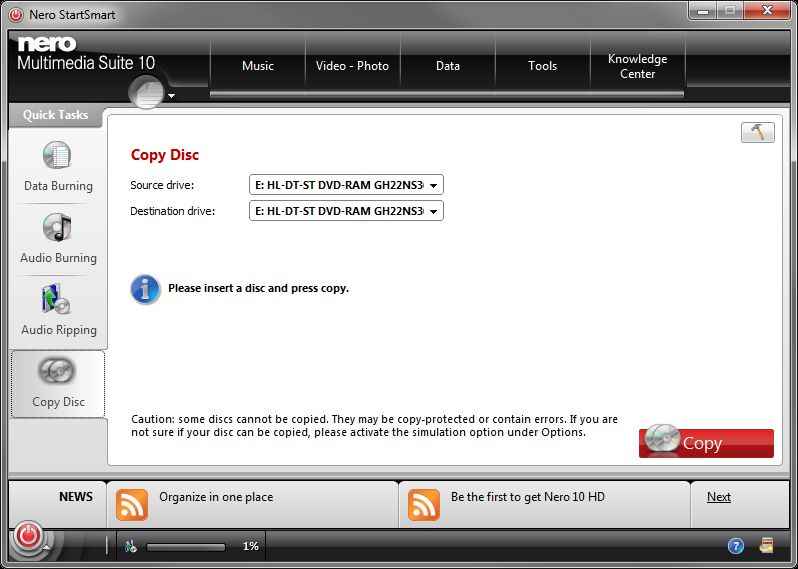 When you perform any of the tasks mentioned here, it shows up as a progress bar on the application UI, and you can continue to perform more tasks while your previous job continues in the back.
| | |
| --- | --- |
| | As you perform tasks in Nero StartSmart you will see small progressbars appear at the bottom of the UI which show the progress of tasks running in the background. |
>
Launching Nero Multimedia Suite Applications
Besides these quick tasks, Nero StartSmart also serves as a launcher for other Nero Multimedia Suite applications. It lets you launch the right application for the job by selecting the type category of tasks from five tab along the top of the interface, Music, Video – Photo, Data, Tools, and Knowledge Center.

Under these tabs, you will find the kind of tasks one would perform in each category. Select a task to launch the application capable of performing it. Nero StartSmart then automatically minimizes itself to the system tray to give focus to the newly launched application. Alternatively, you can launch the application you are looking for directly using a start menu-like Nero menu at the bottom left of the Nero StartSmart window.
Nero StartSmart Tabs
New in this version of Nero StartSmart is the Knowledge Center, which has links to Nero community resources, manuals, FAQs, online tutorials, add-ons etc.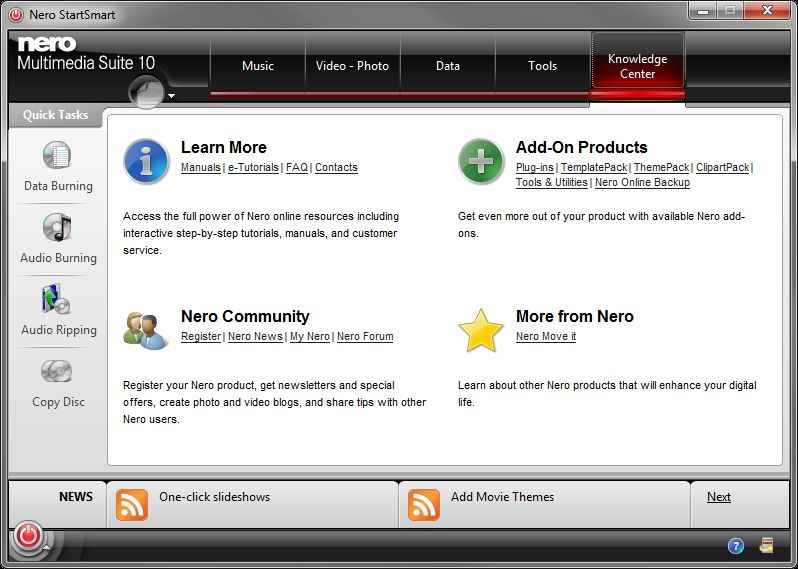 | | |
| --- | --- |
| | A button on the bottom-left part of the Nero StartSmart interface exposes a menu for easily accessing all the applications from the suite. |
Conclusion
Nero StartSmart is a great way for Nero to integrate all the products in one place, and make it easier for users to discover functionalities of the suite based on what task they would like to perform, rather than launching an unknown application.It can help new users discover the functionality of different applications in the suite. It is more than a launcher as it includes functionality for performing some simple tasks.
While it does give a rich and easy-to-use interface for launching Nero products, it comes at the cost of memory utilization. It does launch much faster than Nero Burning ROM, so you might just find it a tad better and easier to use in a hurry. Unless you're using it continually for the quick tasks it can perform, or if you are not sure which application to launch for what task, it is better for you to launch the applications directly from the start menu, as StartSmart takes too much memory for a simple launcher. For experienced users who know what to launch and use, it is not quite useful, and you may find yourself doing entirely without it.