Jawbone Up Fitness Tracking Wristband detailed review
With a damn flexible, powerful, and impenetrable design, this nifty life-tracking device tells you well to sleep appropriately, makes you take the adequate steps to be fit, as well as yearns you to burn the right amount of calories. Despite having few downsides, the device can definitely make a difference in your fitness approach. To analyze better, map out the manifestations down the mainstream.
If you are already sold on the product after reading our verdict, you can directly head to the store and buy it by clicking on this link- Liveyoursportcom.
Build & Design
Track your activities with a distinct flair, as JawboneUp is available in a delightful array of octa-hues namely-- tangerine, mint green, hunter green, powder blue, onyx, red, navy blue, and light gray. The sleek wristband along with the app is not only easy to grasp but even a pleasure to use. The band is rather different from the other activity trackers in lieu that it's totally free from any clasps or clips.

Quite a flexible loop it is, in hypoallergenic rubberized finish, that overlaps itself and easily slip around your wrist, sitting comfortably on your hand without any tightness or pinching. The Jawbone UP is available online in India in three different sizes – Small, Medium and Large. There is no such way to adjust the size of your UP after you get yours; neither does it have any expansion links to add or remove, nor an interchangeable strap. So, its your sole responsibility to get your correct sizing, right from the outset.
There's no such direct display to read out on the UP itself, but only visual indicators in form of icons to convey their ongoing mode, be it active or sleep. At your band's one end, there's a small, square tip, that seems more of decor. And, this is the sole button on the Up that you could interact with. The very single button corresponds to switching your device between the two modes – you've just got to press and hold it before going to sleep, then repeat the procedure when you wake up.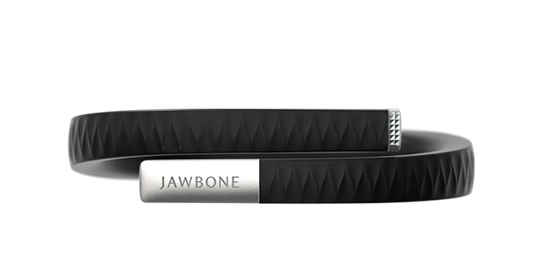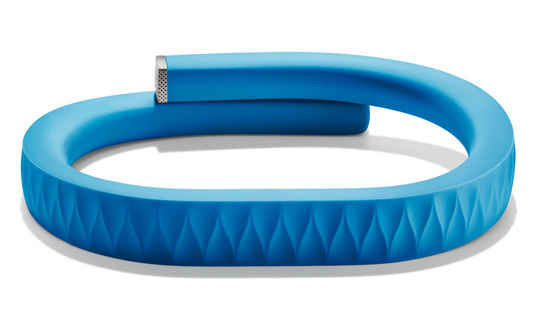 While, a double-press and hold command would turn on special modes like a power nap, or will record your exercise session. On the other end, it has a cap with the Jawbone logo on it. When you remove, a 3.5mm jack will be revealed that will plug into your phone that has the compatibility with the Up app. This connectivity will lead to data transfers and also, your band charging, for which, there's USB adapter in the box as well. Tugging it's cap off and hooking up the band with your phone isn't a big deal, but one would always prefer a wireless syncing solution.
The Apple Of Apps
To 'Up' your daily activities, all you need is your Up bracelet, and an iOS device(iPhone, iPod touch, or iPad) to be compatible with. Just plug yours into the headphone jack of your iOS device, and then open the Up app – both shall start syncing automatically.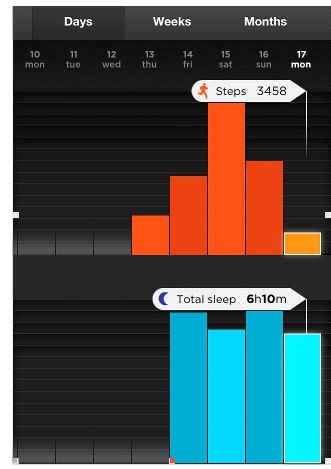 Now to kick-start your day with, you can observe as to how many hours you slept last night and how many steps you've been walking by the end of the day, to be measured against your preset targets (8 hours and 10,000 steps by default, else you could tweak with that). Below that chart, will be the timeline of your life(literally). By scrolling over, you can easily analyze your daily activity, be it your food intake or sleep patterns, or anything else– check what your friends' regimens are up to, comment on their data, and much more to relish a whole new social community.
Though Jawbone has tried its best not to make the interface arduous, however, the Up app does involve lots of menu-digging and dollops of buried functions, which might seem intimidating to you initially. No doubt, the basic features can be figured out pretty easily. You can even keep a firm track of the amount of calories going inside your body along with the quantity, you're burning off. Best part?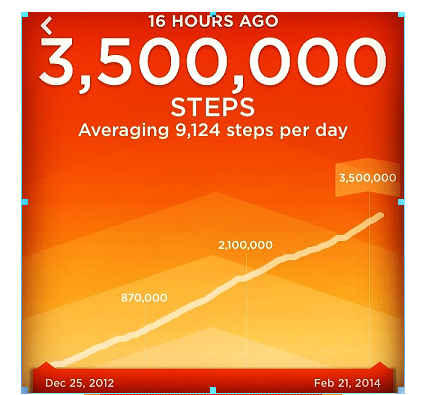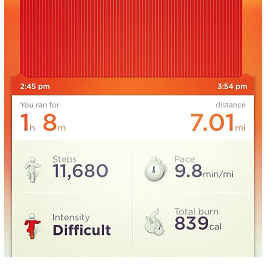 You can log your foods for the day directly through the app. Moreover, the built-in a barcode scanner makes the job all the more simpler. Just scan your food packet and that very edible will be automatically logged. You can also do that manually if you aren't able to find it in the Jawbone database.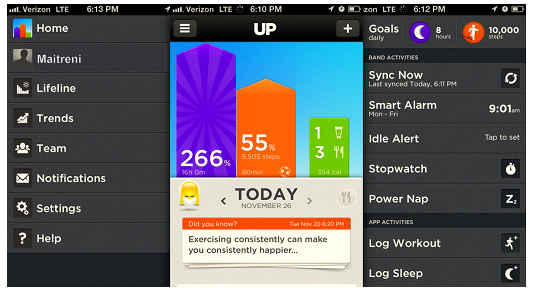 Hence, if you're seeking the best fitness tracker that has withstood the test of time, then Jawbone Up is certainly not your cup-of-tea. However, some of it's damn unique and effective features do separate it from it's brethren. So, it is no harm for if you plan to hang on!
Where to buy: Liveyoursport