Airtel IDTV detailed review
Your TV today is something that looks good in your home, blends in with the visual aesthetics of the living room, often even adding to it. The actual visual experience is enhanced, with 1080p Full-HD displays and HD content to go along with it. Amongst all this though, there's an eyesore, in the form of your set-top-box. Yes, those things almost never blend in with the rest of your setup and add a few more wires that you could do without.
Enter Airtel-IDTV, an initiative by Airtel and Samsung to...umm...make more money? Well, you can't blame them for that and IDTV does have some advantages. But first,
What is IDTV?
In short, you buy a Samsung SmartDirect TV and you get the Airtel IDTV connection with it. It's a bundled package, where the set-top-box is integrated into your television (IDTV - Integrated Digital Television), eliminating the need for extra wires and such. Also eliminated is that irritating extra remote that comes with your set-top box.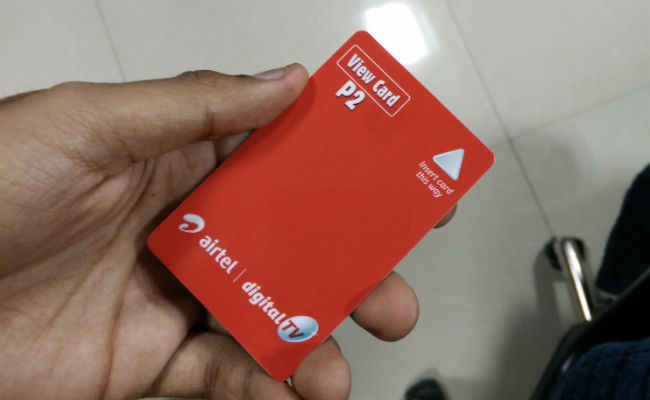 This card is inserted in a slot behind the television.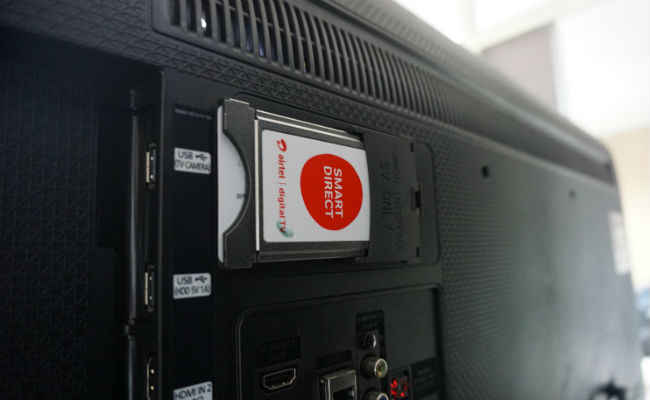 The card is inserted into a slot behind your television.
Airtel has a smart card that is inserted behind your television, while the Samsung remote is the only one that you get. A sole cable will be connected to your television, with no additional wires. The subscription packs range start from Rs. 999 onwards.
Moving on..
The thing about modern televisions is that there's a lot more to it than putting a box in your house. Older televisions, particularly, CRTs, lived up to the 'idiot box' monicker in more than one way. They were boxes, which looked quite ugly and had a lot of wires attached to them. TVs today on the other hand are 'smart' and they also live up to that name in many ways, internet connectivity being only part of the feature.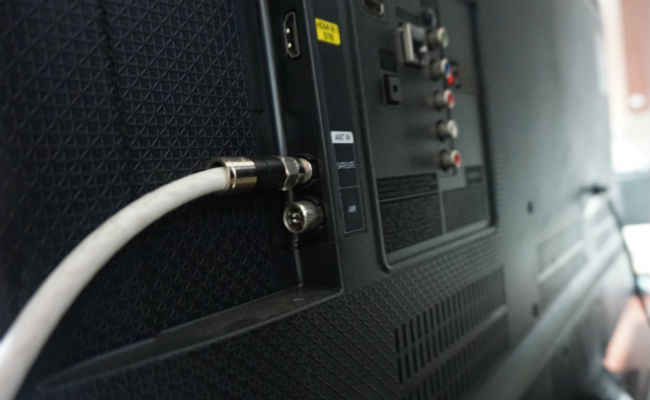 IDTV reduces the number of wires attached to your television, replacing it with a single cable.
The 'interactive digital' aspect of this scheme makes for less wires in your entertainment centre, while also eliminating the need for two remotes. This is good, but the flypside is a serious lack of options on the remote. The Samsung remote that comes along with the TV is your sole driver in this case, so while you will be able to get to a Guide to browse through your channels, that's all you will be able to do.
You can move from one channel to the other using the Program button though, which means over time, you may remember the channel number for your favourites so that you can skip right to it. Best of luck skipping through 100 plus channels till you do though.
The HD aspect is all right, but not good mind you, Samsung's SmartDirect TVs tend to not deal with skin tones well. In addition, the non-HD content looks quite horrendous. So, you should especially stay away if you're planning to watch non-HD channels. Most HD televisions aren't good for non-HD content, period.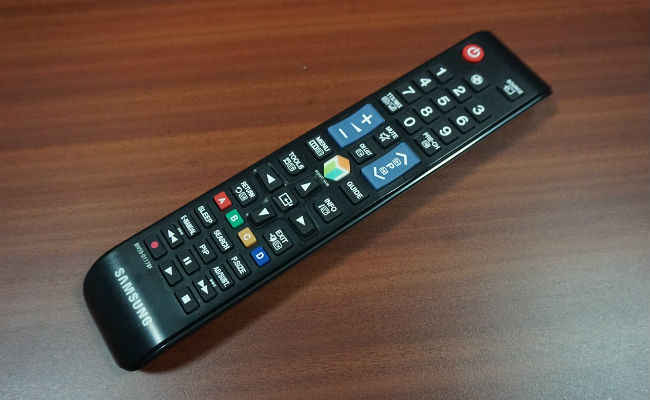 The Samsung remote that comes with IDTV doesn't have enough options for navigating around your television.
That said, while the world is already moving towards 4K TVs (read our 4K TV related stories from the CES this year), HD is the minimum that you should go for. HD will soon be the base for TV channels, which means you're still making a good choice if you go for this.
Another plus point in this is that you get the 'smart' features in the TV, meaning you can easily connect to the internet and even access your social networks on it. Of course, that will make sense to you only if you're actually interested in tweeting on a 40 inch display.
Bottomline
Overall, Airtel's IDTV option doesn't seem like a bad idea. If you're going for HD television. You don't pay much more than Airtel's IPTV connection and get more HD channels. What you give up though is the ability to rewind live television, which is available in IDTV for higher prices. In addition, you need your own external storage in order to record on IDTV.
Airtel's IPTV offers a particular number of channels that you can rewind and to be honest, speaking as an IPTV user, a mere 48 channels doesn't seem enough often. It would make a good choice for those not buying 1080p televisions.
Samsung 5 Series 32 inch - Rs. 44,900
Samsung 5 Series 40 inch - Rs. 66,900
Samsung 5 Series 48 inch - Rs. 91,500
IDTV on the other hand is something you go for if you're buying an HD TV. Sadly, Airtel is only offering this with the Samsung SmartDirect TVs right now, which may not suit everyone's fancy. If Airtel makes this available with other manufacturers as well, then the IDTV would make for a really good deal.