VERDICT:
The Zebion Limitless Amphi A1 fails to reach the heights that recent budget speakers like Logitech X50, Mi Bluetooth Speaker, JBL Go and Altec Lansing Mini H2O offer. It looks decent, is waterproof and also integrates a speakerphone, but the unimpressive audio quality ruins its status.
You get all of this, within Rs. 2,000. Interesting? We surely found so.
Build, Durability, Design
The Zebion Limitless Amphi A1 is certainly not the best-built speaker around, but neither does it feel like the absolute worst. At a comparatively low price, the rubber exteriors of the Zebion Limitless Amphi A1 are decent. The Amphi A1 is a rubber cube, with each side measuring an inch-and-half. There is a bass driver at the rear that also carries the brand name, and to the other end is the main speaker driver. On the upper side are four buttons — rewind and forward buttons, power button and pause/call receive button.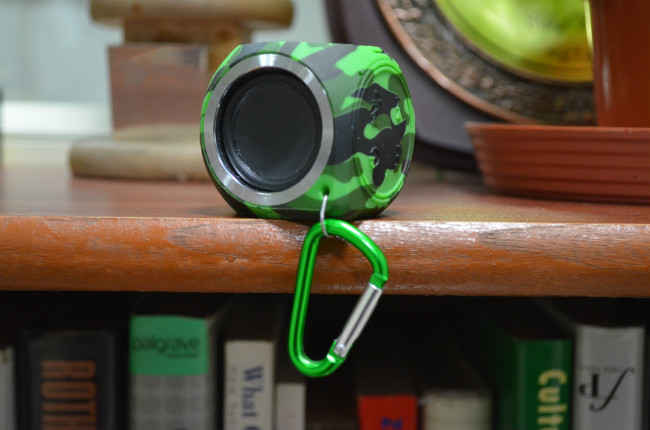 In terms of its build, the Amphi A1 does not really look like it would survive too many falls. Surprisingly, though, it is sturdier than it seems. Over my time of usage, it fell a number of times, although never from a very high point. The speaker also has a concealed micro-USB port that is used for charging, and the concealing is good enough for you to occasionally submerge it under about three feet of water. Zebion has claimed that the Amphi A1 is resistant to snow, rain, moisture, sand and seawater, and its outer coating does feel robust enough to survive tricky weather conditions when you are out trekking, or parasailing. The hook allows you to attach the speaker to any buckle, and this helps in listening to music literally anywhere, as long as you can latch it on somewhere.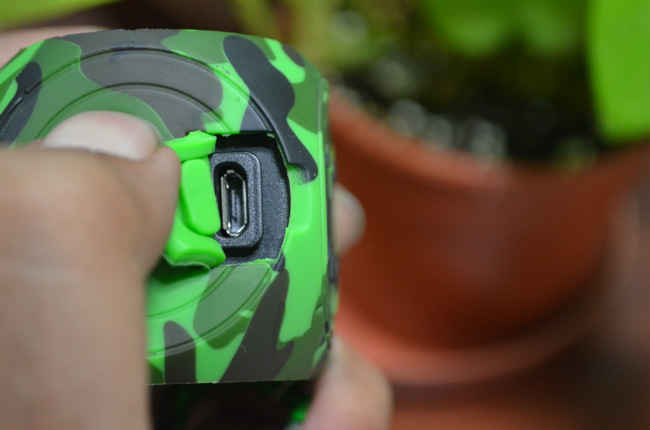 The budget speaker actually looks decent from a standalone point of view, and in my opinion, it looks livelier than the Altec Lansing Mini H2O that claims similar features at a similar price point. While it actually is sturdier than it looks, there is a definite sense of the Amphi A1 being a budget speaker. To sum up, the Zebion Limitless Amphi A1 is decently built, brings waterproofing on a budget, has buttons that give you fairly decent feedback, and exceeds expectations on an overall note. One gaping hole that gives the onus to the Altec Lansing Mini H2O is the lack of loudness, which somewhat defies the point of owning a budget portable speaker. The Limitless Amphi A1 does have volume controls, and long-pressing the forward/rewind buttons will allow you to control the volume. As a downside, though, there are no indicating signs for volume controls on it, and you may end up assuming that the speaker somehow does not have volume controls.
Audio Performance
For a price of Rs. 1,999, your options for a portable Bluetooth speaker include the Logitech X50, Mi Bluetooth Speaker, JBL Go and the Altec Lansing Mini H2O. Each of these speakers offer better audio quality, in terms of overall clarity, bass response, warmth of audio, and even the overall features on offer.
The Zebion Limitless Amphi A1 does not sound bad, per se, but there are multiple points that need to be stated here. There is a lot of sacrifice in audio clarity, and even the cleanest tracks sound rather distorted. Reducing your phone's volume to about 70% definitely reduces distortion, although since the Amphi A1's audio delivery is not really loud, reducing the volume down to 70% makes the speaker pointless. The volume level on the Amphi A1 is rather low, because of which reducing the volume would ruin the experience.
The volume level is low in general, because of which playing it outdoors would not give you the most favourable outcome. In terms of frequency distribution, the mids are reasonably clear, although the Amphi A1 is distinctly favoured towards the higher frequencies. Although it has a separate bass driver, the bass frequencies sound rather weak, and the likes of the Logitech X50 and Mi Bluetooth Speaker deliver much better, balanced and powerful audio delivery.
Soundstaging is passable here, although it still falls behind the pack. The Amphi A1 has an integrated speakerphone and a call receive button, making it easy to receive calls on the go. To sum up, the Zebion Limitless Amphi A1 will get you only a marginal upgrade over your default smartphone audio. While it is definitely louder and more pronounced than any smartphone speaker, there is no point for you to choose this over the other, better alternatives around.
The Zebion Limitless Amphi A1 is waterproof, and can operate underneath about three feet of water. While it is marked as 2 metres, it drops the Bluetooth connection beyond one metre underneath water, with the source about seven feet above the water surface. Nevertheless, there is nothing stellar to state about its audio performance, and even clean tracks like Cake's Frank Sinatra sounds marginally distorted. Playing heavier tracks like Opeth's Deliverance on it makes the listening experience even worse, and comes nowhere close to the level of clarity, warmth and balance in audio that the Logitech X50 delivers.
Note: The Logitech X50 is also about Rs. 500 less expensive than the Zebion Limitless Amphi A1.
Connectivity and Battery Life
The Zebion Limitless Amphi A1 connects only via Bluetooth and misses out on a 3.5mm audio port in its quest to remain compact and inexpensive. The Bluetooth connectivity retains till about 18-20 feet, and that goes down to nearly 12-14 feet between walls. Battery life is reasonably decent, and clocked about 8 hours and 45 minutes in our real life usage.
Bottomline
It is hard to recommend the Zebion Limitless Amphi A1. The device looks decent, and is even built fairly well on standalone terms. When compared, it falls far behind the Mi Bluetooth Speaker and Logitech X50. It also delivers largely unimpressive audio, and as a result, does not become the ideal mobile audio companion that it would have hoped for with the compact size.