VERDICT:
The X-mini Xoundbar comes with acceptable sound quality at a decent-enough volume for casual music streaming, decent build quality and tiny, fit-anywhere dimensions. One could say that it gets all the basics right but at the cost of some observable compromises, especially when it comes to the audio performance. While its MRP is Rs 3,790, the X-Mini Xoundbar can be found online for around Rs 2,700, which makes it an inexpensive choice for what it offers.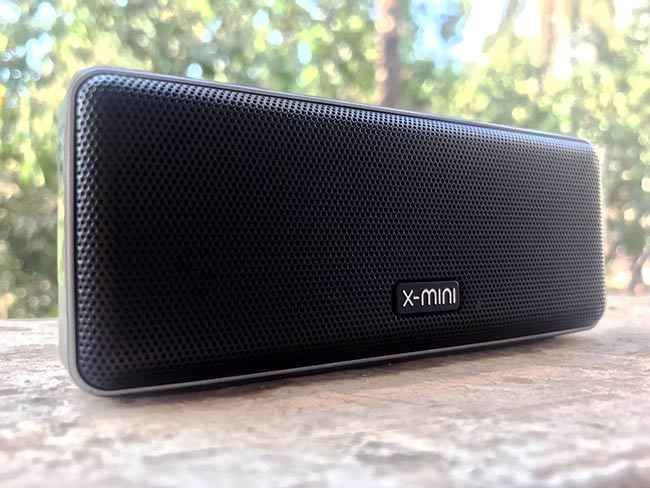 Build and Design
When we said pocket-friendly, we meant more than just the price. The Xoundbar is literally tiny at 118.8mm wide and 45.8mm tall. With a thickness of a mere 21.5mm, it resembles a typical harmonica both in form and builds. While the casing itself is plastic, the speaker grills on both the front and the back are made of metal, giving it some form of robustness. Although, don't expect it to stay unscathed after a drop or two. In terms of water resistance, the Xoundbar (XAM29-B) comes with an IPX4 rating, so it can be used at the poolside at a safe distance where it is subject to a few splashes at most.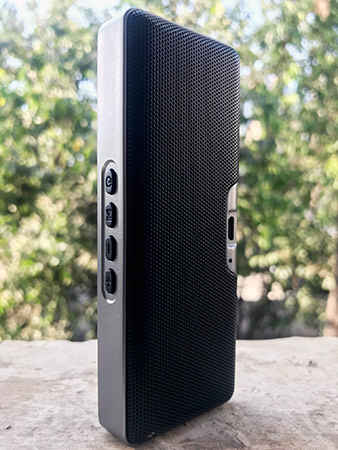 The speaker has been thoughtfully designed. The rounded, chamfered edges make it easy to carry around in pockets, as compared to sharp edges that a typically rectangular design would have. It weighs 128gms, which is fairly light. This contributes to its portability as well. The micro-USB charging port and the indicator light is located on the back, leaving the front and the sides with a nice, seamless look. You get a micro-USB cable in the box, but no adapter. The buttons are rubberised and feel premium for its price. The rubber strip at the base adds to the stability of the speaker when you place it on flat surfaces, and keeps it from tipping over or vibrating to cause unnecessary distortions. A protective case would've made us more comfortable about throwing it into our backpacks. Even a lanyard slot would have been welcome for something this portable. However, considering its price, the Xoundbar leaves little to complain about the build.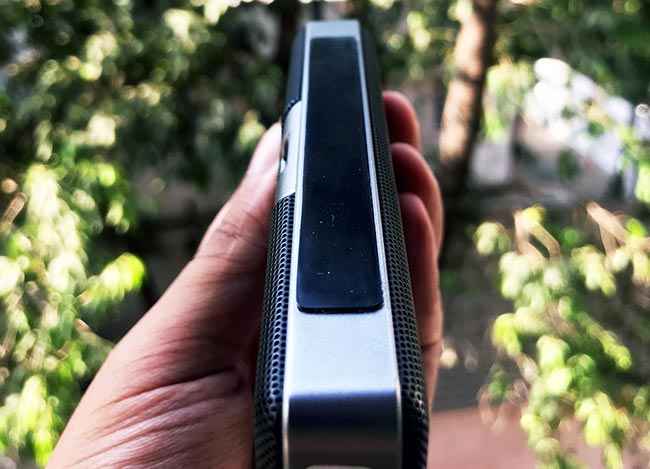 Features
The X-Mini Xoundbar offers a decent range of controls through the four physical buttons on its body. The power button acts only as an on-off switch, but the rest of the buttons are given multiple functionalities. The Play-Pause button can also be used to receive and reject/disconnect calls. Similarly, the volume buttons can be used to navigate tracks as well. Although, the functionality hasn't been implemented well. Pressing either volume button once changes the track, whereas holding them pressed for a while affects the volume output. In our experience, this ended up being confusing and often didn't work as intended.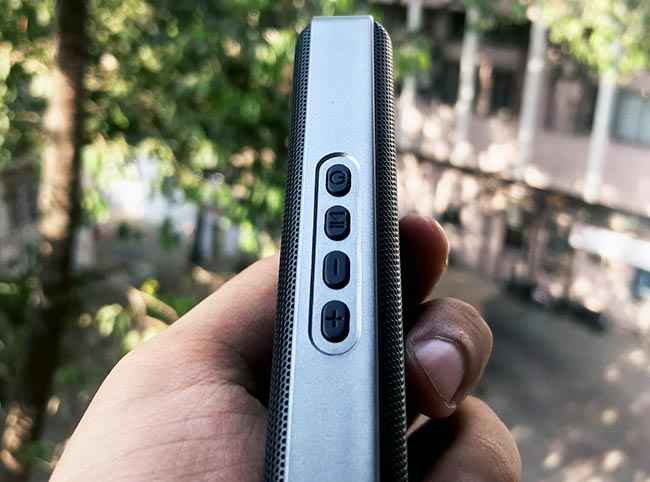 The Xoundbar lacks a 3.5mm AUX-in, which is a disappointment. Even with small form factors, the 3.5mm port is common in this price range as it caters to the mass buyers. What the Xoundbar does give you, though, is stereo playback when paired with another Xoundbar unit. We had only one at our disposal so this particular aspect could not be tested. In terms of battery life, the 700mAh battery lasts for more than 6 hours after a rather lengthy 2.5-hour charging time.
Performance
Let's make one thing pretty clear from the very beginning – the Xoundbar is loud for its size. At maximum volume, it can fill a rather big room adequately. But, does its strength at loudness also carry over to other areas of its audio performance? Not exactly.
Due to its slim and tiny frame, the Xoundbar has little empty space inside to dampen sharp frequencies or provide passive amplification of low frequencies. As a result, the bass is practically non-existent and flat across all genres. There is a passive radiator to the back for bass output, but the output level itself is so low and overpowered by the higher frequencies that it sounds too lopsided. Pop tracks like Uptown Funk sound very biased towards the highs, with Bruno's vocals and the saxophone overpowering pretty much everything else on the track. There is also a discernible amount of distortion at the highest volume.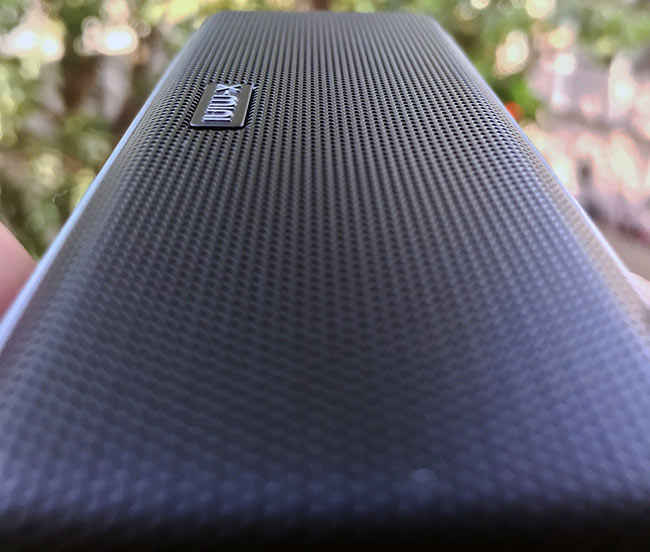 The mids and highs are handled reasonably well at up to 50 percent volume. On Hotel California, the guitar solo comes across as clean but lacks impact. When you turn up the volume for impact, there is distortion again, and the pitch is too shrill and lacks the quality of timbre. Something similar happens with Bjork's Hunter, with her vocals sounding quite clear and loud, but rather flat. The Xoundbar impressively focuses on mids but attenuates the amplitude of the frequencies, which in turn reduces their overall volume and impact. This is what makes all of the audio sound rather flat.
Tracks with elaborate instrument work, baritone vocals and intricate snare/cymbal rolls sound flimsy, lack depth and composure. However, it needs to be remembered that the X-Mini Xoundbar costs around two and a half grand, at which price it would be wrong to penalise it for threshold distortions at volume levels above 80 percent, or lack of intricacy. The greatest strength of this speaker is its loudness, and as long as you are not particularly obsessed about loud music, you can keep the volume at around 30 percent, and get acceptable audio quality from it.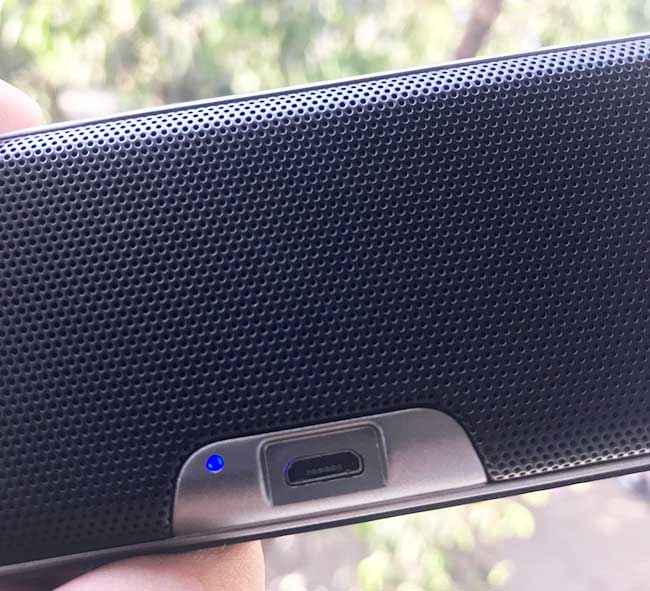 The sweet spot of the speaker is between 30 percent and 50 percent of its total volume output, at which it fares the best with bass (which is still too shallow for our preference), and does well to not distort the mids and highs. For instance, tracks like Lake Shore Drive by Aliotta Haynes Jeremiah sound fairly decent when you listen to this sweet spot. The lower volume also takes the shrill sting out of the highs, and the overall composure is held in slightly more intricate tracks. It is not the warmest audio output by any means, but at this volume, does get the job done.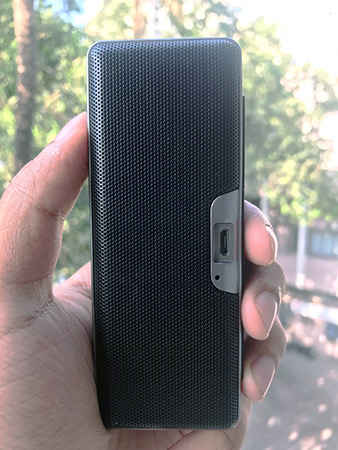 Taking calls on the Xoundbar is hassle-free. The volume is, as mentioned before, quite loud, although you do have to position yourself in front of the mic if you intend to talk at a normal volume. The reception quality of the microphone could have been better.
Verdict
For its price and its size, the Xoundbar gets its basics right. It is loud with acceptable sound quality at a decent-enough volume for casual music streaming, decent build quality and tiny, fit-anywhere dimensions. While its MRP is Rs.3,790, the X-Mini Xoundbar can be found online for around Rs 2,700, which gives it good value for money. However, it comes with a fair share of compromises, particularly when it comes to core audio performance.