VERDICT:
The UE Boom 2 is a prolific successor to the original UE Boom. It carries with itself the same design, and great audio performance. The speaker delivers clean, powerful audio that is very well balanced. It is highly recommendable for anyone looking for a portable Bluetooth speaker at this price.
The UE Boom 2 looks to continue on the trend that UE has been setting for itself. It looks nearly identical, is exactly the same height, and still comes in an array of playful colours. How does it fare? Read on, for more details.
Build and Design
I could simply redirect you to our review of the UE Boom here. Ultimate Ears has kept its beloved, tried-out formula, with the stitched thread on its cylindrical front, rubber endings on either sides and a broad strip joining the two ends like an isthmus, housing the volume buttons exactly as the UE Boom. On paper, the UE Boom 2 is two millimeters thicker in diameter, and 10 grams heavier than the original UE Boom. In reality, you will be hard pushed to pick out any element that is different here, in terms of build and design.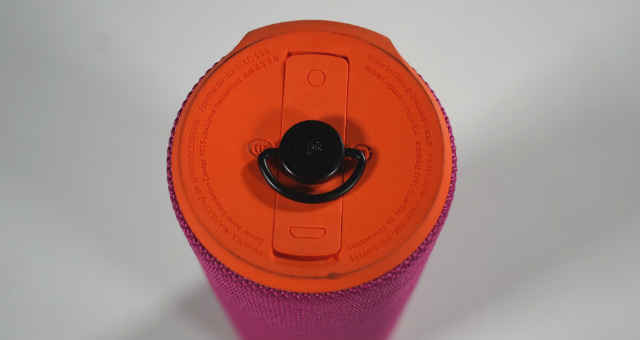 The design is still very likeable, and even after the same design being around for a while, it does not look old. The rubber flaps concealing the analogue audio port and the microUSB port on one end are sturdy and reliable, and so far, I have not spotted any aberrations in particular, here. At 548 grams, the UE Boom 2 is conveniently light, and the neat finish lends it the feel of a speaker that is well worth the price it commands. In comparison, the Creative Sound Blaster Roar weighs 1.1kgs, a whisker more than double the weight of the UE Boom 2. Sure, it packs in more features and is louder than the UE Boom 2, but I would personally prefer a speaker that gets all the essentials right and weighs less.
The UE Boom 2, in short, is exactly that speaker.
Audio Performance
Much like David Gilmour picked up his ageing black Stratocaster and playing the glorious second solo in Pink Floyd's Comfortably Numb in 1979 with unerring precision, melody and emotion, the UE Boom 2 gives you a similar vibe once you pair it up with your device and play your favourite albums. There is a beautiful sense of warmth in the audio delivery of the UE Boom 2, and the strikingly clean audio performance adds more to make tracks sound sweet, warm and beautiful. You would not need to be an audiophile to identify the beautifully clean audio performance, and its funky exteriors defy the suave audio that you get from its two 45mm active drivers and the two 45mm x 80mm passive radiators.
The presence of passive radiators along with the two drivers, that are placed on either end of the rubber strip, lead to delightfully tight and clear bass. Low frequencies do not overpower the audio, but are an ever-present spine that is really, really enjoyable. The bass performance fuses seamlessly with the rest of the frequency spectrum, delivering clean audio with a powerful drive at ample loudness. Adding to that, you can pair two UE Boom 2s with your smartphone, giving you an option to create a surround audio effect.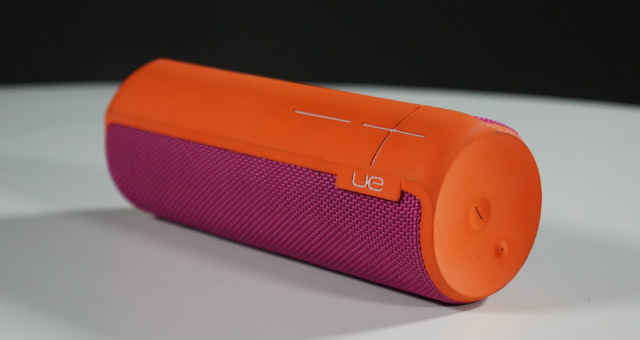 The mids are equally enjoyable, with ample amount of details that preserve the intricacies of instruments when you play tracks like Joe Satriani's Flying in a Blue Dream and John Coltrane's Equinox. The mids are raised to give you pronounced, warm audio. This warmth is particularly pleasing for the ears, and the UE Boom 2 defies its price by delivering audio you may usually associate with more expensive speakers. The clean audio delivery is also something that you would have come across in the previous UE Boom and the UE Roll portable speakers, and it is delightful to see UE continue on its excellent audio performance.
The highs are prominent and a tad sharp, but not too sharp to pierce the tracks. They are sharp enough to be pronounced alongside the mids, and the entire spectrum of audio delivery combines to give a bright feel to the audio. Audio timbre is warm, and the warmth gives you a fuzzy vibe that we usually associate with good, comfortable audio.
I'm emphasising on comfort here, because of the pleasant, sweet audio delivery that makes makes listening to the likes of The Corrs an incredibly delightful experience. Associate the UE Boom 2 with your living room, with warm lighting, wooden furnitures and your smartphone paired to two UE Boom 2s, playing Simon and Garfunkel on a lazy Sunday evening. The speaker beautifully balances the audio delivery, and the overall tightness of audio coupled with intricate details and comfortability makes it a beautiful speaker to own.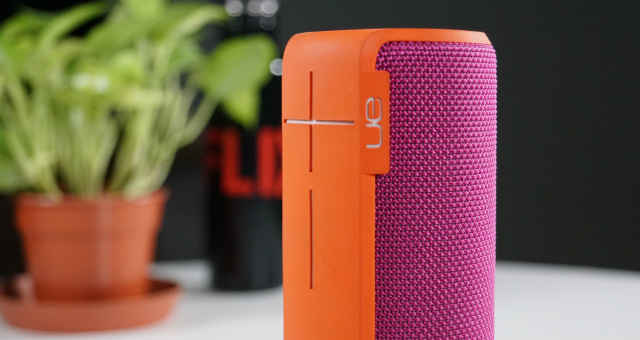 With its cylindrical build, UE has ensured a wholesome audio delivery. Soundstaging is good and wholesome, and the 360-degree audio delivery adds to the experience. The drivers are placed on either side of the rubber strip and that is evident if you are sitting too close to the speaker. It is not a major problem, seeing that you would seldom place the speaker within one foot of you or the source. The warmth in audio delivery particularly enhances the experience that the wholesome soundstaging facilitates, adding to the clean, powerful and loud audio performance.
To sum up, the UE Boom 2 is by far one of the best portable Bluetooth speakers that we have tested so far, within this budget. It does not astound you with its performance, or have you gaze at it with amazement. What it does is subtly deliver warm, intricately detailed and very clean audio that perfectly does the job. The ability to connect two speakers at one time enhances the experience further, and gives you more reason to buy this. The speaker is also water resistant, and its generally playful colour scheme and design means you can take it outdoors with equal confidence as you would in a close-knit house assembly. The UE Boom 2 is amply loud, in fact, louder than what you would need. While there is a slight sense of the audio being marginally muddled at highest volume, there is still no distortion at that point, and you would seldom find the need to play it at that point.
Connectivity and Battery Life
The UE Boom 2 connects via Bluetooth and 3.5mm analogue cables, giving you the two easiest ways to pair your device to the speaker. Connection retains easily up to 35 feet, and putting obstacles in between will still see your speaker remain connected comfortably till around 25 feet. The UE Boom 2 we tested clocked 20 hours and 11 minutes of playback, which is very good, particularly for outdoor usage that it is oriented for. It takes around two hours to charge fully from zero, which is not any major hindrance seeing that most devices usually take about this time.
Bottomline
The UE Boom 2 is a delightful speaker. I've already spoken about its audio performance, and I've rarely come across anyone who has not liked how the speaker looks. At Rs. 15,990, the UE Boom 2 is one of the best speakers that we have tried out, and deserves special credit for sounding worth more than what it commands. While not too many may opt for a speaker worth around Rs. 15,000 or higher, this should be the one to buy if and when you do.