VERDICT:
The Sony MHC-V44D is a great high power home audio system, considering its overall audio quality, good looks and the vast array of features on board. At Rs. 29,990, it is highly recommendable.
In short, the Sony MHC-V44D is potentially everything you could possibly need in a home audio system. But does it translate to seamless performance in everyday life? Here's what we found.
Connectivity and Ports
Before we begin, these are all the ports that the Sony MHC-V44D comes with:
Two-channel analogue audio input (From TV)
Two-channel analogue audio output (For Party Chaining: Pair two of these for louder audio)
Composite video output
HDMI output
Two 6.5mm microphone input
USB port
CD/DVD player
Alongside this considerably vast number of ways to connect to the Sony MHC-V44D, you can also connect via Bluetooth and NFC. Visibly, Sony's focus is trained on projecting the V44D as a home audio entertainment unit that you pair with your TV. You can also plug in your microphone to it, and record directly to a USB drive with it. Additionally, there is also a port for an FM antenna, with which you can tune in to your favourite FM stations, too.
All of this is further accompanied by two smartphone apps for Android and iOS – Fiestable and SongPal, which pretty much bring all of the speaker's controls to your smartphone. In case you do not have your smartphone around, you also get a standard IR remote, which is not exhaustive but includes most of the important features, anyway.
Sony's focus is clearly on wireless connectivity here, and is aimed at the new generation household that makes the most of wireless connectivity. You may state that for a home speaker, you may not frequently require wireless controls, but looking at the wide array of features on offer here, you will not regret the options.
Features
The thing with great technology is that you realise you need certain technology only after you have used it. With the Sony MHC-V44D, Sony has included a wide variety of audio customisation features that are not just cool to have if you're hosting a party, but can also work in making listening more fun.

On the top of the speaker, you get a monochrome LED information display, and the large circular dial for controlling levels and volume. Around the dial, you have a Sampler button to the right for two samplers to be integrated into your audio. The Function button sits right beside the Bluetooth pairing button to switch to whichever mode you are connected to – FM tuner, Analogue audio port, TV port, DVD/CD, USB and Bluetooth. You also get quick access to Flanger and Voice Isolator to swiftly add an effect overlay on tracks that you are playing. To the right of the dial, you have controls for the mic (Vocal Fader, Echo and Mic level), USB file scrolling, FM tuning and drive eject/load button. To the left of the dial are controls for Sound Field (an equaliser of sorts), the Mega Bass mode (more on this later), USB load and recording buttons, the Fiesta mode (more on this later, too), Play/Pause, Stop and Power buttons.
The rather loaded interface still hides a number of features and effects such as customisable sampling modes, phasers and wah pedal effects, most of which can be accessed via the app. You also get a completely customisable equaliser mode to tune the audio delivery to your preference. All of this, to summarise, are what Sony's MHC-V44D present.
The V44D is versatile in terms of the features on offer, but the core audio performance is where the fun lies.
Audio Performance
In general, we have not come to expect stellar audio quality from high power home audio systems. While the Sony V44D is not really stellar per se, it does exceed expectations by the proverbial mile. The Sony MHC-V44D 120W power output when on playback, and has 2x4cm cone-type tweeters, 2x8cm Cone mid units, and a Paper-type, 20cm subwoofer unit. The Sound Pressure Horn delivers booming, powerful bass that has more than enough panache to deliver a defining thump, even in 30-feet-long room with about 25 people inside.
Apart from just being powerful, the bass response is quite expansive. It has a distinct richness to itself, and is sufficiently loud and detailed to please all the bass heads. The point where it compromises, though, is in clarity of bass. There is a notable amount of distortion in the bass delivery, particularly in volume levels above 30. It is also to be noted that with Mega Bass on, the bass delivery of the V44D loses a certain amount of composure. It begins to sound more muddled in an attempt to sound more powerful, and even if you really love bass, you wouldn't fancy the Mega Bass mode for prolonged listening.
The mids here are understandably compromised, and the audio lacks generally in detail. You will not be able to identify every note of the guitar in November Rain, but the general tonal balance is near the sweet spot. The audio sounds decently composed, and tonal accuracy is well-maintained. However, the low level of emphasis here, although understandable, is fairly disappointing.

As you would need in parties, the highs are well-pronounced, but again, lack the pristine clarity of less powerful but more precise wireless speakers. They sound slightly piercing at higher volumes, but considering that this is mostly aimed at large living rooms, the slightly shrill highs actually contribute to better vocal quality. The clarity is slightly compromised, but it is still a good balance against the booming lows.
The loudness is the most crucial here, and the Sony V44D delivers more than what you ask for. At peak volume, pairing two of these can potentially get you banned from your neighbourhood. The V44D does not retain the same level of detail and clarity, and the audio sounds more biased towards low frequencies with distinctly absent mids, but for large parties where the most important bit is to keep the beat going, it really delivers. The thump is further amplified by the Sound Pressure Horn which makes the audio sound really, really powerful. The best part about this is that despite the loudness, the Sony V44D does not sound inexpensive. It still retains the composure, and the overall audio delivery is really tight.
The perfect volume level to use the Sony V44D is 22, along with custom EQ to negate the general bias towards bass. If you tweak the frequencies well enough, you can get a decent balance of mids and highs, although mids still remain low as against the ideal level. Bass remains powerful even without Mega Bass on, and the Fiesta mode brightens the audio delivery considerably well.
All of this contribute into making the Sony MHC-V44D a rather impressive high power home audio unit. At Rs. 29,990, you are not paying through the roof for wireless home speakers, and at the same time, you get a wide array of features to fiddle with.
Effects and App Layout
For instance, the Sony V44D's audio engine allows Key Shifting, so you can actually change the native audio scale of the track that you are playing. In layman terms, all the Chipmunk Version tracks of famous songs are now within one tap of the remote here. It is not something you'll do every day, but play a backing track of any song, ask your friend to sing along in Karaoke and tune his voice three scales above natural, and you're due for all the hipster cred you'd have hoped for.

A similar level of intuitive response can be obtained with the Isolator, and even with Flanger and Wah, particularly when you are on the app. Even with tracks playing, you can seamlessly overlay these effects to spice up the excitement of songs at your party. You can also pick up a random street dance challenge and use one of the samplers to set up acoustic drum rhythm simulation.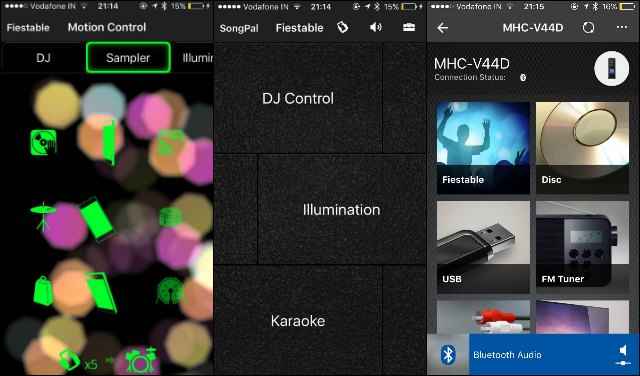 Not all features of the DJ controls work as seamlessly, though. For instance, I haven't really managed to integrate the Phaser efficiently while playing songs, and the scratch mode is too synthetic to even attempt. It is not too consistent either, and the touch disc controls on the app are difficult, if not impossible to control precisely. One thing missing from the app are efficient guides and walkthroughs for anyone without a grasp on how audio effects may generally apply and how to control them. If you haven't used Flanger or Wah pedals ever before, you will essentially be shooting into the dark by trying them out randomly, without any real control over them. Synchronisation are reasonably smooth, which is the only real saving grace for these effects.
While the Fiestable app takes care of the effects, karaoke and the green-and-blue LED party lights, the SongPal app manages the more serious side of the business by giving essential controls to playback, connection data and modes.
Build and Design
The 14kg weight of the speaker houses the audio engine, speaker drivers and all paraphernalia. To keep the functioning cool inside, there is a fan to the rear. The LED arrangement houses two LED lights on the top, and an LED-infused bass speaker panel to the front.

The speaker profile is slim, and button ergonomics are neat. Overall, the Sony MHC-V44D is a very neatly-arranged speaker that even looks good at the corner of a room. The textured plastic does not look tacky, but does not feel very premium, either. There are two slots on either side for you to pick it up easily, should you need to relocate them within your house. While many high power home audio systems are often accused of not being the best in terms of looks, the Sony MHC-V44D looks really good, and serves the purpose of being a suave home speaker that most would love to own.
Bottomline
The Sony MHC-V44D is a very sound high power home audio system. It even adds value as a core audio product, and this is what differentiates it from other similar systems around. At Rs. 29,990, it even adds value as a well-priced product, and makes for a recommendable buy for anyone looking to upgrade their home audio system into a loud, feature-rich, attractive-looking speaker.