VERDICT:
The Skullcandy Grind Wireless look and feel quite nice, offer uncomplicated wireless playback and even sound quite nice. There is a good balance of warmth and sharpness to the audio, and despite a few compromises, it remains one of the better wireless headphones at this price.
That's as much as we figured during its launch. Skullcandy stated that it wants to continue on the good feedback it received for the wired Grind headphones, while presenting energetic yet more toned down designs. After two weeks of roaming around with the Grind Wireless around my ears, here's what we have discovered about the Skullcandy Grind Wireless headphones.
Audio Performance
The Skullcandy Grind Wireless really impressed in terms of audio quality, balance and depth in comparison to the company's previous products. The audio delivery brings to you generous amount of bass paired with bright highs and slightly compromised mids. Unlike a number of Skullcandy headphones, lower frequencies are not overpowering, instead being more wholesome and warm. This is crucial in forming the backbone of a good pair of headphones. Bass frequencies do sound a bit distorted, though, and at higher volumes, even tracks like Queen's We are the Champions sound slightly distorted in terms of the bass performance. It may suit tracks played by Flea, but the likes of Leland Sklar, Roger Waters, John Entwistle and Billy Sheehan sound slightly dirtier than usual. Alternatively, the bass frequencies may sound more loose than the rigid compactness and warmth exhibited by the pick of audio equipment.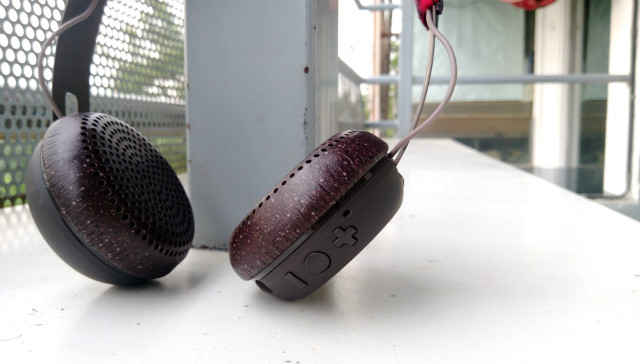 The mids are bright and warm, but not the most detailed. The range of mids are subdued to favour highs and lows, which in turn makes the overall audio sound loud and exciting. It will not please the purists, but for everyday listening, it does work to an extent. The Grind Wireless does not overawe you with a stunning array of detail in its audio delivery, instead balancing the overall sound to deliver that extra kick and loudness that you need to survive your daily commute. However, the mids do not sound lopsidedly missing, and you only notice it when you realise that Sharon Den Adel does not sound as enthralling as her vocal range actually sounds.
The highs are sharp, but do not sound piercing. They can hold their composure well across a wide range of tracks, ranging from Toss the Feathers by The Corrs, Crazy by Aerosmith and even Kala Chashma from the recent Bollywood movie, Baar Baar Dekho. This is by far the best aspect of the Skullcandy Grind Wireless' audio performance, and while there is a significant amount of emphasis on the highs, it contributes to making the audio more exciting, than shrill.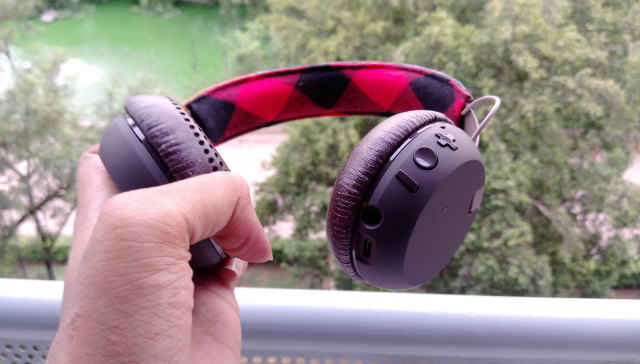 The Grind Wireless does well with pitch reproduction, and audio timbre is fairly good. You have the distinct feel of listening to a pair of headphones priced in the mid-segment of audio equipment, which is to say that it does not sound strikingly premium and well-heeled. That still works, though, and if the Grind Wireless produced better soundstaging, it would have been even better.
To sum up, the Skullcandy Grind Wireless delivers audio that just works if you are not the biggest audiophile. It delivers most of the essentials, and the only real 'flaw' here is the excessive amount of audio leakage that will force you to lower the volume. Thankfully, the headphones are amply loud, and retains its clarity and composure well at around the 65 percent volume mark. At this price, the Grind Wireless is one of the top contenders for the best wireless on-ear headphones segment.
Connectivity and Battery Life
Keeping things uncluttered, the Skullcandy Grind Wireless offers you easy Bluetooth and wired connectivity. It charges via a microUSB port placed beside the 3.5mm port on the edge of the right earcup. Bluetooth connectivity is usually stable, and retains through glass and concrete obstacles for over 20 feet, which should be enough for a pair of headphones. However, it does end up experiencing sudden loss of signal, sometimes even within as close a range as five feet. This might just be an issue pertaining to this particular unit, though.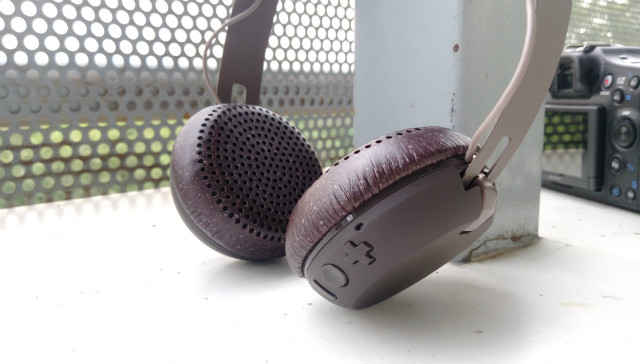 If you usually listen to music for about two hours every day (which is quite a lot), the Grind Wireless will easily last you for at least six days. One full charge from zero power reserve takes about an hour and half. Everything, in short, is at its right place.
Build and Design
Notable improvements to usual Skullcandy headphones include a metal headband, smooth adjusters, a neat layout, comfortable cushioning on earcups and headband, and a toned down design that actually makes the headphones look more suave. That… is just about everything. The headphones are fairly light, and making them foldable would have made it nearly ideal. The Skullcandy Grind Wireless will go up against Creative's Outlier, and distinctly outplays it in terms of build quality, design, durability and audio performance.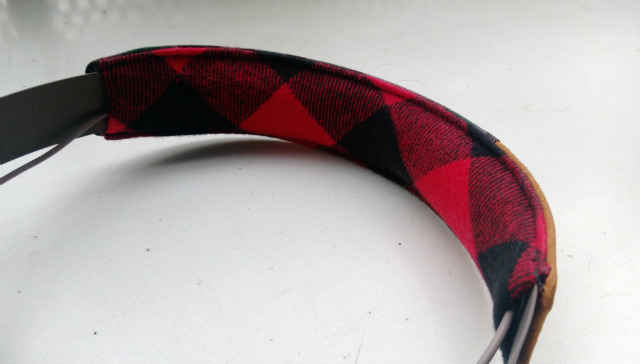 The Grind Wireless comes in a number of finishes, some with speckled patterns and others with plain, understated design. I personally like the black and tan finish on my Grind Wireless unit, which looks significantly classier than the more roadtrip-oriented ones. To sum up, the Skullcandy Grind Wireless is a fairly impressive pair of headphones, living up to its pricing. According to me, it looks quite uncharacteristic of Skullcandy, which is something that I really, really love.
Bottomline
If you have about Rs. 6,000 to spend and need a wireless, on-ear pair of headphones, the Grind Wireless is one of the best options out there. It offers good bass and highs, sounds chirpy and exciting, has a neat, uncluttered layout and looks quite decent. There are plenty of reasons to like the Skullcandy Grind Wireless, and its audio quality is the leading factor.