Reliance Digital TV - DTH and HD-DVR detailed review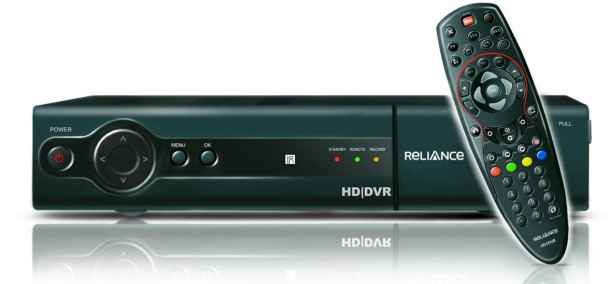 This review of the Reliance Digital TV is part of a shootout of all high-definition direct to home service providers in India. Find the final verdict there. Other players include:
Red and grey are the only prominent colours in the user interface of Reliance Digital TV. While channel surfing the menu occupies a comparatively smaller real estate on the screen as compared to other services that we tested. Guide gives you a more detailed view along with program guide for upto seven days, but a majority of the channels that we were surfing did not have any data beyond a few hours on that day. The Select button opens up twelve picture-in-picture screens based on the channels. This is very similar to Videocon d2h Mosaic 12 PIP.
Getting to the genre based channel surfing option is a big pain. It does offer Favourites option. You can add upto eight profiles on Favourites, but accessing the favourite channels from the remote is a big pain. Another hitch we noticed with Reliance Digital TV was the slowing down of the user interface when we started recording. This is really bad and not desirable at all. On pressing the Interactive services button, you will have the 'Please wait, Application loading...' message on for over 10 seconds before it enters the menu. There is no option to set Reminders, which is shocking. Overall experience with the user interface was disappointing. We hope Reliance upgrades its firmware.
[RELATED_ARTICLE]On live pausing, you will get an indication of the time elapsed since you have paused and then you can seek accordingly to arrive at the live timeline or just get rid of some ads that may have been recorded during a live pause.
You cannot record two programs on different channels at the same time. You will either have to stop the present recording or schedule the other recording after the previous recording. It allows you to watch one channel while recording another. This is just bad for a digital video recorder, specially when its competitors are allowing that.
The remote control is well laid out with neat arrangement of navigational buttons and shortcuts. It does not take much time getting used to.
Click here to read our final verdict on the device, along with its test results...