The latest Oppo wireless neckband headset – the Oppo Enco M32 – is the successor to the highly acclaimed Oppo Enco M31 that launched in May 2020. This refresh brings upgrades such as longer battery life, larger driver, and IP55 dust and water resistance. It doesn't come with perks such as Active Noise Cancellation owing to its price point. So, it competes with other options in the same price bracket including wireless neckband options from Boult Audio, DIZO, Realme, boAt, and a few others. The Oppo Enco M32's predecessor – the Oppo Enco M31 – managed to impress most reviewers and users primarily due to its sound quality. However, with the Oppo Enco M32, the company has decided to drop a pivotal feature that was present in the Oppo Enco M31 – LDAC codec support. The earphones are also not Hi-Res certified, unlike its predecessor. So, let's see how these changes affect the overall performance of the newly-launched Oppo Enco M32.
Oppo Enco M32: Performance – Sound, microphone, and wireless connectivity
One of the main attractions of the Oppo Enco M31 was LDAC codec support that offered high-resolution audio streaming over Bluetooth at up to 990 kbps. However, this is absent on the newly-launched Oppo Enco M32 resulting in lower-quality lossy audio. The ramifications of this change are apparent when listening to the Oppo Enco M32. Not only is the audio quality much less detailed but also the imaging suffers. The soundstage is slightly narrower than the Oppo Enco M31 as well.
Uncompensated frequency response of Oppo Enco M32 (Peach) vs Flat response (Dark green)
The Oppo Enco M32 is equipped with a 10mm dynamic driver with a composite titanium-plated diaphragm. As for the sound signature, the earbuds have a V-shaped sonic signature with massively boosted bass response and boosted highs. The bass response is boosted from 20Hz - 250Hz and ends up sounding pretty muddy. Additionally, the boosted bass also negatively impacts the mids. The mids, already less emphasised in the mix, suffer from a phenomenon called auditory masking where the bass notes shroud the clarity of mids. Thus, vocals and lead instruments that are usually present in this range lose their clarity and presence. The highs are well-produced with good sparkle but the spike in the frequency response from 7kHz - 8kHz causes some auditory fatigue when listening for long periods of time. To learn how we test earphones, watch this video.
This V-shaped sonic signature contrasts that of the Oppo Enco M31 which had a more neutral approach. It's disheartening to see Oppo go down the 'more bass, more treble' route when the predecessors of these earphones were so well-liked for exactly the opposite approach. While the Oppo Enco M31 could be recommended to a newbie audiophile, the Oppo Enco M32 can only be recommended to those who prefer that exaggerated, punchy bass response. There's also no way to change up the EQ settings, so you're pretty much stuck with what Oppo has provided. These earphones sound decent enough when listening to pop, rap, EDM and Bollywood. The Realme Buds Wireless 2 Neo provides slightly better sound quality with less muddy bass response in the same price range, so if sound quality is something you covet, we consider Realme's offering a better option.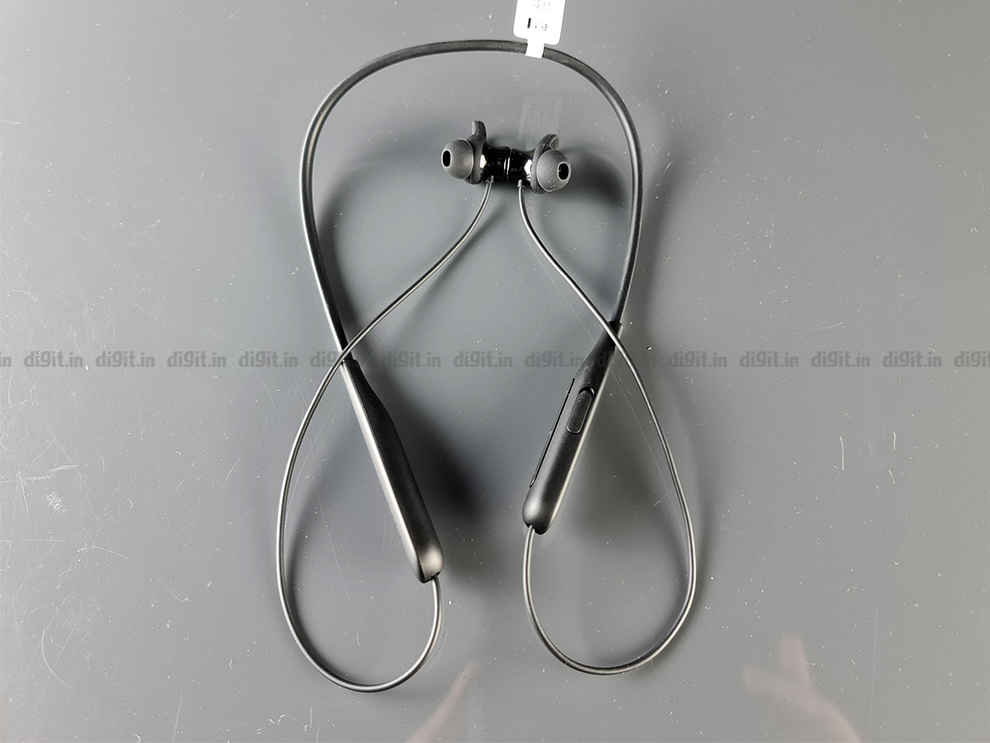 However, the Oppo Enco M32 are extremely loud earphones though, if that's something you're specifically looking for. We listened to the earbuds at only 40-50 per cent volume at all times. Note that if you listen to these earphones above the 70 per cent mark, you will face quite a lot of sound distortion in the lows and highs.
As for wireless connectivity, the Oppo Enco M32 is powered by Bluetooth 5.0, the same as their predecessors. No points to Oppo here since we were expecting Bluetooth 5.1 or 5.2. The Oppo Enco M32 provides good wireless range and we were able to go a room or two away from the source device without the connection breaking. The earphones also have minimal latency when watching videos or playing games, even though there's no dedicated gaming mode.
Now moving on to microphone performance, the Oppo Enco M32 is equipped with an omni-directional MEMS microphone with AI noise cancellation that does a decent job for the most part. The speaker's voice is loud and audible but there is some distortion at times. Additionally, if you're in a noisy environment, the earbuds don't do a great job of isolating your voice from the ambient sound.
Oppo Enco M32: Features
The Oppo Enco M32 are fairly feature-rich for the price but there are some omissions such as Active Noise Cancellation and app support. ANC being absent is understandable at this price point, but we sorely missed app support since some competitors provide a companion app with customisable controls and other settings. A case in point is the Realme Buds Wireless 2 Neo that can pair with the realme Link app and leverage a bunch of features such as customisable controls, EQ presets, and more.
That being said, the Oppo Enco M32 does have some enticing features up its sleeve. First, we have IP55 dust and water resistance. While most earphones in this price range omit dust resistance, Oppo has you covered on that front. You can easily use these buds in various scenarios such as when you're working out, in rains, during camping, trekking, and more without having to worry about damage from dust or water.
You can also quick switch between paired devices by holding down the volume keys simultaneously, which is the next best thing to multipoint connection. In our tests, this feature worked flawlessly, however, pressing down both volume buttons may be a hassle. We would have preferred triple-tapping the multifunction button for this instead. There's also quick connection support with Oppo ColorOS 11.0+ devices, but we weren't able to test that out.
You also have inline controls on the right plastic module of the neckband earphones. These buttons can be used to pause/play music, increase/decrease volume, activate your device's voice assistant, answer/hang up/decline phone calls, and move between tracks. Due to the lack of a companion app, there's no way to customise these controls but Oppo has integrated the existing controls well. They're all intuitive enough, so we didn't have an issue with the default control settings.
Oppo Enco M32: Battery life
If there's one area where the Oppo Enco M32 shines, it is, indisputably, battery life. The Oppo Enco M32 is capable of a whopping 28 hours of wireless playback time when charged to full. While this is the number stated by the company, we ran some tests of our own and were delighted by the results. In our tests, the earphones lasted 29 whole hours, albeit we were listening to the earphones at 40-50 per cent volume since they are extremely loud. Nevertheless, the battery life of the Oppo Enco M32 rivals most of its competitors in this price range and even above. The Realme Buds Wireless 2 Neo, for example, comes with only 17 hours of playback which seems paltry when compared to the Oppo Enco M32.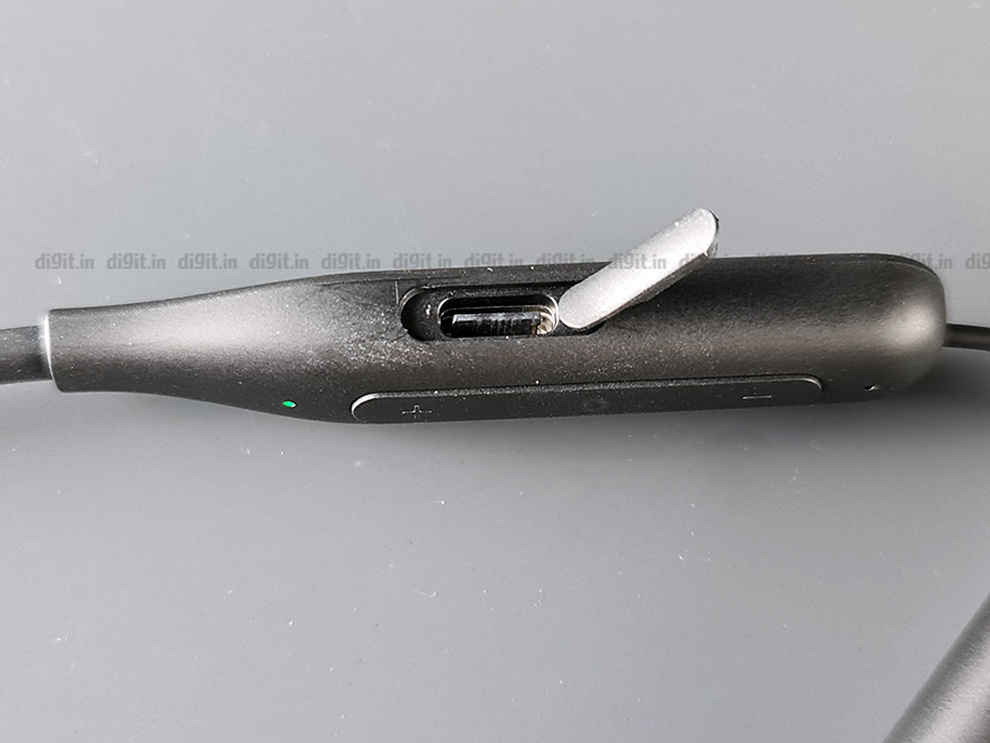 Not just that, the Oppo Enco M32 also supports fast charging. So, merely 10 minutes of charging will provide users with a ridiculous 20 hours of wireless playback time! This is an extremely convenient feature that will be appreciated by most users. In our testing period, we charged these buds rarely and when we did, a 10-minute charge got us 3-4 days' worth of usage, which is excellent.
Oppo Enco M32: Build, design and comfort
There's nothing awe-inducing about the Oppo Enco M32's design. They're a simple-looking pair of neckband style wireless earphones with a rubber neckband, matte black plastic modules or weights on either side, and glossy black earbuds. The only slightly striking part is the backside of the earbuds that have a silver CD-like finish.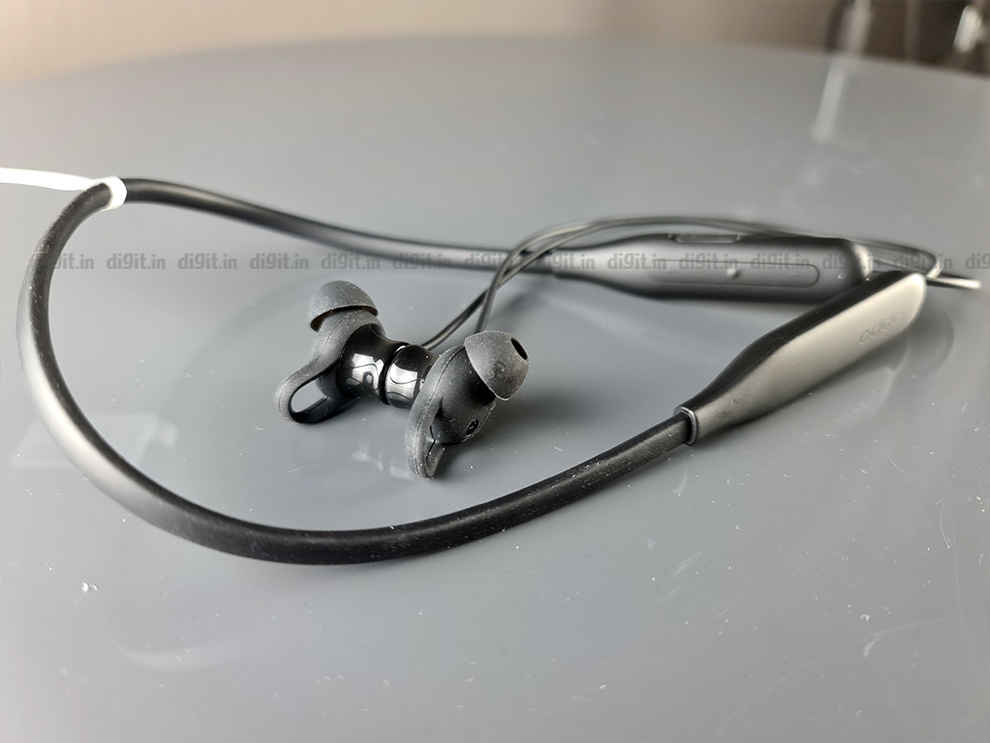 The rubber neckband bends to match the contours of your neck and sits there pretty comfortably. The plastic weights or modules on either side feel slightly cheap. The left one houses the Oppo logo while the right one has the controls, USB-C charging port and an LED light. The buttons aren't very tactile or prominent and you may find yourself fumbling around, feeling for the right one.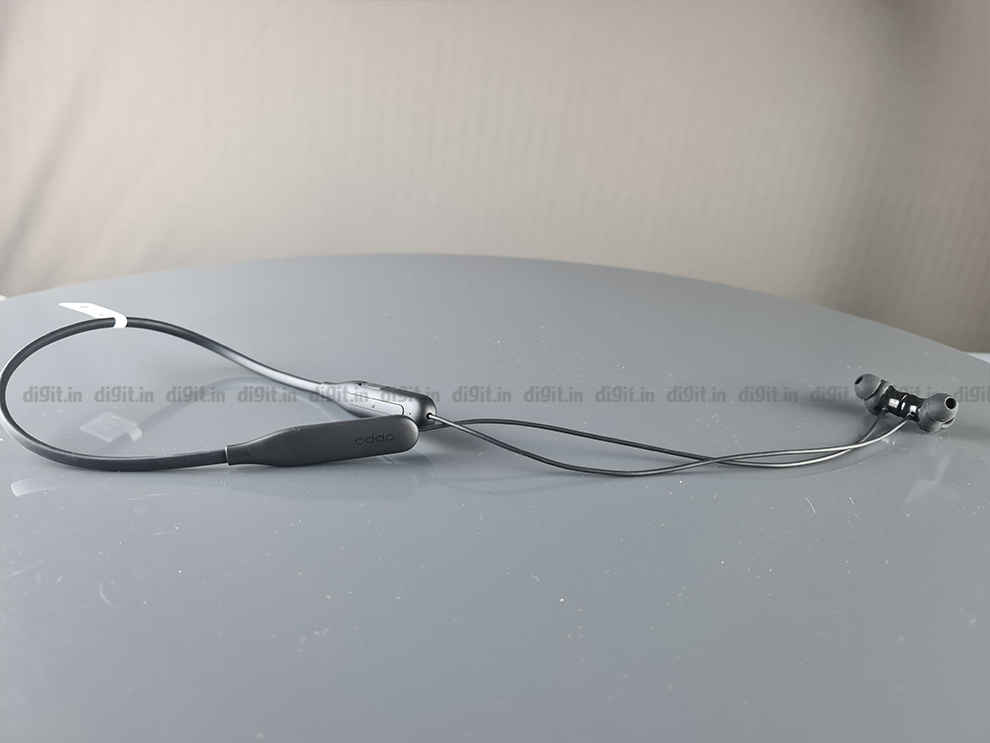 As for the earbuds, the nozzles are angled inwards allowing them to sit securely in the wearer's ears. You should be able to find a good enough fit for yourself from the three sizes of silicone tips provided. The earbuds also have a silicone loop or wing that adds to the fit and makes it feel more snug and secure. The earphones are also pretty comfortable to wear when simply sitting or doing activities, but you may feel slight ear fatigue if you wear them for too many hours. The earbuds' silicone wings and ear tips also get dusty pretty quickly.
Overall, the earphones don't look or feel spectacular. They're simple and minimalist earphones with little flair. The fit is very good though and you should be able to use these as workout earbuds easily, especially since they're water-resistant.
Oppo Enco M32: Verdict
The Oppo Enco M32 follows up the acclaimed Oppo Enco M31 and the difference between the two earphones is stark. While the Oppo Enco M31 provided audio bliss for beginner audiophiles and purists with their neutral sonic signature, the Oppo Enco M32 follow the more popular 'bass-first' philosophy with a V-shaped sound signature that will please bass lovers. The departure from the Oppo Enco M31's sound signature came as quite a surprise for us, but this was probably done to cater more to the masses' preferences. Essentially, Oppo has gone back to what's safe. However, due to the tone set by the Oppo Enco M32's predecessor and the muddy bass response, these newly-launched earphones didn't meet our expectations when it came to sound quality. The earphones also lack app support that is present on some of its competitors' offerings. Nevertheless, these earphones have one of the best battery performances in this price segment and they come with a solid IP55 water and dust resistance rating. Additionally, you also get a secure and comfortable fit.
With all that being said, the Oppo Enco M32 are pretty good entry-level neckband style earphones that we would recommend to bass lovers and fitness enthusiasts. While the sound signature definitely took us by surprise, these earphones are still one of the better sounding neckband style earphones you can get without breaking the bank, unless… you just get yourself the stellar Oppo Enco M31 from 2020 (if you can make do with the lower battery life, of course). Or you can just get yourself the Realme Buds Wireless 2 Neo that comes with slightly better sound quality and app support.