VERDICT:
The Mivi Collar headphone is surely ergonomic and the dual pairing option is quite convenient. However, the underwhelming audio performance of the IEMs with dull sound, lack of detail and recessed vocals mar the audio experience one would ideally be looking for. We would suggest you look at the SoundMagic E10BT and the Brainwavz BLU-200, which are also wireless, priced similarly at around Rs 3,000 and offer noticeably better auditory experiences for both music and on calls.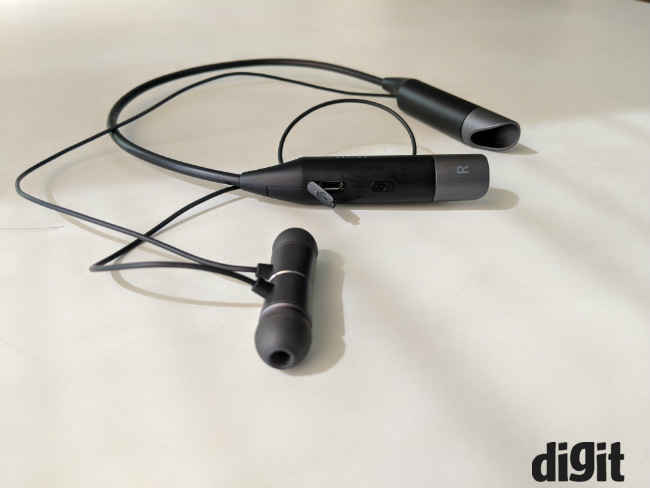 Specifications:
Impedance: 16 ohms
Sensitivity: 104dB/1mW
Frequency range: 20Hz ~ 20KHz
Bluetooth: 4.1 with aptX
Battery: 150mAh
Build and design
As the name suggests, the Mivi Collar sits subtly on your neck and around the collar and is fairly light. The neckband makes extensive use of plastic and doesn't really feel premium. Both ends of the device are attached with a thin but sturdy wire. A rubberised covering is wrapped around both wires for protecting them from damage and it is also provides cushioning, so that the wires don't dig into the back of your neck in case they are accidentally tugged on.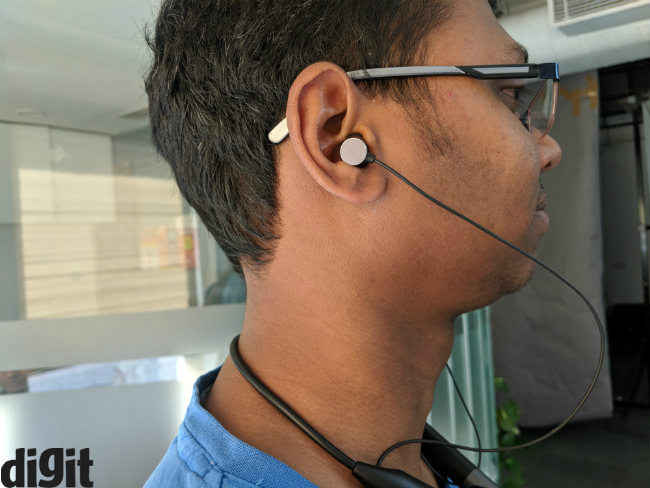 The micro-USB charging port and power buttons are placed on the right of the device along with an LED indicator. The volume control keys can be found on the neckband's left side. The build quality of the in-ear part of the IEM is nothing to complain about and the outside is made up of metal with a sharp cut design and does not feel flimsy.
Features
The Mivi Collar comes with some standard Bluetooth features one would expect from Bluetooth earphones at this price point. It maintains a stable connection for about 8 meters with a smartphone, after which noticeable loss in signal occurs. There is also a dual pairing option, which as the name suggests, can be used for connecting the earphones with two devices at once. The feature is quite handy as you can be connected to a laptop for watching a movie and still have the convenience of being able to answer calls on your smartphones without the need to disconnect and reconnect. The earbuds are magnetic and snap together securely to stay in place.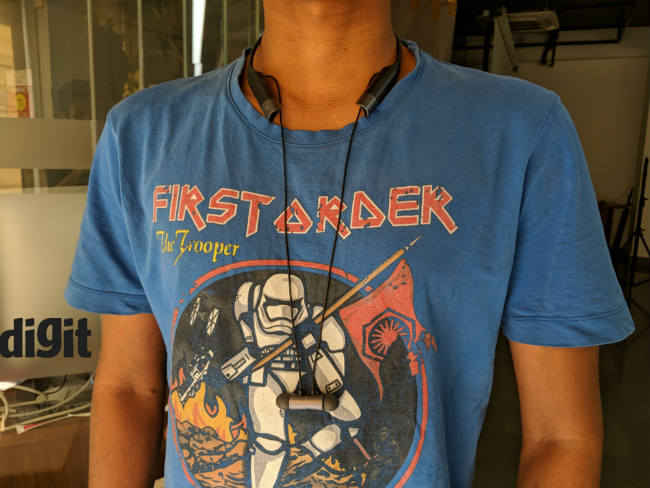 The Mivi Collar reconnects with known devices noticeably faster than other Bluetooth earphones we've used. Sometimes, the earphones switched off abruptly after being disconnected from a smartphone, but this could be an aberration as it happened only twice during testing. Nevertheless, it will be a problem if it is a persistent issue, which we'll only find out once we have used it for longer.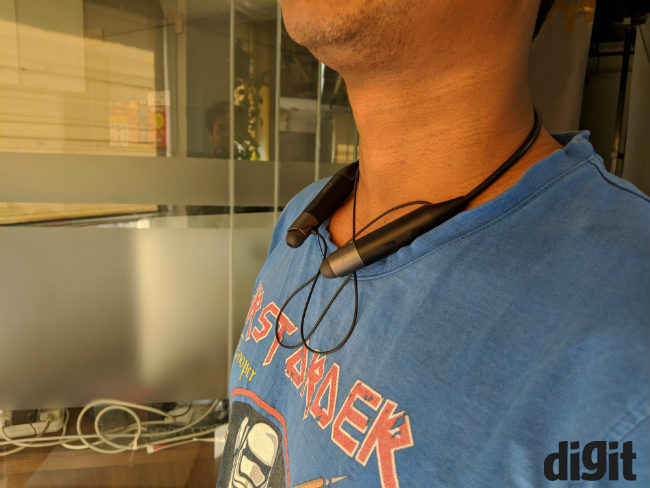 Performance
Getting down to brass tacks, the device's bass is quite spread out and instruments like the bass guitar and kick drum often blend together, without much separation in between. This undercuts the earphones' performance at times, due to a limited dynamic range. If you're someone who loves electronic music, the Mivi Collar Bluetooth earphones are unable to deliver that extra oomph in the bass-heavy sections of tracks when you need it.
The overall aural experience on the Mivi Collar Bluetooth earphones is a bit hollow and the audio feels somewhat compressed. The midrange is particularly muffled, which is a let down if you're into music with a more delicate arrangement. Songs like Pink Floyd's Comfortably Numb, Hello by Adele and similar other tracks where there should be a good amount of resonance, is surprisingly lacking. The Mivi Collar headphone also becomes overbearing to listen to, especially if you turn the volume past 70 percent. The earphone's sound signature seems to be overly bright, making the highs too sharp to bear at times. This can be taxing when one is listening to audio via the earphones for longer durations.
The Mivi Collar headphones are AptX enabled but its effect is miniscule in terms of enhancing the overall audio experience. Using a device which supports the technology, one can get slightly better audio experience, but expect nothing radical. Audio quality while on calls is decent but here too, vocals feel dampened and at times cause difficulty in properly hearing what the other person is saying. Also, we cannot stress the importance of using correctly sized eartips while using the Mivi Collar Bluetooth earphones otherwise the passive noise cancellation is rendered useless and the earbuds will keep falling out of your ears.
Battery Life
The Mivi Collar promises to deliver up to 10 hours of audio playback on medium volume and we were able to squeeze around 8 hours of continuous music playback from the headphones with some short calls in between. Overall, with an average usage of two hours per day, the headphones will easily last for about three days when you listen to music mixed with some calls in-between. The headphone will also warn you twice before disconnecting as the battery nears its end.