VERDICT:
Logitech upgraded their older Z623 speaker to feature an optical port and branded it the Z625. The optical port opens up a wider array of connectivity options such as the ability to hook them up to a TV or Console directly. While these speakers are perfect for movie watching and casual gaming, their ability to belt out good music was surprising to say the least. The official (MRP) price tag on the Logitech Z625 is high, but their street price is considerably lower – anywhere between Rs. 7500 to Rs. 8999. At that price range you'd be hard pressed to find a better sounding 2.1 system.
The variety of sources was simply to get a feel for how different input types would sound on the Z625. The actual scoring was done purely based off of the two most high-end analog and digital sources i.e. the output from the Xonar Essence STX sound card.
We ran a whole bunch of our standard high bit rate flacs to test for music performance, as well as various genres of movies and few games such as PUBG and CS:GO. Starting with the music, bass-focussed songs like Massive Attack's Angel and Chris Rea's Call On Me sounded quite nice. Right away you'll notice that this is a bass-head's speaker. The bass is not boomy but neither is it hard hitting. Still, one this is for sure – there's a lot of it to go around so most people won't complain. If you turn the bass dial anywhere over the 60 percent mark it tends to get overpowering straight away. Moving on to some of the more instrument heavy tracks, we noticed that the positioning was very important. Since the satellite speakers are angled slightly upwards, Logitech has already helped in the positioning. Still, you need to ensure that the cone of sound is perfect by trial and error. In other words, listening from the sweet spot greatly improves performance in the mids and highs. As we listened to more tracks, it became apparent that the crunch in the upper mids seems to be missing and the high end, though sounding shrill, lacks finer detail. You'll get those nice sibilant crashes of cymbals but the richness or sweetness is sometimes lacking in vocals. Overall, I'd classify the sound signature as slightly bright with heavy bass.
Movie performance is where these speakers really excel. Explosions, car chases, and those fog horns in movie trailers will sound great. The 7 or 8-inch driver in the sub is fully capable of producing window rattling lows. There is a bit of cabinet reverb but only if you crank it up all the way up. The good thing is with a bit of mucking about in your equalizer settings, coupled with finding the perfect bass level on the Z625's own bass control, you'll find that despite the powerful bass the dialogues aren't muddled either. These speakers are quite suited for motion picture and video entertainment. And since it has so many connectivity options hooking up to multiple sources isn't going to be a problem either. Incidentally, just for kicks, we tried playing audio over all three of its supported audio sources, and yes, they can be played at the same time. One small problem we noticed was that the headphone out jack which is available on the right speaker isn't amplified very well. It's not that big a niggle, just that gamers who don't have HD audio supported on their front panels might have liked to use the headphone out on the speaker. Speaking of gaming, the Z625 is surprisingly good at stereo separation, so positional accuracy is perfect for casual gameplay (if you are playing competitively you'd anyway go for headphones).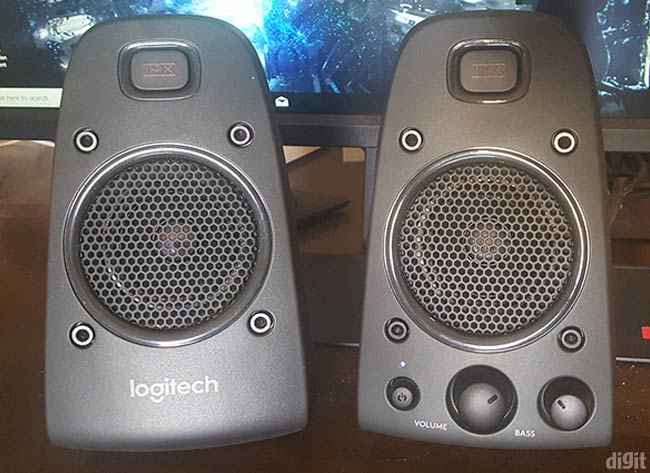 Yeah, there's nothing underneath those fancy THX logos. Even figuratively.
While we wouldn't give too much credence to the THX certification, overall it cannot be denied that these speakers do pretty well in the performance department.

Final thoughts
There are two types of people when it comes to individual preferences for desktop listening – those that like 2.0 bookshelf configurations for their precision and those like don't mind the accuracy tradeoff for power, low-end bass performance, and value for money. The Logitech Z625 does those three parameters quite well. In addition, you get optical connectivity which is quite useful when you want to connect directly to a TV or gaming console. Even if you are not buying the Logitech Z625 as desktop speakers for your PC, with the optical input, they make for good companion speakers for your TV as well. In that respect, the Z625 far outperforms several soundbars in that price range (except the lack of a remote might be a problem with some fixed output TVs). As PC speakers your gaming and movie watching experience will be more than satisfactory – filled with thunderous explosions and roaring rumbles. While audiophiles may turn their noses up at the 625's music performance, most people who know what this price bracket can offer will be more than pleased with the Logitech Z625's music performance.
Plus, with an output of 200 Watt RMS, the Logitech Z625 has more than enough power when you need to pump up the volume occasionally for that one-off house party. Simple, but useful features like the 3.5 mm input will ensure your friends can quickly connect their phones if they want to. The only thing lacking with the Z625 is Bluetooth connectivity. The addition of Bluetooth would've surely completed the package.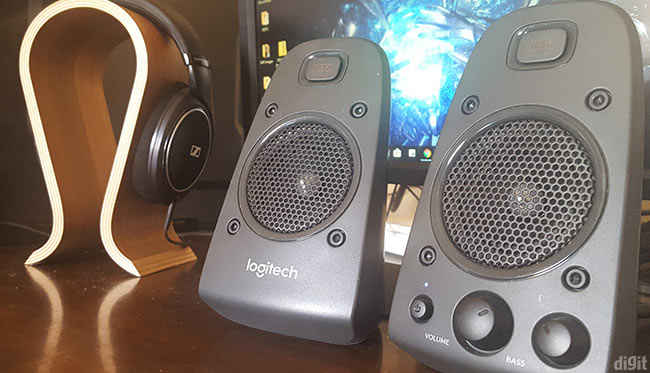 The Aux out on the right speaker couldn't properly drive these low impedance Sennheisers for some reason.
Since we are now nitpicking, the audio performance while fairly good, could've been better in the upper mids. The sparkly signature coupled with the sometimes overpowering bass might not be for everyone. In that case, a less powerful but more accurate system in the same price range such as the Swans M10 might be a better choice. We had the black variant with us a few months ago and those speakers did not disappoint.
Should you buy it?
Now for the buying decision, let us consider the price tag on these speakers. The Logitech Z625 carries a hefty MRP of Rs. 15,995. However, its market price varies anywhere between Rs. 7,500 to Rs. 8,999 depending on which forever-ongoing offer you find and the coupons you are able to apply. At this price point, you won't go wrong. If you care about bass and need to upgrade from crappy 2.1 speakers to reasonably good ones, these are the speakers for you.
Update (14/08/18): While connecting my newly acquired 4K Ultra HD Fire TV, I realised that the speaker is unable to decode Dolby Digital and Dolby Digital Plus. That's a shame. It keeps beeping when the input cannot be played. Several forum posts report this issue. PCM digital audio is still fine of course.