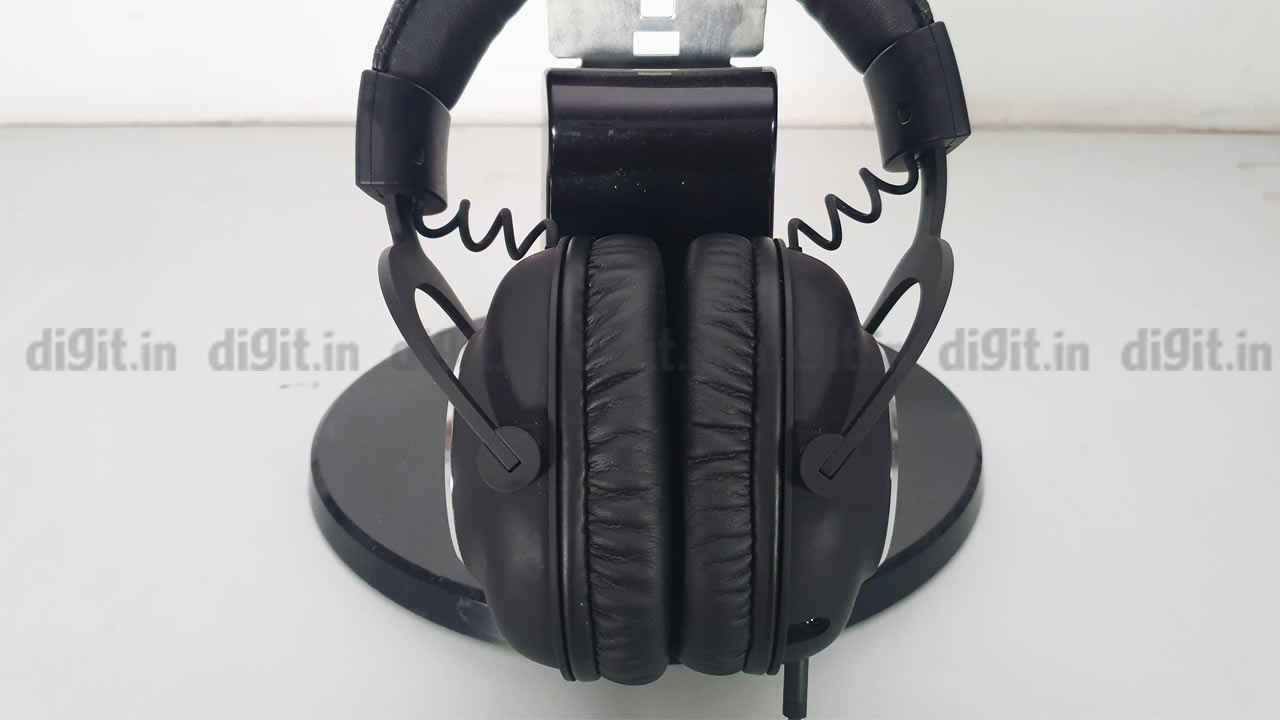 VERDICT:
The Logitech G Pro (2019 edition) sports competent sound quality and boasts tons of customisation options. The design looks extremely premium and it is also a very comfortable headset to wear over long gaming sessions. They also sport cross platform compatibility, so you can use this headset practically everywhere you'd game – from your PC right to your mobile phone. Although these do not come with Blue Voice technology as in their more expensive variant – the Logitech G Pro X, the 6mm detachable microphone still performs splendidly and relays voice to your team members accurately.
Unlike a majority of gaming headsets these days that are designed more for flamboyance than function, the Logitech G Pro ditches theatrics such as RGB/LED lights and over-the-top design and build. They are an unassuming pair of headphones that look plain, but have a lot going on under the hood. However, do these translate well when gaming or listening to music? Let's see if the Logitech G Pro owns the 'Pro' moniker.
In the box
Logitech G Pro Gaming Headset
Detachable microphone
2-metre cable with inline controller
Y-splitter cable
USB external sound card
User documents
Build and design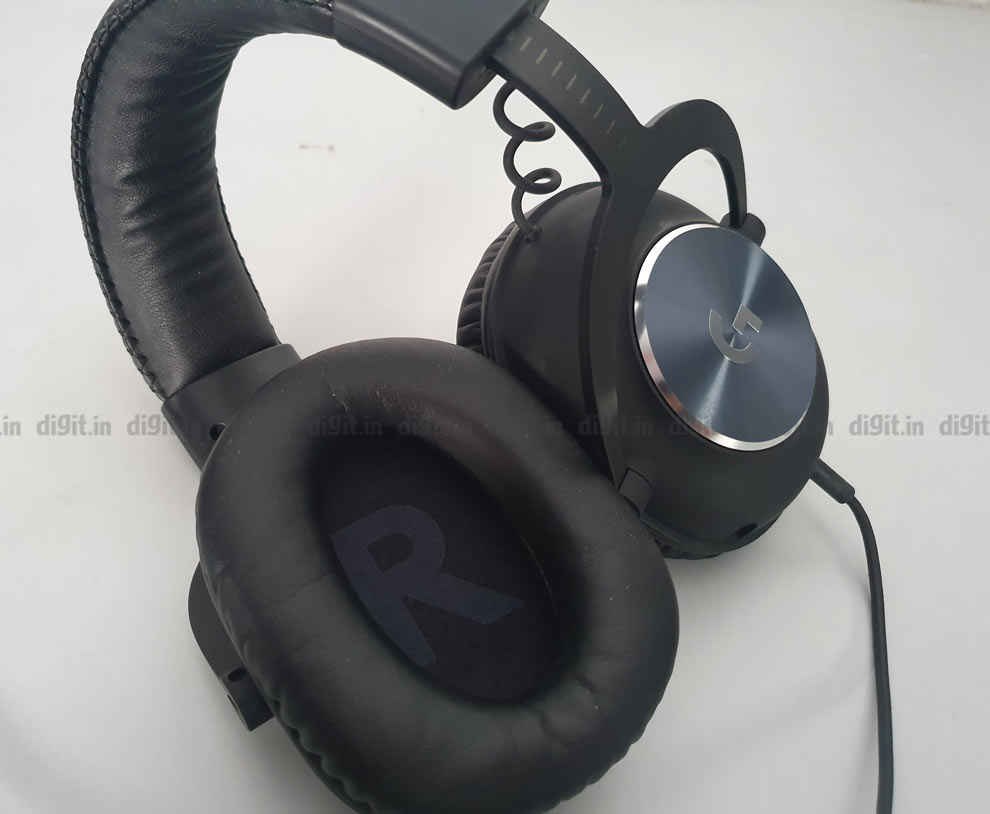 As we mentioned above, the Logitech G Pro does away with things such as RGB and aggressive design and focuses on looking more premium and sophisticated. More 'Pro', if you will. The headband is made out of a leatherette material and aluminium forks hold the earcups in place. 'Pro' is indented into the top of the headband and the sides have a simple thread-stitched look going on. The memory foam in the headband feels plush and comfortable, however, after about 6-7 hours of continuous usage, the top of the head feels a slight hotspot.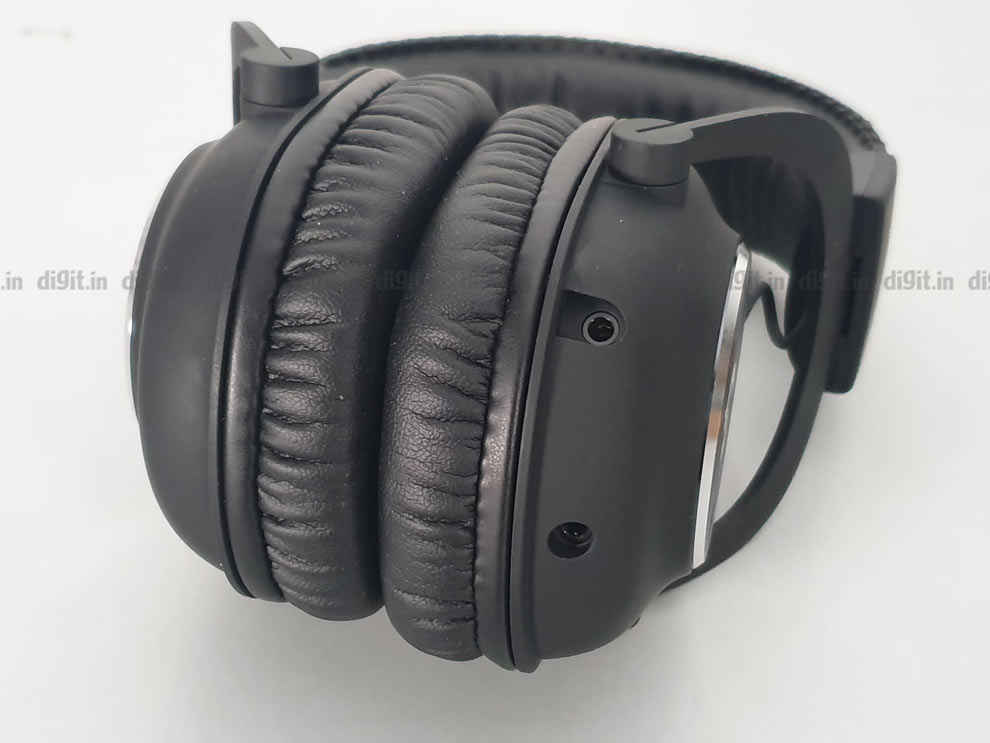 The build, while premium, may feel like a bit bulky weighing in at a whopping 320g. However, Logitech has done well to dissipate this weight equally, and the headphones don't end up feeling quite so heavy when you put them on.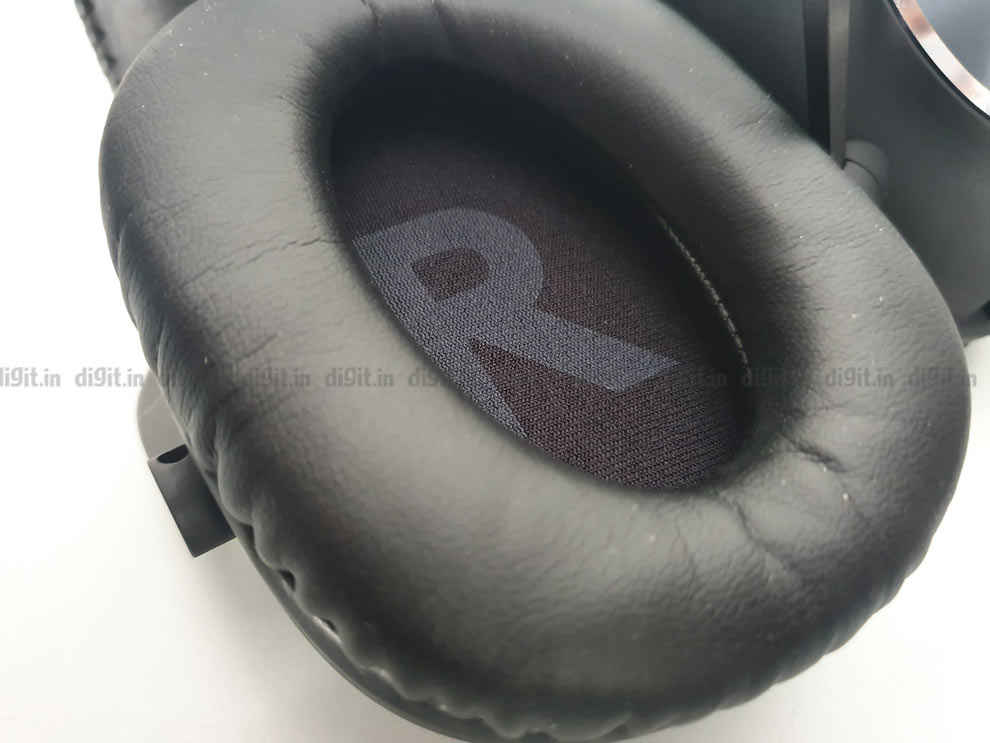 The earcups are all black and silver with the Logitech G logo smacked right in the centre. The radial design here is quite eye-catching and all the materials go together very well to create a holistic, premium look. The earcups have soft faux leather, while the insides have plushy memory foam that is extremely comfortable. The padding is very thick and the ears do not get warm or feel uncomfortable even after playing for hours on end.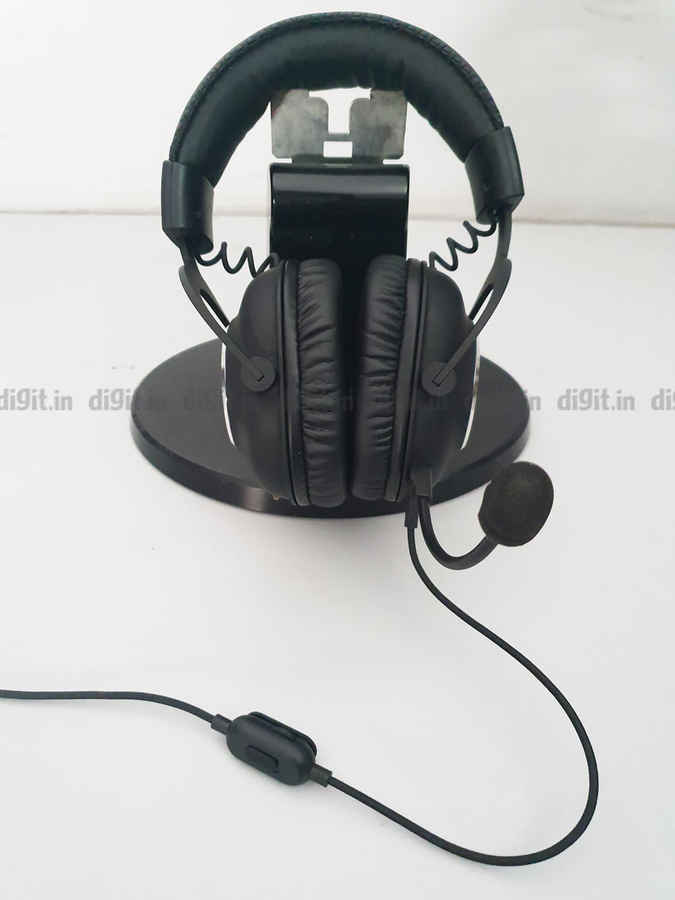 The detachable microphone fits into the left earcup and is extremely malleable when it comes to positioning it. The 2m long cable connector comes with an inline controller which features a volume wheel as well as a toggleable mute button.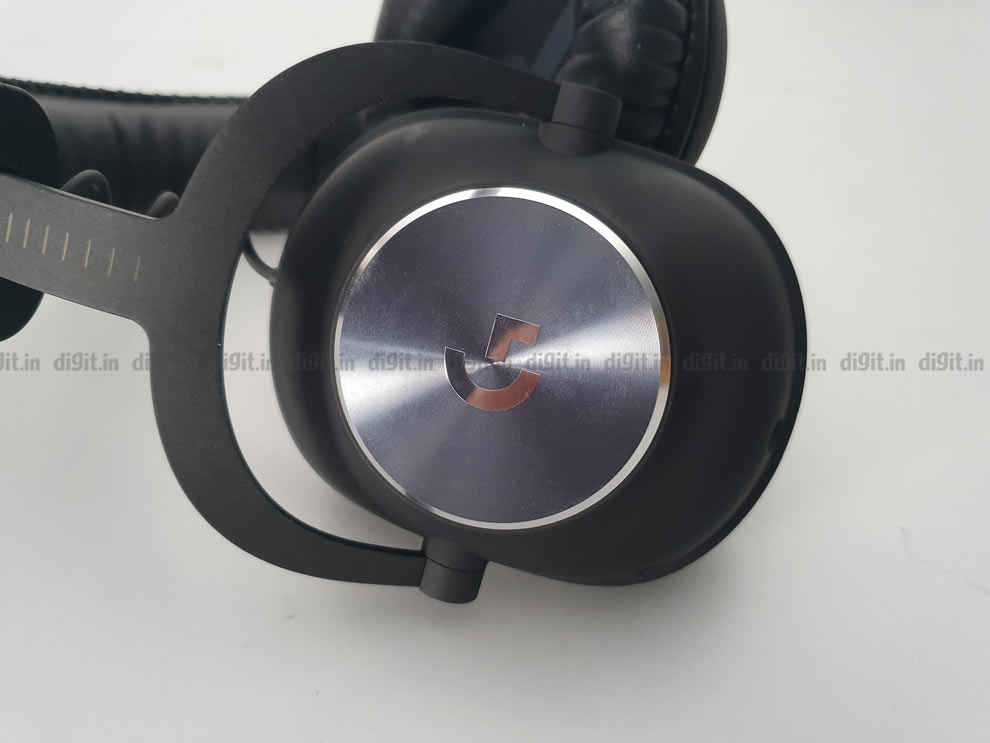 The clamping force is quite tight and for bigger heads, this might get a bit too uncomfortable after a few hours of usage. However, the reviewer, who has a smaller-sized head, did not find the clamping force suffocating or too tight. Overall, the headphones are super comfortable and beat more expensive ones such as the HyperX Cloud Alpha in this department.
Features
While the headphones themselves don't have too many features that are noticeable on the surface, apart from the easy-mute button, volume controls, and cross-platform compatibility, the Logitech G Pro has a host of features accessible via Logitech's G Hub software. Unfortunately, these don't have Blue Voice technology like the G Pro X model, but there are some other features which do offer a host of customisations to gamers.
The G Hub software allows gamers to find and utilise several pro players' profiles as their own while gaming. If they want to customise these down to intricate levels, that option is available as well. All these profiles, customised or otherwise, can be saved to the external USB sound card which is provided in the box. This allows users to access their 'perfect' sound profiles no matter which PC they're utilising to game.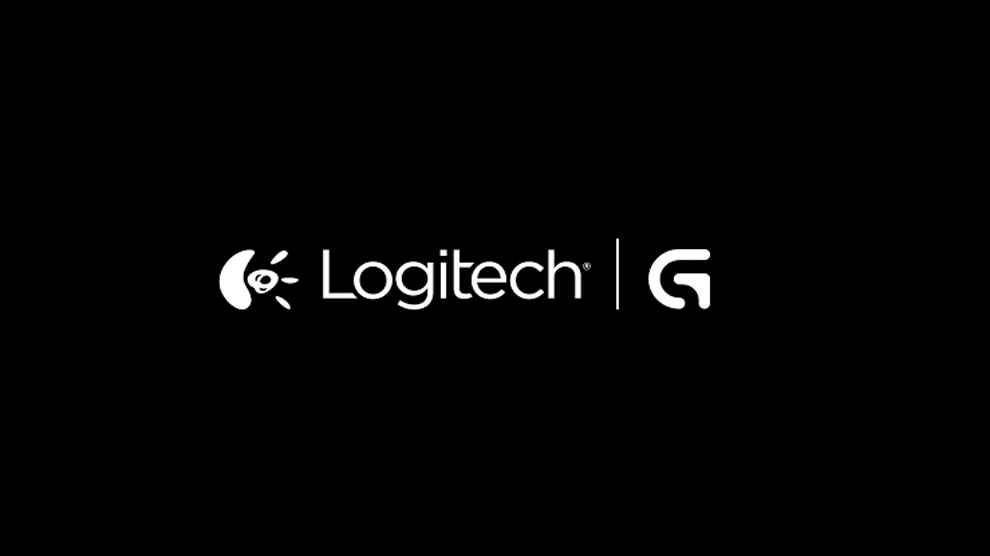 The software also has tons of other features such as a high-pass filter which removes low-frequency sounds and a de-esser which takes care of hisses and other high-frequency sounds that bother gamers. The granular levels of customisations are extremely fun to mess around, apart from being extremely useful to pro-gamers.
On the software, gamers also have the option to save their customised sound profiles and publish them publicly for others to use or simply for other PCs that access your account. The G Hub software also has sliders for volume and microphone in the acoustics tab. Here, you can also turn DTS Headphone: X 2.0 spatial surround sound on or off, according to your preference.
Performance
The sound quality of the Logitech G Pro (2019) is quite competent. Featuring PRO-G 50mm drivers, this gaming headset does quite well across different genres of games. The overall sound profile is clear and precise, however, the bass response is relatively under exaggerated.
We played FPS games such as Far Cry 3 and found that environmental sounds were beautifully rendered but the sound of gunshots and enemy footsteps launched punch. The soundstage, on the other hand, was expansive giving users a more immersive experience overall. Footsteps and gunshots are spatially-aware, which makes gaming with these a great experience. The imaging is also stellar and telling where footsteps are coming from is a breeze.
The microphone, despite not having Blue Voice, is stellar. It filters background sounds in your vicinity excellently and the user's voice is picked up and relayed with precision. The earphones do exceptionally well with low-end voices that several other microphones on gaming headsets struggle with. You can easily pick up the Logitech G Pro and use them effectively to stream with. Yes, they're THAT good.
However, one gripe we seemed to face with the microphone was that at higher volumes, the sound bleeds quite a bit from the earcups. This, in turn, gets picked up by the microphone and your teammates will likely be able to listen to the tunes you're playing or the content you're watching. Another problem we faced was that the passive isolation, despite the solid clamping force, was mediocre. When gaming in our noisy test lab, the reviewer could distinctly hear the rest of the edit team while hindered the overall immersiveness.
Other than the gaming performance, music reproduction quality is slightly lacklustre. The bass is muted and the highs can get slightly tinny in tracks such as Popular Monster by Falling in Reverse. We'd suggest that you tune the EQ on the G Hub software to your liking. We bumped up the bass reproduction a bit and FPS games started sounding more dynamic than on the original setting.
Bottomline
The Logitech G Pro (2019), priced at Rs 9,995, is a solid gaming headset that gives gamers access to tons of customisations to tailor the headset sound quality to their liking. Additionally, the build quality is also stellar, since the G Pro lets go of theatrics and solely focuses on quality. They're robust, feel good in hand and have adequate cushioning in the headband and earcups. The microphones on these are superb, however, if you want to take it to the next level, we suggest getting the G Pro X which comes with Blue Voice technology to enhance microphone performance. Overall, the Logitech G Pro is a solid upgrade over the previous G Pro headset model and serves as a capable gaming headset for pro-gamers and casual gamers alike.