LG's lineup of ToneFree true wireless earphones incorporates Meridian sound technology and the ones we've reviewed before definitely impressed us. We now have LG's latest top-of-the-line TWS earphones called the LG ToneFree FP9. While the naming scheme could definitely use some work, these earbuds look impressive on paper. LG usually has a trick or two up its sleeve to distinguish their earbuds from competitors. The earphones come equipped with UV cleansing technology that rids the earbuds of bacteria when the case is on charge, as per LG. This feature has also been present on previous LG TWS earbuds such as the LG ToneFree FN7, we've previously reviewed. Another interesting feature is the charging case's ability to double as a wireless transmitter, allowing users to listen to non-Bluetooth devices wirelessly. But are these features enough to justify the Rs 13,990 price tag and how do these buds perform? Let's find out.
LG ToneFree FP9: Build and comfort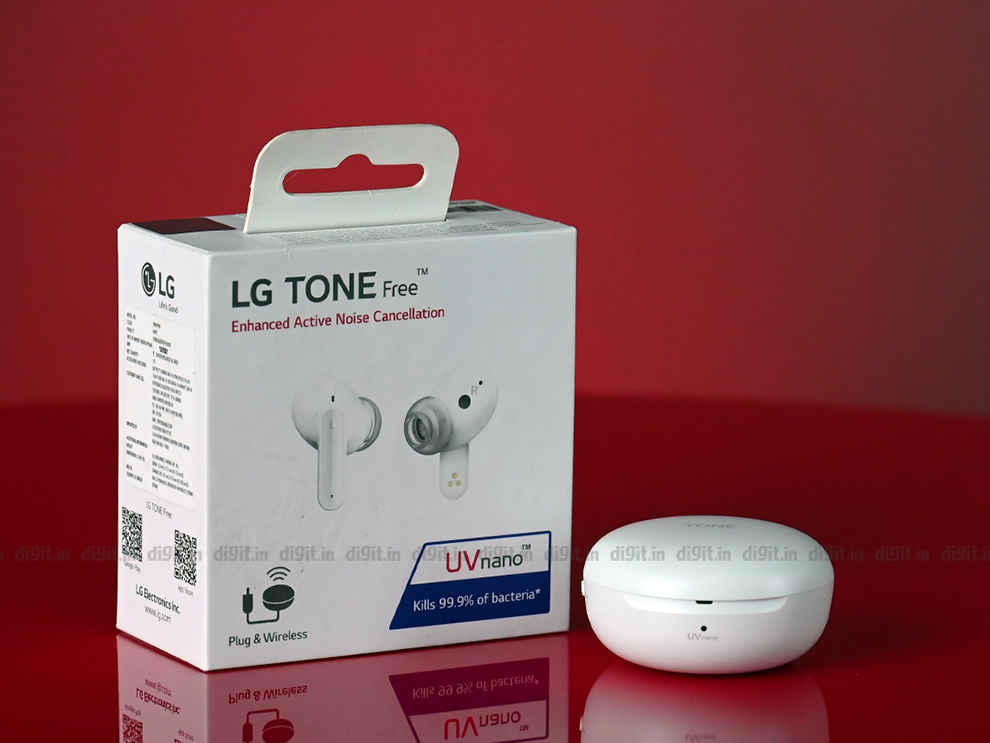 The LG ToneFree FP9's charging case looks very similar to the FN7 that we reviewed last year. It has a circular charging case with a small footprint that will easily fit in pockets or handbags. The earphones are available in Charcoal Black and Pearl White colour options and we got the latter for review. The matte finish of the case is pleasing to the touch and avoids fingerprints or smudges. The case is lightweight and easy to open one-handed. The magnets that hold the buds inside the case aren't very strong though and they may topple out of the case if dropped.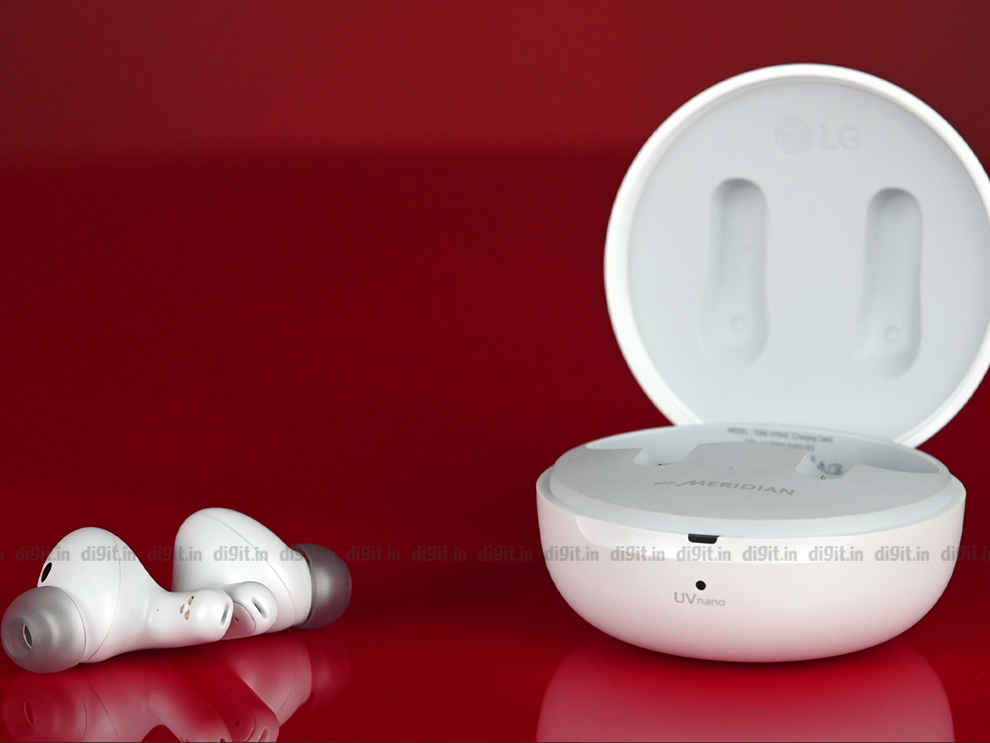 When you open the case, it glows blue, presumably to drive home the UV cleansing capabilities but the light is only for aesthetic purposes and the actual cleansing only happens when the case is closed and on charge. The case has an LED indicator light for charging status and another one for UVnano tech. There's a toggle on the left to switch to wireless transmitter mode and there's a USB-C port at the back.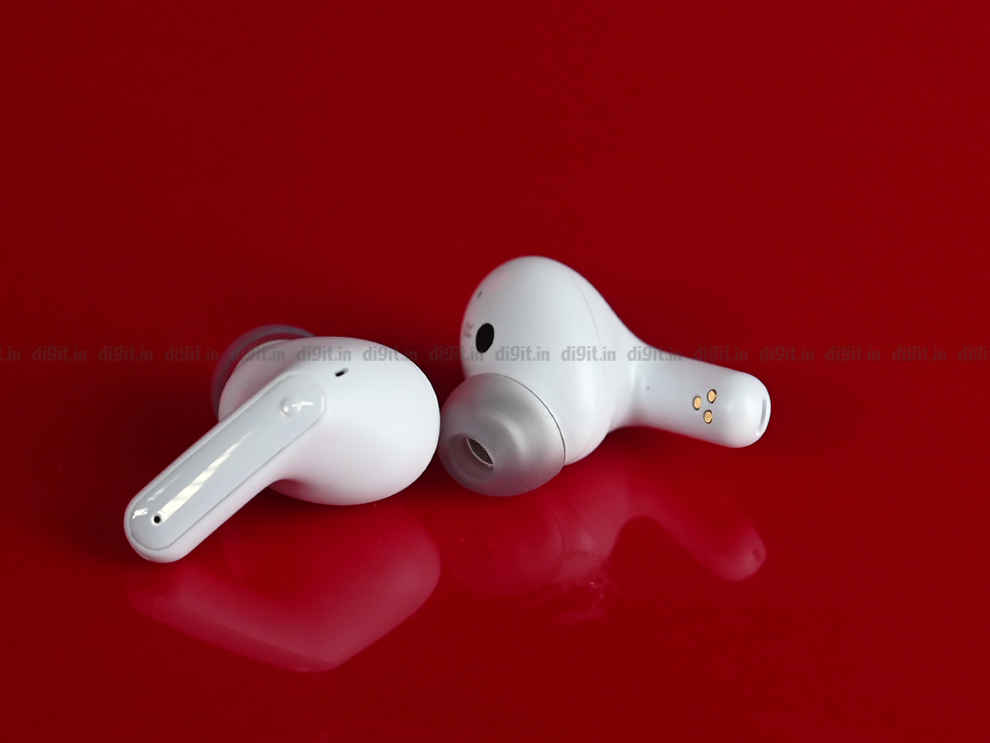 The buds look simple and slightly bland, to be honest. The back of the stem has a slight glow but that's the only aesthetic flair. The top of the stems houses the touch panels that work exceedingly well with few misreadings. LG has provided medical-grade eargels or ear tips that are made from non-toxic, hypoallergenic silicone. The buds are extremely lightweight and comfortable to wear, even for long periods. They barely slip out of the ears even when you're walking or jogging, which is impressive. Combined with the IPX4 rating, this makes these earphones suitable to use when exercising as well.
LG ToneFree FP9: Features
The ToneFree FP9 come with a plethora of features including some that we've rarely seen on other earbuds. Let's first speak about two of its most unique features. Starting with UVNano technology. The FP9's case uses UV light to automatically clean your earbuds. This reduces bacteria on the inner-ear mesh by up to 99.9% in 5 minutes when on charge, according to LG. We've previously tested the FN7 with the same feature and it's nice to see the company continue bringing this feature to their new devices as well. LG has incorporated this feature to reduce the chance of inner-ear infections that some may face when using TWS earbuds.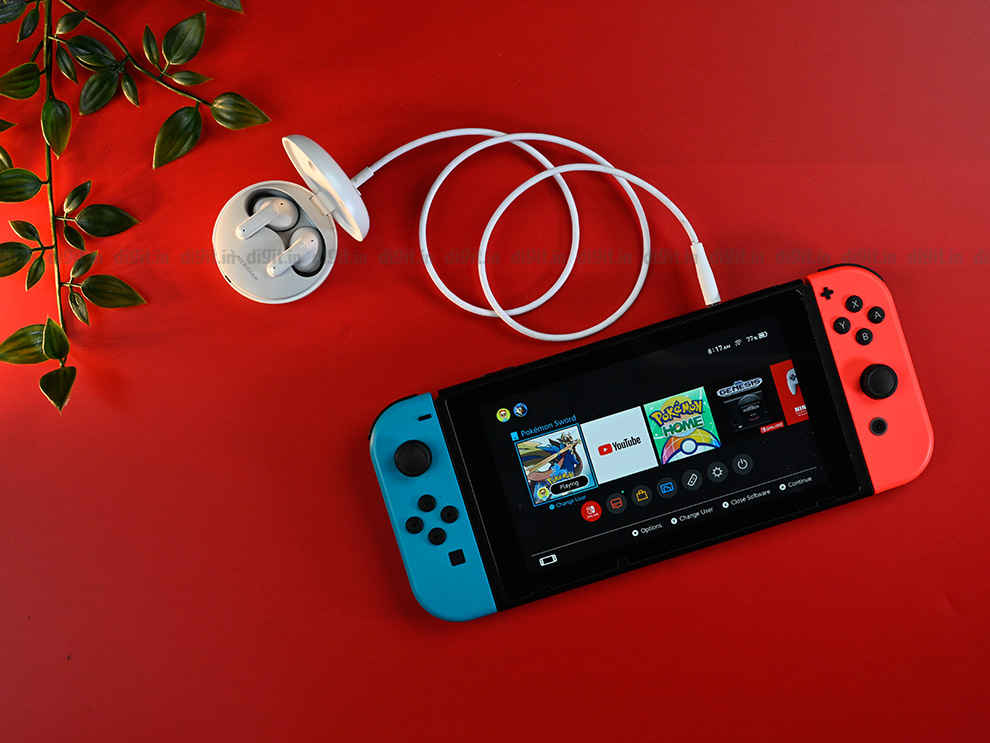 UV cleansing isn't the only unique, standout feature though. The FP9's charging case also doubles as a wireless dongle or transmitter that allow the earbuds to be used with non-Bluetooth devices. There's a toggle on the left side of the case that needs to be turned on to use this feature. Then, using the provided USB-C to aux cable, the charging case can be plugged into any device with a 3.5mm input such as a gaming console or an in-flight entertainment system. The user can then simply remove the earbuds from the case and listen to media wirelessly without using Bluetooth. It's an extremely innovative and unique feature, and during our testing, the feature worked well. There's some audio delay though and the volume isn't as high as usual.
The earphones also come with Active Noise Cancellation and Ambient Mode support. The ANC, while not as effective as competitors such as the Sony WF-1000XM4 and Bose QuietComfort Earbuds, is pretty decent as cancelling out ambient sound. It deals with constant sounds such as an AC's hum or a car's engine pretty well, but it doesn't suppress human voices well. The Ambient Sound Mode works pretty well and sounds adequately natural, but the performance isn't pathbreaking.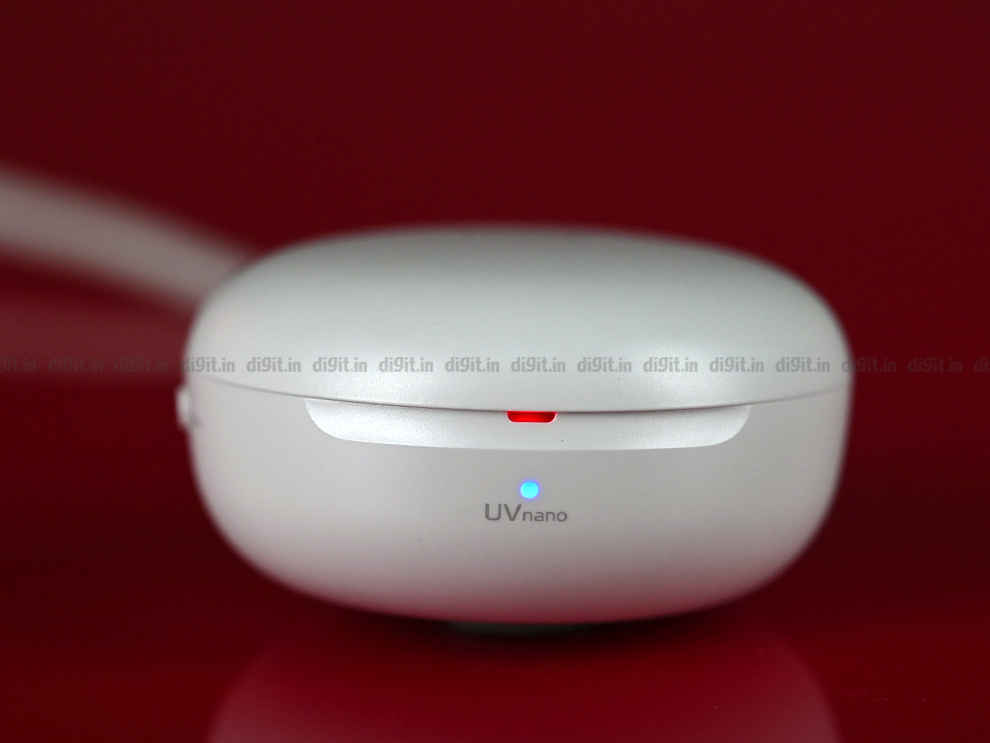 The earbuds also come with app support. They use the Tone Free app that provides users access to plenty of features and customisations. The app has 5 EQ presets - Immersive, Natural, Bass Boost, Treble Boost, and 3D Sound Stage. Immersive and Natural were the most balanced EQ presets with Immersive having a wider soundstage. 3D Sound Stage uses Meridian's expertise to spatially up-mix media and expands the soundstage even further. You can even customise the EQ as per your own liking, but for some reason, the volume levels drop considerably when using a custom EQ. We hope LG can fix that in a software update.
Users can also toggle between noise-cancelling modes. You can choose between Low or High ANC, turn ANC off completely, or activate Ambient Mode. Within ambient mode, you can choose between Listening Mode and Conversation Mode, and the latter allows more sound in than the former. Additionally, users can also customise touchpad controls. There are volume controls too, something that isn't present on a surprising number of TWS earphones. You can also toggle voice alerts for notifications, use to find my earbuds feature to locate a missing earbud, toggle auto-pause/play, and more within the app. The auto pause/play feature works well, it is reliable enough that we felt comfortable sacrificing the pause/play control in favour of volume controls. Other features include IPX4 sweat and water resistance and mono earbud use.
LG ToneFree FP9: Performance
As with previous ToneFree earphones, LG has once again partnered with Meridian, a British manufacturer of high-fidelity audio components and systems, for the FP9. The earphones are equipped with 8mm drivers, an improvement over the 6mm drivers of LG's previous flagship TWS - the ToneFree FN7. You get SBC and AAC audio codec support, which bodes well for the most part, but we did find ourselves hoping for some aptX or LDAC action for better wireless fidelity. Meridian-tuned audio and improved drivers equate to a more immersive and refined sonic experience than what we experienced on the FN7.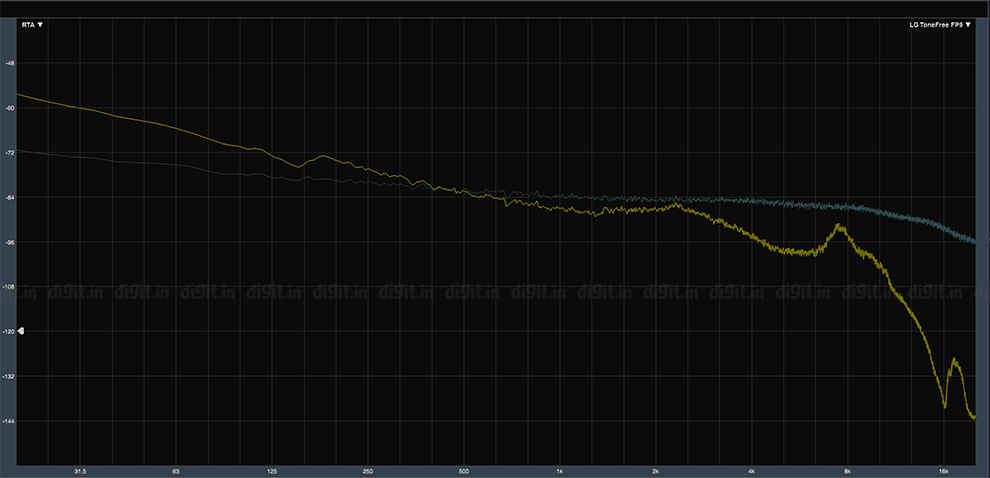 The earbuds provide detailed and natural sound rivalled by very few in the consumer TWS segment. Meridian's expertise in surround sound really shows with these earbuds. These are one of the few in-ear headphones with an extremely immersive and engaging soundstage that we usually only experience with over-ear or on-ear headphones.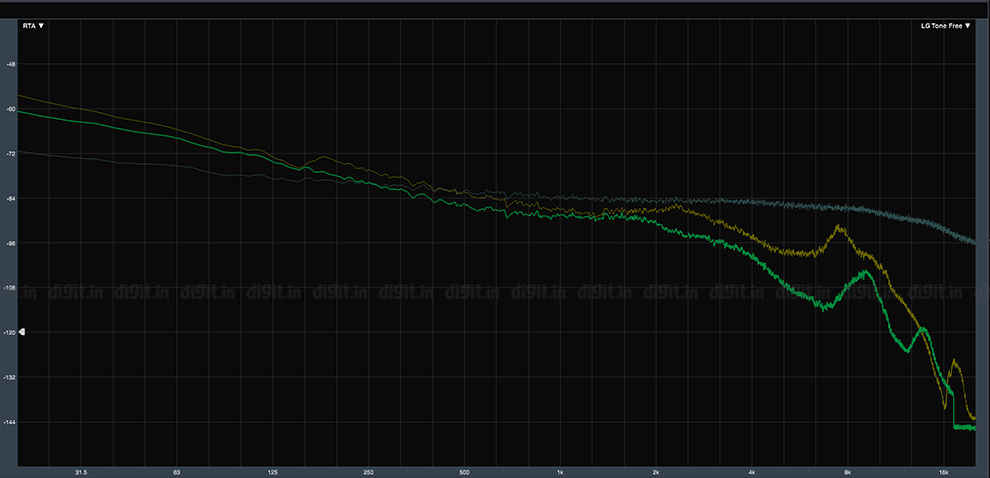 We also used our specialised equipment to find the sound signature of these earphones, and here's what we found out. We tested the earphones using the Immersive and Natural EQ presets, for the most part, since they are the closest to neutral. Looking at the frequency response graph generated, you can see that the bass response from 130Hz to 250Hz has a massive dip. However, we feel that this is intentional on Meridian's part since it tones down the boominess of the bass response here and maintains the details in the mids. The bass is not what buds like OnePlus or even Sony will offer you. You don't get a lot of that punchiness and drive in the bass notes, but what you do get is a clean, detailed representation.
The mids have some peaks and dips in the frequency response which may impact the detail in vocals and lead instruments slightly. The highs are exquisitely produced, even better than Sony's flagship - the Sony WF-1000XM4. Cymbals and hi-hats sound detailed and full in the mix. Overall, the sound quality is detailed, clean and technical. Bass lovers won't enjoy this sound signature but purists will definitely appreciate, especially due to the wide soundstage which is rare in TWS earphones. The imaging is also excellent within the stage and you can accurately place the position of instruments and vocals in the mix. These earphones would work excellently for those who enjoy classical and rock music.
LG ToneFree FP9: Battery life
The FP9's battery life is nothing worth writing home about. The earbuds feature a wireless playback time of 6 hours with ANC turned on, which is decent, but in total, you can get only 15 hours of total playback time with the charging case, which is mediocre at best. Essentially that means the charging case only provides one full extra charge with some juice to spare.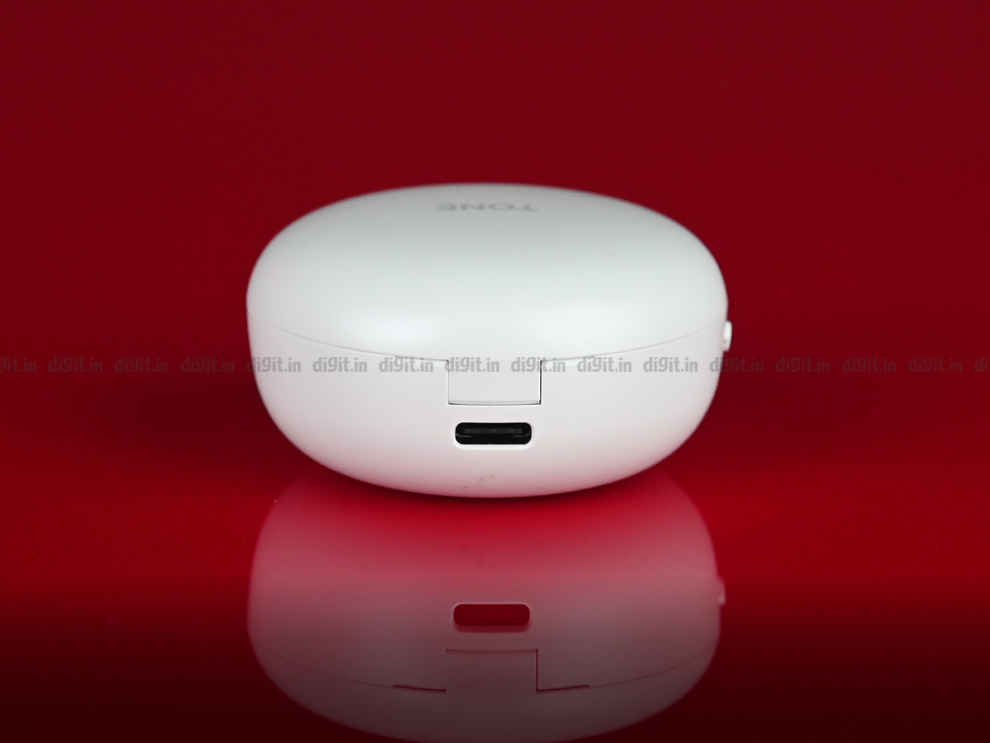 If you turn off ANC though you get a whopping 10 hours of playtime on the earbuds, which is impressive. However, the total battery life without ANC is 24 hours, which is again, underwhelming. So, you'll have to charge the case more often than with competitors such as the Sony WF-1000XM4.
In our tests, with ANC on and the volume levels set to 60 per cent, the earbuds lasted a little over 5 hours and the case provided a charge and a half. The earbuds come with fast charging though where 5 minutes of charging provides an hour of playback. There's no Qi wireless charging support though, which is disappointing at this price.
LG ToneFree FP9: Verdict
The LG ToneFree FP9 easily stands out in the sea of TWS offerings in the market due to features such as UV cleansing, the case doubling as a wireless transmitter, and Whispering Mode. They're easily one of the most interesting pairs of truly wireless earphones we've tested and if you're a tech enthusiast, you may be able to spend hours exploring the buds' different features. Once you do get tired of exploring though, you have a solid pair of TWS earphones complete with excellent fit, immersive sound quality, decent battery life, and a great companion app packed with customisation options. The microphone, however, could use some work and the ANC isn't the best we've experienced at this price, but overall this is a solid package that is like no other TWS you've experienced before. While the Sony WF-1000XM4 may be the more refined overall product, the LG ToneFree FP whatever is definitely more fun to use.