VERDICT:
For a television that costs Rs. 7,00,000 for the box price, the performance will not disappoint. Add classy looks into the mix, and this will be the true masterpiece in your living room. But actually, this will be more at home in a dedicated home theater setup.
Design & Build
The LM95 has slightly different finish to what we see with conventional televisions – brushed metal as against the more conventional black, and the even worse glossy black. There is a slight drawback of this kind of finish, but we will get to that in a bit. The positives are that it doesn't catch dust or scratches quite as easily as a glossy black finish. Surprisingly, this colour will sit well in almost everyone's living room, such is the neutral and universal nature. The table stand also has a similar finish, but with a dash of chrome on the side spine and the neck.
There are absolutely no hardware buttons on the front fascia, but the edges have a slight glass and chrome frame. This isn't an ultra thin bezel, and we are happy it isn't, considering it looks so good. Connectivity options can be accessed easily from the left side of the display, assuming you are looking head on at it. Peek back from the opposite side, and you have the controls – power, volume, menu etc. The unique-ish layout means you see the placement labels on the side, and just run your finger around the back in according with the labels. And voila, there are the keys. Slightly difficult to work this in the dark though!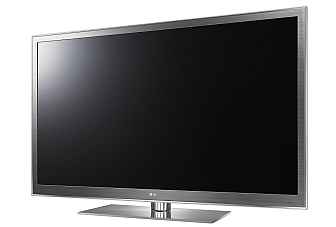 Coming back to the one little drawback with this finish, and it is with viewing this TV in a dark room – the bezel will not blend into the darkness like a black one would. For some, it doesn't matter, but for others like me, it'll be a bit annoying. I don't want a frame like structure around the television all the time.
Overall, the LG LM9500 Cinema 3D TV is built extremely well. It does have considerable amount of weight though, not a surprise. At almost 6 kgs including the stand, you should ideally have 3-4 people picking it up and placing it wherever you desire it to be. A strong table should be a necessary criteria solved beforehand. However, once it is up, it does feel like money well spent. And what better benchmark for that than the eyeballs it grabs!
Features & Specifications
The television that LG sent us for review is the 72-inch one. This is the latest arrival to the Cinema 3D television range. The best thing about it is – the 3D glasses are passive, in more technical terms the 3D technology LG is using is known as FPR (Film-type Patterned Retarder). These are many times more comfortable to wear than active 3D glasses, owing to the slimmer size and lighter weight. So much so that you may, at an uninitiated first glance, may brush them aside as those cheap play toy category glasses! However, they work, and they work brilliantly. LG packs in 6 glasses with the TV – four for 3D playback and two that are 3D dual play ready. What dual play does is let you play multiplayer gaming without having to split the display into two screens, and get the 3D effect for both players.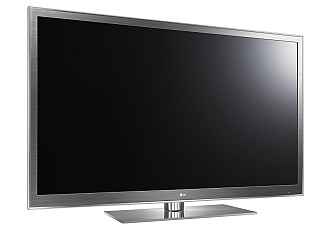 Since this is a TV in the "internet TV" age, the Home Dashboard will also let you manage the apps and social networking stuff that you would have downloaded on the TV. And also, there is the universal search feature – it will search VOD, YouTube etc. The LM95 is Intel WiDi ready, so anyone buying a third gen Intel Core series laptop or ultrabook will get the wireless streaming experience.
The LM95 will also upscale any 2D content to 3D, on the fly, with detailed settings for managing 3D depth, if you so wish to change that. It is a very good idea, particularly for HD content, but not so much for SD content, as we will explain in detail in the next section.
The magic remote is more like gesturing using the remote, and will be useful when you are browsing the web or any Internet content on the TV. For conventional menu navigation etc., we find the standard remote to be very comfortable.
Visit next page to read LG 72LM9500 Cinema 3D TV's performance and the verdict…
Performance
Being a huge (we wanted to insert an expletive, only out of love and excitement, but refrained since this is a website for all ages!) television, and we expect mostly HD content viewing all through. And the LM95 handles that with sheer excellence. But here also, it is a case of two halves – one excellent, and one not so good. If you play 1080p HD files on this huge TV, the playback quality will be excellent. The crispness of the reproduced video is clearly visible, something that can be understood even when you turn down the sharpness slider to 0. For a big display, this is a very critical element, and the LM95 scores well on this point. There is absolutely no noise or artifacts to ruin the perfect experience!
While we are quite appreciative of the overall quality of the display and the reproduced image results, the black levels could have done with a bit of improvement. The blacks need to be darker, and there are clearly times when you feel the need for that. In the Spyder benchmark test, we got a contrast ratio of 537:1, which is lower than the 700:1 we got for the LG 42LW6500 Cinema 3D TV. This is possibly the only shortcoming of this TV, as far as the visual experience and performance is concerned. Misses out on the 24p Tru Cinema mode, which is a surprise.
Shifting to content with a lower resolution, and that is where the LG LM85 feels strained. We played back some 720p HD video files, and unlike with any TV of a smaller size, the difference between 1080p and 720p was very clearly visible. We were even surprised at how bad anything less than 1080p looked on this TV. Which takes us to the next level of content that is the good old standard definition (SD). Not that it is the fault of the TV, but the display size dictates that content with very low resolution will look bad, and it truly does. Anything from the 720p category or lower, and you can see the noise creep in as well. Mostly edge noise remains despite the noise reduction options being active. However, we won't hold this limitation against the TV. We tested the picture quality with direct USB drive playback, as well connecting a laptop, PS3 and Xbox to the TV.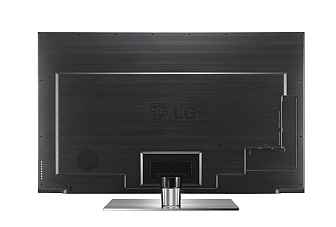 3D playback is excellent, and for a 72-inch display, the resultant experience is just amazing. Even the up-converting of 2D -> 3D content is surprisingly good. We had tested the previous-gen LG 42LW500 Cinema 3D TV sometime back, and had complained about ghosting at certain times during the up-conversion process. However, no such issues this time around. The depth, from the outset, is quite good. This can be managed as well, thanks to the setting that lets you manage the depth of the 3D content you are watching. What will help immensely with the 3D experience is the FPR 3D type implemented by this TV, with its advantages – lighter glasses, wider viewing angles and (some claim) less stress on the eyes. We completely agree with the first two aspects. However, comfort level will depend on an individual. Personally, I cannot watch 3D content, no matter whether with active or passive glasses without getting a splitting headache and nausea after exactly 10 minutes. Which is why we recommend to anyone looking at buying 3D TV, to take a demo and see how comfortable you are with it, before buying.
The playback capabilities off the USB port are just superb – it played back any file format we threw at it, off an NTFS and FAT32 drive. It will not upscale content though, but if you are anyway playing back 1080p files, you won't bother about that anyway.
The LG 72LM9500 has very disappointing speakers. You will, without a shadow of a doubt, need a home theater setup to work with this. It isn't nice to assume that anyone buying a big screen TV will have a HT setup ready. Dispassionately, the humble old Samsung Series 6 LED that I personally own had infinitely better speakers, and that is in a much smaller TV than this one.
Bottomline
The performance is very good, and we can't really find any fault with that. However, the box price of Rs. 7,00,000 ensures that this TV will appeal only to someone who really wants this, or only wants the biggest 3D display available for consumers. What is slightly interesting is the difference between a 65-inch LED television, and this 72-inch one. Take for example, the Sony Bravia 65HX925 that has a box price of Rs. 3,59,000. Putting it into perspective, the LG 72LM9500 is almost twice the cost.