Jabra Elite Active 65t detailed review
The Jabra Elite Active 65t aims at delivering good audio performance in the truly wireless headphones segment. While bound to become mainstream in future, this isn't what the most prudent of us would invest in. The Elite Active 65t is priced at Rs. 14,999, and to justify its still-pretty-expensive price, Jabra has crammed in a bunch of features to make it more intuitive. Does that, then, make it one of the most impressive and innovative pair of wireless headphones you can buy, provided you are open to a bit of splurging?
Specifications
Impedance: 16 Ohm ±15% at 1kHz
Sound Pressure Level: 103 dB; SPL at 1kHz/1mW
Max power input: 8mW
Frequency range: 20Hz ~ 20KHz
Bluetooth: v5.0
Audio Performance
The Jabra Elite Active 65t is not for those who prefer overpowering bass. The earphone is capable of delivering tight and clear bass, which is not overwhelming. This is reflected in Acid Rain by Lorn, in which when the intro breaks from electronica to thumping of the bass, the lows sound clean and prominent, even though there is a slight lack of thump. The lows are nicely detailed, but lacks a bit of depth owing to its drivers. As for segregation of the frequency range, the Jabra Elite Active 65t does well to avoid muddling of the upper lows and lower mids, or the upper mids and lower highs. However, there is a slight bias towards the brighter range of the auditory spectrum, because of which lower mids and certain sections sound attenuated. This happens particularly in tracks like Pull Me Under by Dream Theater and Enya's Caribbean Blue. For example, in Pull Me Under, the soft electric guitar arpeggio that builds around the 2:38 mark isn't as pronounced as it sounds in better (and admittedly more expensive) headphones by Ultimate Ears and Sony.
Stereo separation of audio is as it should be, but the soundstage could have been better on the Jabra Elite Active 65t. For instance, In Entangled by Lorn, the overall audio output of the headphones feels a tad narrow, and the intra-spacing of instruments is limited here. This has an adverse effect on genres like opera and jazz, in the sense that the sound is simply not as expansive as it would be in headphones with a better soundstage. As a result, there is a lack of flair and composure, particularly in tracks like Equinox by John Coltrane. In Bjork's Hunter, the attenuated bass roll has a short stereo trajectory, which is characteristic to the Elite Active 65t. At this point (and this applies to a lot of tracks), extensive hours of listening does tend to make you feel a bit tired and makes the overall sound a bit too intense.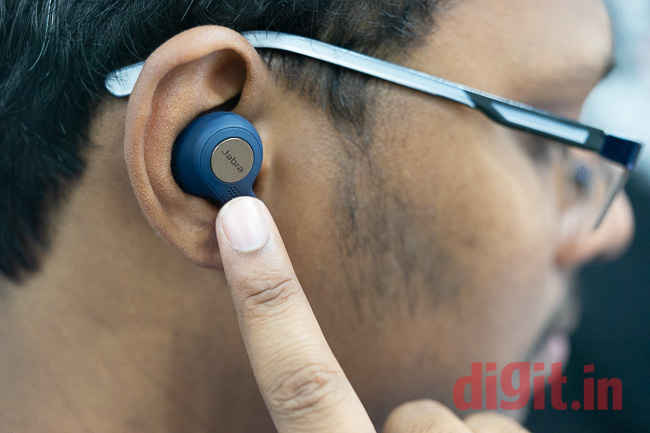 The mids are crisp, loud and impressively well-pronounced for a pair of earphones at this price bracket, although there is a perceivable case of intermittent sibilance. This is particularly evident in higher octaves of soprano and high-tenor voices like Michael Jackson and Axl Rose. For example, Guns 'n Roses' Welcome to the Jungle encounters the shrillness of sibilance prominently. However, this is intermittent and is mostly affected by high octave voices, since you would not experience the same in Adele's Rolling in the Deep. The highs are a tad shrill, which makes hi-hat rolls rather annoying at times. For instance, in Michael Jackson's Billie Jean, a large part of the song sounds a bit too shrill, with the pitch at the high frequencies being a bit askew. This, though, is us nitpicking. The arrangement of the highs, lows and mids come together fairly pleasantly, and hold good composure and balance through a majority of genres - taking rock, metal and Bollywood as the three most popular genres of music most people listen to. The solid lows are good for listening at home, although since these have been made for outdoor listening, they should have fared better. It is also this that makes the highs sound more pronounced than what they should be.
Taking into account what it's worth, the Jabra Elite Active 65t is one of the rarest breeds of truly wireless earbuds that produce sound that would definitely please the discerning buyer. At this price point, the range of options for you includes the Apple AirPods, Bang & Olufsen's Beoplay E8 and the Sony WF-1000X. Amid this competition, the Jabra Elite Active 65t delivers pleasant, measured audio that, while not having the most flourish and peppiness, offers good composure and brightness over most genres. It is also majorly free of distortions, and while it does have a few erratic flaws, it still makes for the best-sounding truly wireless headphones available in India right now.
Build and design
The Jabra Elite Active 65t is truly wireless and comes with its own carry case that doubles as its charger, as is the norm with these things. Even though the buds are made of plastic, both the charger and the earpieces are covered with a layer of silicone rubber to provide better grip. Since this is the 'active' variant of the Elite 65t, the added reinforcement truly ensures that the earpieces remain in place when you're out jogging. The Active 65t is also IP56 dust- and water-resistant and it survived a few water splashes and a slight drizzle during our tests. The ingress protection, though, is mainly aimed at preventing accidental sweat damages.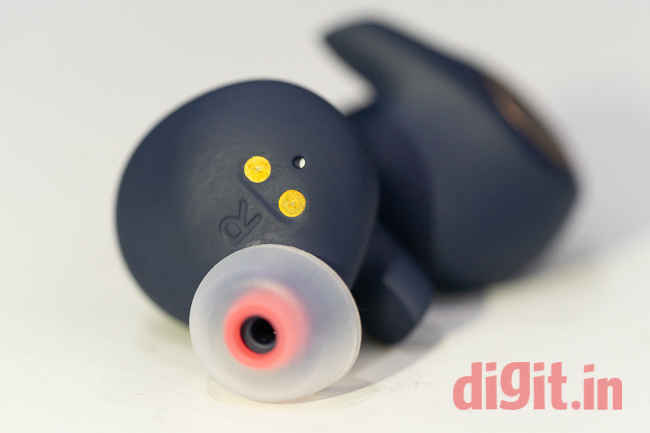 Jabra ships the Elite Active 65t with a micro-USB cable and three varying sets of earbuds that it calls 'EarGels'. You should be able to get a proper fit for the earpieces fairly easily, and in my experience, the earphones didn't fall out even during strenuous activities. The fit, too, is fairly comfortable, and while you do remain aware of them, they don't really intrude into your comfort. The passive sealing thanks to the earbuds is fairly good, which blocks out most ambient noise when you're out. On overall terms, there's really nothing to complain about here.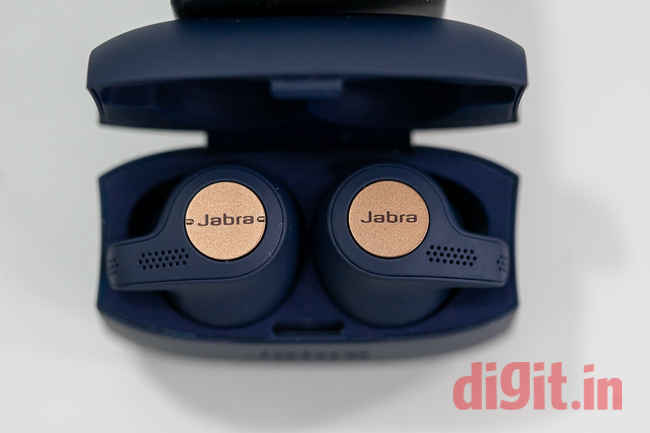 The microphone, despite the distance from your mouth, has been designed to pick up sound pretty well. What that translates to is clear calling performance, as long as your network would allow it. That said, it does become a spot of bother if you're out in a market and making calls since the microphone is not unidirectional. Jabra, however, has clearly attempted to restrict the frequency response of the mic, which helps clean up incident audio by a reasonable margin.
I did accidentally drop the earphones and the charging case twice, but thankfully, neither has incurred any damage. The charging case is compact and easy to carry in your pocket. The opening of the case, though, is unnecessarily difficult and certainly hampers ergonomics. There is a small recess on the front of the case that looks like an easy-open ridge, but it's not. It's actually easier to open the case by supporting it with the thumb while lodging it in your palm and pulling the cap off. It is not an intuitive way, and this in turn risks in dislodging the earpieces from their housing, which is particularly hazardous when you're in public transit.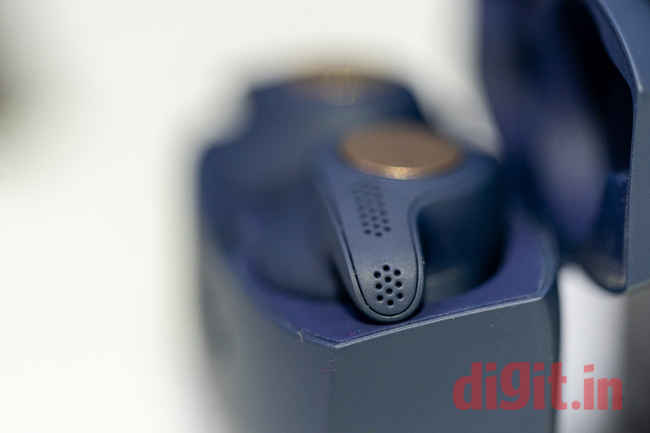 Both earpieces have circular buttons on the back, which are responsive. The right button enables pairing, managing music playback and accepting/rejecting calls. The left earpiece has two buttons for controlling volume and skipping tracks, which are connected to a single circular disk. It's difficult managing volume levels due to the button design as the earpiece is pushed further into the ear canal while doing so, and that is both uncomfortable and not ergonomic. Placing them on the top of the housing, as Bose did with its SoundSport Free earphones, or even on the bottom would have been a better usage choice.
Jabra Sound+ app and other features
The Jabra Elite Active 65t connects with the Jabra Sound+ app, which adds to the device's functionalities and provides over-the-air firmware updates. Setting up the app is easy and after pairing, you will see three main tabs on the bottom labelled Home, Device and Info. The Home tab has 'Your Preference', 'Commute', 'Focus' and 'Active' sub-menus, each of which is meant to tune the audio performance to presets, or 'equalisers'. You can also manually set the equaliser, and even choose the amount of ambient noise allowed to enter via 'HearThrough'.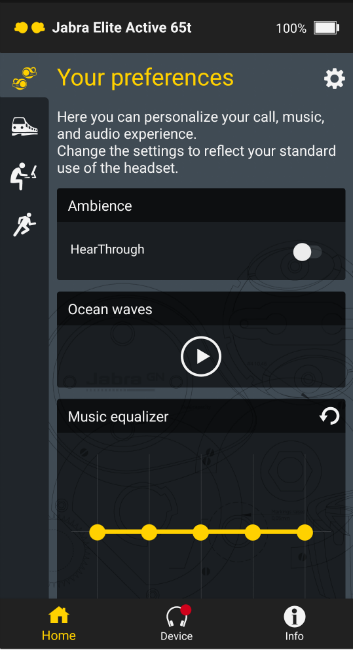 Jabra's HearThrough works exactly like Sony's active pass filter on its new 1000X flagship headphone lineup. Double tapping on the right earbud enables it and amplifies ambient sound, which is particularly helpful when you need to pause music briefly to listen to your neighbour. You can choose the intensity of this from one to five, from within the app. Level five of HearThrough amplifies noise a bit too sharply, so we'd recommend avoiding it as long as you can.
The Jabra Elite Active 65t can handle two active connections between devices at any point in time. That said, while it does work, there are intermittent connectivity errors. In the dual-pairing mode, connectivity kept dropping, and you may also need to restart the earphones as the switching just doesn't happen seamlessly. This is possibly an issue with how the headphones manage the connectivity switching and should be fixed in an OTA update soon.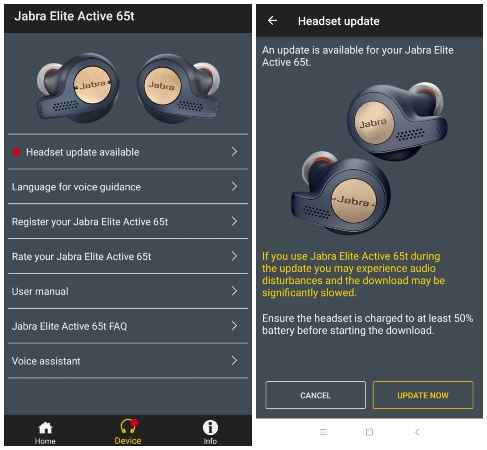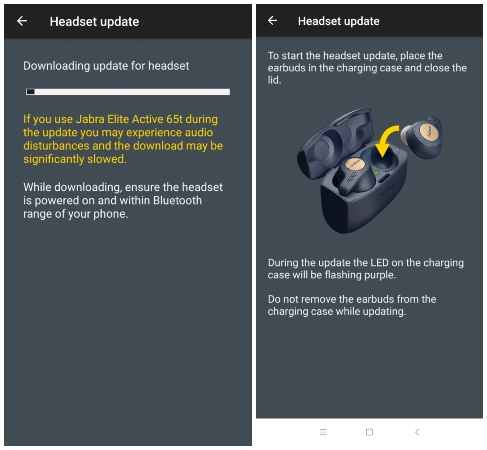 Keeping the right earpiece's button pressed for a second brings up the Google Assistant. The dedicated smart assistant button is becoming increasingly common now and it's a good feature to have. I used it primarily for setting reminders and alarms, placing calls and listening to the news. There were no issues using the feature but there is also an option to use it with Siri when the device is connected to an iPhone. One can also switch to Alexa on an Android device, but only from within the Jabra Sound+ app.
Battery life
Jabra claims that the earphones can deliver up to 5 hours of continuous audio playback. This is true when the audio level is set to 50 percent but crank the volume up to 70 percent and the battery decreases to four and a half hours of active playback time. This is about the same as what other products in its category provide, and you will need to charge it once every two days unless you're careful about switching it off and not multi-pairing it with devices. The charging case is capable of topping up the earphone twice from nil charge, which comes in handy when you're on the move. Charging the case itself with the earbuds inside takes about one and a half hours, with a 2A fast charger. Jabra could have cut-down on the charging time by using a USB Type-C port, instead of micro USB. In an effort to save additional battery and prolong usage, the earphones automatically pause audio playback when either one of the earpieces is taken out of the ear. It's resumed when it's popped back into the ear.
Bottomline
The Jabra elite active 65t deliver good audio performance and brings various useful features while being a newcomer in the truly wireless earphone segment. While some may find the Rs 14,999 price tag a bit too much, we think that it's justified considering the limited choices one has when selecting from completely wireless earphones. Additionally, given that almost all the truly wireless earphones available today from reputable brands carry more or less the same price tag at the Jabra, makes for a great value for money proposition.
Jabra Elite Active 65t Key Specs, Price and Launch Date
| | |
| --- | --- |
| Price: | |
| Release Date: | 02 Aug 2018 |
| Variant: | None |
| Market Status: | Launched |
Key Specs
Playback Time

NA

Frequency Range

NA

Channels

NA

Dimensions

NA