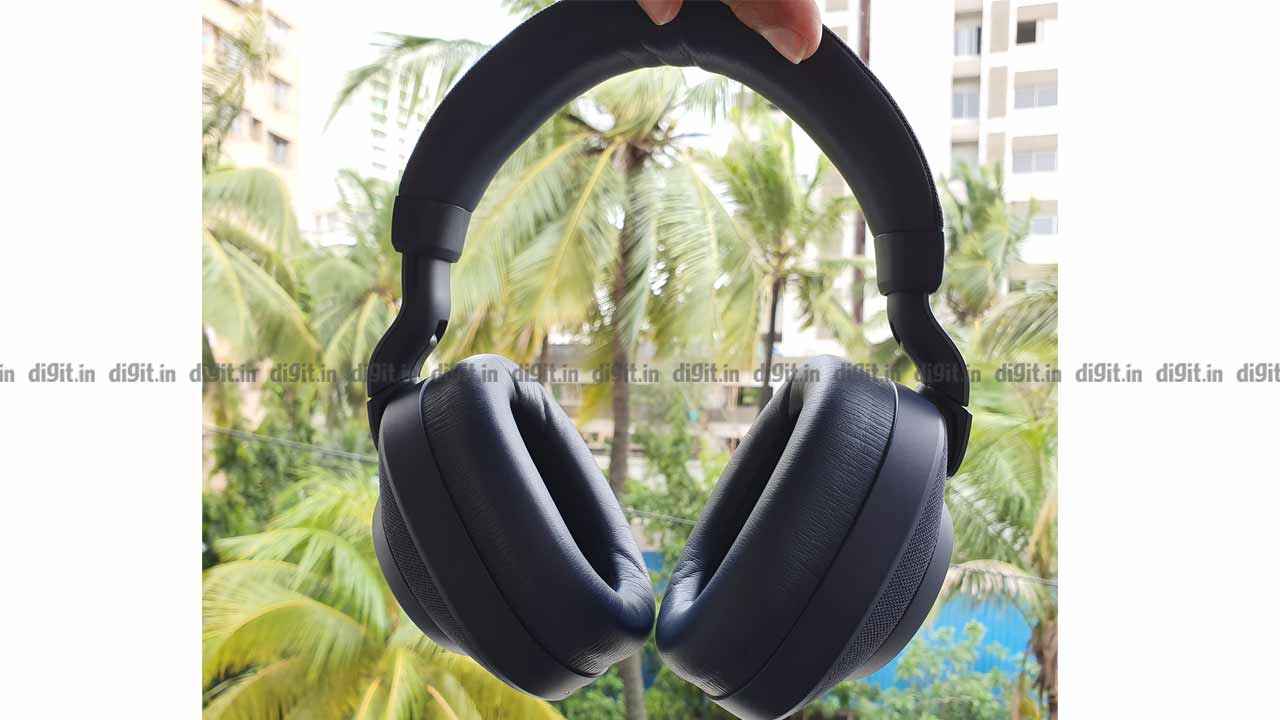 VERDICT:
The Jabra Elite 85H boasts exceptional battery life, great design and is a worthy contender in the category of wireless ANC headphones. Despite sometimes underwhelming bass and lack of support for high-end codecs, the Jabra Elite 85H are a great pair of cans if you are looking for a good pair of wireless ANC headphones.
When you think of a solid pair of wireless ANC (Active Noise Cancellation) headphones, two names instantly come to mind because of their successful venture in this category – Bose and Sony with the Bose QuietComfort 35 II and the Sony WH 1000XM3. However, this year Jabra treated us to their own rendition of this class of products with the wireless, ANC-enabled Jabra Elite 85H. This unlikely competitor is priced at Rs 28,999 and at first sight, seems to hold a lot of promise in terms of design, features and possible sound quality. Let's figure out if Jabra's pitch is really worth listening to here.
In the box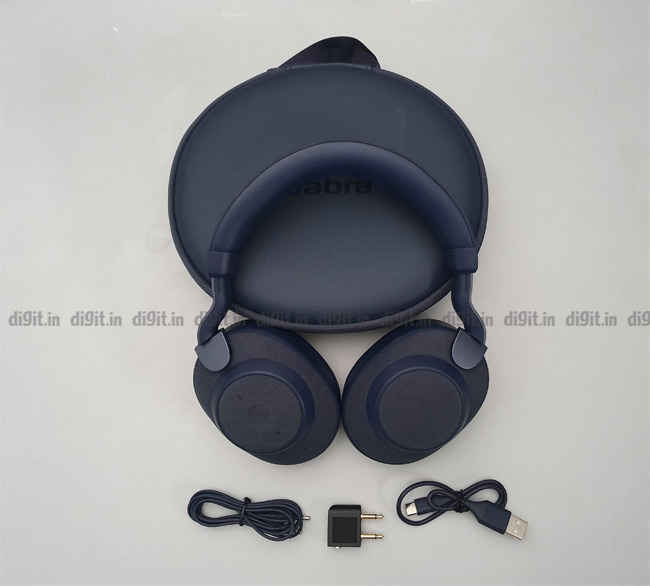 Jabra Elite 85H headphones
Carrying case
3.5mm cable
USB-C charging cable
Two-prong airline adapter
Build and Design
The Jabra Elite 85H headphones exude a sense of quality from the moment you set eyes on the carrying case which is made out of faux leather with a soft fabric interior. The pair of headphones themselves are made out of plastic with a fabric coating on the outside and faux leather, yet again on the underside of the headband and earcups. The earcups are exceptionally soft and foam-cushioned for additional comfort. The headband on the Elite 85H has been pre-tensioned, which allows you to wear them for long periods of time without feeling too much pressure on your ears and the sides of your head. Jabra claims that these headphones are splash resistant since they have incorporated a nano coating on the internal components. This is a nice little touch and was especially useful for us during testing since it coincided with the Mumbai monsoons.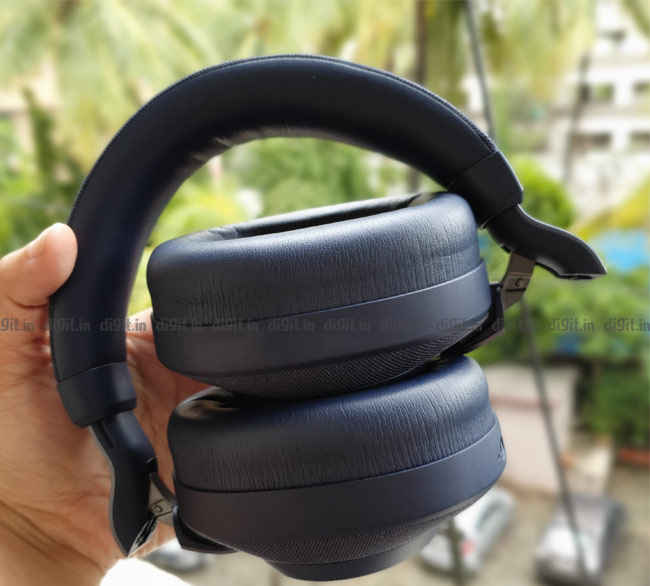 The earcups on the headphones can be swivelled around. Jabra utilised this particular feature unlike any other headphones before and completely took out the power button from the equation. Instead, swivelling the earcups into to face each other will turn the cans on automatically, while turning them the other way will switch them off. The adjustment arms on the Jabra Elite 85H are friction-based, similar to the Sennheiser HD1 or the Beoplay H9i headphones. While adjusting these friction-based arms are a real hassle while they are on your head, they sure do provide a more premium look to the device.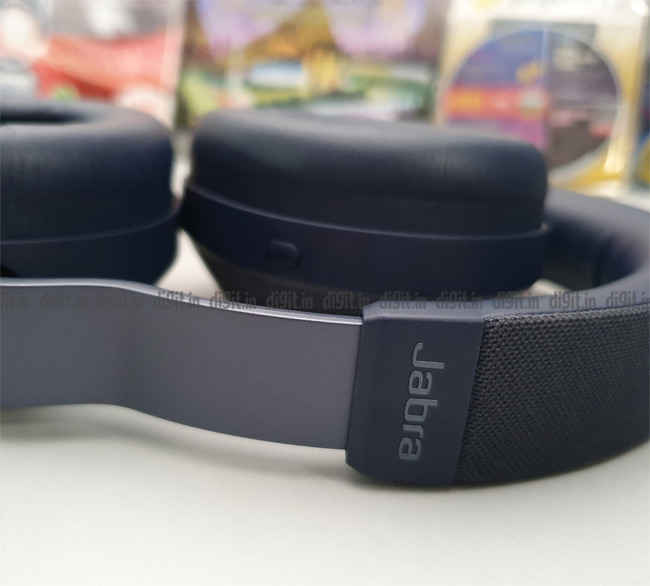 Controls
The Jabra Elite 85H does possess quite a wide set of controls on the device itself, however, they blend with the design to such a degree that it is easy to miss them unless you look at the headphones closely. On the right earcup, you will find three tactile buttons. The larger, fingertip-sized button in the middle will allow you to pause and play music manually, and you can answer calls by clicking this button too. The tiny dots that are above and below this button will let you control the volume with a short press, a long press on these buttons will allow you to skip tracks or go back to the previous one.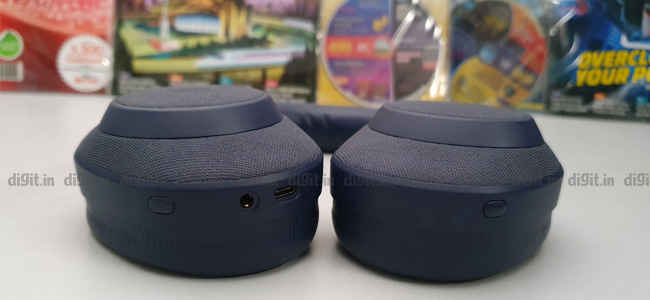 At the bottom of the right-side earcup, where the charging port and 3.5mm jack reside, you will find a button which will allow you to mute your voice on calls when you press it. Additionally, this button will also let you access your phone's default voice assistant (Google Assistant or Siri) or, if you feel like it, Alexa. The left earcup keeps things simple, with just one button dedicated to allowing users to cycle through ANC modes – ANC on, Hear Through or off, instead of having to take your phone out each time to change these settings.
Features
In the previous section, you might have noticed that there was absolutely no mention of a power button. As mentioned before, these headphones completely rely on swivelling the earcups into the 'listening position' to turn them on and flattening them turns them off. We cannot stress how much we loved this feature and going back to the standard power button on headphones now seems a bit archaic. Additionally, when you turn the Jabra Elite 85H on by turning the earcups to face each other, the cans will power on and connect to the paired Bluetooth device immediately. You will only need to manually pair your phone or any other device the first time to the headphones, after that the process should be pretty much seamless. We experienced absolutely no issues while pairing and connecting our testing device (Samsung Galaxy S10 Plus) to the headphones. Jabra has also implemented a super convenient pause and play feature, where taking off the headphones will automatically pause the music or media and putting them back on will resume it.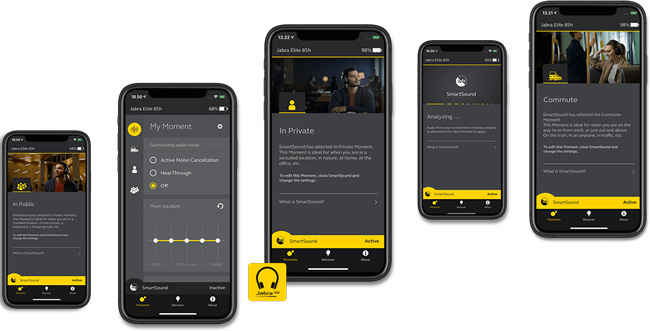 In terms of ANC functionality, the headphones offer an array of modes, referred to as 'Moments'. Users can interchangeably use four Moments according to their needs at the time, which include Commute, In Private, In Public, and ANC off. These Moments can only be accessed from the app, Jabra Sound+. The button of the left earcup of the headphones will allow you to cycle through ANC settings such as ANC on, Hear Through and ANC off, and not Moments. For each Moment, you can manually set an ANC profile. For example, we used Hear Through for Public mode so that we could hear traffic on the road and announcements at the train station, ANC off in the Private mode, and ANC on for Commute. You can also set your own custom ANC profile known as 'My Moment' which lets users manually adjust EQ settings as well as ANC profiles. While this feature is quite useful for users who want to tweak their headset to achieve extra thumping bass or more treble, we didn't use this feature much since we wanted to test the default sound quality of the Elite 85H.
Jabra took things further and also implemented an "intelligent adaptive technology", basically an AI, which automatically adjusts the ANC modes depending on your surroundings. Jabra calls this feature SmartSound and users can choose to turn it on and forget about manually toggling the ANC modes. This mode, while useful, has some kinks in the current stage, which may be improved with updates to the app. SmartSound doesn't get the environment right every right. We found that the headphones did change to commute mode and public mode quite reliably over repeated testing. However, when we were testing SmartSound in private, even the sound of our mechanical keyboards was enough to put it into 'In Public' mode and hear through would turn on, which would get quite irritating. The only solution was turning off SmartSound in this setting and manually turning on ANC (since we didn't want to hear the ruckus that sometimes ensues in the test centre).
Hear Through mode is quite subtle on the Jabra Elite 85H and doesn't over-amplify surroundings, which sounds like a good thing. However, if you tend to like your music a little loud and keep the volume above 70-80 per cent, in all likeliness, you will simply not be able to hear your surroundings as clear as you would like to. Car honks and railway announcements may be drowned by the music with hear through turned on, which is a shame.
We also ran into an issue with the Jabra Sound+ app once. The app completely stopped loading despite there being a working internet connection. Since the app wasn't working, SmartSound wasn't working either, which is one of the primary selling points of this device. The only way we could get the app to start working again was to uninstall and install it again.
Performance
Now that we've covered the basics, let's get into what possibly matters the most in a good pair of headphones – sound quality and overall performance. We tested the headphones on a Samsung Galaxy S10 Plus, listening to music, TV shows and films as well as calls. Let's get into sound quality when it comes to music first. The headphones sport good bass which is slightly above neutral. However, you will find similarly or slightly-higher priced ANC headphones, such as the Sony WH 1000MX3, that produce deeper and punchier bass that may seem more satisfying to some. Of course, you can change the EQ settings as per your preference in the app, which will provide you with more bass thump if you require it. The Jabra Elite 85H does not overdo the bass as some Beats headphones that appeal to bassheads do.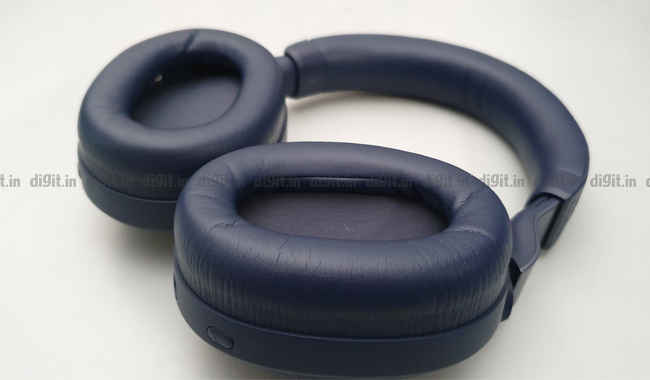 In Pull me Under by Dream Theatre, the drumming in the very beginning of the song hits you with a good amount of bass without sacrificing on the clarity and hearability of the array of other instruments playing alongside. The instruments sound sharp, clean and well-defined. Mid and high frequencies sound fantastic on the Jabra Elite 85H and vocals are exceptionally crisp as experienced in Ed Sheeran's Shape of You. The audio signature is generally brighter than the Bose QC 35 II and Sony WH 1000MX3, however, not to a point where you will get fatigued easily after hours of listening. We tested the headphones for hours on end without falling prey to any fatigue at all. So, kudos to Jabra here. The headphones are especially good for high frequencies. When listening to Something From Nothing by The Foo Fighters, listeners are subject to high-pitched screams from lead vocalist, Dave Grohl, in the last minute of the song, which gets progressively higher as you go. However, the audio never seems to get screechy even at high volumes.
The audio separation between left and right is also excellent on these cans. Soundstage, however, isn't perfect. There is definitely room for improvement here. ANC is very good on the device but doesn't quite blow its competitors out of the water. It does manage to suppress a lot of the ambient air. It also blocks a good amount of voice chatter, movement and background noise. The sound signature of the Jabra Elite 85H did match our audio tastes (which tends to be a little brighter and less heavy on bass). However, many consumers prefer to have great sounding bass on their headphones. Jabra has good, punchy bass, but no great, especially the sub-bass when compared to the Bose QC 35 II, Audio Technica ATH-M50xBT and Sony WH 1000XM3. If bass is something that is extremely important to you, buying another capable pair of cans may be the right decision for you. However, if the Jabra's features and design that captivated you, you can always use the EQ controller to tweak the sound settings.
The Elite 85H can connect also to the voice assistant of your choice which may be Google Assistant, Siri or Alexa. This feature worked well even in a station when there was a lot of background noise. Call-quality on the headphones is also stellar, as expected from Jabra products. Six of the eight microphones work conjointly to enhance call quality and you can definitely see the results. With Bluetooth 5.0, two devices can be connected to the Jabra Elite 85H at the same time and the audio signal is quite good as well passing through several walls with no issue.
Listening to media on these headphones was an enjoyable experience as well, and the media played on Netflix and YouTube was perfectly in sync with our Android device. The explosions, gunshots and other such sounds in TV shows and films were represented quite well and the overall sound was clear and precise.
The Jabra Elite 85H sound exceptionally good, despite taking a more subtle approach when it comes to bass. However, some audio purists may be alarmed by the fact that these headphones do not support high-end audio codecs such as AAC, aptX or LDAC, which help deliver music at near CD-like quality. When you listen to FLAC audio tracks, the lack of these codecs will cause somewhat lacking fidelity. Let's hope a firmware update fixes this issue.
Last, but not in the slightest the least, the battery life on these headphones are perhaps the best of the best, especially in the wireless, ANC headphones category. The cans provide you with a whopping 36 hours of battery life with ANC turned on and a staggering 41 hours with ANC turned on, which is ludicrous really. In our tests, at around 50% volume, we got around 34 hours and 20 minutes of ON time. According to Jabra, 15 minutes of charging will give you a massive 5 hours of playtime, which in our tests proved to be quite accurate.
Bottomline
The Jabra Elite 85H boasts exceptional battery life, great design and is a worthy contender in the category of wireless ANC headphones. Features like auto-pause and play, powering on and off the headphones using the earcups, custom EQ modes and splash resistance do set these cans apart from their competition. However, its competitors from other companies such as Sony and Bose do offer a more satisfying experience, especially when it comes to bass. Some audio purists may also be turned off by the fact that these pair of cans lack support for high-end codecs. However, if you are looking for a good pair of wireless ANC headphones, you cannot go wrong with the Jabra Elite 85H, particularly since it is priced slightly lower than its competitors too.