VERDICT:
The hardware on the Amazon Fire TV is quite powerful and the interface is quite polished. Pair that with Amazon Prime and the deal becomes a lot more sweeter…if you were living in the US. For us folks in India this device is a luxury and it is the living room experience that sells it. Owning one and making use of its potential can be quite the expensive affair but if Amazon does bring a more Indianised version of the Fire TV then it will be a force to reckon with.
Hardware
The Amazon Fire TV has some decent hardware to boast of when you look at the competition. The SOC is the Qualcomm Snapdragon 8064 which has a quad-core Qualcomm Krait 300 as the processor and a Qualcomm Adreno 320 as the GPU. This same combination is present in the Samsung Galaxy S4 and Asus Padfone Infinity. The SoC variant in the Amazon Fire TV scales up to 1.7 GHz as and when the need for more processing power arises. There is a 2 GB low-power Samsung K3PE0E00QM-CGC2 DDR2 memory chip that is clocked at 533 MHz which is what the Fire TV uses for the RAM. For storage it uses a Toshiba THGBM5G6A2JBAIR which is an 8 GB eMMC NAND flash memory chip.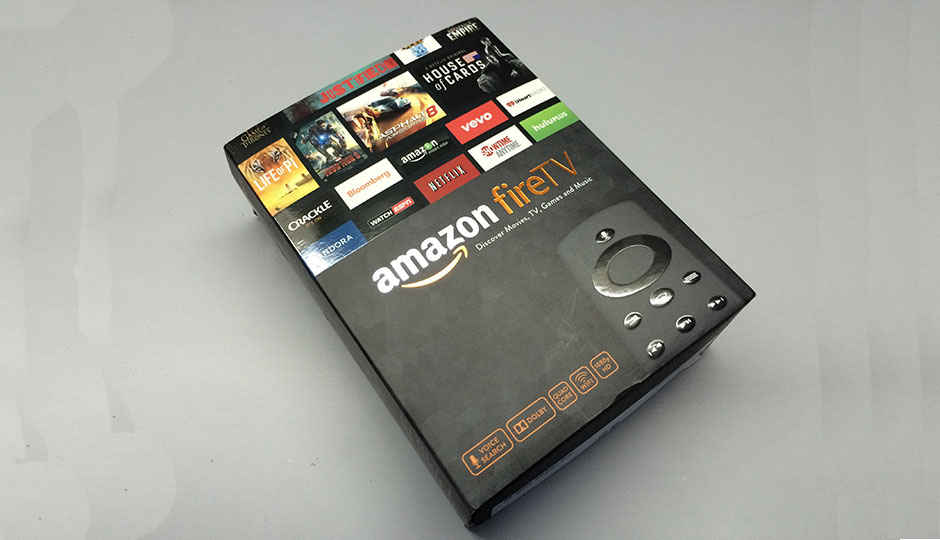 When it comes to connectivity the device has Wi-Fi 802.11n dual-band capability and Bluetooth 4.0. Wi-Fi has MIMO support but if you are to use just the remote control with the device then it is redundant, but if you are to use a Kindle Fire and the controller along with it then MIMO does make sense. The ethernet port is a 10/100 Mbps port which is sufficient for the kind of content that is streamed onto the device. The display output is either 720p or 1080p but you do have content from the 60's till the late 90's which are still in SD available on Amazon's video service.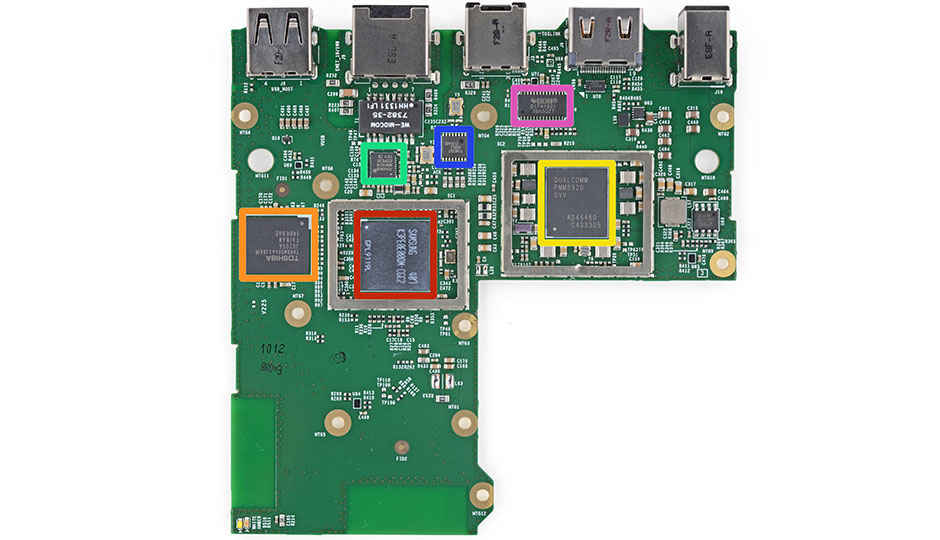 Image source – iFixit
On the rear we see very few ports. There is the power socket, HDMI output, optical audio output, ethernet and a USB 2.0 port.
The hardware on the Amazon Fire TV is more than what the competition has to offer and it is pretty evident from the table below.

Hardware comparison between competing media players

| | | | | |
| --- | --- | --- | --- | --- |
| | | | | |
| Device | Amazon Fire TV | Roku 3 | Apple TV | Google Chromecast |
| SoC | Snapdragon 8064 | Broadcom BCM­11130 | Apple A5 | Armada 1500-Mini |
| CPU | Krait 300 | Cortex A9 | Cortex A9 | PJ4B |
| Cores | 4 | 2 | 1 | 1 |
| Speed (Up to) | 1.7 GHz | 900 MHz | 250 MHz | 1.2 GHz |
| GPU | Adreno 320 | NA | PowerVR SGX543MP2 | Vivante GC1000 |
| RAM | 2 GB | 512 MB | 512 MB | 512 MB |
| Ethernet | 100 Mbps | 100 Mbps | 100 Mbps | NA |
| Wi-Fi | 802.11n | 802.11n | 802.11n | 802.11n |
| | Dual-band | Dual-band | Dual-band | Single-band |
Remote
The remote that comes with the Amazon Fire TV has very few buttons as you can see from the image below. There are 8 buttons and a pad for navigation on the remote. What's unique with this remote is that it has voice search functionality. All you need to do is press the button on the top and speak into the remote when prompted with a beep from your TV. A little issue that we noticed was that the voice search functionality did not function if you did not use a VPN with the Fire TV.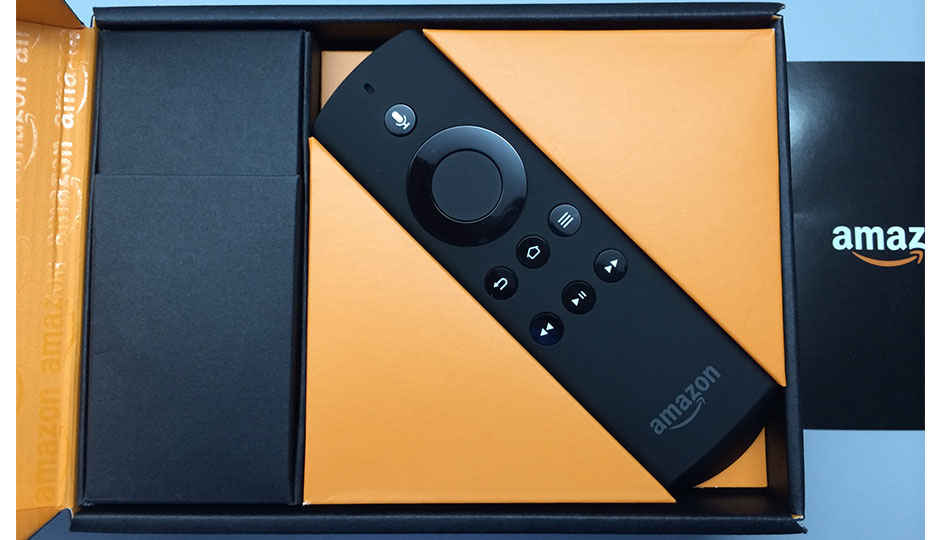 The buttons are reminiscent of the current android interface which has the back, home and properties button. The ones shown here function in the exact same manner. The buttons are all tactile and thus, they do make quite the noise when you are navigating furiously or if you are typing out any form. Amazon has hidden RFID tags within the remote and the Fire TV which has no known functionality at the moment, so we might be in for a surprise some time in the future.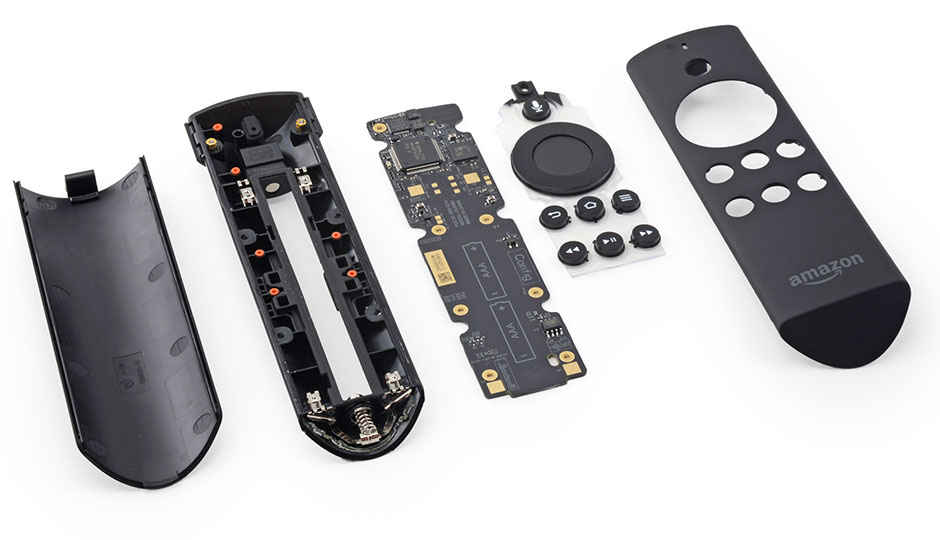 Image source – iFixit
Software
The interface of the Amazon Fire TV is similar to interfaces which are present in DTH boxes but it's much more polished. If you've experienced the interface of a current generation Smart TV or have ever tried XBMC then you'll know what we're talking about. Moreover, since the remote uses Android like buttons, there is a familiarity that makes you feel at ease with the device from the get go.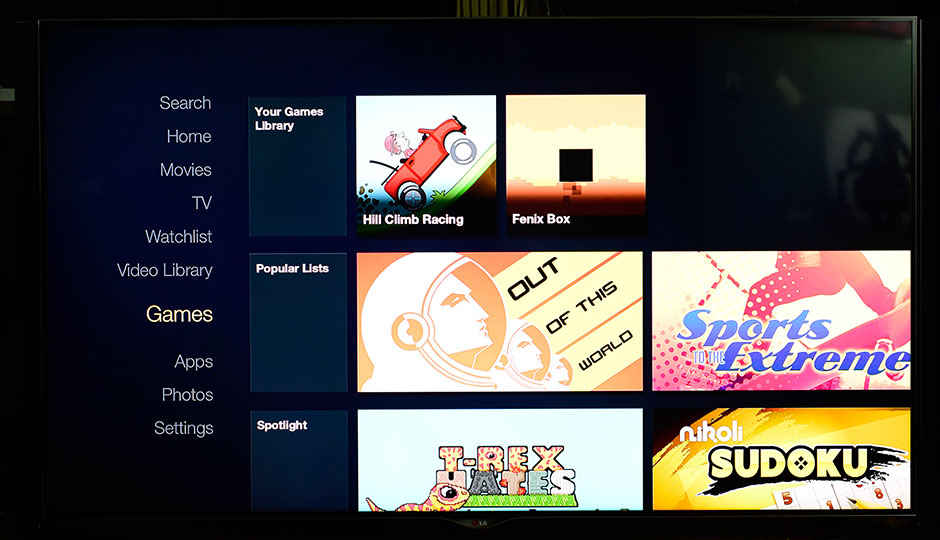 The operating system is called Fire OS which is based on the Android Open Source Project (AOSP) and has already been introduced to the masses through the Kindle Fire and more recently, through the Fire Phone. Moreover, the SDK has already been released by Amazon so even you can make apps for the Fire TV and get it published on the Amazon App Store.
With a quad-core processor at the helm, the interface feels quite smooth and we didn't experience any lag. But then again we didn't install an awful lot of apps onto the device. And apps do run in the background so if you've got an radio app running then you can easily browse through to the home screen without interrupting the audio playback. The voice serach functionality isn't averse to the Indian accent and it was quite easy to search for apps and videos using it.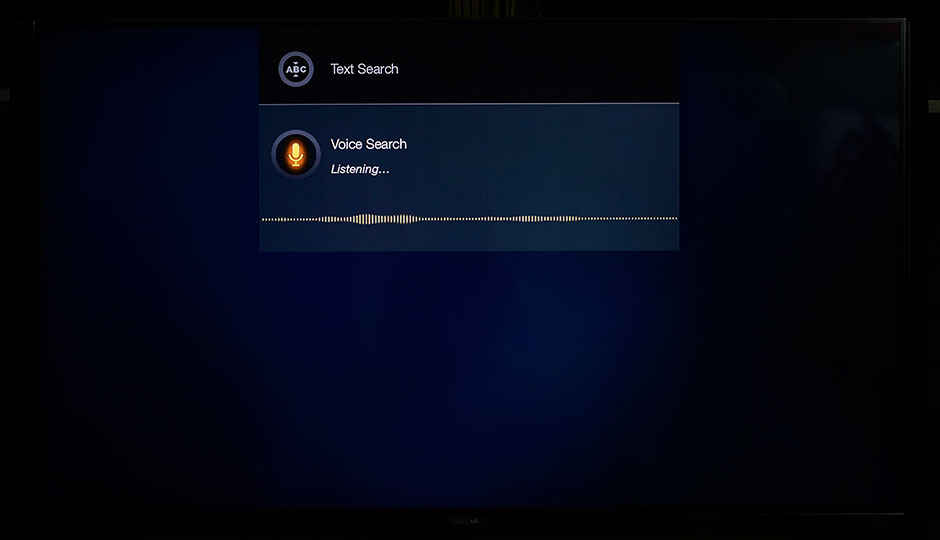 If you've got a Kindle Fire then you can share the Kindle Fire's screen with the Fire TV and control it from your Kindle Fire. And certain content does have X-ray support so you can look up all the cast from whichever video is playing at the moment. The X-ray service is powered by IMDb.
Content
The plethora of content that is available on the Fire TV could render your set-top box useless if the content available on the Fire TV is all that you need. However, that is never the case with the Indian audience, there will be some person in your household who would want Indian content and that is something that the Fire TV doesn't have. But if you've been praying to the internet gods for Netflix (and similar services) to be made available in India then this could be the answer to your prayer. More on this later. If you do not use a VPN then be prepared to come across this screen an awful number of times.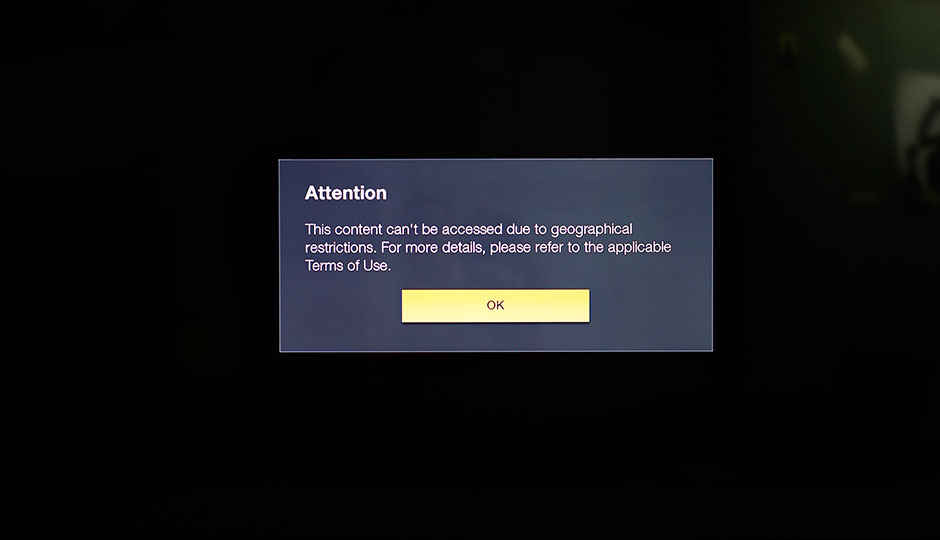 So we used a VPN to get all the services up and working before going through the different apps present on the device. The YouTube app showed up as "unavailable" which was weird but Vevo did work so your music video needs are taken care of. Twitch only worked fine for a few seconds before it started buffering every 3 seconds but that has more to do with the network routing and choosing a different VPN might solve that problem.
There are an assortment of apps and games available for the Fire TV and you need Amazon coins to purchase these. There is an optional controller available for the device which you can buy for $39.99 and certain games will only function with the controller. Fenixbox was one such game.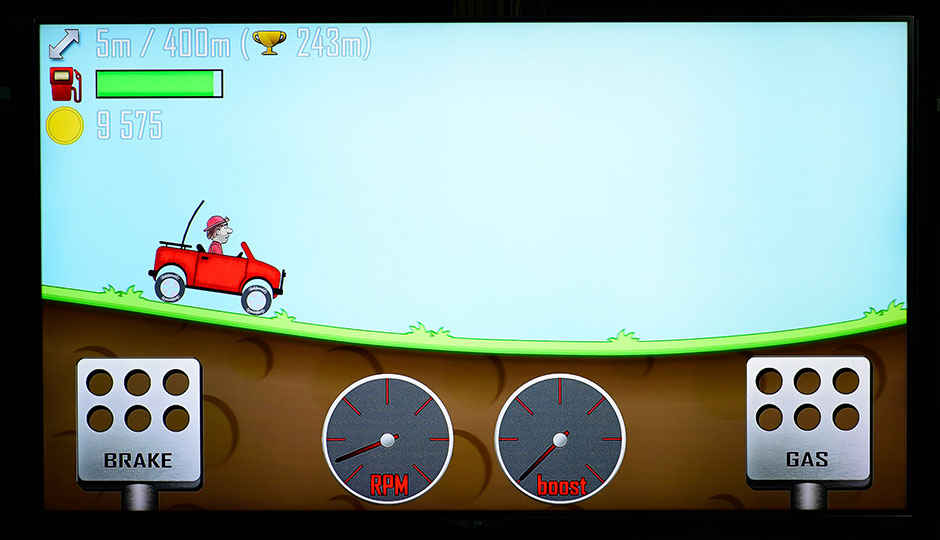 You get a month's subscription of Amazon Prime with the device to get an idea as to what all you can access on the service. Since you do have access to Netflix and Hulu Plus, the evaluation period really helps in judging which service you wish to subscribe to. Yes, Netflix works with the VPN we used so buckle up! As for Amazon Prime content, we found that there were TV shows that dated back to the 60's. Star Trek: The Original Series was one such show and the only drawback was that it was in SD. If you are a casual viewer then Amazon Prime should be more than sufficient. For $99 a year, it's a pretty good deal. Or you could pick up Netflix and still enjoy as much if not more content. This is indeed, a tough call to make.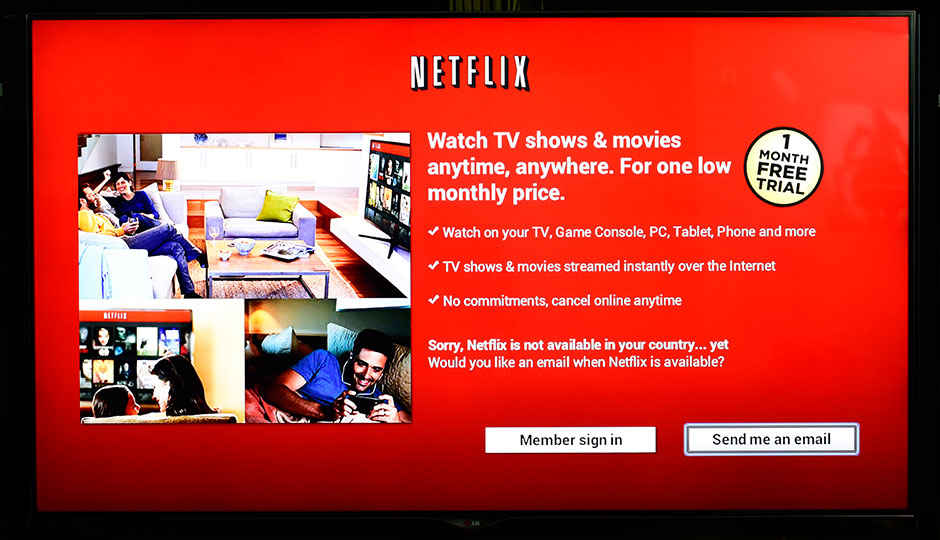 This is weird!
We did feel that the device should have had access to Prime Music. It launched only recently but overlooking the Fire TV is something that we did not expect from Amazon.
If you have a really old television then you should ensure that under the Audio options in the settings panel of the Fire TV, you have Dolby Digital Plus switched off since most old TV's don't support the same. If you open an HD video and get no audio output then you need to switch DDP off.
How to get it working
If you are one of the few early adopters who's decided to go in for the Fire TV then you should be aware that the service is limited to the United States and getting it to work in India requires a bit of research and spending a little if required. Here's what we did to get the Amazon Fire TV working.
Our first task was to find a VPN service which routed connections with latency that was low enough to ensure that most services were not laggy. It was fortunate for us that we landed up with Unlocator. They offer a paid service for $4.95 a month which is quite competitive as far as VPN services go.
Once you sign up, you will be provided with two DNS server IP addresses which you need to type into your Amazon Fire TV or router if the DHCP option is setup.
A. If you do not have DHCP switched ON
1. You need to figure out the pool of IP addresses available for use, this can be easily accessed via your router's settings menu. Many routers have a default range which starts from 192.168.1.100. From this pool pick an IP address that will be unique for the Fire TV. Ensure that the following data is kept ready.
– IP address
– Default Gateway address
– Subnet mask (Default – 255.255.255.0 or you'd have to calculate separately based on your IP http://dgit.in/SubnetCal)
– Bit mask (Default value – 24)
– DNS address 1 (Obtained from your VPN service – 185.37.37.37 for Unlocator)
– DNS address 2 (Obtained from your VPN service – 185.37.37.185 for Unlocator)
2. Navigate to the Settings tab in the Fire TV
3. Select Wi-Fi or Wired connection
4. If you've already entered the Wi-Fi SSID and Password then select Advanced, otherwise do so and then select Advanced
5. Here onwards start entering the data which we asked you to keep at the ready
6. Once you have entered the data, wait for a few seconds till the connection resolves itself
7. Check if you can now access Amazon Prime content
B. If DHCP is switched ON
In this case the Fire TV will pick up the DNS from the router, so you need to change the DNS addresses in the router itself. Check the router user manual to figure out how to do so. As for the DNS addresses use the following.
DNS 1 – 185.37.37.37
DNS 2 – 185.37.37.185
These DNS addresses are for trial use only, pay for the service to get a dedicated DNS server which has better performance. And with this done you can now access content region locked to the United States from your living room here in India.
Feasibility
Obviously, you now want to know if getting such a device is more economical than getting a DTH connection. Well, you do not have Indian content, so that puts all such devices at a significant disadvantage. So let's get calculating.
All the DTH providers in the country have grouped channels into packages which are more economical when compared to getting channels a-la-carte. Moreover, an extra fee is levied if you wish to get HD content. Then we get a month's worth of discount if we pay for the year in advance. Of course, some people would prefer to buy just one channel for Rs.25, then again why would such folks bother with the Fire TV. So we aren't factoring such cases into our calculations.
The average cost for enough channels that could be considered as competition for the Fire TV was taken. This included Star World, AXN, HBO, Star Movies, ESPN, Disney etc. We've considered enough channels to satisfy different genres so there are movies, news and TV series all put into the mix. We found that if we were to get all of the above content then we had to shell out about Rs.450 a month + taxes for any DTH provider. This comes down to Rs.4,950 with the taxes pushing it all the way to Rs.6,000 annually.
The Amazon Fire TV is a great thing if you were in the US, Amazon prime has several benefits and it's quite likely that you'd own a subscription if you were to shop online frequently, so you wouldn't be buying it separately for your Fire TV. But that's not what we're looking at here. For us, Amazon Prime at $99 a year comes down to Rs.6,000 and then the VPN service costs an extra $4.95/month which adds to the cost bringing it to 6000+3650 = Rs. 9650. Now if you were to just get the VPN service and stick to Netflix without buying the Fire TV then your annual expenditure comes down to a little over Rs.10,000. So you're pretty much paying an awful lot either way for content straight from the US of A. Moreover, it could be quite likely that you'd have to switch to a better internet plan to afford more bandwidth for the Fire TV and that will only push the cost up further.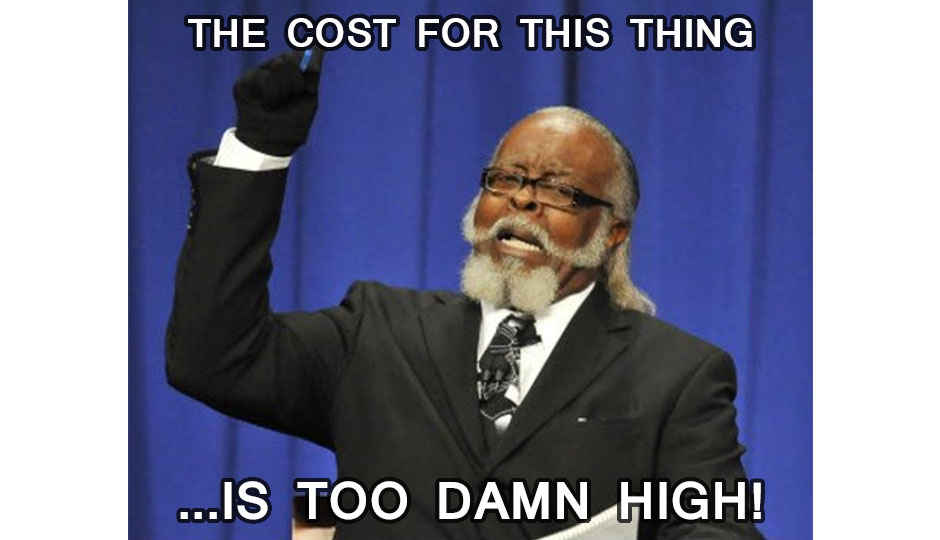 Verdict
The hardware on the Amazon Fire TV is quite powerful and the interface is quite polished. Pair that with Amazon Prime and the deal becomes a lot more sweeter…if you were living in the US. For us folks in India this device is a luxury and it is the living room experience that sells it. Owning one and making use of its potential can be quite the expensive affair but if Amazon does bring a more Indianised version of the Fire TV then it will be a force to reckon with.
So what do you think? Is the Amazon Fire TV something you've been looking forward to? Would you buy it? Or would you wait for Amazon to launch an Indianised version of the Fire TV?
Where can you get one?
Contact: Shop Your World
Phone: (022) 61325050
Email: cs@shopyourworld.com
Website: http://www.shopyourworld.com